Bard Early College Hudson Gives Area Students a Jump-Start on College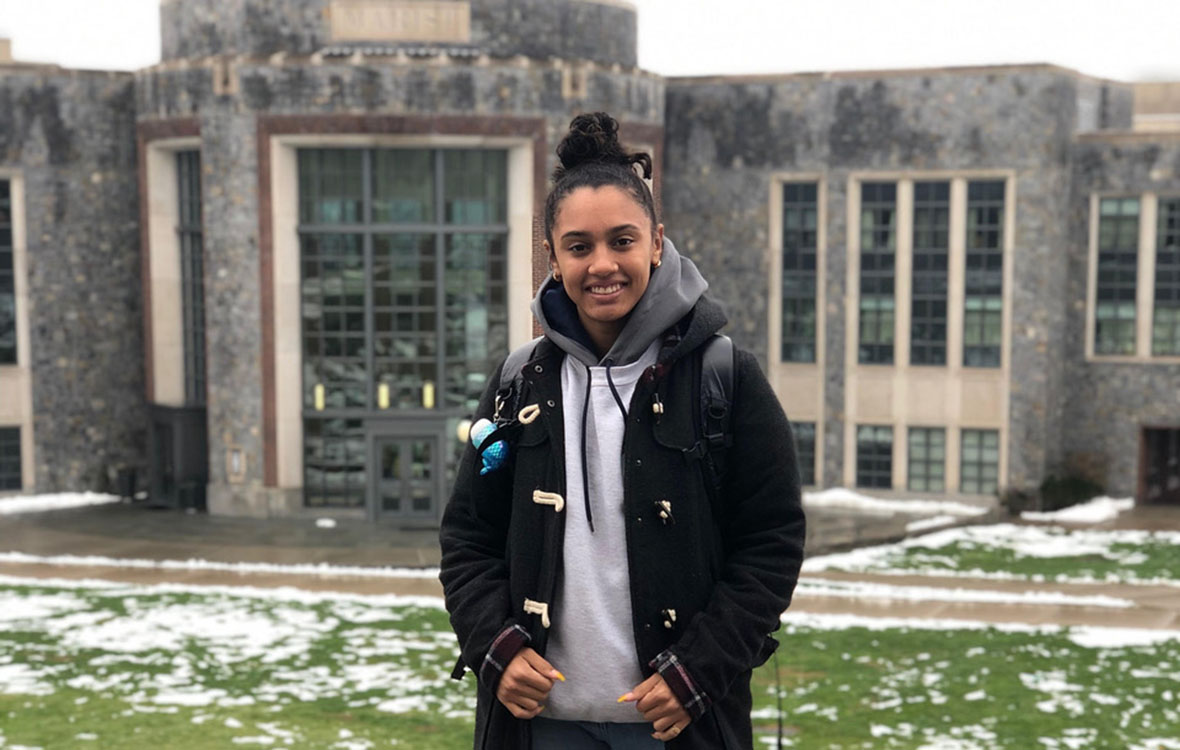 Alicia Salvatore doesn't mince words when she talks about how a unique early college program in Hudson helped her successfully make the transition to a four-year college. "Without the Bard program, college would have been a slap in the face," Salvatore says. "The faculty at Bard Early College Hudson certainly don't treat you like a high school student. From day one we were writing, reading, and discussing topics that I'd never even thought of before."
Salvatore, now a first-year student at Marist College, is one of more than 50 area students who have attended Bard Early College Hudson since its inception in 2016. Located in Hudson's Warren Street business district, Bard Early College Hudson is a partnership of Bard College, the Hudson City School District, and Questar III BOCES, with the support of the Galvan Foundation, and is open to local high school juniors and seniors. Students remain a part of their local high schools for their morning classes and afterschool activities while spending the second half of their academic day as undergraduates at Bard Early College Hudson. They participate in small, seminar-style classes with Bard faculty, most of whom also teach at Bard's main campus. Course offerings in recent years have included classes in the humanities, psychology, U.S. history, theater, art history, and nonfiction writing.
Students at Bard Early College Hudson can earn up to 26 transferable college credits at no cost. In Salvatore's case, she will be a sophomore by this spring, thanks in large part to the credits she earned through the Bard Early College program, all of which were accepted by Marist.
All of Salvatore's classmates from the 2017–18 senior class at Bard Early College Hudson are now attending college full time at such institutions as Pace University, SUNY New Paltz, and Tufts University.
Christine Jackson, who attended the Bard program while a senior at Coxsackie-Athens High School, is now in her first year at Hartwick College. Jackson said she feels undaunted by the assignments at Hartwick thanks to her early college experience. "Writing papers here is a breeze, I must say," Jackson said. "One of my professors said to write a five-page paper, and I thought, 'That's nothing.'"
Although the Hudson campus of Bard Early College is still too new to report college completion rates, data from Bard Early College programs in New York, Baltimore, Cleveland, and New Orleans show that the Bard Early College experience has a dramatic impact on students' ability to succeed in and complete bachelor's degree programs at four-year institutions. A recent analysis found that more than 90 percent of Bard Early College graduates complete a bachelor's degree within six years, compared to roughly 60 percent of high school graduates nationally.
"Gaining almost a year of college credit for free is a huge benefit of the program," said Michael Sadowski, executive director of Bard Early College Hudson, who in addition to Bard has taught at both Harvard and Stanford Universities. "But even more important are the skills students learn to succeed and persevere in college."
Concerned about college completion rates in Hudson, where only about 25 percent of residents have a bachelor's degree or higher, the Galvan Foundation partnered with Bard College, the Hudson City School District, and Questar III BOCES to establish Bard Early College Hudson in 2016. Galvan has committed $700,000 in start-up funding for the program and provides the program's classroom space in downtown Hudson. Other donors have included the Bank of Greene County Charitable Foundation, the Berkshire Taconic Community Foundation's Hudson Schools Arts & Humanities Endowment Fund, the Children's Foundation of Columbia County, the HRBT Foundation, Price Chopper's Golub Foundation, and the Rheinstrom Hill Community Foundation.
How to Apply
Students can begin Bard Early College Hudson in either their junior or senior year of high school and can apply through school districts that participate in the program. Over the past three years, students from Cairo-Durham, Coxsackie-Athens, Germantown, Hudson, Ichabod Crane, and Taconic Hills High Schools have participated. Currently, all participating districts are located within the Questar III BOCES service area (Columbia, Greene, and Rensselaer Counties), but Bard is currently in contact with school districts in Dutchess and Ulster Counties to offer the program to students in a wider geographical area beginning in 2019. Interested students or families should check with administrators or guidance staff to find out if their school participates. For more information about Bard Early College Hudson, visit
bhsec.bard.edu/hudson/
.
Post Date:
12-09-2018