Bard Professor Sky Hopinka Named 2022 MacArthur Fellow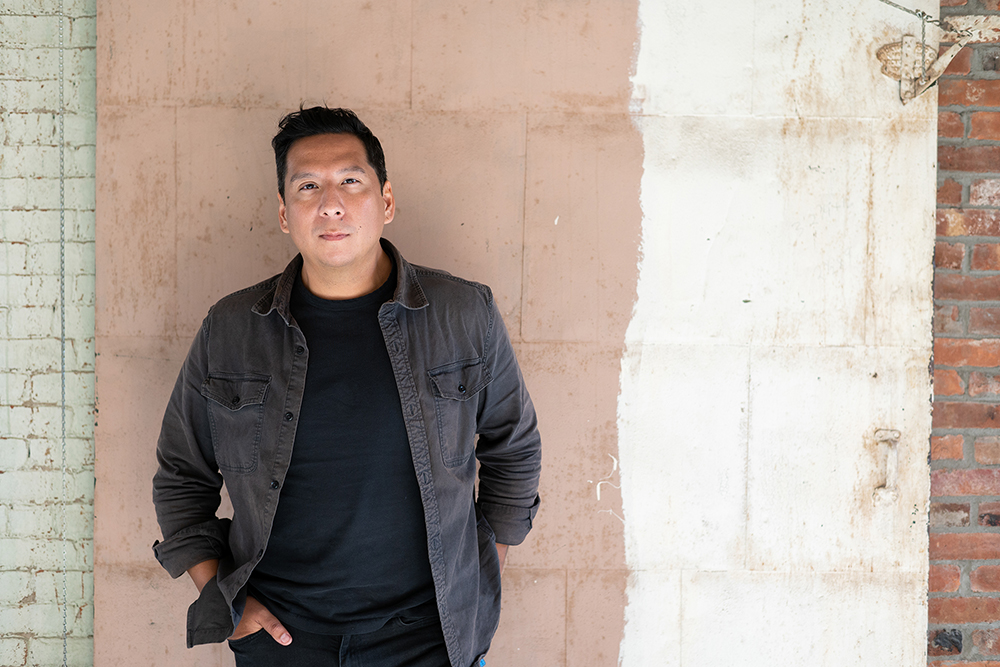 Bard College Assistant Professor of Film and Electronic Arts Sky Hopinka has been named a 2022 MacArthur Fellow. Hopinka, a filmmaker, video artist, and photographer, is one of this year's 25 recipients of the prestigious "genius grant" awarded by the John D. and Catherine T. MacArthur Foundation. In a statement about his work, the MacArthur Foundation says, "Hopinka layers imagery, sound, and text to create an innovative cinematic language. His short and feature-length films traverse both Indigenous histories and contemporary experiences . . . Hopinka is creating a body of work that not only represents the lives of Indigenous peoples but incorporates their worldviews into the strategies of representation itself."
The MacArthur Fellowship is a no-strings-attached award to extraordinarily talented and creative individuals as an investment in their potential. There are three criteria for selection of MacArthur Fellows: exceptional creativity, promise for important future advances based on a track record of significant accomplishments, and potential for the fellowship to facilitate subsequent creative work. Recipients may be writers, scientists, artists, social scientists, humanists, teachers, entrepreneurs, or those in other fields, with or without institutional affiliations. Although nominees are reviewed for their achievements, the fellowship is not a lifetime achievement award, but rather an investment in a person's originality, insight, and potential.
MacArthur Fellows receive $800,000 stipends that are bestowed with no conditions; recipients may use the money as they see fit. Nominated anonymously by leaders in their respective fields and considered by an anonymous selection committee, recipients learn of their selection only when they receive a call from the MacArthur Foundation just before the public announcement. Thirteen Bard faculty members have previously been honored with a MacArthur Fellowship.
Sky Hopinka
received a BA (2012) from Portland State University and an MFA (2016) from the University of Wisconsin at Milwaukee. He is currently an assistant professor in the Film and Electronic Arts Program at Bard College. His work has been shown at numerous film festivals including Sundance, Park City and Salt Lake City, UT; Courtisane, Ghent; Punto de Vista, Pamplona; Milwaukee Film Festival; Chicago Underground Film Festival; Toronto International Film Festival; and Ann Arbor Film Festival. He has also exhibited work at venues including Memorial Art Gallery, University of Rochester, NY; Museum of Modern Art, New York City; Hessel Museum of Art, Annandale-on-Hudson, NY; and the Whitney Museum of American Art, New York City. Hopinka is a member of the Ho-Chunk Nation of Wisconsin and a descendent of the Pechanga Band of Luiseño Indians.
Bard alumnus and artist
Paul Chan MFA '03
has also been named a 2022 MacArthur Fellow. "He draws on a wealth of cultural touchstones—from classical philosophy to modern literature, critical theory, and hip-hop culture—to produce works that respond to our current political and social realities, making those realities more immediately available to the mind for contemplation and critical reflection," stated the MacArthur Foundation.
Paul Chan
received a BFA (1996) from the School of the Art Institute of Chicago and an MFA (2003) from Bard College. His work has been exhibited in solo and group exhibitions at such national and international venues as the Museum of Modern Art, New York; The Drawing Center, New York; Walker Art Center, Minneapolis; Museum of Cycladic Art, Athens; Pennsylvania Academy of Fine Arts, Philadelphia; Solomon R. Guggenheim Museum, New York; and Schaulager, Basel. He is also the founder and publisher of Badlands Unlimited (established 2010). He received the Bard College Alumni/ae Association's Charles Flint Kellogg Award in Arts and Letters in 2021.
Further Reading
Bard Alumnus Paul Chan MFA '03 Named 2022 MacArthur Fellow
More about Sky Hopinka's Award from the MacArthur Foundation
Post Date:
10-13-2022