Bard Senior Sonita Alizada Calls for Global Action Supporting Women and Girls in Conflict Zones, Joins European Council Event in Conjunction with UN General Assembly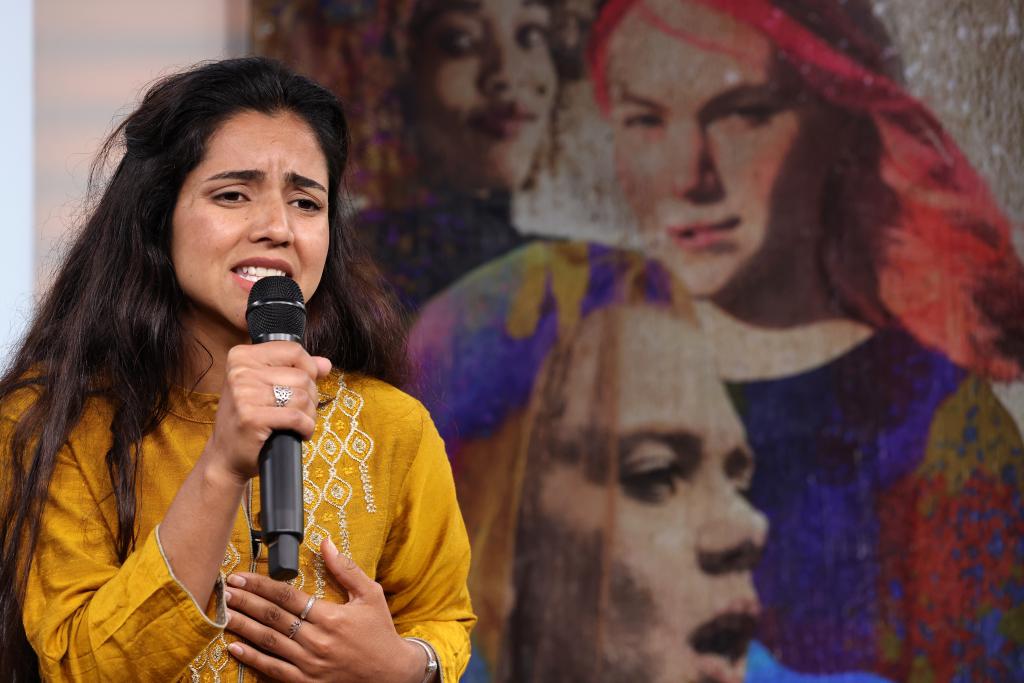 Sonita Alizada '23
, Bard College student, international rapper, and human rights activist, participated in the European Council event "Women in Conflicts: Young Voices for Change" on Wednesday, September 21, performing original songs and speaking on a panel of youth advocates. The event featured young women survivors, activists, policymakers, and leaders working in conflict and post-conflict regions. Cohosted by UN Women, Nadia's Initiative, and the Dr. Denis Mukwege Foundation, the third annual "Women in Conflicts" event took place in conjunction with the United Nations General Assembly in New York City.
Alizada is a human rights major at Bard, also studying music. She opened the event performing her song "Daughters for Sale," which passionately criticizes the practice of forced child marriage and draws on her own experience of twice escaping forced marriage in Afghanistan and Iran.
In the panel discussion, she reflected on the anniversary of the Taliban banning girls from attending secondary school in Afghanistan, describing the situation as an emergency. Alizada also criticized global inaction and called on the humanitarian sector and international leaders to listen to and invest in women and girls who are living in crisis situations.
"If another generation is born in poverty and illiteracy, the humanitarian crisis, child marriage, sexual abuse, health issues, (will grow) at an even faster rate," she said, referring to conditions in Afghanistan and Iran.
Similarly, panelists
Nadia Murad
, Iraqi Yazidi human rights activist, and
Olena Zelenska
, First Lady of Ukraine, discussed inadequate international responses to the plight of women and girls who have survived conflict-related sexual violence in Iraq and Ukraine.
Jayathma Wickramanayake
, the UN Secretary-General's Envoy on Youth, highlighted the problem of women frequently being characterized as victims of conflict instead of individuals who can play an active role in maintaining peace and security in their communities and countries.
Alizada performs at the beginning and end of the livestream and joins a panel of young activists at 32:18.
Post Date:
09-27-2022