Institute for Writing and Thinking: Teaching with a Swedish Accent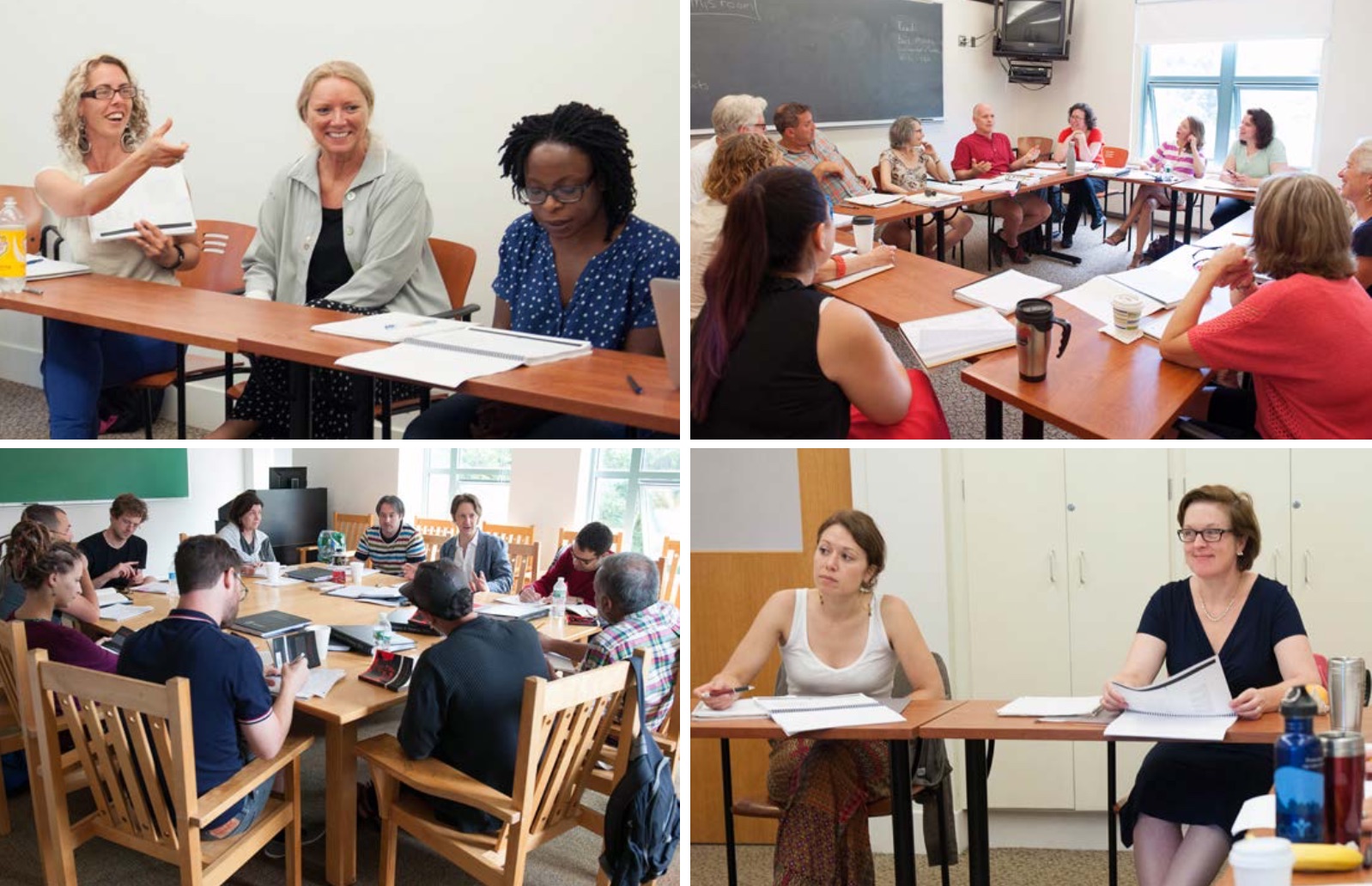 An old adage refers to teachers and philosophers who send their students out into the world, only to have them return carrying lessons that sound and look remarkably different. But we speak a living language, we tell ourselves; habits and practices are bound to change; our ways of making meaning cannot help but evolve. In some ways this has been the story of Bard's expanding Institute for Writing and Thinking (IWT). Not only has the Institute increased the work it is doing on the domestic front—teachers from across the country come to IWT workshops and then bring writing practices back to their American college and secondary classrooms—but an even more remarkable and dramatic transformation has occurred abroad through Bard's Center for Civic Engagement (CCE) network, especially in dual-degree programs like the Faculty of Liberal Arts and Sciences (Smolny College), St. Petersburg State University, Russia (1999); Al-Quds Bard College for Arts and Sciences in the West Bank (2009); American University of Central Asia in Kyrgyzstan (2010); and at Bard College Berlin (2011). However, one site where the Institute's practices have taken root is a Bard connection of which many Bardians are unaware. The longest-standing link to Bard's Institute for Writing and Thinking was forged in Sweden.
The challenge for IWT Director Peg Peoples and International Coordinator Celia Bland (and before them, Director Teresa Vilardi) has been to encourage the dissemination of the Institute's ideas while at the same time ensuring the quality of their application in the classroom. This is a difficult enough task for schools near the Bard campus, but when workshops are offered in different languages and on sites as distant as Abu Dis and Bishkek, the complications can only multiply.
Meeting that challenge is also where Sweden stands out. One of the unusual circumstances about writing and thinking practices in Sweden is that they took root before the CCE connection. Bard has no partner institution there with which to coordinate training: no Smolny, no Al-Quds. Much of the credit for the Swedes' enthusiasm goes, instead, to teachers who attended IWT's first Stockholm workshops in 1989 and then took these practices back to their students at Stockholm University's School of Education. Gunilla Molloy, Anna Berge, and Anita Clarhall were three of those teachers, supported by their school's dean, Bengt Borjesson. After participating in the early workshops himself, Borjesson visited Bard and in 1992 persuaded President Leon Botstein to come to Stockholm, where he addressed members of the university faculty.
Berge and Clarhall were, in fact, trained at Bard, where they led weeklong IWT July workshops for American and international teachers. Once back in Stockholm, Molloy joined them in training their graduate students in IWT methods and later offered professional courses in many of Stockholm's schools. When these teachers took the writing practices into their classrooms, the ideas percolated down through the larger Swedish student population. Molloy also published an important book in 1996,
Reflective Reading and Writing
, the first research of its kind in Scandinavia. The book, which reflects IWT ideas and methods, was very well received and used in all schools of education in Sweden. More recently Berge coauthored, with Per Blomqvist,
Teaching to Write in Collaboration with Literary Texts
(2012), which explains how two teachers, also using ideas from IWT, are working with students at the junior college level. The research for both of these works acknowledges the influence of Bard's Institute.
Molloy explains that she and her colleagues had previous contact with other American pedagogical networks, but found them a bit long on practice and short on theory. When they participated in their first IWT workshop, they sensed that they had found the balance they were looking for. After that first workshop, Molloy says, she began thinking differently about her own teaching and writing: "It dawned on me that I had no idea what my students actually thought about the texts that we read. It was especially the metacognitive writing at Bard that turned my teaching around, for the benefit of both my students and me as a teacher."
Since 1989, hundreds of Swedish teachers have used the Institute's writing strategies to consider the connections between language and thought, and to weave in the metacognition (learners' awareness of their own knowledge) of reflective practice. Because Sweden is a smaller country than the United States (with a population less than half that of New York State), writing practices are more easily coordinated. While educators in the United States still argue back and forth about the Common Core standards, Swedish teachers are not subject to these distractions.
Both Anne-Louise Eriksson, who directs the Church of Sweden's new Institute for Pastoral Education, and Maria Hedman Hvitfeldt, director of studies at the Stockholm Academy of Dramatic Arts, have turned to IWT to inform their institutions' approaches to writing and textual analysis. Hedman Hvitfeldt, who brought a dozen Swedish faculty colleagues to weeklong Bard IWT workshops last July, says she wanted to offer her students "a better understanding and insight of their own role in society as artists." Tinna Joné, head of the Film and Media Department at the drama academy, said during the workshops that learning the IWT writing practices is important to her students because "we need to know the thoughts in their heads—and this communication is important, since the whole process of the film needs to be documented." Added Ingela Josefson, a fellow faculty member at the drama academy, "Here at Bard I really feel we are able to deepen our understanding of how to teach our students."
Whether in the dramatic arts academy, Church of Sweden, or public schools and universities, IWT practices have taken on a Swedish cast. The workshops are taught in Swedish and use Swedish texts. Most significantly, these workshops are often led by associates who have themselves been trained by Swedes. It is, in other words, a country where writing and thinking has taken flight using its own wings.
In many ways, Orwell would remind us, language becomes political in programs like IWT. In many of the countries where they are taught, Bard's programs offer the only liberal arts approach to university study, and with that offering comes a much more radical demand for critical thinking and pedagogical change.
But students are asked to challenge more than the authority of their professors. The writing and thinking practices also invite them to challenge the authority of the texts that they read and of their own previously held ideas. Paul Connelly, IWT's founding director from 1982 to 1998, was fond of saying that reading should be a contact sport, that the text should never go unquestioned. In English, he pointed out, embedded in the word "authority" is the word "author." Writing and critical reading, Connelly argued, help us see that we can be the authors of our own positions in the world. He and his colleagues saw IWT as offering this use of language, and this use of language—whether English, Swedish, or Arabic—ultimately transforms the meanings and ways of thinking that our students bring into the world.
If Peter Elbow, the compositional theorist who helped launch IWT nearly 30 years ago, were to look with Connelly at the international implications of IWT today, part of their reaction might be pleasant surprise. While the IWT of today wasn't necessarily the kind of Institute they had imagined in 1981, and its boundary lines have shifted radically, it is still an Institute that puts language and thought at the forefront of change.
Ray Peterson is former IWT director (1998–2001), founding principal of Bard High School Early College (BHSEC) Manhattan and BHSEC Newark, and consultant for ongoing BHSEC projects.
This article originally appeared in the Spring 2015 issue of the
Bardian.
Post Date:
04-01-2015