Bard Students Help Restore Appalachian Trail on Bear Mountain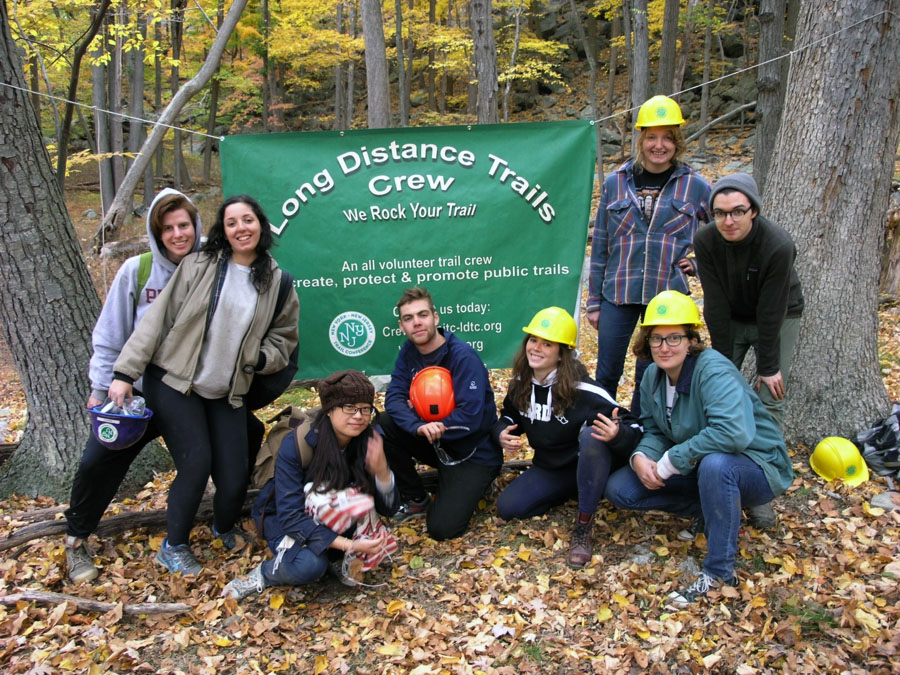 By Sarah Wallock '19
In collaboration with Bob Fuller, Andrea Minoff, and Marty Costello
Photos by Andrea Minoff and members of the Long Distance Trails Crew
This past October, students from Tom O'Dowd's Environmental and Urban Studies Practicum on Sustainable Trail Design teamed up with the New York-New Jersey Trail Conference (NYNJTC) Long Distance Trails Crew (LDTC) in Bear Mountain State Park, New York. The students helped with a relocation project of the Appalachian Trail on the southwest side of Bear Mountain.
In this EUS Practicum, the students study how to implement sustainable sidewalks, pathways, and trails into communities and the complications that may arise. The class spent the semester learning about the design of trails and the effects of proper and improper trail construction. The class works with Amy Parella, director of Bard's Landscape and Arboretum program, and Laurie Husted, Bard's sustainability manager, as well as local trail experts from Red Hook, the Winnakee Land Trust, and the National Park Service. They research and present on trails at a local and global level.
Usually the students work on the college's trail system or nearby on the Tivoli Bays trail system, trails in Red Hook, and rail trails in Kingston, but they chose to travel 70 miles south for this project. Tom O'Dowd, executive administrator of Environmental and Urban Studies, instructed the class to elect somewhere where they could go and make a difference on a more regional level. The class came up with the idea to go to Bear Mountain and made all the arrangements.
Bard students Evelyn Buse 16', Isaiah Chisholm 16', Hannah Conely 17', Rock Delliquanti 16', Clara Duman 18', Duncan Routh 17', and Yuejiao Wan 17', along with Caroline Francisco, a friend from Yale, worked closely with the LDTC. The LDTC is a collection of volunteers dedicated to the construction and rehabilitation of foot trails along the Appalachian Trail, Long Path, and Highlands Trail in New York, west of the Hudson. The LDTC crew leaders Chris Reyling, Erik Garnjost, and Bob Fuller instructed students how to design a sustainable, aesthetically pleasing, and natural-looking trail. They demonstrated the use of equipment so students could relocate rocks to clear the trail. They crushed rock with sledgehammers and dug dirt from a borrow pit to landscape the final trail.
Bob Fuller, Wendi Wan, Chris Reyling, and Duncan Routh work together to move a rock.
When asked about how this trip related to their EUS course Hannah Conely replied, "We spent a lot of time discussing how different methods of trail building and different design features could be applied to fit specific terrains, soil types, and other aspects of trails." Rock Delliquanti added, "The section of the trail we were replacing had been washed out and eroded from foot traffic. We moved a several hundred pound rock with a system we learned about in class, and we saw how this trail was being laid out and how this problem was being worked through."
The Environmental and Urban Studies students were impressed by the intricacies of trail construction and the hard work required to create safe and beautiful trails. Conely reflects, "It was an incredible day, the people who we worked with were fun and very knowledgeable. I was shocked at how much we could help. We were doing work that needed to get done and even though it was our first time we felt quite useful." Delliquanti added, "It made me really appreciate how much effort goes into these things. And these guys were hilarious and made such a great team. Especially because it's all volunteer and they want to have fun and get the job done so their attitude was infectious."
Bob Fuller demonstrates trail construction practices to students.
According to the LDTC, the Bard students' work was greatly appreciated. The New York-New Jersey Trail Conference has partnered with parks to create, protect, and promote a network of more than 2,100 miles of public trails in the New York metropolitan region. This contribution not only helped the LDTC's mission but it inspired the EUS students and brought together members of the campus community with their neighbors in the Hudson Valley.
Post Date:
12-22-2015