Bard College Student Athletes Support the Hudson Valley's Special Olympians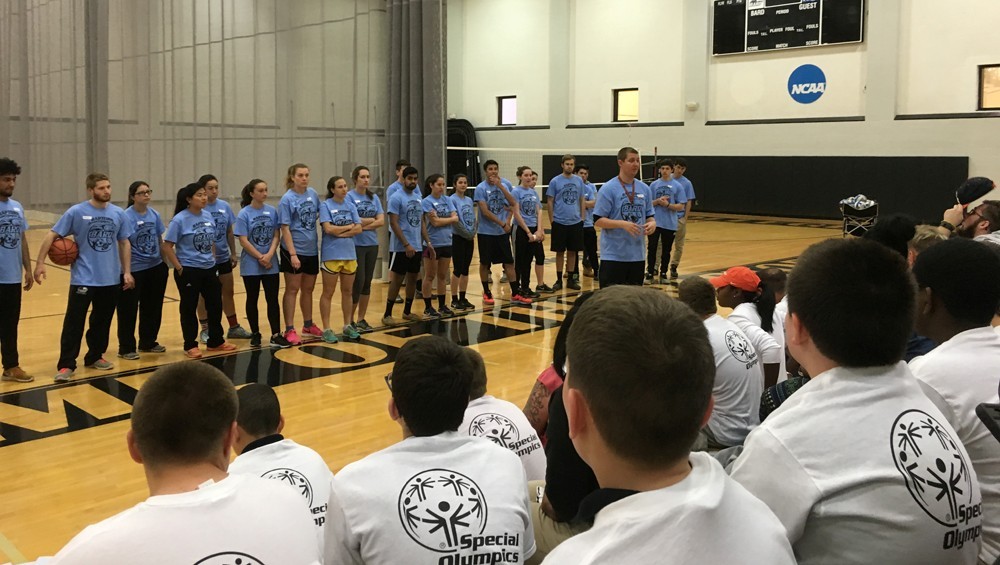 More than 300 Bard College varsity athletes have contributed to the Special Olympics program over the past year, working with local agencies, hosting a Special Olympics Day, and raising money, including by participating in the Polar Plunge.
Twenty Bard student athletes took part in the 20th Annual Polar Plunge at the Fresh Air Fund's Sharpe Reservation in Fishkill on February 25, raising $2,500 for Special Olympics New York. Headquartered in Schenectady, it is the largest Special Olympics program in the United States and the sixth-largest in the world, serving 65,000 athletes and involving 35,000 volunteers.
The Fishkill Plunge was just the latest in a series of events benefitting local Special Olympians, efforts initiated by the Bard College Student Athlete Advisory Committee (SAAC). The Committee is composed of two student athletes from each of Bard's 19 intercollegiate athletic programs, in addition to three student officers.
"The Polar Plunge is an opportunity for our student athletes to show support for a great cause by literally jumping into freezing cold waters," says Emily Weisman, a Bard senior and the president of SAAC. "What is great about all of our Special Olympics fundraisers is the community aspect of it. As student athletes, we want to make the most of our platform, and use our voices and teams to support amazing causes." Nearly one-fifth of all Bard students participate in a varsity sport.
Bard's student athletes also raised $1,715 for the Special Olympics through the Change War, an annual fundraising contest between New York–based NCAA Division III athletic conferences. Bard College is a member of the Liberty League, which each year challenges the Empire 8 to see which league can collect the most coins. "Not only do we love competition," says Weisman, "but we love to be able to compete for something bigger than a win. This matters to us." The 2018 Change War will take place April 2–8.
In addition to fundraising events, SAAC hosts a Special Olympics Day on the Bard College campus each spring. Last year, 56 guests from the Astor Home for Children in Rhinebeck, the Devereaux School in Red Hook, the Anderson School for Autism in Staatsburg, and the Children's Home of Kingston attended. Participants rotated through six stations, where more than 40 Bard student athletes taught them basketball, volleyball, squash, soccer, lacrosse, and track and field. (This year's event will be held in April on a date to be announced.)
"Our student athletes are Bard students first, which means civic engagement matters to them," says Bard College Director of Athletics Kristen Hall. "They've learned that they can mobilize and make a difference. They are great representatives of the Athletic Department, and for Bard College as a whole."
Post Date:
03-06-2018