Bard College's Literary Magazine Conjunctions Wins Prestigious Whiting Literary Prize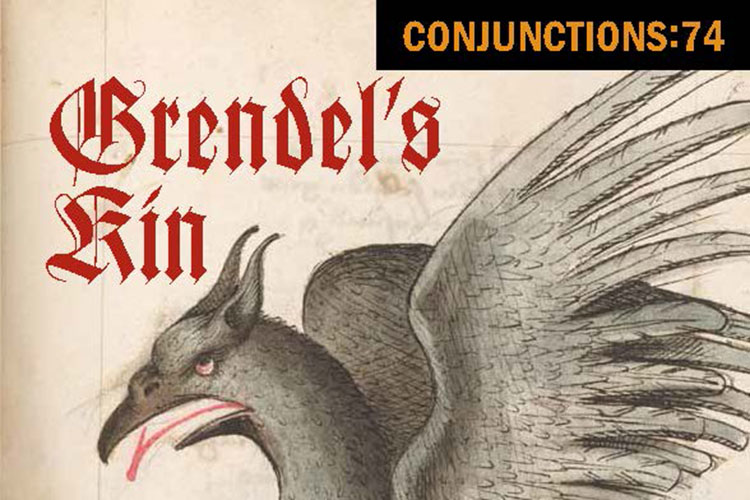 Conjunctions
, the celebrated literary magazine published by Bard College, has been awarded a 2020 Whiting Literary Magazine Prize. Since 2018, a total of 13 literary magazines have won this prize for excellence in publishing, advocacy for writers, and a unique contribution to the strength of the overall literary community.
Conjunctions
has propelled literature forward for four decades by publishing groundbreaking fiction, poetry, plays, and creative nonfiction that marry visionary imagination with formally innovative execution. Each issue illuminates a complex theme—such as exile, desire, the body, or climate change—in a book-length format that gives space to long-form work and a multitude of perspectives. From its home in Bard College,
Conjunctions
and its founding editor, Bradford Morrow, have earned recognition for uplifting both new writers and contemporary masters who challenge convention.
"Every issue of
Conjunctions
is a feat of curatorial invention, continuing the Modernist project of dense, economical writing, formal innovation, and an openness to history and the world," the Whiting judges commented. "Its longevity is a testament to its cultural staying power. Organized around a unifying idea, each issue stitches together work by storytellers and scholars to create a fluid and expansive survey of our most pressing human concerns."
"The 2020 Whiting Literary Magazine Prize could not have come at a more significant time for
Conjunctions
, which will be celebrating its fortieth anniversary in the coming year," said Bradford Morrow, Editor of
Conjunctions
and professor of literature at Bard. "The pandemic has inflicted unprecedented challenges on all of us, including literary journals and writers, and thanks to the Whiting Foundation,
Conjunctions
will be able to continue publishing both our print and online journals without interruption. This grant will enable us to broaden and deepen our ongoing search for innovative poetry, fiction, essays, and multi-genre works by those who write fearlessly, and greatly strengthen our outreach to those who, as we at
Conjunctions
like to say, read dangerously."
Morrow gave special thanks to those who supported
Conjunctions
' Whiting application. "I want to take the opportunity also to express my gratitude to our former managing editor, Nicole Nyhan, for all her hard work on the application to the Whiting Foundation," he said. "And to the three writers who shall remain unnamed, my thanks for graciously writing letters of support on our behalf."
The
Whiting Literary Magazine Prizes
were launched in 2018 to acknowledge, reward, and encourage the publications that are actively nurturing the writers who tell us, through their art, what is important. The purpose of the prizes is first and foremost to recognize excellence, and also to help outstanding magazines reach new audiences, find new sources of revenue, and travel the path to sustainability and growth. The matching grants in years two and three are intended to give these publications enough runway to make serious progress toward achieving these goals. For more information about the Whiting Foundation, visit
whiting.org
.
Edited by Bradford Morrow and published twice yearly by Bard College,
Conjunctions
publishes innovative fiction, poetry, and creative nonfiction by emerging voices and contemporary masters. For nearly four decades,
Conjunctions
has challenged accepted forms and styles, with equal emphasis on groundbreaking experimentation and rigorous execution. The
Washington Post
says, "
Conjunctions
offers a showplace for some of the most exciting and demanding writers now at work." Named a "Top Literary Magazine 2019" by Reedsy, the journal was a finalist for both the 2018 and 2019 ASME Award for Fiction and the 2018 CLMP Firecracker Award for General Excellence. In addition, contributions to recent issues have been selected for
The Best American Essays
(2018, 2019),
The Pushcart Prize XLIV: Best of the Small Presses
,
Best American Experimental Writing 2020
,
Best Small Fictions 2019
,
and
The Year's Best Dark Fantasy & Horror: 2019
.
For more information on the latest issue, please visit
conjunctions.com/print/archive/conjunctions74
. To order a copy, go to
annandaleonline.org/conjunctions
, call the
Conjunctions
office at 845-758-7054, e-mail
[email protected]
, or write to
Conjunctions
, Bard College, PO Box 5000, Annandale-on-Hudson, NY 12504-5000. Visit the
Conjunctions
website at
conjunctions.com.
[Note to editors: To obtain review copies, please call Mark Primoff at 845-758-7412 or e-mail
[email protected]
.]
Post Date:
09-16-2020