Bard High School Early College Receives $1.5 Million Grant from Bloomberg Philanthropies to Bolster Early College Success in the Baltimore Public School System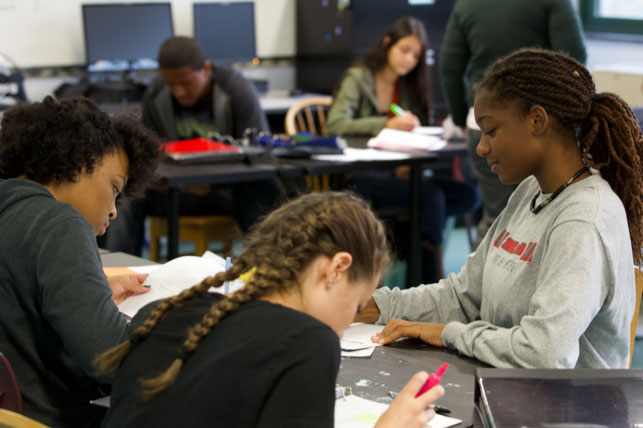 Bard High School Early College in Baltimore has received a $1.5 million grant from Bloomberg Philanthropies to expand its academic curriculum and deepen its student guidance programs to better support Baltimore City Public School students pursuing early college credits and degrees at Bard College. Bard High School Early College (Bard Baltimore) is the only degree-granting early college high school in the district, seeks to improve the transition from high school to college and increase access and success in higher education, particularly for students from low-income and historically underrepresented communities.
[Read more in the Baltimore Sun: "Bard High School in Baltimore announces $1.5 million grant will go toward advising for students"]
"This gift opens a world of possibilities for our entire school community, from students to families to faculty to alumni," said Bard Baltimore Principal
Francesca Gamber
. "As we welcome students back from the pandemic, the support of Bloomberg Philanthropies will help us to respond to their academic and social-emotional needs in ways that will amplify the success we've already seen over the past six years. BHSEC Baltimore strives to be a citywide leader in toppling the barriers to a college education, especially for students of color, and in disrupting the school-to-prison pipeline. We are grateful for this support, which will advance our work so significantly."
Bard Baltimore
opened in 2015 as a partnership between Bard College and the Baltimore City Public School District. Students at Bard Baltimore begin full-time Bard College coursework at the end of the 10th grade, with the ability to earn 60 or more transferable college credits and a Bard College Associate in Arts degree, tuition-free, by the end of the 12th grade.
The 419 students currently enrolled at Bard Baltimore reflect the diversity of the city and the promise of its young people. Of the graduating class of 2020, 93% graduated with a high school diploma and at least one full year of transferable college credit. Fifty-four percent earned their Bard AA degree, and 85% have gone on to further college studies. Bard Baltimore graduates have continued their studies at leading colleges and universities in Maryland and nationwide. Eighty-one percent of the Bard Baltimore student body is Black and more than half are first-generation college goers.
"This recognition of Bard's successful early college model by the Bloomberg Philanthropies is deeply gratifying and will play a significant role in its continued success in Baltimore," said Bard College President Leon Botstein.
Since Mike Bloomberg's graduation from Johns Hopkins University in 1964, he has demonstrated a special commitment to his alma mater — serving as chair of the Board of Trustees and supporting efforts across the university including major capital projects, endowed professorships, and undergraduate need-based scholarships — and its home city of Baltimore. Bloomberg Philanthropies' engagement in Baltimore focuses on education, small businesses, job creation, and workforce development programs, especially for the city's youth. In 2017, Bloomberg Philanthropies partnered with Goldman Sachs to expand the successful 10,000 Small Businesses program to Baltimore to help local entrepreneurs grow their companies — there are now 392 Baltimore program alumni.
As part of its Career and Technical Education portfolio, Bloomberg Philanthropies supports Grads2Careers, a program that connects Baltimore City Schools graduates with free job training and job placement, and the HeartSmiles-Living Classrooms Year-Round Fellows work experience program for high school students and young adults. Bloomberg Philanthropies also hosts a program connecting Baltimore high school students with summer internships at arts organizations, and through its Arts Innovation and Management program, small and mid-sized Baltimore-based arts organizations participate in management training.
Bloomberg Philanthropies has worked directly with Baltimore city leaders to use data to improve decision-making and government services for residents through the What Works Cities program; to improve public safety with creative solutions from a dedicated innovation team (i-team); and to hone leadership and management skills through the Bloomberg Harvard City Leadership Initiative.
"Bard Baltimore is vitally important in the landscape of higher education in Baltimore," said Bard Early College Executive Director Stephen Tremaine. "Bloomberg Philanthropies' extraordinary commitment to this unique campus will deepen the school's impact for young people across Baltimore, particularly in disinvested and underestimated Baltimore communities. Mr. Bloomberg's leadership as Mayor of New York City was crucial to the initial expansion of the Bard Early College model. His continued leadership in education, and continued commitment to the City of Baltimore, is crucial to opening doors and changing lives in Baltimore."
This generous gift will enable Bard Baltimore to significantly expand its advising and support of students and alumni/ae, helping to ensure that the school's early college students are progressing not only faster but also farther.
About the Bard Early Colleges
The Bard Early College model replaces the 11th and 12th grades with the first two years of college, all within public schools. BEC provides adolescents with a rigorous, credit-bearing, college course of study in the liberal arts and sciences following the 9th and 10th grades, at no cost to students or their families. Students receive up to 60 college credits and an associate in arts (A.A.) degree from Bard College, alongside a high school diploma. These schools are designated as public high schools and accredited as branch campuses of Bard College.
Founded in 2001, the
Bard Early Colleges
are a nationally recognized network of tuition-free early college operated through partnerships with public school systems in
five states and Washington, DC.
These schools provide high school students, particularly those who face significant structural obstacles to a college degree, with a rigorous, tuition-free college course of study in the liberal arts and sciences and the opportunity to earn college credit and an associate's degree alongside their high school diploma. With over 3,000 students nationwide, the Bard Early College network radically expands college access and success within public school systems. For more information about Bard Early College, visit
bard.edu/earlycollege
.
About Bloomberg Philanthropies:
Bloomberg Philanthropies invests in 810 cities and 170 countries around the world to ensure better, longer lives for the greatest number of people. The organization focuses on five key areas for creating lasting change: the Arts, Education, Environment, Government Innovation, and Public Health. Bloomberg Philanthropies encompasses all of Michael R. Bloomberg's giving, including his foundation, corporate, and personal philanthropy as well as Bloomberg Associates, a pro bono consultancy that works in cities around the world. In 2020, Bloomberg Philanthropies distributed $1.6 billion. For more information, please visit
bloomberg.org
or follow us on
Facebook
,
Instagram
,
YouTube
,
Twitter
, and
TikTok
.
About Bard College
Founded in 1860,
Bard College
is a four-year residential college of the liberal arts and sciences located 90 miles north of New York City. With the addition of the Montgomery Place estate, Bard's campus consists of nearly 1,000 parklike acres in the Hudson River Valley. It offers bachelor of arts, bachelor of science, and bachelor of music degrees, with majors in nearly 40 academic programs; graduate degrees in 11 programs; eight early colleges; and numerous dual-degree programs nationally and internationally. Building on its 160-year history as a competitive and innovative undergraduate institution, Bard College has expanded its mission as a private institution acting in the public interest across the country and around the world to meet broader student needs and increase access to liberal arts education. The undergraduate program at our main campus in upstate New York has a reputation for scholarly excellence, a focus on the arts, and civic engagement. Bard is committed to enriching culture, public life, and democratic discourse by training tomorrow's thought leaders. For more information about Bard College, visit
bard.edu
.
Post Date:
08-10-2021