Bard College Receives $25 Million Endowment Gift from Gochman Family Foundation Supporting Renamed American and Indigenous Studies Program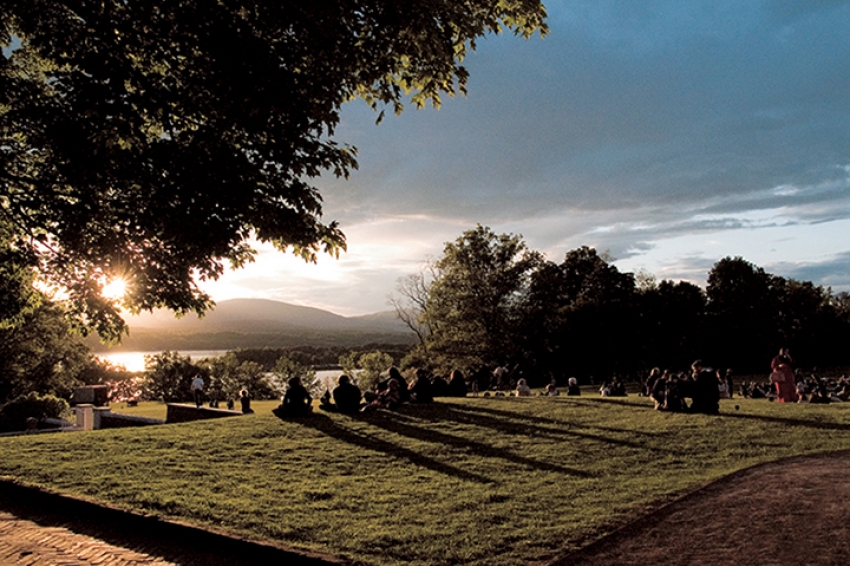 Match by Open Society Foundations as Part of Bard's Endowment Drive Will Create $50 Million Endowment Supporting Native American and Indigenous Studies in Undergraduate and Graduate Academics and the Arts
Bard College
is excited to announce a transformational endowment gift from the
Gochman Family Foundation,
which will substantially advance its work deepening diversity and equity in American Studies with a Center for Indigenous Studies, faculty appointments and student scholarships, and the appointment of an Indigenous Curatorial Fellow at Center for Curatorial Studies (CCS Bard). The College's American Studies Program will be renamed
American and Indigenous Studies
to more fully reflect continental history and to place Native American and Indigenous Studies at the heart of curricular innovation and development. These initiatives, developed in partnership with
Forge Project
, will be supported by a $50 million endowment created by this visionary $25 million gift from the Gochman Family Foundation, with an additional $25 million matching commitment from George Soros and the Open Society Foundations as part of Bard College's endowment drive.
The gift will accelerate Bard's existing work in Native American and Indigenous Studies and develop broader College-wide programming initiatives in consultation with Forge Project Executive Director Candice Hopkins (Carcross/Tagish First Nation). These initiatives include public programming and exhibitions, visiting scholars, archive and library acquisitions, and publishing.
The endowment will also support efforts to increase enrollment of students from historically-underrepresented populations and geographic regions, such as Native American and Indigenous communities, through
dedicated undergraduate and graduate scholarship funds
that cover tuition, fees, materials, and cost of living for students, as well as enhancing recruitment and retention support.
The College will establish a chair for a distinguished/senior scholar of Native American and Indigenous Studies, to be named after a prominent Indigenous woman to recognize the academic contributions of Native women and educators, along with recruitment for additional faculty positions in interdisciplinary fields and Indigenous Studies. Library acquisitions and the development of archives dedicated to Native American and Indigenous history and culture will amplify this work.
Within the American and Indigenous Studies Program, the Center for Indigenous Studies will provide dedicated programming on key topics and methods in Native American and Indigenous studies throughout the Bard network and in public-facing events, including an annual lecture series, arts programming, curricular enrichment programming, and community-focused events.
Forge Project Executive Director Candice Hopkins also joins the
CCS Bard
faculty as
Fellow in Indigenous Art History and Curatorial Studies
. Hopkins, who is a class of 2003 CCS Bard alum, will curate a major exhibition in 2023 to inaugurate the gift. The exhibition will center on the development of contemporary Native art through its exhibition histories and via thematic through lines including land, cultural sovereignty and self-determination, culturally-specific institutional critique, and the use and reuse of material and aesthetic practices drawn from the long history of Native cultural production in the United States and Canada. At CCS Bard, Hopkins will also teach one course per year focused on themes related to Native and Indigenous art history and curatorial studies, employing the Forge collection, a contemporary Native art collection, and engaging in conversations with living artists. Hopkins will lead archival acquisitions around Native and Indigenous exhibition histories in order to deepen CCS Bard's purview in this area, strengthen emphasis on Native and Indigenous curatorial histories and art, and offer greater support to Indigenous students.
"I would like to express my deep gratitude to the Gochman Family Foundation for this generous endowment gift to support Native American and Indigenous studies in undergraduate and graduate academic programs," said Bard College President Leon Botstein. "This is a fantastic contribution to the study of America, vital to a liberal arts education offering a broader understanding of the country."
"I'm honored to work with Candice Hopkins and Bard to support Indigenous students' ability to attend the College, and make possible the broader institutional transformation that will have an impact not just in the immediate term, but for generations of students, faculty, and staff to come," said Becky Gochman.
"This gift represents institutional change, which has been building at Bard and is core to the vision of Forge Project. These lands are layered with histories that are inextricably bound by the displacement and forced removal of Indigenous peoples, yet also rich with knowledge," said Forge Project Executive Director Candice Hopkins. "This gift provides the basis for the future building of this knowledge, to shift and expand discourses across fields of study, whether it be in Indigenous and American studies, art history, or curatorial practice. Critically, it also centers the needs of Indigenous students, reducing barriers to higher education, and recognizes that students want to attend programs where they see their interests reflected. Bard is at the forefront of this, and we are honored to be a part of this change."
"The Gochman Family Foundation's wonderful generosity allows us to sustain the work being undertaken in the
Rethinking Place: Bard-on-Mahicantuck
project, a curricular humanities and arts initiative to amplify and expand Native American and Indigenous Studies in partnership with the Stockbridge-Munsee Band of Mohican Indians. We are proud to be in dialogue with and guided by the Tribal Nation whose ancestral lands the college is seated on around American and Indigenous Studies programming and to model such collaboration for peer institutions by our example. Importantly, the Gochman Family Foundation's visionary gift and our collaborative efforts with Forge Project significantly expand crucial areas of curriculum development, research opportunities, and vital public programming," said Christian Ayne Crouch, Associate Professor of History and American and Indigenous Studies and Dean of Graduate Studies, who steers the interdisciplinary team implementing Rethinking Place. "They have afforded American and Indigenous Studies a transformational opportunity, emphasizing the necessity of entwining Native American and Indigenous perspectives in our shared history, providing robust support for future scholars and leaders among our undergraduates and graduate students, and illuminating new points of connection between the wider, non-academic community and Bard."
"This act of renaming of the program is no mere gesture but rather an evolution which offers recognition of how much American Studies as a discipline has changed since the inception of the field in the late 1930s," said Peter L'Official, Associate Professor of Literature and Director of the American and Indigenous Studies Program. "Path-breaking, multidisciplinary American Studies scholarship has already acknowledged how the study of Indigeneity highlights Native studies' extant intersections with fields like Black studies, Latinx studies, and Asian and Asian American studies. To paraphrase the Creek-Cherokee scholar Craig Womack, 'tribal literatures and histories are not a branch waiting to be grafted onto the main trunk. Tribal literatures are the tree, the oldest literatures in the Americas, the most American of American literatures.' This gift will help make more visible and tangible these essential, intertwined, and interdisciplinary histories and literatures to both our students and to the broader communities around—and beyond—Bard."
"Graduate students have long driven original research and scholarship around Indigenous art and curatorial studies alongside the faculty and staff at CCS Bard. Candice Hopkins' powerful writing and exhibitions have been essential material in our curriculum, and it is truly thrilling to have her join our faculty and contribute to the future shape of the graduate program, its resources, and program," said Lauren Cornell, CCS Bard Director of the Graduate Program and Chief Curator.
Post Date:
09-28-2022