Five Bard College Students Win Fulbright Awards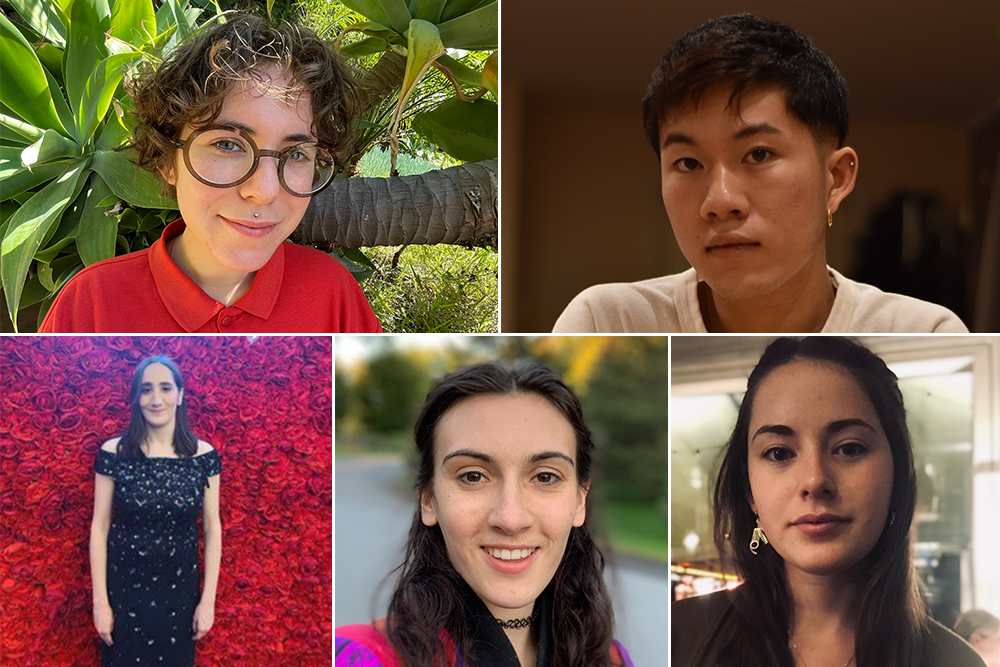 Five Bard College students have won Fulbright Awards for individually designed research projects, graduate study, and English teaching assistantships. During their grants, Fulbrighters meet, work, live with and learn from the people of the host country, sharing daily experiences. The program facilitates cultural exchange through direct interaction on an individual basis in the classroom, field, home, and in routine tasks, allowing the grantee to gain an appreciation of others' viewpoints and beliefs, the way they do things, and the way they think. Bard College is a Fulbright top producing institution.
Mercer Greenwald '22
, a German Studies major from Williamstown, MA, has won a Fulbright Research and Teaching Assistantship Award in Austria for the 2022–23 academic year. As a Combined Research and Teaching Fulbright Scholar, Greenwald will spend the year immersed in the cultural life of the city of Vienna, where she will teach English and write an independent research project on the topic of "concomitant being" in the work of Austrian writer and thinker Ingeborg Bachmann (1926-1973) and the Brazilian writer Clarice Lispector (1920–1977). Greenwald will begin doctoral study in Germanic Languages and Literatures at Harvard University in the fall of 2023.
Maya Frieden '22
(they/them), an art history and visual culture major, has won a Fulbright Study/Research Award to support graduate study in the Netherlands for the 2022–23 academic year. Frieden will spend the year in the Vrije Universiteit Amsterdam's Master's program, Art & Culture: Design Cultures. "I have often questioned the sustainability of the current pace at which the design industry is progressing. Embedded within every designed element--from object design to urban design--are intentions that can be sensed, even subtly, by those encountering them, and they frequently symbolize and materialize exclusionary or prohibitive ideologies," says Frieden. "The Vrije Universiteit Amsterdam's Master's program, Art & Culture: Design Cultures, understands the significance of historical, sociological and environmental research within the field of design, training students with the skills to interpret, discuss and interact with the discipline, so that we will be equipped to contribute in quickening the pace. By studying in this Master's program, I will develop additional strategies for noticing the presence or absence of sensitivity within design, while also improving my capabilities for communicating such analyses, and working with those in positions that influence how our world is designed."
Paola Luchsinger '20
, a Spanish major from Hastings-on-Hudson, NY, has won a Fulbright English Teaching Assistantship Award in Greece for the 2022–23 academic year. She will spend the year in Athens teaching English elementary through secondary students at Athens College–Hellenic American Educational Foundation. "As an English Teaching Assistant in Greece, I hope to gain an idea of Greek perceptions of American culture while also representing a positive image of the United States. I have chosen Greece as my destination because a year in Greece will give me the opportunity to become fluent in Greek through immersion and improve my knowledge of modern Greek society," says Luchsinger.
Lance Sum '21
(BHSEC Manhattan '19), an anthropology major from Brooklyn, NY, won a Fulbright English Teaching Assistantship Award in Taiwan for the 2022–23 academic year. He intended to teach English and participate in intensive outdoor adventures, explore large influential cultural institutions in the major cities of Taiwan, host peer review writing and poetry sessions, and educate his Taiwanese community members about his experience in growing up in New York City. "I think Taiwan could offer me a more magnified perspective of a community who has preserved their own culture through much political and colonial pressure, an experience that would help me develop my cultural understanding for others," says Sum.
Jordan Donohue '22
, a historical studies major, won a Fulbright English Teaching Assistantship Award in Brazil for the 2022–23 academic year. She will spend in the year teaching English and deepening her knowledge around music and farming. Continuing her past work with Indigenous groups internationally, she plans to engage with and learn from the Indigenous populations of Brazil. Additionally, Jordan has studied Portuguese for seven years and will utilize her time as a Fulbright scholar to advance her fluency and prepare for further academic research on the language and culture of Brazil.
The Fulbright U.S. Student Program expands perspectives through academic and professional advancement and cross-cultural dialogue. Fulbright creates connections in a complex and changing world. In partnership with more than 140 countries worldwide, the Fulbright U.S. Student Program offers unparalleled opportunities in all academic disciplines to passionate and accomplished graduating college seniors, graduate students, and young professionals from all backgrounds. Program participants pursue graduate study, conduct research, or teach English abroad.
us.fulbrightonline.org
.
Post Date:
04-19-2022