Five Bard College Students Win Prestigious Gilman International Scholarships to Study Abroad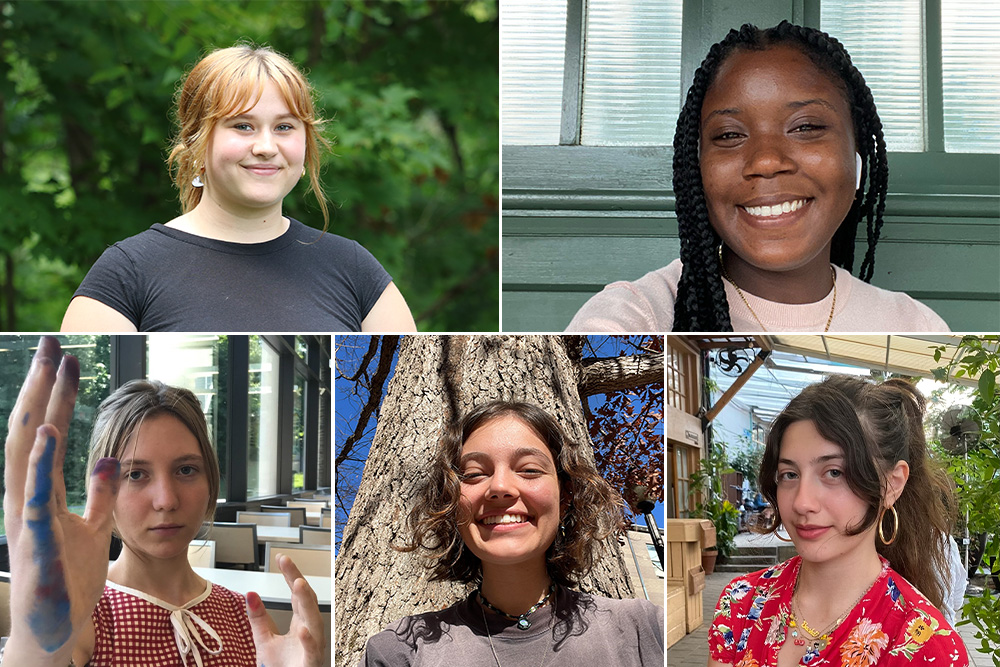 Five Bard College students have been awarded highly competitive Benjamin A. Gilman International Scholarships by the U.S. Department of State. Gilman Scholars receive up to $5,000, or up to $8,000 if also a recipient of the Gilman Critical Need Language Award, to apply toward their study abroad or internship program costs. The recipients of this cycle's Gilman scholarships are American undergraduate students attending 452 U.S. colleges and represent 50 U.S. states, the District of Columbia and Puerto Rico. These Gilman Scholars will study or intern in 81 countries through October 2023.
Written Arts major Havvah Keller '24, from Montpelier, Vermont, has been awarded a $4,000 Gilman scholarship to study in Valparaíso, Chile, on CEA's Spanish Language and Latin American Studies program at Pontificia Universidad Católica de Valparaíso, for spring 2023. "Receiving this scholarship means that I will be able to fulfill my dream of studying Spanish in total immersion, living with a local family in an art-filled, exuberant city, and studying Latin American and Chilean poetry and literature, as well as many other subjects such as Latin American history, Indigenous dances and arts of the Mapuche people, and making international friends of all backgrounds. I am eternally grateful to Gilman for helping me plant the seeds which will open many incredible doors for me in my life this spring, and beyond," said Keller.
Philosophy and German Studies joint major Bella Bergen '24, from Broomfield, Colorado, has been awarded a $5,000 Gilman-DAAD scholarship to study at Bard College Berlin for spring 2023. "The Gilman Scholarship allows me to pursue studying abroad in Berlin, Germany. I have never left the country despite a deep desire to do so, and the Gilman Scholarship helps me finally accomplish this goal. As a joint major in Philosophy and German Studies, my studies and language proficiency will both benefit greatly from my time in Germany. Ich freue mich auf Berlin," said Bergen.
Art History and Visual Culture major Elsa Joiner '24, from Dunwoody, Georgia, has been awarded a $5,000 Gilman-DAAD scholarship to study at Bard College Berlin for spring 2023. "The Gilman scholarship will enable me to study the subject of my dreams, sound art, in the city of my greatest fantasies, Berlin, Germany. With the scholarship, I plan to explore the role of sound in identity formation and develop my skills as a deep listener, eventually returning to America with the strongest ears in the world and, perhaps, the sharpest mind," said Joiner.
Art History and Visual Culture and Film Studies joint major Sasha Alcocer '24, from New York, New York, has been awarded a $5,000 Gilman-DAAD scholarship to study at Bard College Berlin for spring 2023. "As a first-generation American, I am incredibly honored and humbled by the support from the Gilman scholarship to pursue this unique opportunity to learn from and connect with like-minded international students and Berlin-based creatives. Having grown up in New York City, I've always been interested in artistic communities and cultural history, therefore Berlin could not be a better place to be immersed in for my studies abroad," said Alcocer.
Asian Studies and GIS joint major Kelany De La Cruz '24, from Bronx, New York, has been awarded a $5,000 Gilman scholarship, in addition to a $5,000 Fund for Education Abroad (FEA) scholarship and a $5,000 Freeman ASIA scholarship, to study in Taipei, Taiwan, on the CET Taiwan program for spring 2023. "To me these scholarships mean encouragement to follow my academic and professional dreams because I would not have been able to study abroad without them," said De La Cruz.
Since the program's establishment in 2001, over 1,350 U.S. institutions have sent more than 36,000 Gilman Scholars of diverse backgrounds to 155 countries around the globe. The program has successfully broadened U.S. participation in study abroad, while emphasizing countries and regions where fewer Americans traditionally study.
As Secretary of State Anthony Blinken said, "People-to-people exchanges bring our world closer together and convey the best of America to the world, especially to its young people."
The late Congressman Gilman, for whom the scholarship is named, served in the House of Representatives for 30 years and chaired the House Foreign Relations Committee. When honored with the Secretary of State's Distinguished Service Medal in 2002, he said, "Living and learning in a vastly different environment of another nation not only exposes our students to alternate views but adds an enriching social and cultural experience. It also provides our students with the opportunity to return home with a deeper understanding of their place in the world, encouraging them to be a contributor, rather than a spectator in the international community."
The Gilman Program is sponsored by the U.S. Department of State's Bureau of Educational and Cultural Affairs (ECA) and is supported in its implementation by the Institute of International Education (IIE). To learn more, visit:
gilmanscholarship.org
Post Date:
12-20-2022