High School Mathematics Teacher and Bard Alumna Kate Belin Wins 2021 Math for America Muller Award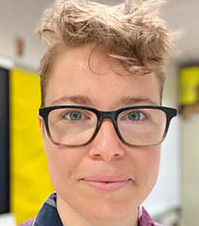 Kate Belin BA '04, MAT '05, who teaches at Fannie Lou Hamer Freedom High School in the Bronx, is one of two winners of the 2021 Math for America (MƒA) Muller Award for Professional Influence in Education. This honor is given to two New York City public school teachers who, during their tenure as MƒA Master Teachers, have influenced the teaching profession in exceptional ways.
"Belin brings a creative approach to pedagogy and has dramatically improved math education at their school and beyond. She is being recognized for bringing her deep understanding of mathematics to all students and taking a leadership role to improve education and educational equity everywhere and for everyone," writes MƒA.
"I am beyond grateful to MƒA for this recognition and for providing a space for teachers to come together as learners and leaders. This award also recognizes the work of the entire Fannie Lou community which has always understood that teaching is political," said Belin. "We aren't simply teaching subjects. We are teaching to fight injustices. Our job is to be activists and organizers in collaboration with our students—to mobilize youth for any issues that exist in their community, country, or world, and work together to make it better."
Belin was recognized for her impact on the teaching profession and awarded $20,000 during a virtual MƒA award ceremony on Monday, October 18. In addition, $5,000 was awarded to the school or organization of their nominator. Belin was nominated by representatives from the Fannie Lou Hamer Freedom High School.
Kate Belin
has taught mathematics at Fannie Lou Hamer Freedom High School for the past 17 years, transforming the mathematics curriculum of the school and mentoring student teachers. She was a recipient of the 2011 Sloan Award for Excellence in Teaching Science in Mathematics and was a Fulbright Distinguished Awards Teaching Fellow to Botswana in 2016. Belin earned their B.A. in Mathematics and M.A.T. at Bard College and has been an adjunct professor at City College of New York, Bard College, and the Bard Prison Initiative.
Post Date:
10-19-2021