In Memoriam: Bard Remembers the Life of Professor Emeritus Justus Rosenberg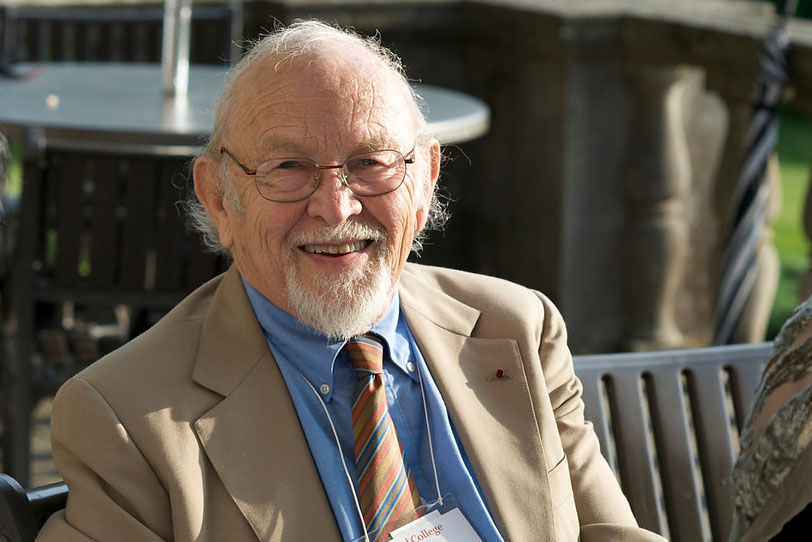 Professor Emeritus of Languages and Literature and Visiting Professor of Literature Justus Rosenberg passed away, surrounded by family, on Saturday, October 30, 2021 at the age of 100.
In a letter to the Bard community, President Leon Botstein memorialized Rosenberg's life:
Justus was one of the last witnesses of the Holocaust. As a member of the French Resistance he was also a hero in the fight against fascism. His death, after a long and productive life is a call to honor his long service—his contributions as a teacher and writer—by resolving to remember, more than ever before, the events of history he was part of and the courage and commitments to freedom, tolerance, justice, learning, and respect for all human life he displayed. All of us at Bard owe him a debt of gratitude for his many years of teaching, his friendship, and the eloquent writings he penned.

Justus Rosenberg was born to a Jewish family in Danzig (present-day Gdańsk, Poland) in 1921. He was a legendary teacher who started teaching at Bard in 1962. Although he retired formally in 1992, he accepted a post-retirement appointment to rejoin the faculty offered to him by Stuart Levine, who was then Dean of the College. In 2020, he published
The Art of Resistance: My Four Years in the French Underground: A Memoir.
This book recounts his service to the French Resistance during World War II. Justus not only survived the war, unlike many in his family, but by joining the fight against Nazis he was doubly at risk as a Jew and as a member of the Resistance. For his wartime service, Justus received a Bronze Star and a Purple Heart and in 2017 the French ambassador to the United States personally made Rosenberg a Commandeur in the Légion d'Honneur, among France's highest decorations, for his heroism during World War II.

Justus emigrated to the United States. After finishing his PhD, he chose a career in undergraduate teaching, first at Swarthmore, and then at Bard. He taught literature and many languages, notably French, German, Russian, Yiddish, and, from time to time, even Polish. He was a loyal friend to Peter Sourian, and until not too long ago, an avid player of tennis, particularly with the late Jean French, Professor of Art History. In recent decades, Justus was very active promoting causes dedicated to tolerance and the fight against prejudice and hate.

Students who were fortunate enough to take his classes had the rare opportunity to study with a scholar who was also a witness to history. The Nazi genocide of European Jewry has receded from memory and become a more distant object of history. Bard students, however, had the opportunity to be in the presence of an individual who could testify to what happened.The denial of the truth of the persecution and annihilation of European Jewry has, astonishingly, persisted. Justus Rosenberg survived and witnessed the unimaginable. Yet he tirelessly and eloquently demonstrated reasons for hope. Despite suffering and loss, Justus sustained an unrelenting commitment to literature, the arts, philosophy, the traditions of science, and the making of art; for him they revealed the possibilities of human renewal shared by all and transcended the differences among us. For Justus, learning and study were instruments of redemption, remembrance, and reconciliation. He possessed a magnetic capacity to inspire the love of learning.

It was a miracle that Justus fulfilled the well-known birthday greeting of the nation of his birth that calls for "100 years" of life. Justus reached that milestone, against all odds. In Poland, the country of his birth, just under 3 million Jews, nearly 90 percent of all Polish Jews, were murdered between 1939 and 1945.
A graveside funeral was held on Sunday, October 31 at the Bard College Cemetery with a reception at the President's House following the ceremony. A Shiva is taking place during the week. In lieu of flowers, the family has asked that contributions be made to the
Justus Rosenberg Memorial Fund at Bard College
, whose objective is to create an endowed chair in comparative literature in his name at the College.
Post Date:
11-02-2021