Senior Spotlight: Eva-Marie Quinones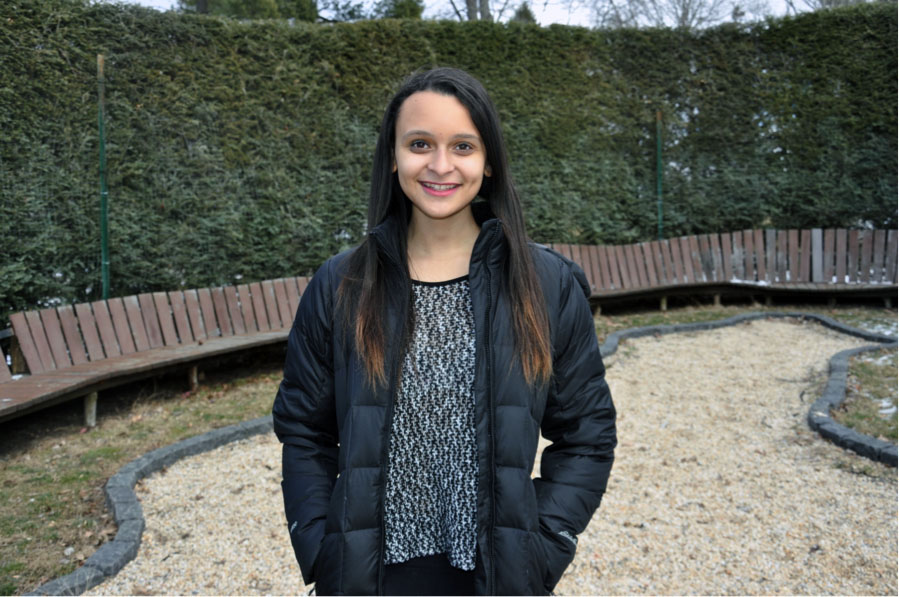 Bard College senior Eva-Marie Quinones came to Annandale from the small farming town of Long Valley, New Jersey. She visited campus when she was applying to colleges, and the close collaboration she witnessed between faculty and students ultimately made her choose Bard. "I really appreciated the economics program and the research opportunities for undergraduates because I think that's something a lot of other smaller liberal arts colleges don't necessarily have. I wanted a small college but the same opportunities you would find at a large school, and Bard had both." Reflecting back on her time at Bard, her initial observations of campus have proven true. "The biggest thing that has influenced my time here has been developing close relationships with professors," she adds, "not just in the classroom, but also as mentors outside of the classroom."
Eva-Marie started out as an
economics
major and added a second major in
global and international studies
last year. "I'm passionate about economics and I really like politics, but I also like a more quantitative way of studying things. Economics combines both my policy interests and my interests in mathematics. As for international studies, it just presented a challenge. Growing up in the U.S., you hear primarily about American affairs, but other cultures and countries are so different; learning about each one of them presents an entirely new challenge and entirely new sort of world that opens up to you."
When asked what professors and classes have had the biggest effect on her, Eva-Marie replies that her Free Speech class was especially engaging. It was a course in the
Human Rights Program
with Thomas Keenan that focused on the legal provisions for free speech. The class led her to discover an interest in the law, and she is now considering pursuing a J.D. after graduation in conjunction with a Ph.D. in political science or a degree in international affairs. She also loves taking economics courses with her advisor, Pavlina Tcherneva. "Pavlina expects a lot from students, which means that we really have to grow in her classes."
Professor Tcherneva is also her Senior Project advisor alongside James Ketterer; Quinones is writing about the economic factors that enabled the spread of far-right political parties in Western Europe. This year, she was nominated by the College for the Marshall, Mitchell, and Rhodes Scholarships and the Watson Fellowship, and was the College's first-ever finalist for the Rhodes Scholarship. She is currently under consideration for the Watson Fellowship.
Around a busy academic schedule, Eva-Marie is broadly involved in campus life. She leads the Model United Nations Initiative, which hosts an annual conference at Bard for middle and high school students. She also competes nationally with the
Bard Debate Union
and serves as a team captain. Eva-Marie works as a peer mentor, supporting students who come to Annandale from Bard's global partner institutions, such as Al-Quds University in the West Bank and American University of Central Asia in Kyrgyzstan. Peer mentors help visiting students make friends, adjust to the different culture, and integrate into the campus community.
Eva-Marie has immersed herself in campus activism and politics. "Bard is one of the most politically active campuses in the nation, which is incredible," she says. "I absolutely love being in a place where people are helping in political campaigns or interning for political organizations, but also engaged in student protests and active dissent." Eva-Marie acts as a student voting rights advocate through the Election at Bard Initiative, serving as a Vote Everywhere Ambassador and team leader with the Andrew Goodman Foundation, which partners with
Bard's Center for Civic Engagement
. She has served on the Student Government since she was a first-year student.
The ease of getting involved on campus and connecting with classmates has struck Eva-Marie since she was a first-year. "Everyone on campus is passionate about something. Even if you don't think that you have anything in common with them, everyone is completely devoted to at least one thing. It's nice to be able to talk to someone about something you know nothing about and just see their eyes light up and hear them discuss something they care about."
How has Bard changed her life? "I used to be really shy," Eva-Marie explains, "and Bard forced me to come out of my shell. I'm more outgoing and more confident in who I am, but because I'm also more knowledgeable and more informed, I think that Bard has really made me the active citizen that I am today. I've had to push myself and I'm a stronger person for it."
Post Date:
01-24-2017