The Bard College Conservatory of Music Presents the Conservatory Orchestra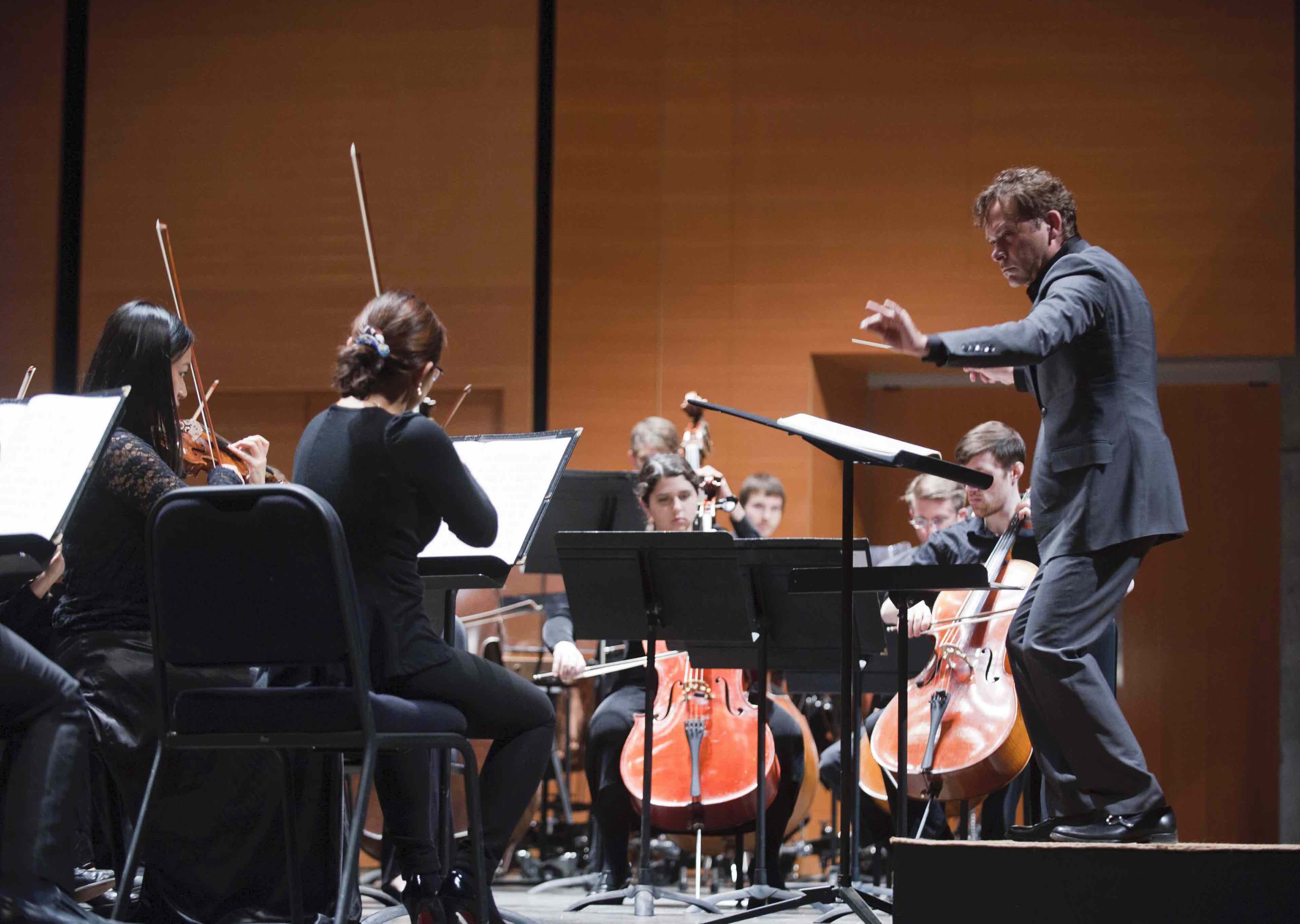 Preconcert Talk: Florence Price and the Emergence of African American Composers in the 21st Century
The Bard College Conservatory Orchestra performs a concert at the Fisher Center at Bard's Sosnoff Theater on Saturday, December 7 at 8 p.m. Conducted by James Bagwell, director of performance studies and the Graduate Conducting Program at Bard Conservatory of Music, the Orchestra performs Florence Price Symphony No. 1 in E minor; Jackson Spargur '20
Polaris
premiere; and Aaron Copland
Billy the Kid.
There will be a preconcert talk, "Florence Price and the Emergence of African American Composers in the 21st Century," at 7 p.m. All ticket sales benefit the Conservatory Scholarship Fund. Tickets are $15-20 suggested donation. To reserve tickets, go to fishercenter.bard.edu or call the box office at 845-758-7900.
The Symphony in E minor is the first symphony written by the American composer
Florence Price
. The work was completed in 1932 and was first performed by the
Chicago Symphony Orchestra
. The piece was Price's first full-scale orchestral composition and was the first symphony by a black woman to be performed by a major American orchestra. The opening movement has melodies and rhythms typically found in Afro-American folk music, while the following slow movement features a moving hymn tune of Price's design. Both concluding movements are fast and return to the juba dance concept. They contain hints of fiddles and banjos, antic slide whistle effects, and a recurring three-against-two melody which end this loveable work on a whimsical note.
The preconcert talk, "Florence Price and the Emergence of African American Composers in the 21st Century," is with James Bagwell; Whitney Slaten, Assistant Professor of Music; Kyle Gann, Taylor Hawver and Frances Bortle Hawver Professor of Music; and and Myra Young Armstead, Vice President for Academic Inclusive Excellence and Lyford Paterson Edwards and Helen Gray Edwards Professor of Historical Studies.
Upcoming Conservatory Programs:
Winter Songfest
James Bagwell, Conductor
Sunday, December 15 at 3 p.m. December 7, 2019

With the Bard Conservatory Orchestra, members of the Bard Conservatory Graduate Vocal Arts Program, Bard College Symphonic Chorus, Bard College Chamber Singers, and Bard Preparatory Chorus.

To reserve tickets, go to
fishercenter.bard.edu
or call the box office at 845-758-7900.

About the Artists:
Guest conductor
James Bagwell
maintains an active international schedule as a conductor of choral, operatic, and orchestral music. He was recently named associate conductor of The Orchestra Now (TŌN) and in 2009 was appointed principal guest conductor of the American Symphony Orchestra. From 2009 to 2015 he served as music director of The Collegiate Chorale. Highlights of his tenure include conducting a number of operas-in-concert at Carnegie Hall, including Bellini's
Beatrice di Tenda
, Rossini's
Möise et Pharaon
,
and Boito's
Mefistofele
. He conducted the New York premiere of Philip Glass's "Toltec" Symphony and Golijov's
Oceana
, both at Carnegie Hall. Since 2011, he has collaborated with singer and composer Natalie Merchant, conducting major orchestras across the country, including the San Francisco and Seattle Symphonies.
He has trained choruses for numerous American and international orchestras, including the Mostly Mozart Festival Orchestra, New York Philharmonic, Boston Symphony Orchestra, Los Angeles Philharmonic, Budapest Festival Orchestra, and the American Symphony Orchestra. He has worked with numerous conductors including Charles Dutoit, Andris Nelsons, Gustavo Dudamel, Alan Gilbert, Gianandrea Noseda, Yannik Nézet-Séguin, Zubin Mehta, Riccardo Muti, Esa-Pekka Salonen, Michael Tilson Thomas, Louis Langrée, Ivan Fischer, Jesús López-Cobos, and Robert Shaw.
Bagwell prepared The Collegiate Chorale for concerts at the Verbier Festival in Switzerland; in 2012 the Chorale traveled to Israel and the Salzburg Festival for four programs with the Israel Philharmonic. Since 2003, he has been director of choruses for the Bard Music Festival, conducting and preparing choral works during the summer festival at the Richard B. Fisher Center for the Performing Arts. He frequently appears as guest conductor for orchestras around the country and abroad, including the Cincinnati Symphony Orchestra, Jerusalem Symphony Orchestra, Tulsa Symphony, and the Interlochen Arts Festival. He is professor of music at Bard College, and director of performance studies and the Graduate Conducting Program at Bard College Conservatory of Music.
Jackson Spargur
, a composer and multi-instrumentalist from Los Angeles, California, is in his fifth year studying music composition at the Bard Conservatory of Music. His second major is computer science. He composed his first serious works for Peruvian Sleep, an experimental improvisatory ensemble that he helped found while attending New Roads High School in Santa Monica, California. His most recent concerts have included premieres of his chamber works
Twine,
for violin and cello, and
Blue Owl, Night Fowl,
for clarinet, viola, trombone, and percussion; both performed by the Da Capo Chamber Players at the Bard Conservatory. The premiere of his solo viola piece
Render
was performed
at the Hartt School. He is currently working on a new piece for the concert of student compositions to be performed by the Da Capo Chamber Players at Bard on December 13.
Whitney Slaten
Assistant Professor of Music
BM, William Paterson University; MA, MPhil, PhD, Columbia University. Whitney Slaten earned his doctorate in ethnomusicology. His dissertation, "Doing Sound: An Ethnography of Fidelity, Temporality, and Labor among Live Sound Engineers," contributed to scholarship about music, technology, and labor studies. He has worked as a recording engineer and as a saxophonist in the New York City jazz and world music scenes, performing with artists including Babatunde Olatunji and Clark Terry. He previously taught or served as part-time lecturer at The New School, Eugene Lang College of Liberal Arts, Seton Hall University, William Paterson University, and Columbia University, leading courses such as "Thriller": Deconstructing Popular Music Production, Recording Studio as Instrument, Progressive Trends in Jazz and Concert Music, Technologies of Global Pop, Music Engineering, Theory of Music, and Masterpieces of Western Music. He has authored articles and reviews that have appeared in Current Musicology, The Diapason, Ethnomusicology Review, and Souls. His discography as a performer includes Expedition, Clark Terry and Louie Bellson; That Holiday Feeling, Ron Foster and Kindred Spirits; Live at Trumpets, Kelvin Quince Quintet; and Live at Marian's, Clark Terry Big Band. As a producer/engineer, his discography includes Arthur Bird: Music for the American Harmonium, Artis Wodehouse; Creation Story, John-Carlos Perea; and This Little Light of Mine, Courtney Bryan. At Bard since 2018.
Myra Young Armstead
Vice President for Academic Inclusive Excellence; Lyford Paterson Edwards and Helen Gray Edwards Professor of Historical Studies
B.A., Cornell University; M.A., Ph.D., University of Chicago. Specialization: U.S. social and cultural history, with emphasis on urban and African American history. Fellowships: Danforth-Compton, Josephine de Karman, University of Chicago Trustees, and New York State African-American Research Institute. Frederick Douglass Award, Association for the Study of Afro-American Life and History (Sullivan County, New York, chapter). Author of Freedom's Gardener: James F. Brown, Horticulture, and the Hudson Valley in Antebellum America (2012); Mighty Change, Tall Within: Black Identity in the Hudson Valley (2003); "Lord, Please Don't Take Me in August": African Americans in Newport and Saratoga Springs (1999). Speaker in the Humanities, New York Council for the Humanities (2003–11). Member, New York Academy of History (since 2006). NEH Fellow/Schomburg Center Scholar-in-Residence (2014–15). At Bard since 1985.
Kyle Gann
Taylor Hawver and Frances Bortle Hawver Professor of Music
B.Mus., Oberlin Conservatory of Music; M.Mus., D.Mus., Northwestern University. Recipient, National Endowment for the Arts Individual Artist's Grant (1996); Peabody Award (2003); American Music Center Letter of Distinction (2003). Music critic for the Village Voice, 1986–2005. Taught at Bucknell University, Columbia University, Northwestern University, Brooklyn College, and School of the Art Institute of Chicago. Books include The Arithmetic of Listening: Tuning Theory and History for the Impractical Musician (2018); Charles Ives's Concord: Essays after a Sonata (2017); Robert Ashley (2012); No Such Thing as Silence: John Cage's 4'33" (2010); Music Downtown: Writings from the Village Voice (2006); American Music in the 20th Century (1997); The Music of Conlon Nancarrow (1995); and, as coeditor, The Ashgate Research Companion to Minimalist and Postminimalist Music (2013). Vice president of the Charles Ives Society. Music on the Other Minds, New World, New Albion, Mode, Cold Blue, Lovely Music, and other record labels. At Bard since 1997.
Recognized as one of the finest conservatories in the United States,
The Bard College Conservatory of Music
, founded in 2005, is guided by the principle that young musicians should be broadly educated in the liberal arts and sciences to achieve their greatest potential. All undergraduates complete two degrees over a five-year period: a bachelor of music and a bachelor of arts in a field other than music. The Conservatory Orchestra has performed twice at Lincoln Center, and has completed three international concert tours: in June 2012 to China, Hong Kong, and Taiwan; in June 2014 to Russia and six cities in Central and Eastern Europe; and in June 2016, to three cities in Cuba. For additional information about The Bard College Conservatory of Music please go to the website at
bard.edu/conservatory
.
Post Date:
11-30-2019