The Center for Civic Engagement at Bard College, with Community Engagement Offices at Marist and Vassar, Organized First Convening of the Hudson Valley Student Voting Coalition on March 30, 2023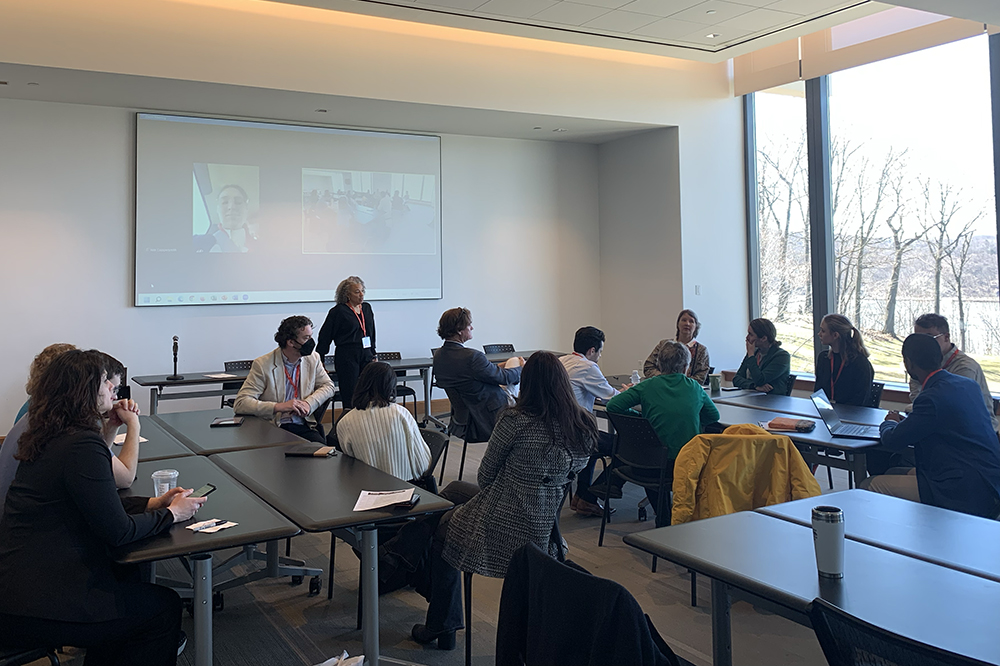 The
Hudson Valley Student Voting Coalition
(HVSVC) held its inaugural meeting on March 30, 2023, organized by the
Center for Civic Engagement
at
Bard College
and the community engagement offices of
Marist College
and
Vassar College
. The event, hosted at Marist, united student leaders, administrative staff, faculty advisers, and community partners with a shared commitment to nonpartisan youth voting.
HVSVC is a newly formed student organization that aims to unite students and college communities in New York's Hudson Valley and beyond, with a focus on youth voting, education, and voter engagement. The coalition was organized in collaboration with Democracy Matters and the League of Women Voters and was supported by Partnerships for Campus-Community Engagement and the Andrew Goodman Foundation.
The hybrid event allowed both in-person and virtual attendance and focused on advocacy for the 26th Amendment. It was well-attended by participants from across the region, including student leaders and community partners, who had the opportunity to meet with campus student voting team members, learn about coalition building with regional and national partners, and share campus youth voter models. Keynote speaker
Yael Bromberg
, Esq., principal of Bromberg LLC and special counsel and strategic advisor for the Andrew Goodman Foundation, delivered a speech on the importance of youth voting and civic engagement.
Yale Coopersmith '26, a Bard College student who attended the event, expressed enthusiasm about the coalition's focus on nonpartisan youth voting initiatives. "It's really important to get young people voting," she said. "People aged 18–29 are some of the lowest demographic groups in terms of people going to vote in elections. They are under the target demographic and we got them to vote. I'm involved because I believe everyone deserves a voice and everyone needs to be part of the conversation." Coopersmith expressed appreciation for the opportunity to learn about different initiatives happening in the Hudson Valley region aimed at getting college students to the polls.
For more information on the Hudson Valley Student Voting Coalition and future events, please email
[email protected]
.
About Bard Center for Civic Engagement
The Center for Civic Engagement (CCE) at Bard College supports, coordinates, and promotes a wide array of student and institutional initiatives—from the student-initiated Trustee Leader Scholar Program to the public high school early college movement and degree-granting programs in prisons, to international dual-degree partnerships with universities in Kyrgyzstan and East Jerusalem. Bard uses its campus and resources to develop and support robust and sustainable partnerships to address local, national, and global problems, reach underserved populations, and tackle critical issues of education and public policy.
About Marist Center for Civic Engagement and Leadership
The Marist Center for Civic Engagement and Leadership (CCEL) is committed to developing a new generation of civic-minded and service-oriented leaders. The central aim of the CCEL is to engage in partnerships with community leaders and civic-engagement practitioners who support service-based student learning initiatives that address critical community needs and create experiential learning opportunities.
About Vassar Community-Engaged Learning Office
The Office of Community-Engaged Learning (OCEL) builds asset-based relationships with community partners to provide students with experiential and community-based educational opportunities. OCEL connects students, community partners, and faculty to deepen classroom learning, build capacity at community organizations, and empower students to become active change agents in their communities.
About PCCE
​Partners for Campus-Community Engagement (PCCE) convenes, connects, and empowers campuses and non-profits to build equitable and just relationships with communities in order to advance a democratic society for the public good. We have led the charge to advance equitable, place-based community engagement, provided grant support for campuses, and developed innovative professional development for members in NY and Pennsylvania.
The convening was made possible through the efforts of the following partners:
Bard College
Marist College
Vassar College
League of Women Voters of the Mid Hudson Region
Democracy Matters
Marist Institute for Public Opinion (Director: Lee M. Miringoff)
Max A. Shacknai Center for Outreach, Volunteerism, and Education (COVE), Colgate University (Director: Jeremy T. Wattles '05)
Andrew Goodman Foundation (Vice President: John McKenna)
The following individuals played key roles in organizing the event:
Melissa Gaeke, Director of the Center for Civic Engagement and Leadership and Professional Lecturer in Political Science, Marist College
Rebecca Edwards, Vassar College
Joan Mandle, Executive Director, Democracy Matters
Dare Thompson, President, League of Women Voters of the Mid Hudson Region
Simon Gilhooley, Associate Professor and Politics Program Director, Bard College
Jean Hinkley, Assistant Director, Office of Community-Engaged Learning, Vassar College (virtually)
Cammie Jones, Director of Strategic Initiatives, Partners for Campus-Community Engagement
Erin Canaan, Vice President for Civic Engagement, Bard College Center for Civic Engagement
Sarah deVeer, Special Events Administrator & Outreach Coordinator, Bard College Center for Civic Engagement
Cicily Wilson, Assistant Dean for Civic Engagement & Director of Community Partnerships, Bard College Center for Civic Engagement
Post Date:
04-25-2023