The Fisher Center at Bard Announces 20th Anniversary Season: Breaking Ground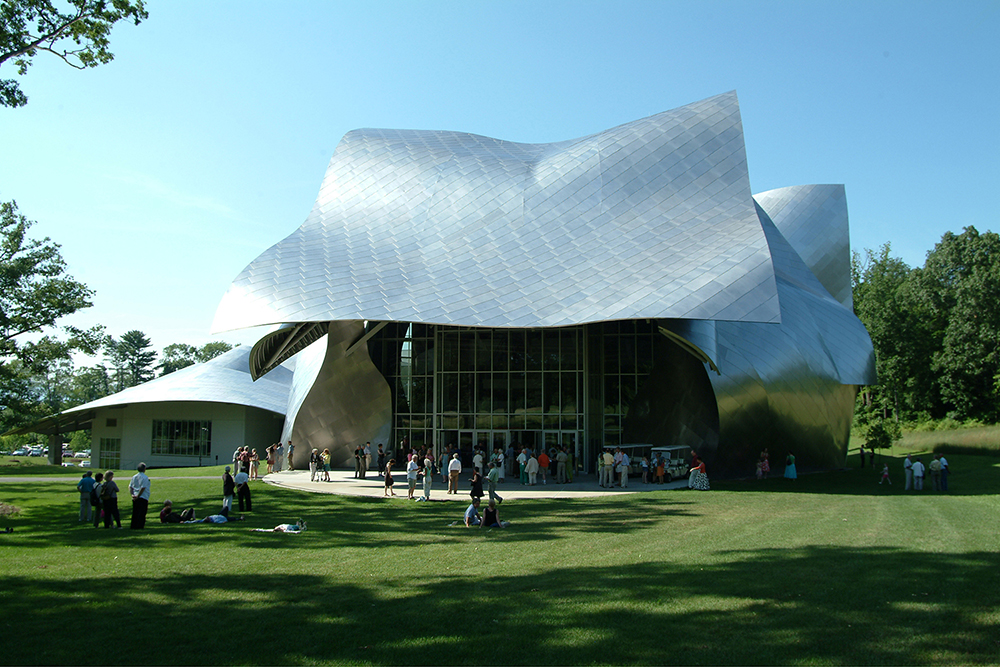 Season Reflects the Fisher Center's Role as One of the Country's Foremost Cross-Disciplinary Producing Institutions, and Culminates with Groundbreaking for a New Performing Arts Studio Building Designed by Maya Lin (October 21)
Season Highlights Include:
Nail Biter, a new commission from contemporary choreographer Beth Gill, who "applies her discerning eye to… dark, chaotic, psychologically tangled worlds" (The New York Times), March 31–April 2
The Bard Lectures, a new five-part lecture series on writing from legendary author, Bard professor, and Fisher Center Advisory Board member Neil Gaiman, April 15 & 16, October 12–14
The Fisher Center LAB Biennial, Common Ground, an international festival on the politics of land and food, curated by Tania El Khoury and Gideon Lester in association with the OSUN Center for Human Rights and the Arts at Bard, and featuring newly commissioned work from Tania El Khoury, Kenyon Adams and Chef Omar Tate, Tara Rodríguez Besosa, and Kite, May 4–7
Illinois, a world premiere music-theater work based on Sufjan Stevens' acclaimed album of the same name, directed and choreographed by Tony Award winner Justin Peck, with music and lyrics by Stevens and a story by Peck and Pulitzer Prize winner Jackie Sibblies Drury, June 23 – July 2 (Part of SummerScape 2023)
The first major American production of Camille Saint-Saëns' opera Henri VIII, directed by Jean-Romain Vesperini, with the American Symphony Orchestra conducted by Leon Botstein, July 21–30 (Part of SummerScape 2023)
The 33rd Bard Music Festival: Vaughan Williams and His World, featuring concerts, panel discussions, and special events surrounding the British composer's legacy and the contexts in which his work was formed, August 4–6, 10–13
A free Community Celebration featuring a performance from Latin Grammy Award-winning Flor de Toloache, July 15
World Premiere of Elevator Repair Service's wild, fast-forwarded tour through Ulysses, directed by by John Collins, co-direction and dramaturgy by Scott Shepherd, and text by Joyce, September 21 – October 1
For complete information regarding tickets, special packages, and more, visit
fishercenter.bard.edu
or call 845-758-7900.
The Fisher Center at Bard
, which has become one of the world's preeminent sources of major multidisciplinary performance works, announces its
20th Anniversary Season: Breaking Ground
, a celebration of the artists, audiences, students, faculty, and communities that have written the Fisher Center's story for its first two decades and will imagine it into the future. This milestone season for the organization that incubates vanguard artists' boldest ideas unfolds with unbounded and genre-defying visions for dance, theater, opera, and public discourse. The Fisher Center gives precedence to artistic research, development, and education—and the season will culminate in a groundbreaking ceremony for the Fisher Center's new 25,000-square-foot performing arts studio building, designed by
Maya Lin
, which will offer artists at all stages of their careers vastly expanded room to explore as they build works from the ground up.
Throughout 2023, the Fisher Center will develop and present new works from artists and companies including
Bread and Puppet Theater
;
Elevator Repair Service
;
Lisa Fischer; Beth Gill
;
Tanya El Khoury
;
Neil Gaiman
;
Justin Peck
,
Sufjan Stevens
, and
Jackie Sibblies Drury
;
Jean-Romain Vesperini
and
Leon Botstein
; and more. The vast scope of the work artists dare to imagine at the Fisher Center (whether they're taking on epic modernist masterpieces like James Joyce's
Ulysses
or the similarly sweeping view of Americana in Sufjan Stevens'
Illinois
) is a testament to the abundant time, resources, and space the Fisher Center offers to those creating in its midst. (See below for programming descriptions and schedule.)
Many of these works are programmed within festivals whose diverse, lively, and rigorous offerings—and celebration of the natural beauty of the surroundings—make the Fisher Center a hub and destination for both local and widespread audiences.
The Fisher Center LAB Biennial
, May 4–7, this year is devoted to the politics of land and food;
SummerScape
, "a hotbed of intellectual and aesthetic adventure," (
The New York Times
) returns in 2023, with programming in the Fisher Center and the sophistication-and-spectacle-blending
Spiegeltent
(June-August); and the
33rd Bard Music Festival
explores British composer
Vaughan Williams
and his world, with programming August 4–13.
Gideon Lester
,
the Fisher Center's Artistic Director and Chief Executive
, says, "In 2002, the Fisher Center was a blank canvas, a story waiting to be discovered. Over the past 20 years, that story has been powerfully written by artists, facility, students, and audiences alike. Hundreds of remarkable works have premiered in the LUMA and Sosnoff Theaters, and performances have also taken place on Frank Gehry's steel roof, in storage rooms and backstage corridors, and even in the bathrooms. The building has been animated and repurposed in countless ways, and it is still teaching us how to use it."
He added, "In our first two decades, we have distinguished ourselves as a unique and vital creative force in the American performing arts landscape. The Fisher Center is now a preeminent producing organization that provides substantial developmental resources to innovative artists and projects; a pioneer in the rediscovery of overlooked or unjustly neglected works from the past; and a center for education and research, fully integrated into the academic life of a superlative liberal arts college. As the world premieres in this 20th anniversary season demonstrate, we are a creative home for artists like no other."
Leon Botstein, President of Bard College
, says, "From its inception, we intended The Fisher Center to serve not only future audiences, but also the artists, professional and student alike, whose works would be conceived, developed, and performed in its studios and theaters. Since its opening in 2003, The Fisher Center has far exceeded our expectations. The credit for its remarkable achievements of the past 20 years goes to the artists, the audience, and those who have supported it."
Jeanne Donovan Fisher, Chair of the Fisher Center's Advisory Board,
adds: "The Fisher Center has been pioneering in programming across genres, both in terms of contemporary works and works from the past, and it has been the vanguard of teaching and reaching new audiences. We celebrate this notable anniversary with the conviction that the next 20 years will be even more memorable, especially after Maya Lin's magnificent new building is open."
Aaron Mattocks
, who joined the Fisher Center as Chief Operating Officer in January, after serving as Director of Programming at the Joyce Theater 2019-22, said, "As we celebrate two decades of artistry, we are also looking to the future. The new studio building designed by Maya Lin will perfectly complement the Gehry building's stages, augmenting and enriching this world-class creative home for artists and audiences for generations to come."
The new studio building will contain five state-of-the-art studios for artist residencies, rehearsals, informal performances, and dance and theater classes connected by gathering hubs. These spaces will provide a home for Fisher Center LAB, the center's acclaimed residency and commissioning program for professional artists, which has developed and premiered internationally celebrated productions such as
Pam Tanowitz
's
Four Quartets
and
Daniel Fish
's Tony Award–winning production of Rodgers and Hammerstein's
Oklahoma!
The building will also house rehearsal and teaching facilities for Bard's undergraduate programs in Dance and in Theater and Performance. Here, students and professional artists will work side by side, informing each other's practices and sharing their discoveries and works-in-progress with audiences from the Bard community and the public.
20th Anniversary Season: Breaking Ground Performance Descriptions and ScheduleOpening Weekend ProgrammingFisher Center LABBeth Gill: Nail BiterNew Commission/World PremiereFriday, March 31 at 7:30 pmSaturday, April 1 at 5 pmSunday, April 2 at 5 pmLUMA Theater
The second Fisher Center LAB commission from acclaimed contemporary choreographer Beth Gill,
Nail Biter
, moves the viewer through portals of myth, memoir, psychodrama, and horror. Characters emerge as a collection of representations of our collective unconscious.
All tickets are $25
$5 tickets available for Bard students through the Passloff Pass
Nail Biter
is co-commissioned by the Fisher Center at Bard, Lower Manhattan Cultural Council, and Walker Art Center. This project was supported, in part, by a Foundation for Contemporary Arts Emergency Grant.
The Orchestra NowBeethoven's Missa solemnisLeon Botstein, conductorJames Bagwell, choral directorSaturday, April 1 at 7 pm Sunday, April 2 at 3 pmSosnoff Theater
Maestro Botstein leads The Orchestra Now and Bard Festival Chorale in a performance of
Missa solemnis
—one of only three sacred works written by Beethoven and a favorite piece of the late Richard B. Fisher, an inimitable champion of the arts and our namesake.
Tickets start at $30; $5 tickets available for Bard students through the Passloff Pass
20th Anniversary Launch PartySaturday, April 1, from 5:30 to 7:30 pmResnick Studio
Visitors can join before, after, or in between ticketed performances to kick off the Fisher Center's 20th Anniversary Season and toast two decades of artistic innovation.
Tickets $50
The Orchestra NowNaomi Woo Conducts RavelSaturday, April 8 at 7 pmSosnoff Theater
Canadian conductor Naomi Woo, named one of the "Top 30 Classical Musicians under 30" by the Canadian Broadcasting Corporation, makes her TŌN debut with a program that includes two beloved works by Maurice Ravel and a Béla Bartók violin concerto with Lincoln Center Emerging Artist Award winner Stella Chen.
Tickets start at $25
Carnegie Hall Preview: Before and After Soviet CommunismLeon Botstein, conductorSaturday, April 29 at 7 pmSunday, April 30 at 2 pmSosnoff Theater
Leon Botstein unearths more rarely heard masterpieces in this concert, examining Eastern European music through the rise and fall of Soviet communism. Hear this program at the Fisher Center just days before TŌN performs it at Carnegie Hall.
Tickets start at $25
Fisher Center PresentsNeil GaimanThe Bard LecturesLecture 1 • Why Be a Bard?Saturday, April 15 at 7 pmLecture 2 • A String of Pearls: How We Come to Be UsSunday, April 16 at 5 pmLecture 3 • Pulling Back the Curtain: How Fiction Works and Why It Still MattersThursday, October 12 at 7 pmLecture 4 • To Pay the Pied Piper: The Cost of StoriesFriday, October 13 at 7 pm Lecture 5 • On Endings, Epilogues, and AftersSaturday, October 14 at 7 pm Sosnoff Theater
Award-winning author, professor in the arts at Bard, and Fisher Center Advisory Board member, Neil Gaiman has an astonishingly broad career: from journalism to graphic novels; fiction for adults and children; and writing for film, television, and theater. Over evenings in both spring and fall, Gaiman will debut a series of five lectures on writing in which he will explore his creative strategies, sharing stories and offering advice—live and in-person at the Fisher Center.
Tickets start at $25 for each lecture
$5 tickets available for Bard students, faculty, and staff
Livestream available for all lectures, $20 per lecture or $75 for all five
Signed books from the author will be available for purchase.
Premium Package, $1,000
Includes access to premium seating for all five lectures, and a special reception, conversation, and book signing with Neil Gaiman following the first lecture on April 15.
Fisher Center LABCommon GroundAn International Festival on the Politics of Land and FoodCurated by Tania El Khoury and Gideon LesterIn association with the OSUN Center for Human Rights and the Arts at Bard (CHRA)May 4-7Kenyon AdamsCOMMUNION: a ritual of nourishment and commemorationTara Rodríguez BesosaSomos OtraCosaTania El KhouryMemory of BirdsKite MFA '18Aǧúyabskuyela
Since 2012, Fisher Center LAB—the Fisher Center's residency and commissioning program—has provided bespoke and meaningful support for innovative artists across disciplines.
The Fisher Center LAB Biennial is a thematic festival that invites and commissions artists to create new works that grapple with some of the most pressing questions of our time.
The fourth edition,
Common Ground
, a year-long international program focusing on the politics of land and food, began last fall and continues in the growing season.
Audiences can experience four newly commissioned works from artists whose practices engage with food sovereignty, climate change, and land rights—and join them in imagining a more equitable, sustainable, and healthful future.
Tickets on sale March 29. For the full schedule of events, tickets, and project details, please visit
fishercenter.bard.edu/common-ground/
.
The Fisher Center LAB Biennial has received grants from the Burroughs Wellcome Fund, the Educational Foundation of America
in support of
Communion,
and the Julia Child Foundation for Gastronomy and the Culinary Arts.
SummerScape 2023June–AugustJustin Peck and Sufjan StevensIllinoisMusic and Lyrics by Sufjan Stevens(based on the album Illinois)Story by Justin Peck and Jackie Sibblies DruryDirected and Choreographed by Justin PeckFriday, June 23 at 7:30 pmSaturday, June 24 at 7:30 pmSunday, June 25 at 2 pmFriday, June 30 at 7:30 pmSaturday, July 1 at 7:30 pmSunday, July 2 at 2 pm
Three brilliantly imaginative artists, Justin Peck, Sufjan Stevens, and Jackie Sibblies Drury, unite to create an ecstatic pageant of storytelling, theater, dance, and live music. Stevens' 2005 concept album
Illinois
enjoys cult status for its lush orchestrations and wildly inventive portrayal of the state's people, landscapes, and history, complete with UFOs, zombies, and predatory wasps.
Tony Award-winner Justin Peck (
Carousel
on Broadway, Steven Spielberg's
West Side Story,
New York City Ballet) transforms the album into a full-length theatrical performance with a cast of virtuosic dancers, singers, and musicians in a narrative crafted by Pulitzer Prize-winning playwright Jackie Sibblies Drury (
Fairview, Marys Seacole
).
Featuring new arrangements of the entire album for a live band and three voices, ranging in style from DIY folk and indie rock to marching band and ambient electronics,
Illinois
will lead us on a mighty journey through the American heartland, from campfire storytelling to the edges of the cosmos.
Illinois
will have its world premiere at the Fisher Center June 23 - July 2, with the press opening taking place at a Chicago theater to be announced soon.
Sosnoff Theater
Tickets start at $25
Illinois
has been made possible with a commissioning grant from The O'Donnell-Green Music and Dance Foundation and residency support from Project Springboard: Developing Dance Musicals. The production is generously supported by Emily Blavatnik and the Blavatnik Family Foundation.
Pre-Performance Toast for MembersFriday, June 23 at 6:30 pmOpening Night Cast PartyFriday, June 23Blithewood MansionTicket price $150
Meet the artists and creative team at an exclusive after-party hosted at one of Bard's historic estates.
Pre-Performance TalkSunday, June 25 at 1 pmPost-Performance Conversation with the ArtistsFriday, June 30 SummerScape Coach from New York CitySunday, June 25 and Sunday, July 2 Camille Saint-SaënsHENRI VIII By Camille Saint-SaënsLibretto by Léonce Détroyat and Paul-Armand SilvestreDirected by Jean-Romain VespiriniAmerican Symphony Orchestra conducted by Leon BotsteinFriday, July 21 at 6:30 pmSunday, July 23 at 2 pmWednesday, July 26 at 2 pmFriday, July 28 at 4 pmSunday, July 30 at 2 pmSosnoff Theater
Henri VIII
is French grand opera at its most magnificent. In this love triangle for the ages, an infamous Tudor king is determined to divorce Catherine of Aragon in favor of the ambitious, beautiful Anne Boleyn. Saint-Saëns's exquisite vocal passages and rich orchestration bring this rarely performed masterpiece to vivid life in this captivating new production.
Sung in French with English supertitles
Tickets start at $25
Premiere PartyFriday, July 21 at 5 pm SpiegeltentTicket price $85
Raise a glass and enjoy savories and sweets with fellow audience members before curtain time.
Opening Night Intermission Toast Friday, July 21Pre-Performance
Opera Talk with Leon BotsteinSunday, July 23 at 12 pmSummerScape Coach from New York CitySunday, July 23 and Sunday, July 30Pre-Performance Toast for MembersSunday, July 30 at 1 pmThe SpiegeltentJune 23–August 12
The spectacular Spiegeltent, with sumptuous summer weekends of dazzling performances, drinks, and dancing, returns to SummerScape. Longtime favorites and first-time faces (including a new Bluegrass on Hudson series) inhabit a summer-long party with a program that offers something for everyone. Spiegeltent artists to be announced.
Spiegeltent tickets go on sale in May.
20th Anniversary Community Day CelebrationFeaturing a special performance from Flor de ToloacheSaturday, July 15Interactive Building Tours
from 11 am – 1 pm
Spiegeltent Garden
open for food and drinks from 1 pm
Spiegeltent Kinder Disco with DJ Ali
from 2–4 pm
Performance on the Lawn: Flor de Toloache
at 7 pm
Spiegeltent After Hours with DJ MK Ultra
from 8:30 pm – 12:30 am*
A day for the community to discover the Fisher Center like never before, with interactive, behind the scenes tours full of surprises. Kingston's own DJ Ali brings her Kinder Disco to the Spiegeltent for movers and shakers of all ages. The Latin Grammy Award-winning, all female mariachi sensations Flor de Toloache fill the lawn with their enlightened interpretations of traditional mariachi music. End the evening dancing the night away with DJ MK Ultra (of WKZE radio) in the Spiegeltent.
All events free and open to the public, reservations required.
Tickets go on sale in May.
*Spiegeltent After Hours open to patrons 21+ only
The 33rd Bard Music FestivalVaughan Williams and His WorldWeekend One: Victorians, Edwardians, and Moderns August 4–6Weekend Two: A New Elizabethan Age?August 10–13
Few figures have had such a formative and protean influence on their musical environment as British composer Ralph Vaughan Williams (1872–1958), who was hailed as one of the greatest symphonists of the 20th century. With an oeuvre that ranges from songs and hymns to opera, film music, and full-scale orchestral and choral works, Vaughan Williams's voice defined an era. His catalog includes popular works such as
Fantasia on a Theme of Thomas Tallis
and
The Lark Ascending
, as well as scores of uncompromising modernity. Through concerts, panel discussions, and special events, the festival will explore the full scope of his work and set it in the context of his politics and the culture of the time.
Tickets start at $25
Opening Night SocialFriday, August 4 at 5 pmThe Spiegeltent
Celebrate the Festival with friends, old and new, and enjoy craft cocktails and local fare in a magical setting.
Ticket price $85
SummerScape Coach from New York City for Program ElevenSunday, August 13Fisher Center PresentsElevator Repair ServiceUlyssesCreated by Elevator Repair ServiceDirected by John CollinsCodirection and Dramaturgy by Scott ShepherdText by James JoyceWorld Premiere/Fisher Center CommissionThursday, September 21 at 8 pmFriday, September 22 at 8 pmSaturday, September 23 at 8 pmSunday, September 24 at 2 pmThursday, September 28 at 8 pmFriday, September 29 at 8 pmSaturday, September 30 at 2 pm and 8 pmSunday, October 1 at 2 pmLUMA Theater
James Joyce's
Ulysses
has fascinated, perplexed, scandalized, and/or defeated readers for over a century. Building on a rich history of staging modernist works—
Gatz, The Sound and the Fury, The Select (The Sun Also Rises)
—Elevator Repair Service (ERS) takes on this Mount Everest of twentieth-century literature in their Fisher Center debut. Seven performers sit down for a sober reading but soon find themselves careening on a fast-forward tour through Joyce's funhouse of styles, guzzling pints, getting in brawls, philosophizing, and committing debaucheries. With madcap antics and a densely layered sound design, ERS presents an eclectic sampling from Joyce's life-affirming masterpiece.
Tickets start at $25
$5 available for Bard students through the Passloff Pass
Ulysses
is co-commissioned by and was developed, in part, at Symphony Space.
Fall 2023 EventsBread and Puppet TheaterSaturday, September 9 The Orchestra Nowwith Maestro Leon BotsteinSeptember 16, 17Bard Conservatory of MusicFilm with Live OrchestraSingin' in the RainSeptember 23, 24The Orchestra Nowwith special guest conductorSeptember 30, October 1
Fall events will be on sale this summer.
Performing Arts
Studio Building Groundbreakingfeaturing a special concert event with Ms. Lisa Fischer and The Orchestra NowSaturday, October 21
Audiences are invited for a special celebration of the Fisher Center and groundbreaking of the site for their new Maya Lin-designed performing arts studio building. Once completed, the building will expand the Fisher Center's footprint beyond the walls of Gehry's stunning landmark to become a cultural campus that comprises both the Gehry and Lin buildings.
Tickets go on sale this summer.
Funding Credits
The Fisher Center's 20th-Anniversary Season is dedicated to the founders of the Fisher Center who have cultivated extraordinary artistic experiences—past, present, and future. We honor the memory of Richard B. Fisher, a true champion of the arts and Bard College, and his visionary leadership. The Fisher Center is generously supported by Jeanne Donovan Fisher, the Martin and Toni Sosnoff Foundation, the Advisory Boards of the Fisher Center at Bard and Bard Music Festival, Fisher Center and Bard Music Festival members, the Ettinger Foundation, the Thendara Foundation, and the New York State Council on the Arts with the support of Governor Kathy Hochul and the New York State Legislature. Fisher Center LAB has received funding from members of the Live Arts Bard Creative Council, the Lucille Lortel Foundation, and the Fisher Center's Artistic Innovation Fund, with lead support from Rebecca Gold and S. Asher Gelman '06 through the March Forth Foundation.A special thank you to all who have made this special season possible. Thank you for your contribution to our artistic home.
Post Date:
03-12-2023