Three Bard College Students Win Gilman International Scholarships to Study Abroad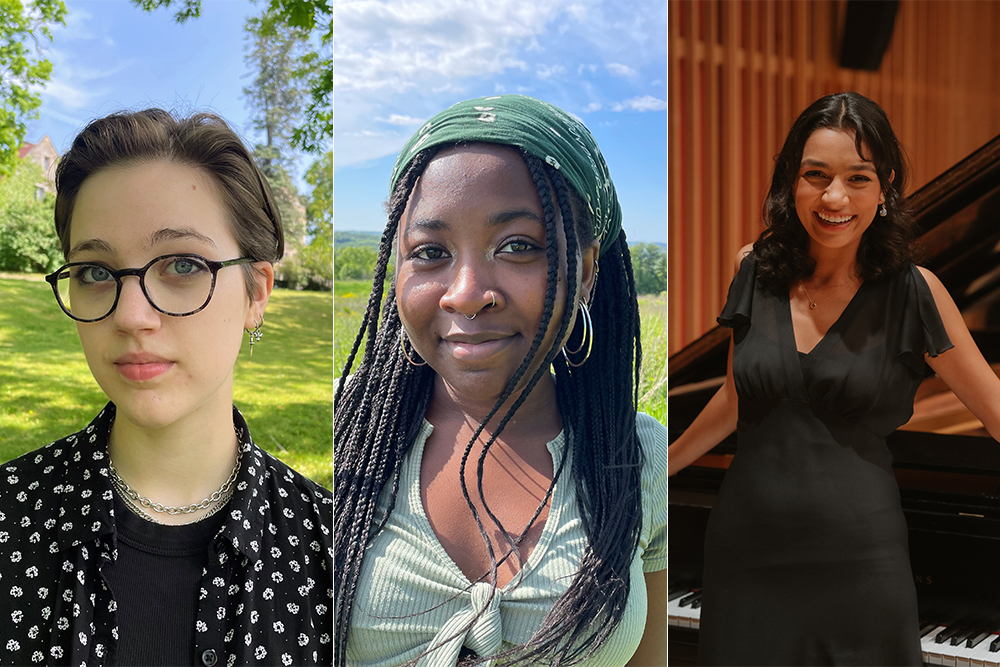 Three Bard College students have been awarded highly competitive Benjamin A. Gilman International Scholarships by the US Department of State. Gilman Scholars receive up to $5,000, or up to $8,000 if also a recipient of the Gilman Critical Need Language Award, to apply toward their study abroad or internship program costs. This cohort of Gilman scholars will study or intern in more than 80 countries and represents more than 520 US colleges and universities in all 50 US states, the District of Columbia, and Puerto Rico.

Dance major Zara Boss '25, from Portland, Maine, has been awarded a $3,000 Gilman scholarship to study at Sophia University in Tokyo, Japan, via CIEE for spring 2024. Boss also received a $5,000 Freeman-ASIA award, which provides scholarships for US undergraduate students with demonstrated financial need to study abroad in East or Southeast Asia. "Being a Gilman scholarship recipient is an incredible honor, as it will allow my life-long aspiration of studying in Japan to come to fruition. I am very grateful for the opportunity to be immersed in the language and culture and am immensely looking forward to studying literature and dance in Tokyo this upcoming spring," said Boss.
Historical Studies major Chi-Chi Ezekwenna '25, from Bronx, New York, has been awarded a $3,000 Gilman scholarship to study at Kyung Hee University in Seoul, South Korea via tuition exchange from fall 2023 to spring 2024. "Receiving the Gilman scholarship has allowed for a dream that has been fostering since I was 12 years old to finally become a reality. I used to believe that the chance to visit Korea would only come much later down the road, yet I was positively proven wrong, as being a Gilman recipient has allowed me the chance to go during my college career," said Ezekwenna.
Bard College Conservatory and Economics dual major Nita Vemuri '24 has been awarded a $3,000 Gilman scholarship to study in Paris, France for summer 2023. "I am beyond thrilled to learn more about French music and its relationship to the French language in Paris with the help of the Gilman scholarship," said Vemuri.
Since the program's inception in 2001, more than 38,000 Gilman Scholars from all US states, the District of Columbia, Puerto Rico, and other US territories have studied or interned in more than 160 countries around the globe. The Department of State awarded more than 3,600 Gilman scholarships during the 2022-2023 academic year.
As Secretary of State Anthony Blinken said, "People-to-people exchanges bring our world closer together and convey the best of America to the world, especially to its young people."
The late Congressman Gilman, for whom the scholarship is named, served in the House of Representatives for 30 years and chaired the House Foreign Relations Committee. When honored with the Secretary of State's Distinguished Service Medal in 2002, he said, "Living and learning in a vastly different environment of another nation not only exposes our students to alternate views but adds an enriching social and cultural experience. It also provides our students with the opportunity to return home with a deeper understanding of their place in the world, encouraging them to be a contributor, rather than a spectator in the international community."
The Gilman Program is sponsored by the US Department of State's Bureau of Educational and Cultural Affairs (ECA) and is supported in its implementation by the Institute of International Education (IIE). To learn more, visit:
gilmanscholarship.org
Post Date:
05-23-2023