Washington DC Mayor Muriel Bowser Cuts Ribbon on New Building for Bard High School Early College
NBC4 Washington Covers the Event
On Thursday, January 5, Mayor Muriel Bowser, DC Public Schools (DCPS) Chancellor Lewis Ferebee, and Department of General Services Director Keith Anderson cut the ribbon on the new, permanent home for Bard High School Early College (BHSEC) DC.
"When we first launched this innovative partnership with Bard in 2019, we knew we were embarking on something important. Now, with this beautiful, modernized building, Bard has a permanent home to provide innovative and tuition-free pathways to college," said Mayor Bowser. "Students who choose Bard have bet on themselves – they have bet on their futures and their ability to make the most of a reimagined high school experience."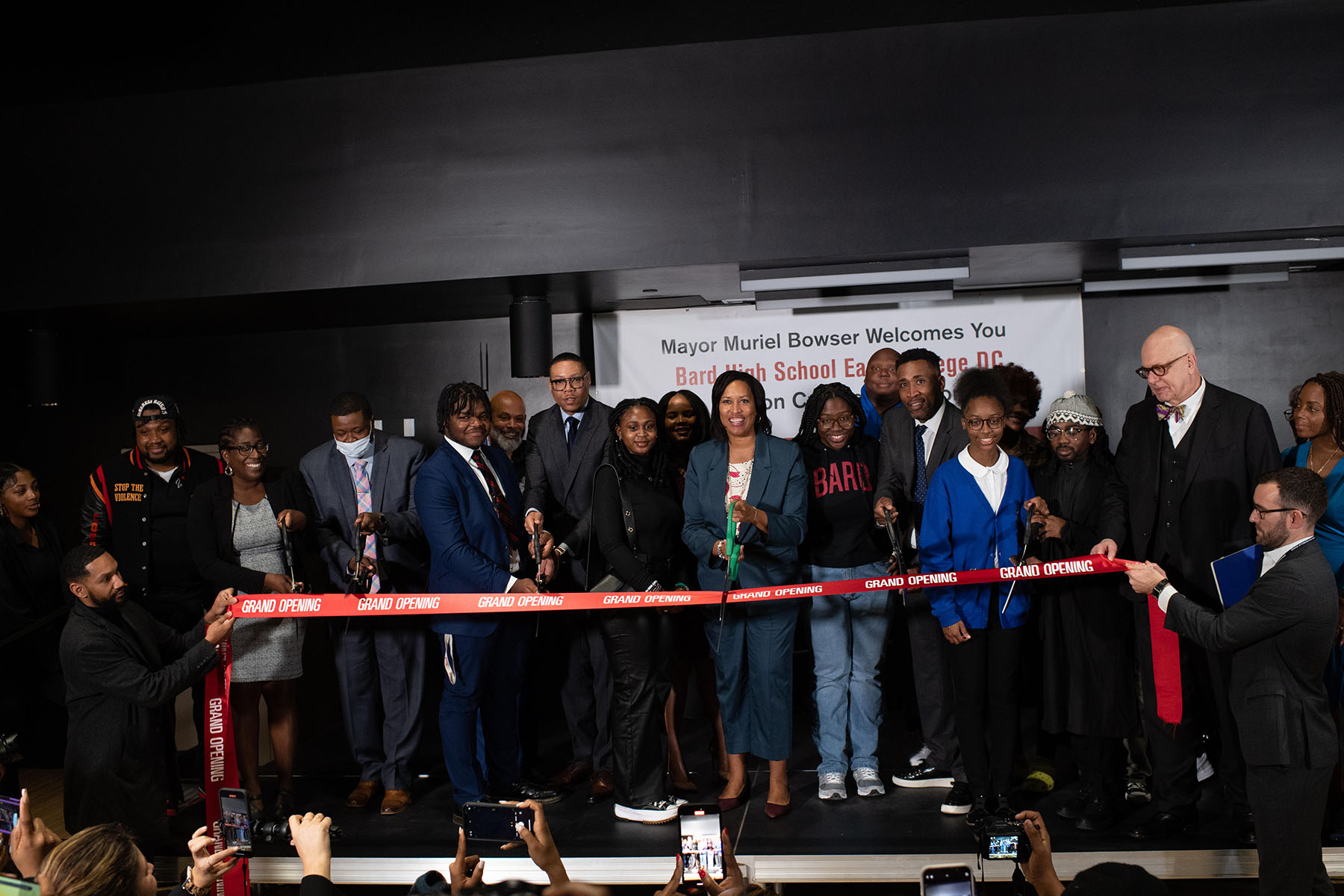 The new Bard High School will be approximately 108,200 square feet spread over four floors and with a total of 32 classrooms. The modernization also includes construction of a new basketball court, a new track and sports field, a black box theater, and a media center lounge, among other site elements."Bard High School Early College DC has been providing a quality education to students from across the district and offering a unique opportunity for a head start in their collegiate journey," said Chancellor Ferebee. "Today, the city offers these students a new and permanent space to spark their intellectual curiosity, to provide a joyful learning experience, and to prepare them for a promising future."
Bard High School Early College DC first opened in August 2019 as a partnership between Bard College and DCPS. BHSEC DC is a district-wide high school program that offers students the unique opportunity to earn up to 60 transferable college credits and an associate degree from Bard College alongside a high school diploma, free of charge.
Watch the Full Ribbon-Cutting Ceremony from the Office of Mayor Bowser
About Bard Early College
Bard has a 40-year history in early college education, dating back to 1979 when Bard assumed leadership of
Simon's Rock
, the nation's first private, residential early college. Committed to the mission of allowing students to accelerate their learning and achievement, the leadership of Bard College and Simon's Rock partnered with the New York City Department of Education and national education foundations to create the first
Bard High School Early College
(BHSEC), now located in Manhattan, in 2001. BHSEC was among the first public early college high schools established in the country.
Today, Bard Early College is a multicampus network providing adolescents in American public school systems the opportunity to go farther and faster than the status quo allows. Bard Early College serves approximately 3,000 students at seven associate in arts degree-granting campuses and a growing number of partnership programs through which students can complete up to one year of college. The degree-granting campuses of Bard Early College are located in
Manhattan, New York
;
Queens, New York
;
Newark, New Jersey
;
New Orleans, Louisiana
;
Cleveland, Ohio
;
Baltimore, Maryland
; and
Washington, DC
.
Learn more about Bard Early College
here
.
Post Date:
01-10-2023