The Zora Neale Hurston Writing Fellowship at Bard College Welcomes Seven Writers for Its Inaugural Summer Residency Program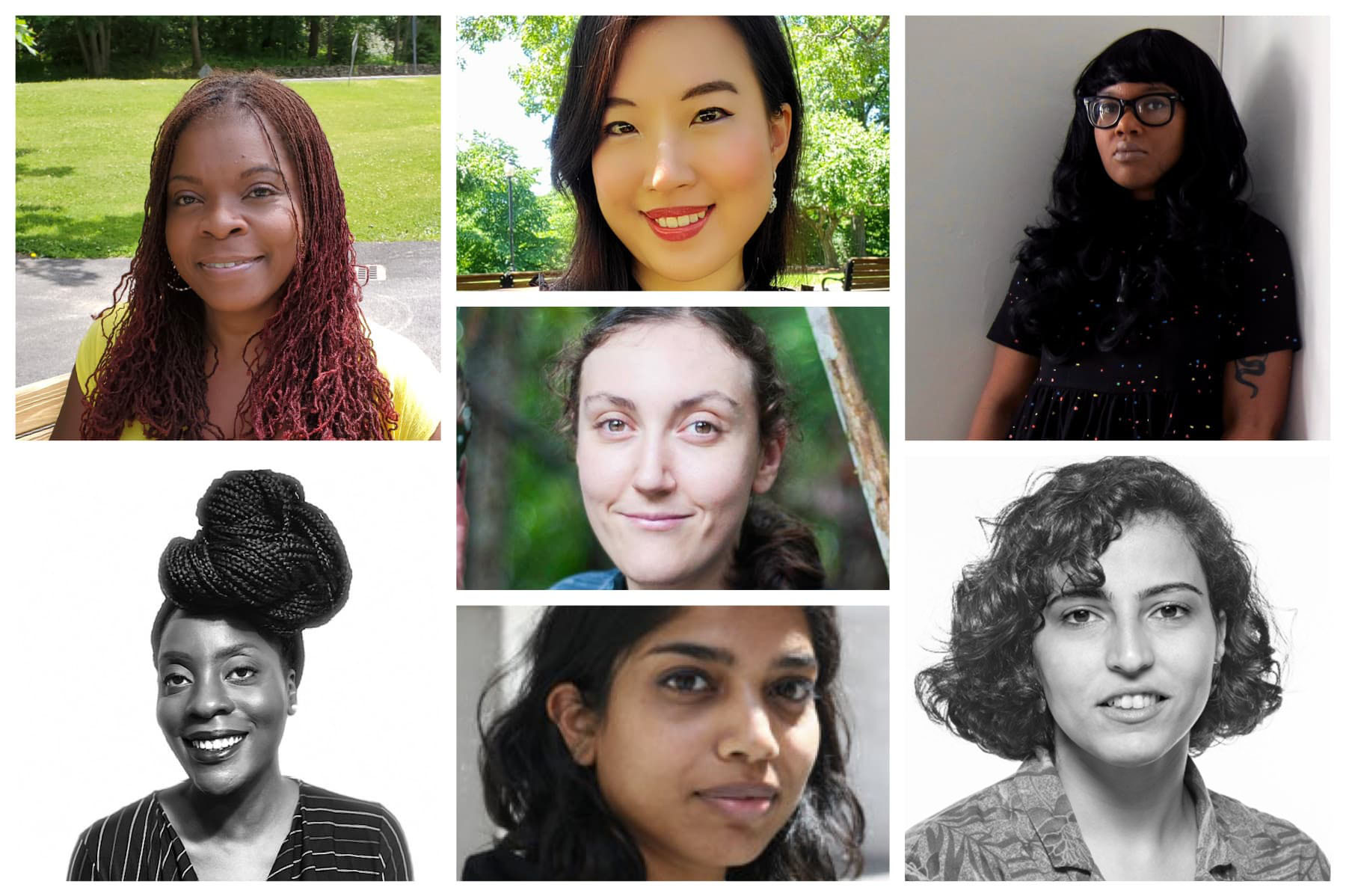 The new
Zora Neale Hurston Writing Fellowship at Bard College
welcomes its inaugural cohort of seven writers,
Danielle Elizabeth Chin
,
Neşe Devenot '09
,
Shoshanna Edwards-Alexander
,
Mona Kareem, Madhu Kaza, Obi Nwizu
, and
Dianca London Potts
, this summer. The Hurston Fellows are in residence for three weeks from June 4 through June 26, 2022. During their residency, fellows reside on Bard's campus with housing and meals provided. Founded and directed by Visiting Associate Professor of Literature and American Studies
Donna Ford Grover
, the Hurston Fellowship enables writers from all disciplines who have not had the opportunity to develop their scholarship, and supports writers who are currently employed as adjuncts or visiting professors with terminal degrees and who have not yet published a book-length work.
The Hurston Fellowship recognizes the particular challenges that BIPOC women encounter in the academy. Few BIPOC women are tenured or tenure track and most occupy precarious positions at their academic institutions. It is not the aim of the fellowship to increase the number of BIPOC women to the pool of tenure and tenure-track applicants. The program exists to assist these underrepresented voices into the publication of their works.
"For many adjuncts the path to writing and research is closed. The institutions where they labor do not offer funds or sabbaticals for such work. The Hurston Fellowship is one way to help these women find time for their own work. Zora Neale Hurston was one of the first independent scholars—writing on an array of subjects from anthropology to fiction. Like Hurston, our fellows, without institutional support, must make their own way through the world of publication and research," says Grover.
During their residency, Hurston Fellows may participate in a daily program of workshops and meetings, offered in collaboration with the Bard College Institute of Writing and Thinking. However, fellows may also choose to spend their time working, writing, and researching independently. The residency includes visits by literary agents and editors, as well as readings and lectures by established writers and scholars. This summer, the two guest lecturers include
Carolyn Ferrell
, author of
Miss Metropolitan
, which was recently shortlisted for the PEN/Faulkner Award for Fiction, and literary agent
Charlotte Sheedy
of Sheedy Lit in conversation with her client
Jive Poetic
about the agent-author relationship and how an idea becomes a book. Fellows will also be invited back to Bard College in October of the fellowship year for a weekend-long meeting and workshop.
Danielle Elizabeth Chin
graduated Magna Cum Laude from Marymount Manhattan College in May 2013 with a Bachelor of the Arts degree in English and World Literatures and a minor in Creative Writing before receiving her Master of Fine Arts degree from The New School in Creative Writing with a concentration in creative nonfiction. She has been an Adjunct Professor in Creative Writing at Marymount Manhattan College since 2015, where she has taught Introduction to Creative Writing I, Introduction to Creative Writing II, Intermediate Creative Writing, an Independent Study in Nonfiction, and a Special Topics course. She has also served as a Writing Assistant at the Borough of Manhattan Community College and for the CUNY EDGE program. Her other professional experiences include working as a research assistant for poet David Lehman, a teaching assistant for novelist Sigrid Nunez, and an assistant at a literary agency. Her work has appeared in
The Inquisitive Eater
,
The Best American Poetry Blog
, and
Side B Magazine
.
Neşe Devenot '09
received her PhD in 2015 from the Program in Comparative Literature and Literary Theory at the University of Pennsylvania, where she studied psychedelic philosophy, the literary history of chemical self-experimentation ("trip reports"), and radical poetics. She received her bachelor's degree from Bard College in philosophy and literature. Devenot is a Postdoctoral Associate at Institute for Research in Sensing (IRiS), University of Cincinnati, and is a Lecturer and Medical Humanities Program Assistant at Pennsylvania State University. She has held positions as a Postdoctoral Scholar in Medicine, Society, and Culture, in the Bioethics Department at the School of Medicine, Case Western Reserve University (2018-20) and an Andrew W. Mellon Postdoctoral Fellow in the Digital Humanities in the Humanities Program and English Department at University of Puget Sound (2015-18). Her research explores the function of metaphor and other literary devices in verbal accounts of psychedelic experiences. She was awarded "Best Humanities Publication in Psychedelic Studies" from Breaking Convention in 2016 and received the Article Prize for best publication in Romanticism Studies from European Romantic Review in 2020. She was a 2015-16 Research Fellow at the New York Public Library's Timothy Leary Papers and a Research Fellow with the New York University Psilocybin Cancer Anxiety Study, where she participated in the first qualitative study of patient experiences. She was a founding member of the MAPS Graduate Student Association, which she moderated during 2011-13, and has presented on psychedelics at conferences in the United States, Mexico, Canada, England, France, the Netherlands, and Australia.
Shoshanna Edwards-Alexander
received her Ed.D. in Educational Leadership from Saint Joseph's University in 2005, M.S.W. from University of Pennsylvania, School of Social Work in 1995, and B.A. in sociology and history/gender studies from Saint Lawrence University in 1993. Before teaching, she worked as a social worker and counselor. She is a Visiting and Senior Adjunct Professor at Saint Joseph's University in Philadelphia, where she teaches in the Haub School of Business, School of Health and Education, and College of Arts and Sciences. She also serves as a diversity consultant at Saint Joseph's University. Her research interests include anti-racist and social justice pedagogies, womanist and feminist epistemologies, teacher preparation educational programs, and intersectionality within leadership development. She presents on topics including leadership and student advocacy; mentoring and feminist perspectives; global engagement, training, and development; and social work and mental health. She has won several awards and special recognitions including the Certificate of Recognition for Excellence in Teaching for the Gender Studies Program Department at Saint Joseph's University (2014).
Mona Kareem
holds a PhD and MA in Comparative Literature from the State University of New York at Binghamton and a BA in English and Comparative Literature from the American University of Kuwait. She is a research fellow at Center for Humanities at Tufts University (2021-2022) and a recipient of a 2021 National Endowment for the Arts literary grant. She has taught at Princeton, University of Maryland College Park, SUNY Binghamton, Rutgers, and Bronx Community College. She was an affiliated research fellow at the Friedrich Schlegel Graduate School of Literary Studies at the Freie Universität of Berlin. Kareem is the author of three poetry collections. Her most recent publication
Femme Ghosts
is a trilingual chapbook published by Publication Studio in Fall 2019. Her work has been translated into nine languages, and appeared in
Brooklyn Rail
,
Michigan Quarterly
,
Fence
,
Ambit
,
The Los Angeles Review of Books
,
Asymptote
,
Words Without Borders
,
Poetry International
,
PEN English
,
Modern Poetry in Translation
,
Two Lines
, and
Specimen
. She has won several awards and honors including a nomination for the Best Translated Book Award in 2016 for her English translation of Ashraf Fayadh's
Instructions Within
, which was reprinted by English PEN in 2017.
Madhu H. Kaza
received her MFA in fiction, M.Phil and MA in Comparative Literature from New York University, and a BA in English from the University of Michigan. She serves as Associate Director of Microcollege Program and Faculty Development at the Bard Prison Initiative and teaches in the MFA program at Columbia University. Born in Andhra Pradesh, India, Kaza is a writer, translator, artist and educator based in New York City. She is a translator of the feminist Telugu writers Volga and Vimala. She is the editor of
Kitchen Table Translation
and her own writing has appeared or is forthcoming in
The Paris Review
,
Guernica
,
The Yale Review
,
Two Lines
,
Gulf Coast
,
The Margins
, and elsewhere. She is the recipient of grants and awards including a non-fiction fellowship from the New York Foundation for the Arts and a Yaddo residency. She was the founding director of the Bard Microcollege at Brooklyn Public Library and has taught at New York University, The New School, and at Bard College Institute for Writing and Thinking, among other institutions.
Obi Nwizu
received her MA in Creative Writing from Bath Spa University in the United Kingdom and her BA in Print Journalism from Georgia State University. Born in Anambra State, Nigeria, raised in Atlanta, Georgia, but currently calling Harlem home, Nwizu is a lover of month-long international vacations, vegan food, afrobeat, and rom-coms. When not writing, she teaches creative writing for the City University of New York and composition writing for the John Jay College of Criminal Justice. Selected publications include "Gathered Pieces of the Sun" in
The Almbec
, "Grapeseed Fields" in
Torch Literary Arts
, and "Lust Painted Walls" in
Imagine Curve
.
Dianca London Potts
earned her MFA in fiction from The New School, MA in English and MA in Humanities from Arcadia University, and BA in English from Temple University. She is Visiting Assistant Professor in the Writing Department at Pratt Institute and teaches writing courses at Eugene Lang Liberal Arts College at The New School and John Jay College of Criminal Justice. She is a Kimbilio Fiction Fellow, a VONA Voices alumna, and the former online editor of
Well-Read Black Girl
. Her words have been featured in
Lenny Letter
,
The Village Voice
,
Vice
,
Shondaland
, and elsewhere. Her memoir,
Planning for the Apocalypse
, is forthcoming from 37 Ink / Simon and Schuster.
About the
Zora Neale Hurston Writing Fellowship at Bard College
The Zora Neale Hurston Writing Fellowship at Bard College is a 3-week residential program designed to enable writers from all disciplines who have not had the opportunity to develop their scholarship, specifically, those who are without access to sabbaticals or their institution's research funding. We seek fellows who are currently employed as adjuncts or visiting professors with terminal degrees and who have not yet published a book length work. Prospective Fellows should submit a vita, a letter of recommendation by someone familiar with their work, and an abstract of the project they wish to work on during the three-week residency. The abstract should not exceed 2000 words. Applicants need a college or university affiliation and should have a minimum of five years of teaching as an adjunct, lecturer or visiting professor. The application deadline is April 15, 2023. All applicants will be notified of the admission Committee's decision by May 15, 2023. To submit materials or for questions please email
[email protected]
.
Post Date:
06-17-2022