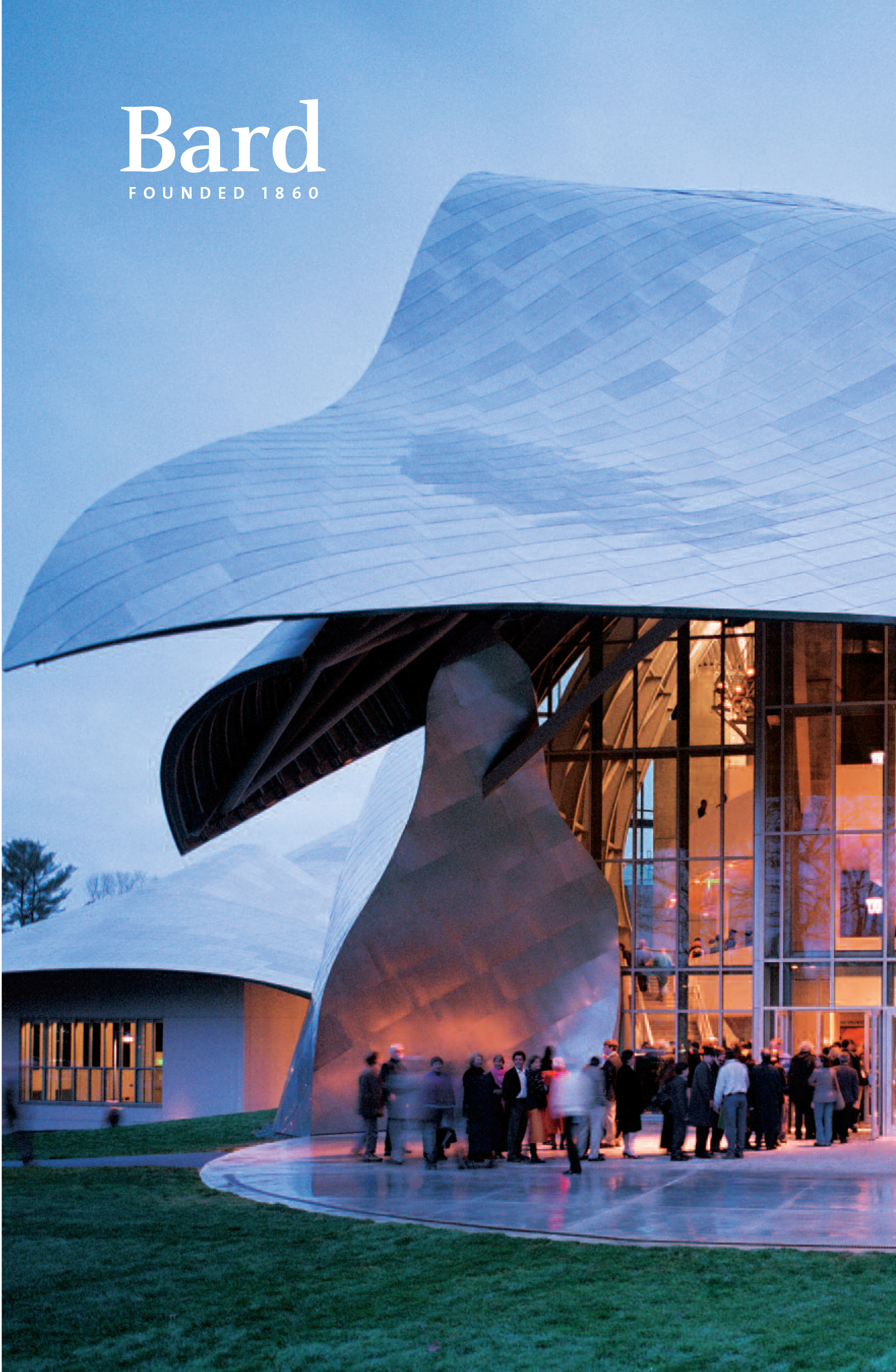 Bard College Catalogue, 2018–19
Cultural Programs
Bard Music Festival
fishercenter.bard.edu/bmf
The Bard Music Festival (BMF) entered its 29th season in 2018. Since 1990 the festival has been presented on the Bard campus each summer over two consecutive weekends in August. In 2003 the festival moved into the Richard B. Fisher Center for the Performing Arts, where it continues to offer an array of programs whose themes are taken from the life, work, and world of a single composer. Concerts presented in the Fisher Center's 800-seat Sosnoff Theater and 200-seat LUMA Theater, as well as in the 370-seat Olin Hall, offer both the intimate communication of recital and chamber music and the excitement of full orchestral and choral sound. The weeks of the festival are filled with open rehearsals throughout the campus, and orchestral musicians are often invited to perform in chamber groups. Special events complement the performance
.
Through a series of preconcert talks and panel discussions by eminent music scholars, composers are examined within the cultural and political contexts of their careers. In 2018, Nikolai Rimsky-Korsakov was the featured composer; other recent subjects have included Fryderyk Chopin, Giacomo Puccini, Carlos Chávez, Franz Schubert, Igor Stravinsky, Camille Saint-Saëns, Jean Sibelius, Alban Berg, Richard Wagner, Sergey Prokofiev, Edward Elgar, Franz Liszt, Dmitrii Shostakovich, and Aaron Copland. Related articles and essays are published by Princeton University Press in a companion book edited by a major music scholar; the series was honored with an ASCAP Deems Taylor Special Recognition Award in 2006. The combination of innovative programs built around a specific theme and an outstanding level of professional musicianship has brought the festival international critical acclaim from publications such as the New York Times, Wall Street Journal, and Financial Times.

Bard Music West (BMW), a project of the Bard Musical Festival, debuted in 2017 with the goal of exploring the music and influences of 20th-century contemporary composers. The inaugural festival, held in San Francisco, focused on Hungarian composer György Ligeti. In April 2018, BMW celebrated the world of Bay Area visionary Henry Cowell (1897–1965). For more information, see bardmusicwest.org.

Lecture and Performance Series
The Bard College Conservatory of Music in 2017–18 presented master classes, chamber music, and concerts by students, faculty, and guest artists. In spring 2018, Conservatory events at the Richard B. Fisher Center for the Performing Arts and László Z. Bitó '60 Conservatory Building included Music from China: East Meets West, a celebration of the partnership between the US-China Music Institute of Bard College and Central Conservatory of Music in Beijing; the Montgomery Place Salon, presented with the Historical Studies Program and featuring a performance of Schubert's String Quartet in C Major, D. 956; and a benefit concert featuring Richard Strauss's Don Quixote and Berlioz's Symphonie Fantastique. Fall events included a screening of Alfred Hitchock's Vertigo, with a live performance of the Bernard Herrmann score by the Conservatory Orchestra.
The John Ashbery Poetry Series, named for Bard's distinguished Charles P. Stevenson Jr. Professor Emeritus of Languages and Literature, brings leading contemporary poets to campus for readings and discussion in an intimate setting. Literary artists recently featured in the series include Dawn Lundy Martin, Hoa Nguyen, Roberto Tejada, Jennifer Moxley, Anna Moschovakis, and Michael Ives, poet in residence at Bard College.

Hudson Valley Chamber Music Circle
Founded in 1950, the Hudson Valley Chamber Music Circle (HVCMC) has attracted a loyal regional following that has enjoyed annual June performances by some of the finest classical ensembles and soloists in the world. The 2018 concert series kicked off with an 80th birthday celebration, featuring the Jasper String Quartet, for Grammy Award–winning composer Joan Tower, HVCMC's advisory director and Asher B. Edelman Professor in the Arts at Bard College.

Conjunctions
Founded in 1981, Bard's influential literary journal Conjunctions publishes innovative fiction, poetry, translations, essays, and interviews by contemporary masters and exciting new voices from the United States and around the world. As its slogan, "Read Dangerously," suggests, the journal brings fearless writing to risk-taking readers. Edited by Bard professor and novelist Bradford Morrow, winner of PEN America's prestigious Nora Magid Award for excellence in editing a literary journal, Conjunctions appears biannually, in the spring and fall.

The spring 2018 issue, Conjunctions:70, Sanctuary: The Preservation Issue, investigates the myriad ways in which we go about preserving what might otherwise be forfeited, from an archivist of lost manuscripts to a paleontologist or seed-collecting gardener. Contributors include Diane Ackerman, Richard Powers, Julia Elliott, Mauro Javier Cardenas, and many others. The fall 2017 issue, Conjunctions:69, Being Bodies, explores the complex circumstances of our flesh-and-blood existence. Contributors, including Edward Carey, Carole Maso, Rick Moody, Peter Orner, Mary Caponegro, and Anne Waldman, consider bodies as subjects, bodies as objects, and bodies as loci of politics, illness, nature, artifice, performance, power, abuse, reward, disgust, and desire.
Conjunctions also publishes an online magazine at conjunctions.com, allowing it to spotlight a single author each week and to maintain an online audio vault of exclusive recordings of readings. The journal has a robust online following, with social communities at Twitter, Instagram, and Facebook. E-books of current and selected past issues are available from all major online retailers
In partnership with the Lifetime Learning Institute, Conjunctions offers writing workshops to senior citizens. Among the journal's various reading programs are the Cities Reading Series, which allows Conjunctions to hold contributor events nationwide in partnership with Bard's Office of Alumni/ae Affairs; and the Innovative Contemporary Fiction Reading Series, in which cutting-edge contemporary writers meet with Bard undergraduates to discuss their work, then present public readings. Through the newly launched BackPage Pass Program, generous financial supporters are invited to join one of these authors and the Conjunctions editor for a literary afternoon at Bard College.