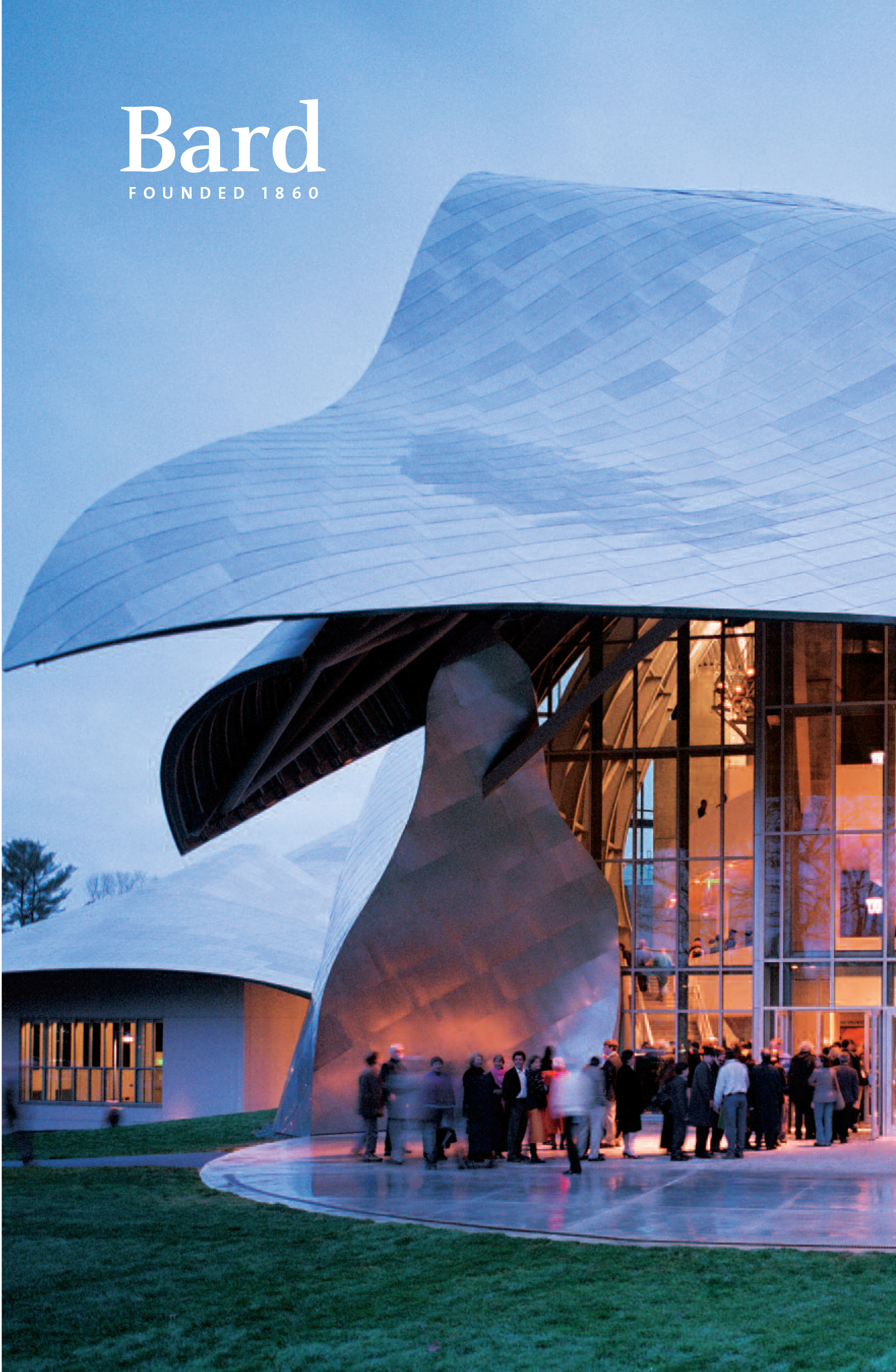 Bard College Catalogue, 2018–19
Photography

Faculty
Stephen Shore (director), David Bush, Laurie Dahlberg, Tim Davis, Barbara Ess, Daphne Fitzpatrick, An-My Lê, Tanya Marcuse, Gilles Peress, Luc Sante
Overview
A photographer's growth is the product of the simultaneous development of three interdependent factors. The first is the conscious or intuitive understanding of the visual language of photography—that is, how the world is translated into a photograph and how a photograph orders a segment of the world in the space and time that it shows. This is a photograph's grammar. The second factor is the acquisition of technique. Without a technical foundation there is no possibility of expression; the broader the foundation, the greater the scope of expression. This is a photograph's vocabulary. The third factor is the photographer's work on his or her self. This entails overcoming visual and psychological preconceptions and conditioning, deepening and clarifying perceptions, opening emotions, and finding passions. This is a photograph's content. The Photography Program instructs students in this three-part process and provides a historical and aesthetic framework for their development.
Requirements
Photography students are expected to take and pass one studio course in photography each semester; Photography 113,
History of Photography
; at least one upper-level history of photography course; and one additional art history course. Moderation occurs at the end of the fourth semester: by that time photography majors should have earned at least 60 credits and taken Photography 113 and at least two semesters of photography studio classes. The student meets with a Moderation board, presenting two short papers and a portfolio of 30 prints, 8" x 10" or larger. The portfolio demonstrates to the Moderation board whether the student can see and think photographically, can communicate his or her perceptions and feelings in pictures, and possesses the technical skills required for expression.
Recent Senior Projects in Photography
"A Photograph Is Always Invisible"
"Poser," vernacular self-portraits that address the public performance of white American women in the digital age
"Still: A Photographic Meditation on Representation and Memory"
"What Would Life Be Like without Pictures?"
Courses
Following is a course of study for studio classes. First semester: Photography 101,
Introduction to Photography
. In the second through fourth semesters: Photography 105,
Photographic Seeing
; Photography 201,
The View Camera
; and Photography 203,
Color Photography
. In the fifth and sixth semesters: Photography 301-302,
Advanced Photography
, and Photography 305,
Digital Imaging
. Students work on their Senior Project in the seventh and eighth semesters.
The descriptions below represent a sampling of courses from the past four years.
Introduction to Photography
Photography 101
An introduction to the techniques and aesthetics of black-and-white photography as a means of self-expression. Systematic instruction in darkroom techniques and weekly criticism of individual work provide a solid understanding of the use of the camera as an ­expressive tool. Required materials include a camera (35mm or 21/4") with fully adjustable ­f-stops and shutter speeds and a handheld reflected light-exposure meter.
Introduction to Photography for Nonmajors
Photography 104
An introduction to the techniques and aesthetics of black-and-white photography as a means of self-expression, including instruction in darkroom techniques and weekly criticism of individual work. The student must have a camera (35mm or 21/4") with fully adjustable f-stops and shutter speeds and a handheld reflected light-exposure meter. Open to Upper College students who have successfully moderated in disciplines other than photography.
Photographic Seeing
Photography 105
Beyond the material technique of photography lies a visual technique. This involves learning to see the way a camera sees and learning how a photograph, by its nature, transforms the world in front of the camera. The first half of the course is devoted to exploring this visual grammar and how it clarifies a photograph's meaning and the photographer's intent. In the second half, students pursue independent projects.
Light
Photography 106
Light is the coauthor of image. Light can be brazen or bland. It can dramatize or simply describe. The assignments alternate between real or natural light and artificial or created light and attempt to clarify their differences and similarities. Learning to control light broadens a photographer's perception of ambient options.
Photography and Instagram
Photography 107
With more than 700 million monthly users, Instagram has become one of the most ubiquitous means of visual communication. A growing number of artists are exploring Instagram as a platform for artistic expression. This course examines the history of "notational photography" and Instagram's relation to the Polaroid and other instantaneous photographic media. It then explores strategies—the visual notation, scrapbook, visual diary, curated feed, and use of serial imagery—for using Instagram as a medium of communication.
Photography for Filmmakers
Photography 109
This course is designed to instruct film students in the inextricable importance of the camera in the construction of all photographic images, both moving and still. Weekly assignments, prompted by a thematic lecture from the history of photography, culminate in an extended individual project. Students are expected to have their own digital cameras, even if only point-and-shoots.
History of Photography
Photography 113 / Art History 113
See Art History 113 for a full course description.
The View Camera
Photography 201
View cameras, the first cameras, were the primary photographic tools for the first half of photography's history. They offer unsurpassed clarity, tonality, and image control. Operation of the view camera and advanced darkroom techniques are demonstrated as the class explores the expressive potential of the conscious use of the camera's precise control of the image. Students are supplied with 4" x 5" camera outfits. Prerequisite: Photography 105. Admission by portfolio.
Color Photography
Photography 203
An introduction to the problem of rethinking photographic picture making through the medium of color photography. Technical areas explored include transparencies, color negatives, and type-C prints. Admission by portfolio.
The View Camera: The Hudson Project
Photography 205
Students participate in a class-wide project documenting the city of Hudson. By choosing a common subject, while allowing for individual approaches, the class explores how a photograph communicates visual information. Students are supplied with 4" x 5" camera outfits.
Your Life in Politics
Photography 207
We live in a time of great disorientation and upheaval, and artists are feeling the need to look outward and readdress their times. The course considers past and contemporary political art, looking at the work of activists, photojournalists, cool observers, regime propagandists, and radical social critics. Weekly projects and a collaborative class action ask: How can art be subversive? How can it gather hidden information? How can it document? How can it organize?
Photography and Sculpture
Photography 208
Photography is no longer just a two-dimensional medium. Artists are using a full range of sculptural tools to deepen and complicate their practices. This course, for photography and studio arts majors, examines the ways photography collides with physical materials, engages the built and the observed, and complicates the idea of display. Assignments investigate techniques to make lens-based sculpture and produce work that surrenders the wall to employ the physical world.
Bookmaking for Visual Artists and Photographers
Photography 230 / Art 230
The course provides students working in a variety of media with the opportunity to express themselves in the unique medium of the book, using such elements as page sequencing, scale, and layout. The class creates books using print-on-demand digital services such as Blurb (as opposed to hand bookbinding). Demonstrations of scanning, interfaces with InDesign and Photoshop, and other tools augment regular critiques of books produced.
Photography's Other Histories
Photography 251 / Art History 251
See Art History 251 for a full course description.
Advanced Photography
Photography 301-302
This course emphasizes the exploration of visual problems by way of asking good questions of oneself and one's work, seeing how other photographers and artists have dealt with such questions, and "answering" the questions through individual projects. Prerequisites: Photography 201 and 203.
Digital Imaging
Photography 305
An introduction to the use of Adobe Photoshop for image processing. The class first studies techniques for color management, scanning, image processing, and outputting. Students then pursue individual projects, which are critiqued in class.
The Portrait and Its Guises
Photography 314 / Art History 314
See Art History 314 for a full course description.
Art and the Uses of Photography
Photography 316
In this study of photography as a material or tool in art making, emphasis is placed on developing ideas and using simple, direct photographic means to express them. Students create a body of work with snapshots, slides, laser Xeroxes, Polaroids, photocollage, and other basic forms. The class visits New York galleries and museums to consider the use of photographic-based work in contemporary art practice.
Senior Seminar
The senior seminar is required of all seniors majoring in photography. It meets weekly and carries no credit.