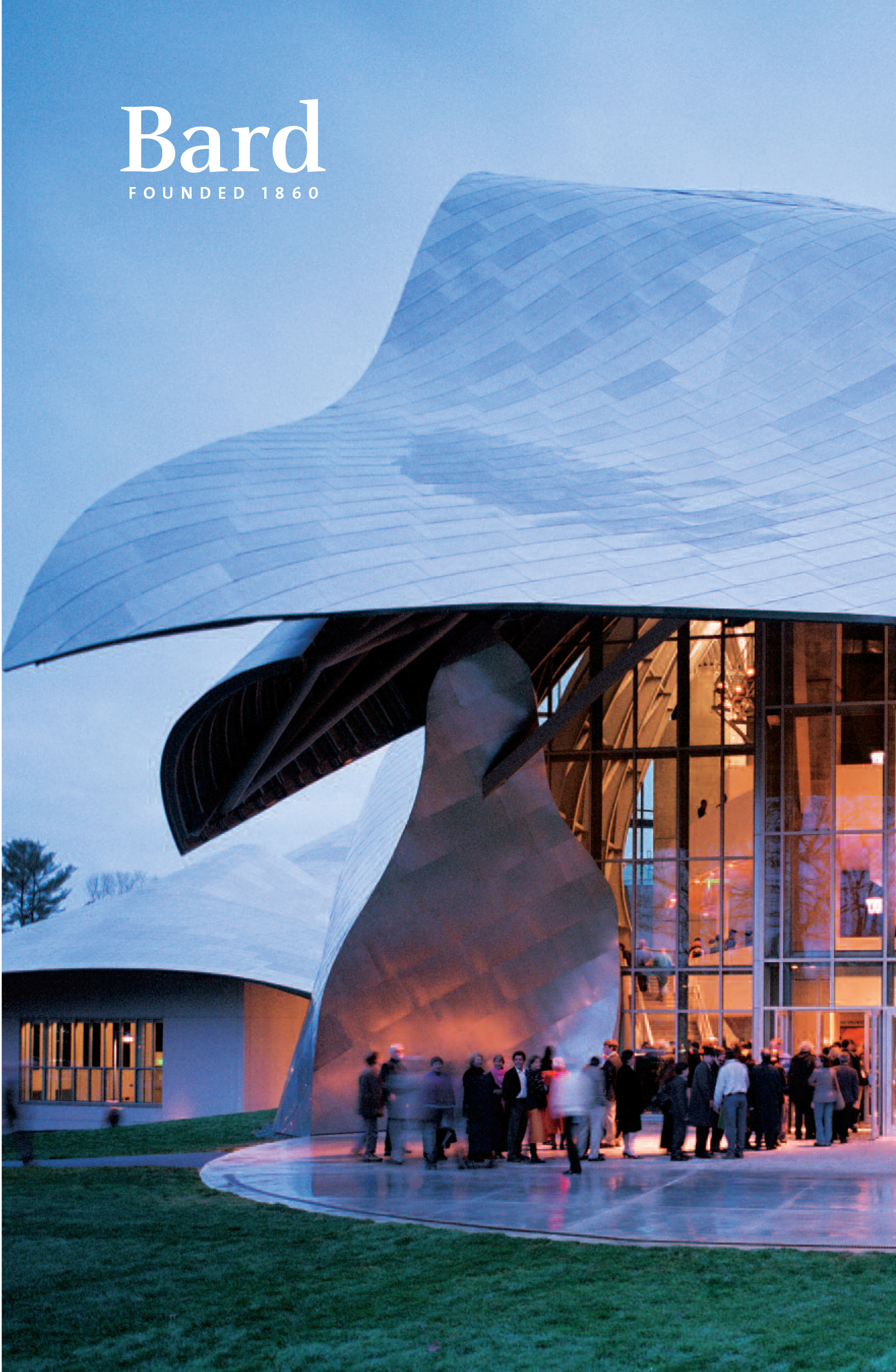 Bard College Catalogue, 2018–19
Film and Electronic Arts

Faculty
Ben Coonley (director), Mal Ahern, Peggy Ahwesh, Ephraim Asili, Charles Burnett, Jacqueline Goss, Brent Green, Ed Halter, Lisa Katzman, Lisa Krueger-Chandler, A. Sayeeda Moreno, Fiona Otway, John Pruitt, Kelly Reichardt, Richard Suchenski, Farihah Zaman
Overview
Critical thinking and creative work go hand in hand in the Film and Electronic Arts Program, which integrates a wide variety of creative practices with the study of history and criticism of the medium. All production majors take required courses in film history while pursuing filmmaking. A student writing a Senior Project in the history of film or video will have taken one or two production workshops.
Areas of Study
The program encourages interest in a wide range of expressive modes in film and electronic arts. These include animation, narrative and non-narrative filmmaking, documentary, performance, and installation practices. Regardless of a student's choice of specialization, the program's emphasis leans toward neither fixed professional formulas nor mere technical expertise, but rather toward imaginative engagement and the cultivation of an individual voice that has command over the entire creative process. For example, a student interested in narrative filmmaking would be expected to write an original script, shoot it, and then edit the film into its final form. Students are also expected to take advantage of Bard's liberal arts curriculum by studying subjects that relate to their specialties.
Requirements
A student's first year is devoted primarily to acquiring a historical and critical background. The focus in the sophomore year is on learning the fundamentals of production and working toward Moderation. For Moderation, each prospective major presents a selection of work in film/electronic arts or a historical/critical essay of 10 pages. In the Upper College, students choose one of two tracks: production or film history and criticism. The junior year is devoted mainly to deepening and broadening the student's creative and critical awareness; the senior year to a yearlong Senior Project, which can take the form of a creative work in film/electronic arts or an extended, in-depth historical or critical essay.
Students majoring in the program are expected to complete the following courses prior to Moderation: Film 115/116, History of Cinema (or any other introductory-level film history course); two 200-level film or electronic media production workshops; and an additional history course in the program. Upper College students must complete a film-relevant science laboratory, computer science, or social science course; Film 208, Introduction to 16mm Film; a 300-level film or electronic media production workshop; an upper-level film history course; Film 405, Senior Seminar (no credit); and the Senior Project.
Recent Senior Projects in Film and Electronic Arts
"Syndromes," an animated narrative film
"The Thick Black Line," a documentary that explores a proposed coal export terminal on native Lummi treaty land
"The Way of the Person," three profiles of young Rwandan adults and their daily lives
"Why Did I Marry a Sentimentalist? Family and Domesticity in the Films of Steven Spielberg"
Facilities
The Jim Ottaway Jr. Film Center houses a 110-seat theater equipped with 16mm, 35mm, and digital projection; performance space with digital projection capabilities; shooting studio with a control room; computer lab with current Adobe editing software; darkroom; two seminar/ screening rooms; editing suites for sound and video; studios for seniors; and a film archive. Visiting artist talks, screenings, symposia, and other public events are regularly scheduled in the theater. For production classes, students take advantage of the resources of the equipment office and have access to the various workrooms. The program also has an in-house media collection that consists of features, documentaries, experimental films, and past Senior Projects.
Courses
In addition to regularly scheduled academic and production courses, the program offers advanced study on a one-to-one basis with a professor. Recent tutorials include
Film Sound; Buñuel, Almodóvar, and the Catholic Church;
and
LGBTQ Archiving​
.
The descriptions below represent a sampling of courses from the past four years.
Introduction to the Documentary
Film 106
Topics addressed include the origins of the documentary concept, direct cinema and cinema verité, propaganda, ethnographic media, the essay film, experimental documentary forms, media activism, fiction and documentary, and the role of technology. Vertov, Riefenstahl, Rouch, Flaherty, Pennebaker, Maysles, Wiseman, Spheeris, Moore, and Morris are among the filmmakers studied.
Aesthetics of Film
Film 109
A one-semester survey course designed for first-year students. Central cinematic issues are addressed both in terms of the films screened and the assigned theoretical readings: narrative design, montage, realism, collage, abstraction, and so forth. Films by Chaplin, Keaton, Renoir, Rossellini, Hitchcock, Deren, Brakhage, Bresson, Godard, and others are studied. Texts by Vertov, Eisenstein, Pudovkin, Munsterberg, Bazin, Brakhage, Deren, and Arnheim.
History of Cinema before World War II
Film 115
The first of a two-part survey, this course offers an interdisciplinary look at the development and significance of the cinema during its first 50 years. The class considers the nature and function of film form through lectures, discussions, the reading of key texts, and close study of works by exemplary directors such as Méliès, Griffith, Chaplin, Eisenstein, Vertov, Hitchcock, Dreyer, Lang, Murnau, Renoir, Ford, Welles, and Mizoguchi.
History of Cinema since 1945
Film 116
Designed for first-year students, this course (the second of a two-part survey) addresses the history of cinema since the end of World War II. In addition to offering an interdisciplinary look at the development and significance of the cinema during this period, the course considers the nature and function of film form through lectures, readings, and study of works by directors such as Rossellini, Hitchcock, Brakhage, Bresson, Tati, Resnais, Godard, Bergman, Kurosawa, Tarkovsky, Kubrick, Fassbinder, and Jia.
Praxis
Film 130
This 2-credit course, designed for first-year students intending to major in Film and Electronic Arts, covers the basics of video production: camera operation, lighting, sound recording, and editing. Participants produce a final project utilizing the techniques covered in class. Prerequisite: one film history course.
Survey of Electronic Art
Film 167
CROSS-LISTED: STS
An introduction to the history of moving-image art made with electronic media, with a focus on avant-garde traditions. Topics include video art, guerrilla television, expanded cinema, feminist media, net.art, music video, microcinema, digital feature filmmaking, and video games.
Digital Animation
Film 203
CROSS-LISTED: EXPERIMENTAL HUMANITIES
The course helps students develop a facility with digital animation and compositing programs (primarily Adobe Animate and After Effects), and find personal animating styles that surpass the tools at hand. To this end, the class looks at diverse examples of animating and collage from film, music, writing, photography, and painting. Prerequisite: familiarity with a nonlinear video-editing program.
Gesture, Light, and Motion
Film 205
This filmmaking workshop considers the narrative form through the qualities of gesture, light, and motion, rather than through dialogue and literary approaches to storytelling. Various approaches to visual storytelling are explored, as are solutions to practical and/or aesthetic problems.
Electronic Media Workshop
Film 207
An introduction to various elements of video production, with an emphasis on video art and experimentation. Camera and editing assignments familiarize students with digital video technology while investigating various aesthetic and theoretical concepts. The course culminates with the completion of a single-channel video piece by each student. Technology training includes cameras, Final Cut Pro, studio lighting and lighting for green screen, key effects, microphones, and more.
Introduction to 16mm Film
Film 208
An introduction to filmmaking with a strong emphasis on mastering the 16mm Bolex camera.
Assignments are designed to address basic experimental, documentary, and narrative techniques. A wide range of technical and aesthetic issues is explored in conjunction with editing, lighting, and sound-recording techniques.
Film and Modernism
Film 219
An exploration of the relationship between a cinematic achievement labeled avant-garde and the major tenets of modernist art, both visual and literary. Many of the films studied were made by artists who worked in other media or whose work manifests a direct relationship with various artistic movements, such as surrealism, futurism, and constructivism.
Found Footage: Appropriation and Pranks
Film 221
CROSS-LISTED: EXPERIMENTAL HUMANITIES
A survey of appropriation in experimental media, from the found footage, cut-up, and collage films of the '50s, through the Lettrists and Situationists, and up to current artistic and activist production efforts such as culture jamming, game hacking, sampling, hoaxing, resistance, interference, and tactical media intervention. Issues regarding gender, media and net politics, technology, copyright, and aesthetics are addressed. Students produce their own work in video, gaming, installation, collage, and/or audio through a series of assignments and a final project.
Graphic Film Workshop
Film 223
This course explores the materials and processes available for production of graphic film or graphic film sequences. It consists of instruction in animation, rephotography, rotoscoping, and drawing on film.
Ethnography in Image, Sound, and Text
Film 224 / Anthropology 224
CROSS-LISTED: EXPERIMENTAL HUMANITIES
The relationship between the self and others, the problems and pleasures of cross-cultural encounters, the sensory aspects of culture—all are themes found in a range of productions that might be called ethnographic in nature. This course, taught by an anthropologist and a filmmaker, uses the tools of anthropology (observation, interviews, immersion) to create ethnographies in different media, including film, video, audio, and experimental writing.
3D Animation
Film 225
In this course, students are introduced to processes for creating moving image artworks using 3D animation software and its ancillary technologies. Topics include the basics of 3D modeling and animation, 3D scanning, and creative use of other technologies that allow artists to combine real and virtual spaces. Readings reflect on the psychological, cultural, and aesthetic impacts of computer-generated imagery in contemporary media. Students are not assumed to have any previous experience with 3D animation.
Character and Story
Film 229
An introductory screenwriting course that focuses on character-driven short pieces. In addition to writing and research exercises, there are screenings, discussions, readings, and script critiques. The course covers story structure and story design in relationship to character development.
Film among the Arts
Film 230
CROSS-LISTED: ART HISTORY
An exploration of the ways in which cinema has been informed and enriched by developments in other arts. Attention is paid not only to the presence of other arts within the films but also to new ways of looking at and thinking about cinema through its relationships with other media. Directors studied include Antonioni, Bergman, Duras, Eisenstein, Godard, Hitchcock, Hou Hsiao-hsien, Kubrick, Marker, Pasolini, Resnais, Syberberg, and Watkins, among others.
Art and the Internet
Film 233
CROSS-LISTED: EXPERIMENTAL HUMANITIES, STS
This production course considers the internet as a source of creative material, an exhibition context, and a begetter of new art forms. Topics covered include the origins of "net.art," hypertext narratives, social networks, surf clubs and group blogging, web video, machinima, hacktivism, online games, online performance, and digital readymade and assemblage art. Students complete independent and collaborative creative projects designed to respond to and engage with internet technologies and online networks.
Video Installation
Film 235
A study of video installation as an evolving form that extends the conversation of video art beyond the frame and into live, hybrid media, site-specific, and multiple-channel environments. Presentations, screenings, and readings augment critical thinking about ­temporal and spatial relationships, narrative structure, viewer perception, and the challenges of presenting time-based work in a gallery or museum setting. Workshops hone technical skills and problem solving.
Cinematic Romanticism
Film 236
Students explore the manifestations of Romanticism in cinema from the silent era to the present. Topics include the development of Romantic thought, the impact of 19th-century aesthetic paradigms on 20th- and 21st-century film practices, and changing meanings of Romantic tropes and iconography. The course is synchronized with a program by the Center for Moving Image Arts that features a retrospective of work by Jean-Luc Godard and Werner Herzog.
Film Blackness and Black Aesthetic in Contemporary Cinema
Film 237
CROSS-LISTED: AFRICANA STUDIES
The course examines the philosophy of black aesthetics in relation to the concept of film blackness. Screenings and discussions focus on films made between 1980 and 2017, with an emphasis on films made by members of the African diaspora. Directors studied include Cheryl Dunye, Barry Jenkins, Ava DuVernay, Steve McQueen, Kevin Jerome Everson, Abderrahmane Sissako, Jordan Peele, Raoul Peck, Barbara McCullough, and John Akomfrah. Writers studied include bell hooks, Toni Cade Bambara, and Michael Boyce Gillespie.
Sound and Picture
Film 240
A look at the principles and practices of sound design in motion pictures, through analysis of existing works, discussion of weekly readings, and class creations. Sound is considered not as accessory to image, but as a unique, fruitful site for making meaning within the context of film- and videomaking. Also investigated: the complex relationship of sound to the real and imagined spaces it activates, how sound design suggests modes of time and tense, and the roles silence and music play in filmmaking.
Small Screens
Film 251
CROSS-LISTED: EXPERIMENTAL HUMANITIES
This course examines the means and creative forms used to make videos and still images for smartphones, YouTube, Vimeo, Instagram, Tumblr, and Twitter. How do we think about scale of display and duration in these environments? Are there new types of images that exist between moving and still? Does our knowledge of dataveillance change our creative work online? Students also make individual and collective works for these platforms.
War Crimes in Film
Film 252 / Human Rights 252
Subjects discussed include legal definitions, as applied in war crime trials; the political use of historical atrocities; how the Nuremberg and Tokyo tribunals changed the way we look at war crimes; and the question of genocide. Japanese, German, French, and American films are screened, including Judgment at Nuremberg and Battle of Algiers. Texts include Christopher Browning's Ordinary Men, Paul Aussaresses's The Battle of the Casbah, and Seymour Hersh's My Lai 4.
Writing the Film
Film 256 / Written Arts 256
This course looks at creative approaches to writing short films and dialogue scenes. Writing and research exercises are supplemented with screenings, discussions, readings, and script critiques. The course focuses on researching and developing ideas and structure for stories, building characters, poetic strategies, and writing comedic and realistic romantic dialogue.
Asian Cinematic Modernisms
Film 258
CROSS-LISTED: ASIAN STUDIES
This seminar explores permutations of modernism in and between the cinemas of East, Central, South, and Southeast Asia. Attention is paid to the ways in which directors from different ­traditions use formal innovations to mediate the dramatic changes taking place in their societies. The course is structured around 35mm retrospectives of India's Ritwik Ghatak and Japan's Kenji Mizoguchi.
The American Century
Film 268
CROSS-LISTED: AMERICAN STUDIES
It is a truism that our ideas of American society and history (or myth) have been greatly influenced by Hollywood. This course looks at the way movies, American as well as European and Asian, helped shape the image of the United States in the 20th century. Students are introduced to such iconic films as Mr. Smith Goes to Washington, Dr. Strangelove, High Noon, and Apocalypse Now, as well as American movies made from a foreign perspective by non-American directors, including Milos Forman and Sergio Leone.
Documentary Production Workshop
Film 278
A video production workshop for students interested in social issues, reportage, home movies, travelogues, and other forms of the nonfiction film. Working in small crews and individually, students travel locally to a variety of locations to cover particular events, people, and natural phenomena. A final project, which is researched, shot, and edited during the second half of the semester, is required.
Landscape and Media
Film 307
The course compares a variety of landscape forms throughout the history of cinema and painting. Through discussion and visits to local sites, the class considers environmental issues, the social uses of land and parks, travel and tourism, and the politics of place. A broad range of tools and techniques are introduced, including panoramas, cartography, image archives, drones, creative geography, and 360-degree cams.
Contemporary Narrative Film
Film 311
This course investigates a select group of prominent narrative filmmakers whose reputations emerged within the last 25 years or so. Screenings include works by Jim Jarmusch, David Lynch, Abbas Kiarostami, Aleksandr Sokurov, Peggy Ahwesh, Claire Denis, Guy Maddin, Michael Haneke, Lars von Trier, Chantal Akerman, Peter Greenaway, and others. Enrollment is limited to Upper College students.
Advanced Screenwriting
Film 312
An intensive workshop designed for students who plan to make a film for Moderation or the Senior Project. Participants work on script analysis, staging, and rewrites, with the goal of developing a concise and polished script that serves as the basis for a short film. Prerequisite: Film 256 or the successful completion of a sophomore-level production class.
Rule Breakers
Film 313
Students investigate conventions of narrative filmmaking related to shot composition, screen direction, the actor's gaze, continuity, chronology, sound design, and more. They shoot and edit several scenes/sequences in which they alternately follow, bend, and break these rules to serve various storytelling ends. The goal is for students to become more fluent in the foundational vocabulary of the art form, while developing their own cinematic voice.
Film Production: Cinematography
Film 317
CROSS-LISTED: EXPERIMENTAL HUMANITIES
A junior-level production workshop designed to give students a more thorough understanding of a wide range of cinematic vocabularies and aesthetics. Short in-class projects explore film stocks, shutter speeds, lighting techniques, and cinematographic strategies for different genres of filmmaking.
Film as Art: Classical Theories
Film 318
A survey of the major theories of film from the "classical period" (largely the first half of the 20th century), when critics and writer/filmmakers were establishing a groundwork for how to think of the medium as an expressive form worthy of serious consideration. Select screenings support readings of texts by, among others, C. S. Peirce, Benedetto Croce, Ferdinand de Saussure, Hugo Münsterberg, Erwin Panofsky, Sergei Eisenstein, Maya Deren, Pier Paolo Pasolini, Hollis Frampton, Andrei Tarkovsky, Walter Benjamin, André Bazin, Susan Sontag, Gilles Deleuze, and Umberto Eco.
Harun Farocki: Inextinguishable Fire
Film 321
The seminar considers the groundbreaking oeuvre of German filmmaker, teacher, and essayist Harun Farocki. Active from the mid-1960s to his death in 2014, Farocki explored the workings of contemporary image production and optical technologies in a critique of the apparatus of state and corporate power within the global economy.
Science Fiction Film
Film 324
CROSS-LISTED: STS
A critical examination of science fiction film from the silent era to today, with a special focus on the relationship between science fiction and the avant-garde. Topics include visualizing technology, alien and robot as human countertype, utopia and dystopia, Cold War and post–Cold War politics as seen through science fiction, camp and parody, counterfactuals and alternative history, and the poetics of science fiction language.
Script to Screen
Film 330
A live-action film workshop that concentrates on the narrative form as a means of exploring visual storytelling strategies. Students produce a dramatic recreation of the 1929 Hitchcock film Blackmail. Each student produces, directs, and edits a sequence of the feature-length film.
Queer Cinema
Film 337
CROSS-LISTED: GSS
A critical examination of how queer identity has been explored on screen, from the silent era to recent times. Topics include the representation of gay, lesbian, bisexual, and trans characters in classic Hollywood and European cinema; theories of camp, gender subversion, and other forms of articulating queer sensibility within historically heteronormative frameworks; the pioneering work of openly queer 20th-century filmmakers; the role of cinema in activism around such issues as AIDS, feminism, and trans visibility; and the mainstreaming of queer images in the 21st century.
Color
Film 340
cross-listed: art history
An exploration of the aesthetics of color in cinema and the related arts. Topics include the development and impact of color processes; the perceptual, cultural, and historical registers of color; changing theoretical approaches to color and light; the relationship between figuration and abstraction; the preservation, restoration, and degradation of filmic color; and the effects of digital technologies and methodologies.
Stereoscopic 3D Video
Film 342
This course introduces methods for producing three-dimensional video using stereo cameras and projection systems that exploit binocular vision. The class examines moments in the evolution of 3D technology and historical attempts at what André Bazin called "total cinema," considering the perceptual and ideological implications of apparatuses that attempt to intensify realistic reproductions of the physical world. Creative assignments challenge students to explore the potential of the 3D frame while developing new approaches to shooting and editing 3D images.
Big Noise Films: Collaborative Documentary—Immigration
Film 343
A course centered on the production of a long-form observational documentary on the broad topic of migration. In the context of an international migration crisis, and shifts in national immigration policy, students look for local stories that interrogate this theme. They work individually and in pairs to research, film, organize, and edit short scenes, and then work together to combine these scenes into a cohesive larger piece. Part of the Liberal Arts Consortium on Forced Migration, Displacement, and Education initiative.
Sound and Picture Editing
Film 344
The focus of the course is on the principles and practices of sound design in motion pictures. Through analysis of existing narrative sound works and through the student's own sound creations, the class examines the mutual influence of sound and picture. Over the semester, students have the opportunity to thoroughly explore the editing process and discover how sound comes into play when making a cut.
The Conversation
Film 347
Students consider approaches to storytelling and the narrative form with the goal of identifying the subtext within given dialogue scenes. They locate "the lie" in the spoken word and "the truth" through visual indicators, and explore the impact of camera placement, blocking, use of narrative beats, and editing on a particular scene. They also discover how their filmmaking choices support, undermine, or contradict what their characters are saying.
Auteur Studies: Andrzej Wajda and the Cinemas of Central Europe
Film 358
The primary subject of this seminar is Andrzej Wajda, a Polish filmmaker whose rich body of work has become a paradigm for international art cinema. Among other things, the class examines the histories of the major cinemas of Central Europe; their relationship to artistic, theatrical, and literary movements; and the links between major Central European auteurs and their influence on subsequent generations. Other directors studied: Krzysztof Kie´slowski, Krzysztof Zanussi, Miloš Forman, V?era Chytilová, Miklós Jancsó, and Béla Tarr.
Personal Narratives
Film 364
This course explores the process of forming a narrative film around personal experience. Charles Burnett's films provide a touchstone for exploring a multitude of approaches: autobiography, observations of one's social environment, and the use of a literary work as source material. Students write a short screenplay that grows out of their individual experiences, observations, and/or a range of influences, including literary works and historical experiences they feel personally impacted by. The following semester, they direct and edit their screenplays.
American Innovative Narrative
Film 366
An exploration of unconventional, usually low-budget narrative cinema that moves against the grain of standard populist work. Films studied are primarily from the late 1950s to the early 1970s, when there were a number of dynamic experiments in narrative, but the class also looks at relatively contemporary work. Filmmakers considered include Shirley Clarke, Michael Roemer, Adolfas Mekas, Curtis Harrington, Monte Hellman, Robert Frank, Yvonne Rainer, Charles Burnett, Julie Dash, David Lynch, Richard Linklater, Susan Seidelman, and Jim Jarmusch.
Senior Seminar
Film 405
This seminar, a requirement for all program majors, allows students working on Senior Projects to share methods, knowledge, skills, and resources. The course includes sessions with visiting film- and videomakers, who discuss their processes and techniques; a life-after-Bard skills workshop; a review of grant opportunities; and critiques of works in progress.