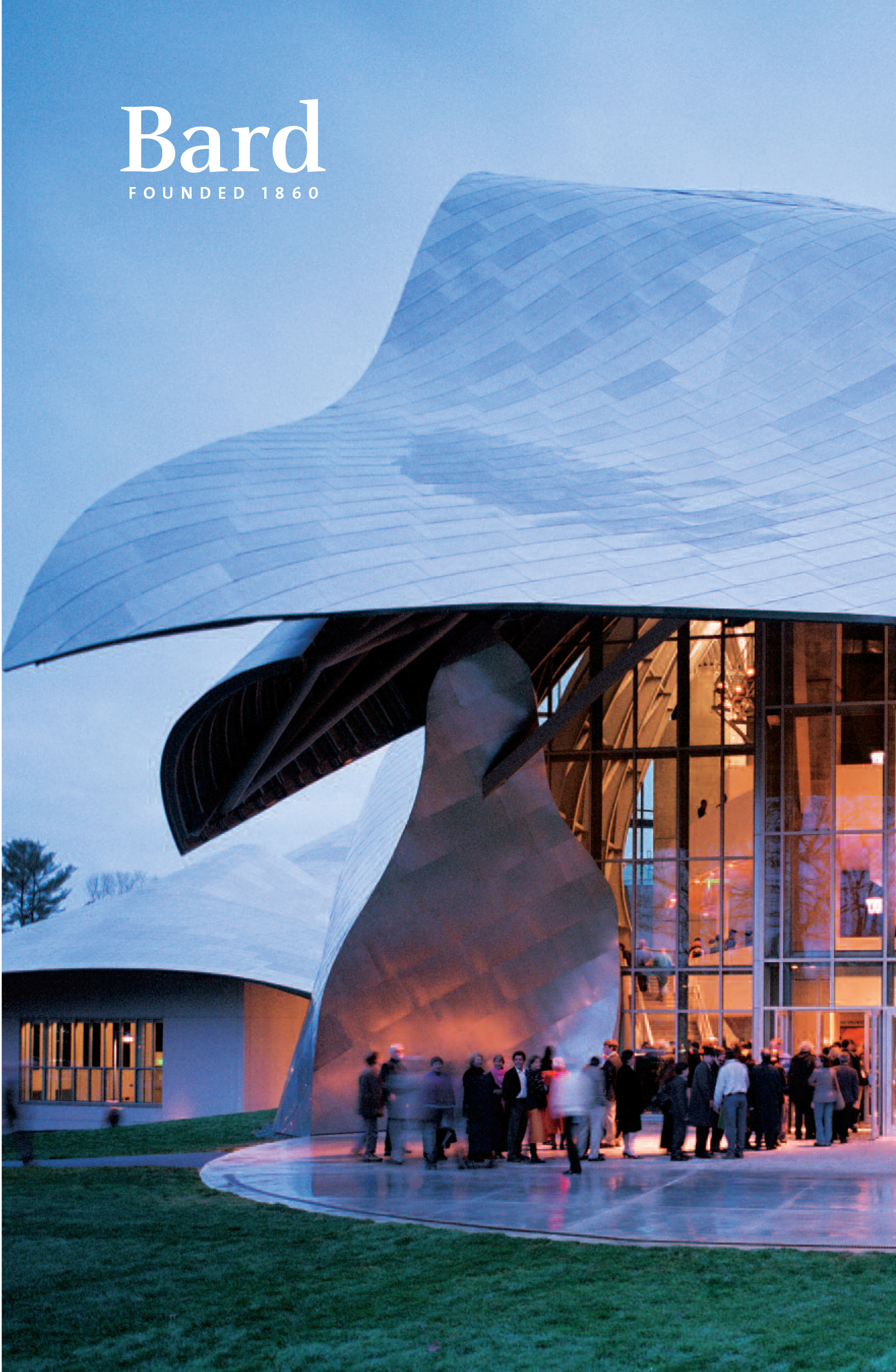 Bard College Catalogue, 2018–19
Psychology
Faculty
Kristin Lane (director), Justin Dainer-Best, Sarah Dunphy-Lelii, Richard Gordon (emeritus), Justin Hulbert, Thomas Hutcheon, Frank M. Scalzo, Stuart Stritzler-Levine
Overview
The mission of Bard's Psychology Program is to serve a foundational role in engaging the College and broader community with the science of human behavior. The program serves as a hub for the mind and behavioral sciences through curricular and cocurricular offerings that augment the course of study for all students, especially those in the Divisions of Science, Mathematics, and Computing and Social Studies, as well as the interdivisional Mind, Brain, and Behavior concentration. The enormous breadth of the field is both exciting and a challenge, as faculty cover topics ranging from genes to social systems.

The Psychology Program cultivates an environment where teaching and research mutually inform one another by supporting faculty research; providing opportunities for students to become engaged in research during the academic year and summer, and through the Senior Project; encouraging students to gain internships and externships; and hosting speakers from other institutions. All program courses strive to introduce students to foundational content in psychology's subfields (social, cognitive, developmental, and abnormal psychology, as well as neuroscience); take a multilevel approach to answering psychological questions; engage students in integrative, critical thinking about the mechanisms underlying human thought and behavior; educate students in the process of science as it applies to human behavior; provide hands-on learning opportunities for students to engage in the above; and prepare students to excel in their chosen place in an interdependent global society.
Areas of Study
The program provides grounding in the areas of abnormal psychology, cognitive psychology, developmental psychology, neuroscience, and social psychology. It provides a thorough foundation in empirical methodology and analysis, and offers opportunities to participate in meaningful research and laboratory experiences. In brief, abnormal psychology is both an applied discipline and a research-oriented science that pertains to the study of psychopathology (psychological disorders, atypical development) and personality. Cognitive psychology seeks to understand how the human brain governs action, imagination, decision making, and communication. Developmental psychology involves the study of change (growth and decline) over the life span, including changes in cognition, social interaction, and brain development. Neuroscience focuses on understanding the structure and function of the central and peripheral nervous systems as it investigates questions of brain and behavioral development, normal brain function, and disease processes. Finally, social psychology is the scientific study of people in their social contexts, emphasizing the empirical study of behavior and social thought, preferences, and feelings about oneself, one's social groups, and others. .
Requirements
Prior to Moderation in psychology, students are required to complete the following courses: Introduction to Psychological Science (Psychology 141), preferably in the first year (although a score of 5 on the AP Psychology exam may fulfill the requirement); a sophomore sequence of Statistics for Psychology (Psychology 203) in the fall and Research Methods in Psychology (Psychology 204) in the spring; and at least two additional 200-level courses in psychology.
Psychology students must complete the following requirements to graduate: two additional 200-level courses in psychology (for a total of four, not including 203 and 204); one course in biology, chemistry and biochemistry, computer science, mathematics, or physics; two 300-level courses following Moderation, at least one of which must be completed before beginning the Senior Project; and the Senior Project. At least one 200-level course must be completed from each of the following course clusters: in Cluster A, a core course in abnormal or personality psychology (courses numbered 210–219); in Cluster B, a core course in developmental or social psychology (220–229); in Cluster C, a core course in cognitive psychology or neuroscience (230–239).
All requirements for the major must be completed with a grade of C or higher (with the exception of Introduction to Psychological Science, for which the minimum is a C-).
Although the Psychology Program is housed in the Division of Science, Mathematics, and Computing, students decide at the time of Moderation whether they will pursue their degree in psychology from either the Division of Science, Mathematics, and Computing (SM&C) or the Division of Social Studies (SSt). These divisional degrees are distinguished by two features: an SSt degree entails at least two courses in one or more related disciplines in the Social Studies Division (see the Psychology Program website for particular courses that fulfill this requirement); and the Senior Project for an SM&C degree must have an empirical focus, in which the student collects and analyzes data, or presents a detailed plan for doing so. The SSt Senior Project does not carry this requirement, though it may of course do this. An SSt degree may be particularly suited for those intending to pursue law, social work, or education; and an SM&C degree may be particularly suited for students intending to pursue a research degree in psychology, medicine, or the natural sciences.
Opportunities for Additional Learning
Students are strongly encouraged to pursue opportunities for research or community-based practicum experiences that complement their regular course work and that connect academic learning and practical applications. The Psychology Program offers advanced methodology courses in abnormal psychology, cognitive psychology, developmental psychology, social psychology, and neuroscience under the direction of faculty who conduct research in each subfield of psychology. In addition, students can pursue interests in cognitive, abnormal, and developmental psychology through local community programs. Students are encouraged to gain experience through participation in the Bard Summer Research Institute. Bard psychology students have also been successful at obtaining summer research positions at major universities.
Recent Senior Projects in Psychology
"The Effects of Reactive Aggression and Proactive Aggression on Heart Rate Reactivity to an Anger Induction"
"Facial Emotion Recognition Impairments in Subclinical Depression"
"Media and the Shooter Bias: Investigating the Relationship between Implicit Racial Biases and News Coverage"
"Proposed Intervention to Improve Recently Immigrated Hispanic Adolescents' Academic Performance and Psychological Well-Being"
Courses
The course descriptions that follow are listed numerically, from introductory 100-level courses to 300-level Upper College courses and seminars.
History and Systems in Psychology
Psychology 121
Theoretical insights and conceptual attempts to understand human behavior are traced from speculations within the ancient world to current scientific thinking. Students are also introduced to the lives, times, and ideas of individuals who have made significant contributions to psychology. Particular attention is given to James, Pavlov, Freud, Skinner, and Asch, and to correspondence between and among pivotal figures in the field.
Child Development
Psychology 124
CROSS-LISTED: GSS
Geared toward nonmajors, the course considers development from conception through early adolescence, with an emphasis on how the changes in children's minds, bodies, emotions, and social interactions work together to produce behaviors both universal to our species and unique to each individual. In considering what environments promote optimum development, the class relates empirical findings to the field's theoretical models of the genetic, biological, cognitive, and cultural influences on development.
Neuroscience of Everyday Life
Psychology 127
An examination of the role of neuroscience in everyday activities such as sleeping, waking, ­eating, and drinking, and in everyday sensory and cognitive processes. Basic neuronal function and synaptic regulation is discussed, as is the way neural systems are organized and regulated to give rise to everyday behaviors. Lab work uses scientific approaches to answer questions about the relationship between brain and behavior.
Introduction to Mind, Brain, and Behavior
Psychology 131 / Computer Science 131
See Computer Science 131 for a full course description.
Introduction to Psychological Science
Psychology 141
How does the mind create the reality we perceive? How do experiences shape the brain, and how do processes in the brain influence thought, emotion, and behavior? This course investigates these and similar questions by studying the science of the human mind and behavior. Topics covered include memory, perception, development, psychopathology, personality, and social behavior. A focus is on the biological, cognitive, and social/cultural roots that give rise to human experience. The course also considers how behavior differs among ­people and across situations.
Statistics for Psychology
Psychology 203
An introduction to the concepts and methods of statistics, aimed at helping students gain a fundamental grasp of the tools needed to understand and conduct research in psychology. Topics include frequency distributions and probability, descriptive statistics, simple correlation and regression, sampling distributions, t-tests, and basic analysis of variance. Prerequisite: Psychology 141 or its equivalent.
Research Methods in Psychology
Psychology 204
CROSS-LISTED: MBB
Students gain an understanding of research methods and design through a combination of readings, lectures, class discussions, and hands-on laboratory experience. They work individually and in groups to design and conduct observational studies, surveys, and experiments. Ethical issues are discussed at each stage of the research process, and students develop the ability to assess research critically. Prerequisite: Psychology 203 or the equivalent.
Adult Abnormal Psychology
Psychology 210
This course examines various forms of adult psychopathology (i.e., psychological disorders) within the contexts of theoretical conceptualizations, research, and treatment. Potential causes of psychopathology, diagnostic classifications, and treatment applications are addressed. Adult forms of psychopathology that receive the primary emphasis of study include the anxiety, mood, eating, and substance-related disorders.
Personality Psychology
Psychology 220
This course considers theoretical perspectives and their implications for personality development, psychological adjustment, and everyday behavior. Specific themes include psychodynamic, humanistic, trait, social-cognitive, and biological perspectives. Also examined are motivation and cognition, how we relate to ­others, the stress-depression link, and the applications of personality theory to behavior in ­clinical (focusing on personality disorders) and healthy populations. Prerequisite: Psychology 141.
Social Psychology
Psychology 220
CROSS-LISTED: GSS, SOCIOLOGY
Social psychology is the scientific study of human thought, behavior, and feelings in their social contexts. This course surveys many of the processes that influence and are influenced by our interactions with others. Students use principles of social psychology to understand the ordinary origins of benevolent (e.g., altruism) and malevolent (e.g., aggression) aspects of human behavior. The course emphasizes the influence of culture, race, and gender on the topics addressed. Prerequisite: Psychology 141.
Developmental Psychology
Psychology 221
To develop is to change. From birth to death, we are constantly changing as we grow; sometimes we gain skills, sometimes we lose them. This course examines the balance of growth and decline across the life span, along with the unique characteristics of people at each life stage. Changes studied include cognition, physical maturation, social interaction, gender, language, and cultural influence.

Cognitive Psychology
Psychology 230
CROSS-LISTED: MBB
This course is about how people perceive, remember, and think about information. The major topics covered include object recognition, memory, concept formation, language, visual knowledge, judgment, reasoning, problem solving, and conscious and unconscious thought. The course also considers the neural underpinnings of these topics. Prerequisite: Psychology 141 or permission of the instructor.
Neuroscience
Psychology 231
The ability to express thoughts and emotions and to interact with the environment largely depends on the function of the nervous system. This course examines basic concepts and methods in the study of brain, mind, and behavior. Topics include the structure and function of the central nervous system, brain development, learning and memory, emotion, sensory and motor systems, the assessment of human brain damage, and clinical disorders such as schizo­phrenia, epilepsy, and Parkinson's disease.
Sensation and Perception
Psychology 233
As we read a line of text our eyes make a series of short, rapid movements followed by brief pauses. Yet we experience reading as a continuous flow of information. So how does our brain construct a stable representation of the world when provided with ever-changing sensory information? In this course, students consider the anatomy and physiology of sensory structures; the cognitive processes that turn raw sensory information into our perception of the world; and how the same information can lead to different perceptions across individuals and cultures.
Drugs and Human Behavior
Psychology 243
CROSS-LISTED: MBB, STS
An exploration of the biological bases for the behavioral effects of several psychoactive ­substances, including therapeutic compounds, such as antipsychotics and antidepressants, and drugs of abuse. The course focuses on mechanisms of drug action and physiological and behavioral effects. Broader societal issues such as drug addiction, drug policies and testing, and controversial therapeutic interventions are ­discussed in relation to selected compounds. Prerequisite: an introductory psychology or biology course, or ­permission of the instructor.
Human Memory
Psychology 243
CROSS-LISTED: MBB
An overview of classic theories and current research in human learning and memory. Students evaluate models of memory, including debates on the cognitive representations of knowledge. They examine the role of awareness in memory, false memory, the biological bases of memory, diseases and disorders of memory, and methods for brain imaging. Prerequisite: 100-level course in psychology or biology.
Psychology of Emotion
Psychology 244
Emotional experiences lie at the heart of what it means to be human. Emotions influence what we pay attention to, what we remember, and how we behave. This course explores current psychological understanding of emotional processing; neural and physiological processes underlying emotions; psychological processes that affect emotional perception, expression, and regulation; and how breakdowns in emotional functioning can lead to psychopathology. Prerequisite: Psychology 203 or permission of the instructor.
Psychology of Human Sexuality
Psychology 258
CROSS-LISTED: GSS
This course examines psychological, biological, evolutionary, and sociocultural influences on sexuality. Topics investigated include gender identity and expression, sexual orientation, psychology of intimate relationships, human sexual response, and variations in sexual behavior. The class may also discuss the roles religion, law, and public policy play in sexual expression and sexual health and well-being. Prerequisite: Psychology 141.
Advertising and Consumer Behavior
Psychology 262
The average American will spend two years of his/her life watching TV ads. The ubiquitous nature of these ads invokes the sentiments of Will Rogers, who once said, "advertising is the art of convincing people to spend money they don't have for something they don't need." However, at their core, advertisements are designed to persuade an audience to take an action. To influence consumer behavior, a successful ad requires an understanding of how the mind works. This course addresses the psychological principles underlying advertising strategies.
Judgment and Decision Making
Psychology 271
CROSS-LISTED: MBB
John F. Kennedy once noted, "The essence of ultimate decision remains impenetrable to the observer—often, indeed, to the decider himself." As this quote reminds us, conscious reflection and verbal report often lead to inaccurate descriptions of the causes of our judgments and decisions. In this course, students strive to ascertain the underlying causes of these mental processes by relying on contemporary research in fields such as psychology, neuroscience, economics, and political science.
The Medial Temporal Lobe Memory System
Psychology 330
CROSS-LISTED: MBB
The medial temporal lobe is central to the acquisition, storage, consolidation, and retrieval of memories of events. This seminar explores the development of this brain region—over the life span and evolution—in the context of the theories and tests developed to explain the cognitive processes supported by the hippocampus and surrounding cortex. From mapping space to linking together (or, conversely, separating) different aspects of experience, discussions consider data from animal and computer models, case studies, and cognitive neuroscience experiments.

Cognitive Aging
Psychology 332
CROSS-LISTED: MBB
Healthy aging is associated with changes in the efficiency of cognitive and neural processes. While particular processes decline (such as attention and memory), others improve (such as emotion regulation). This course examines current theoretical accounts of cognitive aging with a primary focus on identifying and evaluating the strategies older adults implement to deal with age-related changes in cognition. Age-related diseases (e.g., Alzheimer's) are also addressed. Prerequisite: Moderation in psychology or MBB, or permission of the instructor.
Science of Forgetting
Psychology 335
From tip-of-the-tongue moments to more serious lapses, forgetting is a regular occurrence. But we still have a lot to learn about how and why these episodes occur. Do memories simply decay over time or is interference to blame? Can memories be repressed, only later to be recovered? How do drugs, alcohol, and traumatic injuries affect memory consolidation? This seminar considers leading psychological and neuroscientific theories of forgetting as it addresses these and other questions. Prerequisite: Psychology 230, 231, or 243; or permission of the instructor.

The Social Psychology of Emotion, Cognition, and Bias
Psychology 336
CROSS-LISTED: MBB
There is a common misconception that cognition and emotion are two opposing psychological processes. Cognition is often thought of as cold, rational, and accurate; emotion as irrational and biased, something that spoils our otherwise accurate cognitive processes. This course explores how emotions and cognition interact to influence our thoughts, perceptions, and behavior.
Recent Developments in Pharmacotherapies
Psychology 345
CROSS-LISTED: STS
This seminar examines newly discovered drug treatments for several mental illnesses. Initial class meetings focus on readings that provide a background for understanding the methods used for identifying and testing potential new therapies. Subsequent meetings consist of student-led discussions of topics of interest. This course is open to moderated psychology students and other students at the discretion of the instructor.
No Train, No Gain: Using Brain Training to Prevent Cognitive Decline
Psychology 346
CROSS-LISTED: MBB
The finding that the brain changes as a function of experience and that this neuroplasticity extends beyond critical periods in development raises the possibility that behavioral interventions might be able to improve cognitive processes such as attention and memory. This course evaluates the evidence in favor of so-called "brain training," with an emphasis on behavioral interventions designed to delay or prevent cognitive declines associated with dementia and healthy aging.
The Work and Legacy of Stanley Milgram
Psychology 348
CROSS-LISTED: HUMAN RIGHTS, STS
It has been more than 50 years since the work of Stanley Milgram demonstrated that large ­numbers of individuals, in multiple samples of men and women studied, were willing to punish another person when ordered to do so by an experimenter. This seminar considers the prominence of Milgram's work and its continued ­relevance to the study of social psychology.
Race and the Law: A Psychological Perspective
Psychology 352
Recent high-profile deaths of African Americans have brought issues about how race interacts with the law to the forefront of national dialogue. This seminar explores how cognitive and social psychology, as well as neuroscience, contribute to the conversation. The class considers how research on ordinary human tendencies can help answer questions such as: Why are we more likely to mistakenly "see" a weapon in the hand of an African American than a European American? How and why does sentencing differ based on racial factors?
Causes and Consequences of Eating Disorders
Psychology 354
Eating disorders are characterized by a persistent disturbance in eating behavior that results in poor physical and mental well-being. Using animal models, human experimental data, and epidemiological studies, this course provides an in-depth look at the pathogenesis, disease course, and psychological, biological, and social consequences of eating disorders. In addition to anorexia nervosa, bulimia nervosa, and obesity, discussions touch on other disturbances in eating behavior, such as binge eating, picky eating, and food allergies.
Preschoolers' Thinking: Cognitive Development between 2 and 5 Years of Age
Psychology 358
CROSS-LISTED: MBB
The primary focus of the course is on the cognitive developmental underpinnings of children's burgeoning concepts about the social and biological world around them. For instance, does a 3-year-old understand that two people can have different perceptions of the same experience? When do children realize that thoughts and dreams can't be touched, the way a toy can? Readings are drawn from empirical papers, theoretical essays, and other publications.

Wild Chimpanzees: Social Behavior in an Evolutionary Context
Psychology 363
As our closest living phylogenetic relative, the chimpanzee is one of the best tools we have for understanding our own evolution. This course, part of the Thinking Animals Initiative, explores the methods and findings of research devoted to chimpanzee natural social ecology, collected from the field over the past 60 years. Readings on the complex behavior of nonhuman apes living in the wild are augmented with studies reporting competencies of these animals living in captivity. Prerequisite: Psychology 141 or Biology 202.
Automaticity of Social Life
Psychology 367
The idea that much of mental life occurs without conscious intention, awareness, or control has taken root as one of the central tenets of contemporary psychology. This seminar explores the ways in which large swaths of mental processes and behavior operate outside of conscious awareness. Readings draw from cognitive, social, and clinical psychology as well as neuroscience and philosophy. Prerequisites: Moderation into psychology or the Mind, Brain, and Behavior concentration; and at least one of the following: Psychology 220, 230, 243, or 271.
The Social Brain: Neuroscience Social of Attachment, Rejection, and Social Interaction
Psychology 368
Social neuroscience is an interdisciplinary field that draws on techniques and concepts from biology, psychology, and evolutionary anthropology to understand the neural bases of social interaction. This course covers topics such as the evolutionary origin of cooperation, attachment and bonding, social pain, and moral cognition; and considers how the neural mechanisms of social functioning break down in psychiatric conditions (e.g., borderline personality disorder) and antisocial behavior (e.g., psychopathy).
Psychobiology of Stress and Mental Illness
Psychology 391
CROSS-LISTED: MBB
Recent advances in the understanding of the neurobiology and physiology of stress have changed the way stress is viewed, both as a primary phenomenon and as a secondary factor that precipitates or causes a variety of psychiatric disorders. The latter include phobias, obsessive-compulsive disorder, post-traumatic stress disorder, panic disorder, depression, and schizophrenia. This research conference examines recent findings on the mechanisms and biological consequences of stress, and explores links between these effects and psychiatric disorders as reported in journal articles.
Abnormal Psychology: Advanced Methodology
PSY AB
Students work in the laboratory on research projects relevant to understanding eating disorders and the basic psychological and physiological processes associated with disordered eating. Enrollment is open to first-, second-, and third-year students with permission of the instructor.
Cognitive Psychology: Advanced Methodology
PSY COG
CROSS-LISTED: MBB
In this course, students gain experience working in a cognitive neuroscience laboratory. The class uses controlled experiments and brainwave recordings to investigate the cognitive processes that allow for the adaptive encoding, consolidation, retrieval, and forgetting of associative memories. Students participate in all phases of the research process, including experiment design, stimulus development, programming, data collection, analysis, and presentation.
Developmental Psychology: Advanced Methodology
PSY DEV
CROSS-LISTED: MBB
Students participate in laboratory research in child developmental psychology. Special emphasis is placed on 3- to 5-year-olds' social cognition, perspective taking, and memory in the context of games. The bulk of the course is taken up by independent laboratory work and research, and students work with young children, parents, and members of the community to initiate research protocols.
Neuroscience: Advanced Methodology
PSY NEU
The course involves laboratory research in developmental psychopharmacology, neurochemistry, neuroanatomy, and/or neurobehavioral teratology using the zebrafish as an animal model. Within these general fields, specific roles of ­neurotransmitter systems in normal behavioral development and the neurobehavioral effects of chemical insults during early development are investigated.
Social Psychology: Advanced Methodology
PSY SOC
This course provides hands-on experience in the practice of social psychology. Students, who are expected to enroll for two consecutive semesters, work individually and in teams on ongoing research projects. Topics include the roots of unconscious bias, gender disparity in the sciences, and behavior change. Students participate in all phases of the research process, including developing stimuli, programming studies, conducting experimental sessions, and coding and analyzing research data.