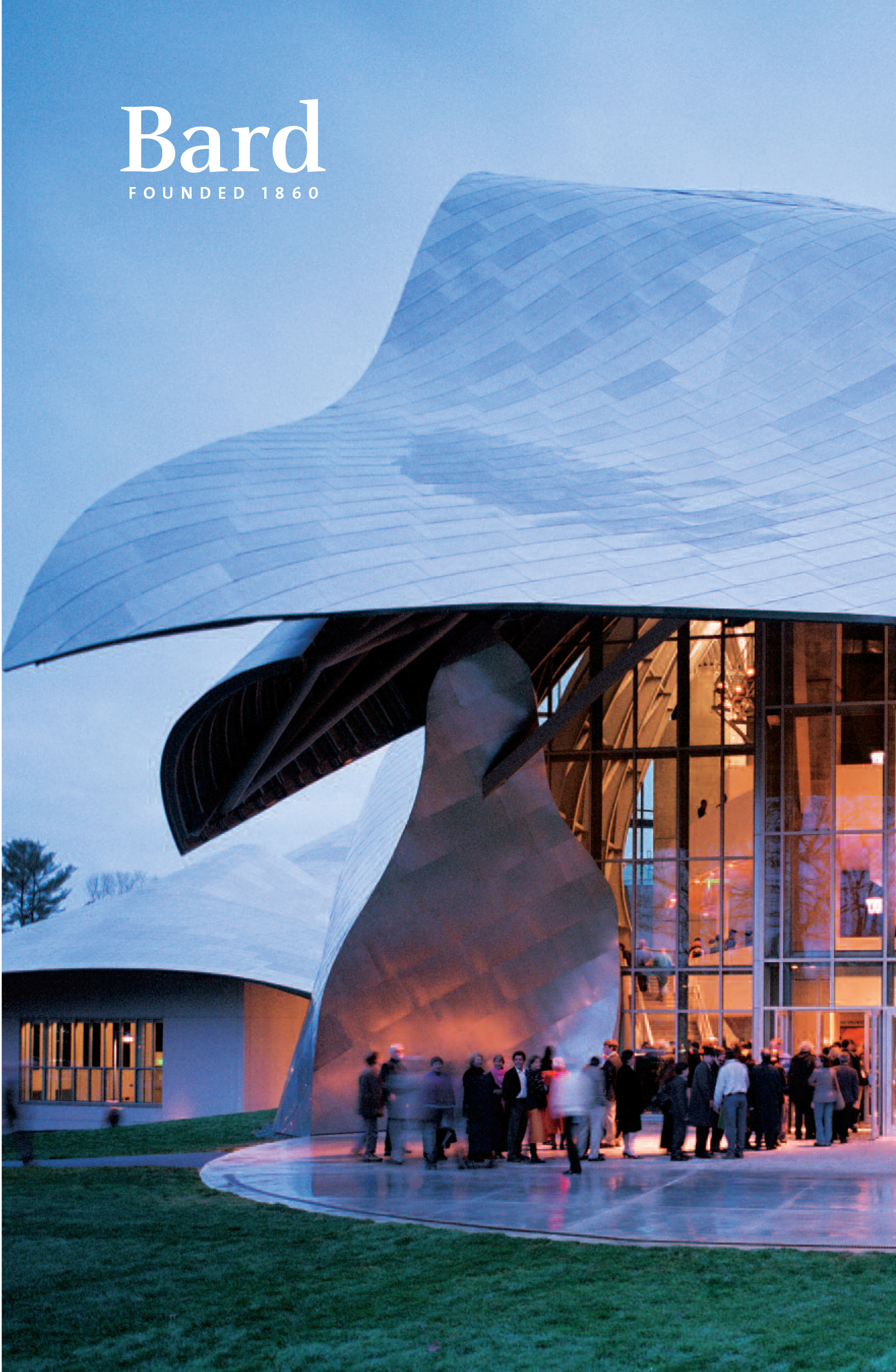 Bard College Catalogue, 2018–19
Professional Education
The following programs provide preprofessional advising and curricula for students preparing for postgraduate study or employment. Additionally, Bard offers several early admission plans, combined study plans, and dual-degree options to qualified students who wish to pursue particular professional careers.
Professional Preparation
Health Professions Preparation
Admission to medical and other health profession schools is governed by several factors, including the academic record, experience in the field, results of standardized tests, letters of evaluation, and an interview. Nationwide, students accepted to medical schools in recent years had an average GPA of 3.5. Early preparation and planning are important in order to fulfill health profession school requirements and to do well on entrance exams. For medical school, typical minimum requirements include general chemistry, organic chemistry, biochemistry, laboratory courses in biology, physics, mathematics, and statistics. Competencies are also required in language, psychology, and sociology. Early in their academic careers, interested students should discuss their plans with the health professions adviser, Professor Frank M. Scalzo (scalzo@bard.edu). For more information, visit
bard.edu/hpa.
Prelaw Preparation
Admission to law school is governed by the student's college record, including the grade point average and letters of recommendation. In addition, the Law School Admission Test (LSAT) is required and is a large factor in admission decisions. No standard prescribed curriculum of undergraduate study specifically prepares students for a law career or is required by law schools, although most consider a broad liberal arts program desirable. For further information, contact the Career Development Office or one of the two prelaw advisers, Peter Rosenblum and Roger Berkowitz. Interested students can subscribe to the PreLaw Listserv by composing an email message addressed to bardprelaw@sympa.bard.edu.
Professional Options: Joint-Degree Programs
The professional option allows exceptionally qualified students to combine undergraduate study at Bard with graduate or professional work in an approved participating program and, through the option, to qualify for a Bard BA degree and a degree from the participating program. Students wishing to apply to any of the dual-degree programs listed below must first receive permission from their academic adviser and from the dean of studies. Those accepted into a participating program complete three or four years of study at Bard (according to the terms of the program) and then do further work at the other institution. To qualify for the BA, students must successfully complete their distribution requirements at Bard, the degree requirements of their major program at Bard, and the degree requirements of the other institution; students who are not at Bard for their senior year may be exempt from the Senior Project as a BA requirement.
Decorative Arts, Design History, Material Culture
The Bard Graduate Center's BA/MA 3+2 program offers Bard undergraduates a streamlined path to a master of arts in decorative arts, design history, material culture. Open to undergraduates majoring in history, art history, or anthropology, this program provides an integrated course of study and graduate training that allows students to obtain their Bard BA and the Bard Graduate Center MA in five years. Interested undergraduates must first meet all of their distribution requirements; successfully moderate into history, art history, or anthropology; and get approval from their undergraduate adviser to pursue the 3+2 program. In their third year, they apply to BGC during the normal admissions cycle. Students enroll full-time in the Bard Graduate Center's two-year MA program in Manhattan starting in their fourth year. For more information about the 3+2 program, contact admissions@bgc.bard.edu.
Economic Theory and Policy
In 2014, the Levy Economics Institute of Bard College launched a master of science degree program in economic theory and policy. Through a 3+2 option, qualified Bard students may proceed directly from three years of undergraduate study to the two-year graduate program, which draws on the expertise of Levy Institute scholars and select Bard College faculty. Students earn a Bard liberal arts degree (BA) and professional degree (MS) after completion of the dual-degree program. Interested Bard students should apply in their junior year. Successful moderation into economics as a program of study is required to qualify. Qualified non-Bard undergraduates may also apply to the 3+2 program with permission from their undergraduate institution.
A 4+1 path offers Bard undergraduates majoring in fields related to economics (historical studies, philosophy, political studies, sociology, American studies, Asian studies, Spanish studies, etc.) an opportunity to make a smooth transition to graduate study in a distinctive MA program in economic theory and policy offered by the Levy Economics Institute. For more information on the 4+1 and 3+2 options, visit
bard.edu/levyms
or contact levyms@bard.edu.
Engineering
In affiliation with the schools of engineering at Columbia University and Dartmouth College, Bard offers several programs of study leading to a degree in engineering. Under Columbia's 3+2 program, a Bard student may transfer to Columbia at the end of their junior year at Bard, and upon completing a two-year program at Columbia, qualify for both a BA from Bard and a BS from Columbia. Columbia also offers two 4+2 programs in which Bard students can complete a BA at Bard and, after two years of study at Columbia, qualify for a BS or MS degree from Columbia. Admission to both Columbia BA/BS programs is guaranteed, contingent upon fulfillment of Bard's major and distribution requirements, completion of specific courses required by Columbia, with grades of B or higher in each course, and achievement of a grade point average of 3.3 or higher in the required courses and overall. Columbia offers financial aid to U.S. citizens and residents admitted to the BA/BS programs; students who complete their BA prior to entering Columbia are ineligible for federal financial aid, but they may receive aid directly from Columbia. Admission to the BA/MS program is not guaranteed.
Dartmouth offers a 2+1+1+1 BA/BE program, in which the student returns to Bard for their senior year. Admission to the Dartmouth program is competitive and contingent upon fulfillment of Bard's major and distribution requirements and foundational courses in science and mathematics. Dartmouth does not offer financial aid in the first year.
Approval from the dean of studies is required for participation in the 3+2 and 2+1+1+1 programs. Interested students should consult with Professor Simeen Sattar, the pre-engineering adviser, early in their Bard careers.
Environmental Policy / Climate Science and Policy
The Bard Center for Environmental Policy (CEP) offers master of science degree programs for aspiring environmental leaders. The Center offers qualified Bard undergraduates a 3+2 option that allows them to proceed directly from three years of undergraduate study at Bard to a two-year master's degree program in either environmental policy or climate science and policy. The graduate program includes a full-time professional internship designed to facilitate entry into the job market. Graduates of the 3+2 program receive a BA and an MS from Bard in five years. Interested students should consult with the Bard CEP Office of Admission early in their careers. For more information, visit
bard.edu/cep/program/3+2
.
Forestry and Environmental Studies
Bard offers a 3+2 program allowing students to obtain a master's degree in forestry or a master's in one of seven areas of environmental management at Duke University. To plan appropriate course work for these programs, interested students should consult with the program adviser, Bruce Robertson, early in their Bard careers.
Teaching
The Bard College Master of Arts in Teaching (MAT) Program offers undergraduates a five-year combined program leading to a BA degree, a master of arts in teaching degree, and New York State teaching certification for grades 7–12. The program includes graduate study in a subject area and extensive student teaching during the fifth year. To learn more about the MAT 4+1, contact Cecilia Maple '01, assistant director for admission and student affairs, at cmaple@bard.edu.