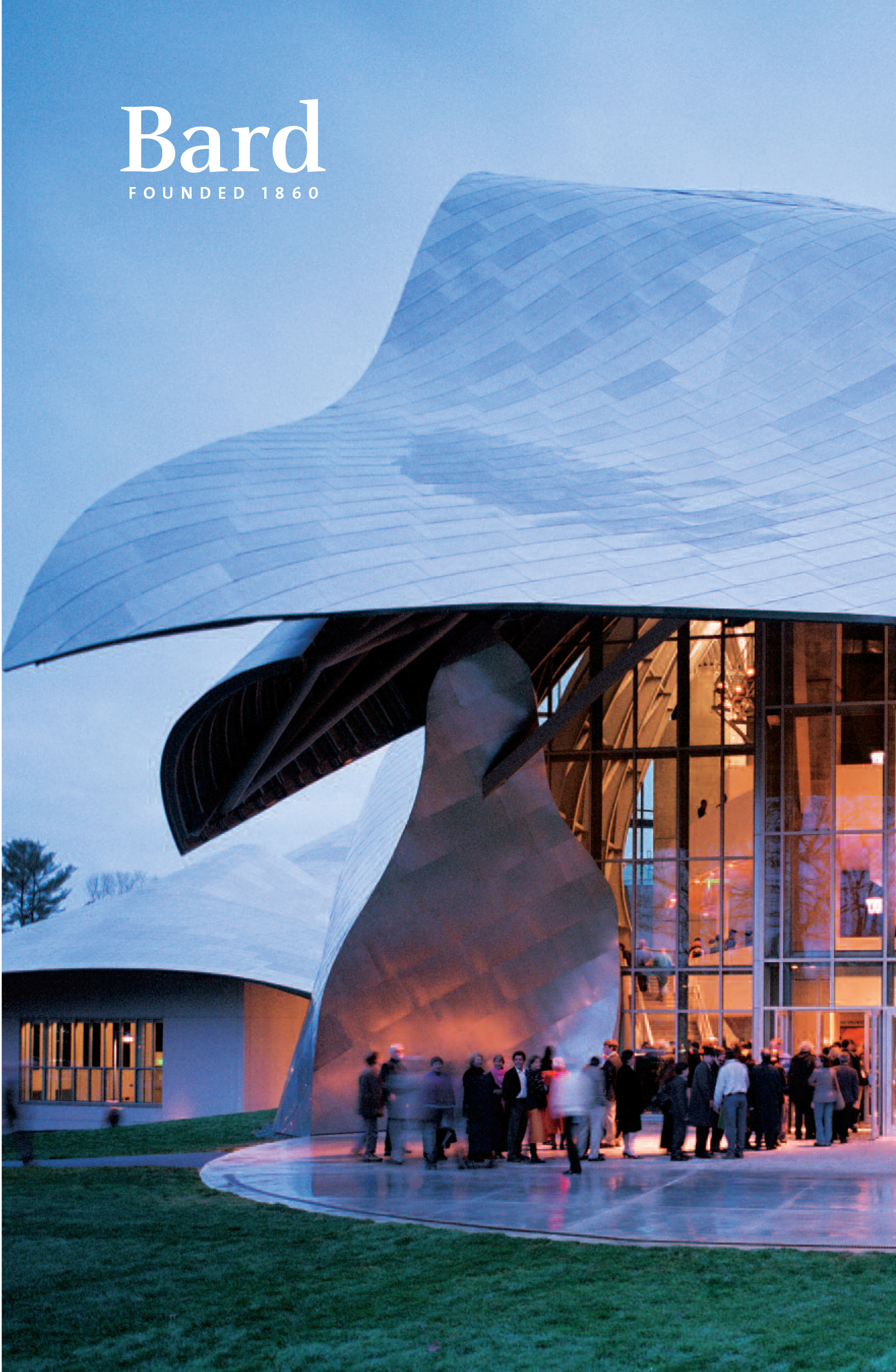 Bard College Catalogue, 2018–19
Anthropology

Faculty
Yuka Suzuki (director), Michèle D. Dominy, Jeffrey Jurgens, Laura Kunreuther, Gregory Duff Morton, John Ryle, Sophia Stamatopoulou-Robbins
Archaeologist in Residence: Christopher R. Lindner
Overview
The Anthropology Program encompasses the subfields of sociocultural, linguistic, historical, archaeological, and applied anthropology. It seeks to understand the cultural dynamics in the formation of the nation-state; the precolonial, colonial, and postcolonial; and the politics of identity, difference, and inequality in the contemporary world. The core of the program consists of courses that examine everyday experiences in relation to a range of societal issues, such as development and the environment, medicine and health, religion, language, kinship and reproductivity, sports, mass media, visual culture, and aesthetics. Anthropology offers a way to understand patterns and contradictions of cultural meaning within a transnational and transcultural world. Area strengths include sub-Saharan Africa, Latin America and the Caribbean, South Asia, Australasia, the Middle East, and United States.
Requirements
Anthropology majors can design a course of study in various topical, area, and theoretical orientations. Prior to Moderation, students must complete an introductory course and at least two 200-level courses in anthropology. For courses cross-listed in anthropology, and primarily listed in another program, a maximum of one course may count toward Moderation requirements. All students moderating into anthropology must have a 3.0 or above average in their anthropology courses. In consultation with their Moderation board, students shape their plan of study in the Upper College to include at least four additional courses in anthropology, including the methodology course on "doing ethnography" or archaeological methods (if doing a Senior Project in archaeology); two 300-level courses; and the Senior Project. One of the 300-level courses required is a seminar on contemporary cultural theory that involves each member of the anthropology faculty
All moderated anthropology students submit a proposal for the Senior Project at the end of their junior year. A Senior Project may be ethnographic (based on fieldwork), historical (using archival or secondary sources), comparative/theoretical (exploring a theory or phenomenon across two or more contexts), or archaeological (involving excavations). Students intending to pursue postgraduate study or ethnographic research in a non-English-speaking area are encouraged to study a foreign language to at least the 200 level.
Recent Senior Projects in Anthropology
"Blasian and Proud: An Examination of Race and Identity among Half Black and Half Japanese Youth in Japan"
"A Geography of Grief: An Exploration of the Significance of the Northern New Mexican Landscape in the Grieving Process"
"Managing Motherhood Online: Authority, Assemblage, and Fetal Personhood"
"Material Politics of the Bicycle"
Courses
Anthropology courses approach seemingly "natural" ideas such as indigeneity, race, gender, sexuality, and class as cultural constructions that change over time. They critically examine, for instance, the international division of labor, growth of the media, and global commodification of culture. Many classes apply this anthropological perspective to a variety of sources, ranging from traditional ethnographies to novels, travel literature, music, films, and new forms of electronic media. The program has a film library, which includes ethnographic and experimental films, and some recording equipment for the purposes of student research. The program also administers a student research and travel fund, the Harry Turney–High Fund, to support work on Senior Projects.
The following descriptions represent a sampling of courses from the past four years.
Introduction to Cultural Anthropology
Anthropology 101
CROSS-LISTED: GIS, GSS, HUMAN RIGHTS
Anthropology is the study of "culture," and this course traces the history of the culture concept from the 19th century to the present, exploring anthropological approaches to "primitive" societies, group and personal symbols, and systems of exchange. Also considered: anthropology's self-reflexive turn in the 1980s, when the discipline's authority to represent other societies was questioned; anthropologists' engagement in activism; and the field's more recent fascination with the nonhuman (animals, technology, the built environment, nature.
Introduction to Ethnomusicology
Anthropology 185 / Music 185
See Music 185 for a full course description.
Ancient Peoples on the Bard Lands: Archaeological Methods
Anthropology 211
CROSS-LISTED: AMERICAN STUDIES, EUS
DESIGNATED: ELAS COURSE
At the Forest site, along an old carriage path behind the Admission building, chipped stone objects afford the most conspicuous evidence of activity 5,000 years ago. The focus of the course, however, is on the distribution of fragmentary ceramic vessels and whether they were made from clay found beneath a nearby waterfall. Students learn basic excavation techniques and gain experience with microscopy and cartographic analysis.
Historical Archaeology: Colonists Near Bard
Anthropology 212
CROSS-LISTED: AMERICAN STUDIES, EUS
Excavation centers on a social and religious site in the former agricultural village of Queensbury, nine miles north of Bard. This settlement began in 1710 as the first substantial German-speaking community in the New World. Recent evidence indicates that Native Americans visited the site before 1750, and that African Americans lived at the site by the early 1800s, if not a century earlier. Students read case studies in addition to working at the site.
Anthropology of Medicine
Anthropology 213
CROSS-LISTED: GSS, HUMAN RIGHTS, STS
An exploration of medical knowledge and practice in a variety of healing systems, focusing on the human body as the site in which illness is experienced and upon which social meanings and political actions are inscribed. The course examines the way political economic systems, and the inequalities they engender, affect human well-being. Among the topics addressed are biomedical constructs, alternative medical systems, epidemic diseases, cosmetic medical interventions, and new medical technologies.
The Modern Dinosaur
Anthropology 216
Since their ascendancy in global popular culture, dinosaurs have come to constitute a category of charismatic animals unmatched by contemporary living species. This course explores the dinosaur as object of scientific inquiry and as popular culture icon, with a focus on competitive exploration for fossils at the turn of the 20th century, rivalries between paleontologists, the rise of dinosaur philanthropy in natural history museums, and how new discoveries provoked parallel shifts in meaning and representation.

Asia in the Anthropocene
Anthropology 217
CROSS-LISTED: ASIAN STUDIES, EUS, STS
The Anthropocene identifies a new geological epoch, a period in which human activities are scaled up to become the dominant force in shaping the global environment. The course looks at how this framework reorients our basic assumptions about nature and the physical world, and considers case studies from Asia—a region assumed to hold much of the world's environmental future in its hands. Specific topics: green building in South Korea, urban agriculture in Japan, giant panda conservation in China, and wind farms in the Philippines.

The Rift: Anthropology, History, Politics, and the Natural World in Eastern Africa
Anthropology 218
CROSS-LISTED: AFRICANA STUDIES, EUS, HUMAN RIGHTS
Africa's Great Rift Valley is the heart of a region of spectacular ecological diversity and a wide range of human cultures and modes of existence, from pastoral nomadism to urban life. The eastern branch of the Rift Valley was the site of the emergence of the human species. Today the lands that border the Rift exemplify the divisions and difficulties that confront Africa as a whole. This course examines the ways of being that endure, as well as versions of modernity emerging from war and demographic transformation.
Divided Cities
Anthropology 219
CROSS-LISTED: EUS
This course examines modern cities and everyday urban life, particularly in cities that are spatially and socially divided. The class investigates how cultural differences and political economic inequalities are reflected in geographic boundaries and other aspects of the built environment as well as how state agencies, real estate developers, activists, and residents make and remake city spaces in ways that create, reinforce, and challenge existing forms of difference and inequality. Case studies include Berlin, Rio de Janeiro, Shanghai, and Johannesburg.
State Phobia: Theories and Ethnographies of Statehood Today
Anthropology 221
CROSS-LISTED: GIS, HUMAN RIGHTS, MES
How does the state as a modern political form shape culture, and vice versa? Why do groups (e.g., queer, indigenous) seek recognition from the state while simultaneously mocking or being suspicious of it? The course explores how scholars define the modern state and critique its effects on contemporary societies and culture. Students then read various ethnographies, investigating the unlikely relationships between corruption, borders, railroads, time, insanity, sexuality, and science, on the one hand, and the effects of statehood and state-making, on the other.
Conservation Anthropology
Anthropology 223
CROSS-LISTED: EUS, GIS, HUMAN RIGHTS, STS
Conservation anthropology focuses on the cultural, politico-economic, and legal aspects of human transformation of the natural world and its biological resources and organisms. By drawing on environmental anthropology, cultural ecology, and multispecies ethnography, it examines the interplay of nature and culture and investigates global threats to sustainability and biodiversity. The class considers case studies that analyze the complex movement of flora, fauna, fungi, and microbes, as well as present practices for habitat preservation and ecological restoration.
Ethnography in Image, Sound, and Text
Anthropology 224 / Film 224
See Film 224 for a full course description.
Political Anthropology
Anthropology 225
CROSS-LISTED: HUMAN RIGHTS
How do anthropologists approach the study of politics? What sorts of methods are appropriate to understanding the actions of institutions, states, and individuals? This course explores the ways social groups enact, resist, and transform power relations in various times and places. Through an analysis of the 2016 U.S. elections and other contemporary case studies, the class looks at how anthropological theory and ethnographic practices can illuminate political phenomena, from the dynamics of small social groups to large-scale electoral politics and the micropolitics of race, gender, and social identity.
Culture and Globalization in Japan
Anthropology 226
CROSS-LISTED: ASIAN STUDIES
Through its mercurial transformations, from postwar devastation to rapid economic recovery and affluence, Japan has come to be seen as one of the most important non-Western countries of the 20th century. In recent years, however, specters of economic recession, disenchanted youth, an aging population, and nuclear disaster have produced new conditions of precarity. This course provides an introduction to the changing social, economic, and political formations in Japan from an anthropological perspective.
Economic Anthropology
Anthropology 228
By considering economic questions across the full sweep of human experience, economic anthropology provides fresh insight into basic concepts. This course considers exchange theory, money and markets, the debate between the substantivists and formalists, analysis of inequality in production, and the new "generating capitalisms" approach, as well as anarchists, South Pacific canoe trading, British shoppers, and the anxieties of entrepreneurialism. As it makes the familiar seem strange, the class opens up new possibilities for understanding the circulations that we set into motion every day.
Crime in Latin America: An Ethnographic Approach
Anthropology 231
CROSS-LISTED: GIS, HUMAN RIGHTS, LAIS
From San Salvador to Rio de Janeiro, a number of Latin American cities now proclaim themselves to be "the most violent city in the world." This course considers the recent wave of violence perpetrated by non-, para-, and state actors through an ethnographic perspective, and places these ethnographies into conversation with social scientific approaches to crime, violence, and human rights. Readings examine crime in post–civil war San Salvador, the mirroring of criminal and state enterprises in Brazil, and surveillance technologies in Mexico City, among other issues.
Problems in Human Rights
Anthropology 233 / Human Rights 233
See Human Rights 233 for a course description.

Language, Culture, Discourse
Anthropology 234
CROSS-LISTED: GSS
Language is one of the fundamental ways of understanding the world in culturally specific ways, and helps to create social identities like gender, race, ethnicity, class, and nationality. The course begins with the assumption that language and culture are inseparable, and introduces students to theoretical and ethnographic approaches that demonstrate this connection in different ways. Topics include how authority is established through specific forms of speech and the relationship between language and social hierarchies.
Anthropology of Death: A Four-Field Approach
Anthropology 236
CROSS-LISTED: HUMAN RIGHTS
An exploration of the diverse ways humans experience death, how the (social and biological) fact of death organizes societies, and how dead persons continue to affect the living. By looking at the ritualization, medicalization, and politicization of death, the class seeks to complicate popular ideas of death as a universal experience. As students explore these anthropological approaches to mourning and burial, they deepen their understanding of ethnographic, archaeological, and physical anthropological methods and theories.
Confronting the Crisis: Refugees and Populism in Europe
Anthropology 237
CROSS-LISTED: HUMAN RIGHTS
Since 2015, more than two million people from Syria, Iraq, Afghanistan, and other countries have traveled to Europe, seeking refuge. This course examines the varied ways their presence has come to be viewed as a "crisis." Topics include the surveillance, security, and bureaucratic management employed by members of the European Union to prevent and regulate refugees' entry; techniques with which state agencies have sought to both govern and care for refugees; and populist rhetoric that has targeted them as threats to national and European integrity.

Myth, Ritual, and Symbol
Anthropology 238
CROSS-LISTED: RELIGION, SOCIOLOGY
How are systems of thought, symbolic forms, and ritual practice formulated and expressed across time and space? This course examines various theoretical approaches used by anthropology and comparative sociology in analyzing symbolic representations, actions, and systems. The primary focus is on non-Western conceptual systems and religions, and includes "primitive rationality," the interpretation of myth, and the analysis of ritual and religious practice, including witchcraft, spirit possession, and prophetic and revitalization movements.

Social Class: Global Politics, Global History
Anthropology 241
This course aims to reveal anthropology's roots, as a field, in the general project to account for modern inequalities in wealth. Is there such a thing as social class? If so, what makes it different from caste, estate, gender, and race? How do people come to accept classed inequality, and under what conditions do they rise against it? The class seeks answers by using anthropological tools, including archaeology, ethnography, and linguistic analysis. Readings range from Marxists on African lineage systems to Labov on speech in New York department stores.

Foundational Texts in Anthropology
Anthropology 242
The course engages seminal texts that have shaped the discipline's ideas and methods from the late 19th century to the present. Central to this history is the recording and interpretation of cultural similarities and differences. Among the authors studied are Edward Tylor, James Frazer, Franz Boas, Bronislaw Malinowski, A. R. Radcliffe-Brown, Ruth Benedict, Margaret Mead, Claude Lévi-Strauss, Clifford Geertz, and Marshall Sahlins. No prerequisite is required, but a previous course in anthropology is recommended.
African Diaspora Religions
Anthropology 243
CROSS-LISTED: AFRICANA STUDIES, LAIS
The many contemporary religions in Latin America and the Caribbean that draw upon African theology and practice testify to the vitality of the African heritage in the New World. The course examines these religions within their historical context as dimensions of the African diaspora and as they are currently practiced—Candomblé, Umbanda, and Batuque in Brazil; Santeria in Cuba and the Dominican Republic; Maria Lionza in Venezuela; Shango in Trinidad; and Vodoun in Haiti.
South Asian Modernities
Anthropology 246
CROSS-LISTED: ASIAN STUDIES, GIS, GSS
Through an emphasis on the lived experience of modernity in several South Asian countries (India, Pakistan, Nepal, Bangladesh, Sri Lanka), students explore the varied, and often contradictory, forms of social life in the region. The course is structured around the themes of personhood, community and difference, and South Asia's relation to the global world, and considers conceptual problems such as the modernity of tradition and the legacy of colonial construction of social scientific knowledge.
Reading Baseball as Metaphor
Anthropology 250
CROSS-LISTED: AMERICAN STUDIES
Baseball has often been labeled the quintessential American sport. This course explores that claim while examining the history and ­diffusion of the game, its performance and representation, and its connections to the politics of ethnicity, race, gender, class, region, and place. Cultural con­structions are examined and contrasted in U.S., Japanese, and Latin American baseball.

The Animal in Anthropology
Anthropology 252
CROSS-LISTED: EUS
From Lewis Henry Morgan's portrait of the American beaver to E. E. Evans-Pritchard's account of the cattle beloved in Nuer society, animals have figured prominently in anthropological writings since the discipline's inception. This course, part of the Thinking Animals Initiative, traces anthropology's engagement with animals over the past century, focusing on their role as repositories of totemic power, markers of purity and pollution, and mirrors of social identity; practices such as whaling, hunting, and captive animal display; and the entanglements between human and nonhuman being.
Anthropological Controversies
Anthropology 253
CROSS-LISTED: AFRICANA STUDIES, HUMAN RIGHTS
The history of anthropology is punctuated with arguments over the interpretation of data, the ethics of research, theories of social behavior, and the nature of the discipline itself. This course examines controversies that bring distinctive features of anthropological practice into critical focus, such as representations of the Nuba people of Sudan, the involvement of anthropologists in military campaigns and espionage, Derek Freeman's critique of Margaret Mead, and the work of Carlos Castaneda, among others.

The Stranger in Latin America
Anthropology 254
CROSS-LISTED: LAIS
What happens to classic accounts of Latin America if we read them by tracking the figure of the stranger? This course aims to provide an alternative view of two tropes that have structured much recent scholarship about Latin America: the encounter and the other. Students assess the stranger at the moment of conquest and as a problem in newly colonized societies, strangers as rulers, otherworldly strangers, strangers and enslavement, strangers in the city, migratory strangers, violence and the stranger, and the welcome given to strangers.
Race and Ethnicity in Brazil
Anthropology 256
CROSS-LISTED: AFRICANA STUDIES, GIS, HUMAN RIGHTS, JEWISH STUDIES, LAIS
Brazil, in contrast to the United States, has been portrayed as a "racial democracy." This course examines the debate over the "problem of race" in its early formulation, as shaped by scientific racism and eugenics, and on through the Brazilian policy of branqueamento (whitening) in the 19th and early 20th centuries. Among the groups ­discussed are indigenous Brazilians, the Luso-Brazilians, Afro-Brazilians, Japanese Brazilians, Euro-ethnic Brazilians, and Brazilians of Arab and Jewish descent.
Anthropology of Violence and Suffering
Anthropology 261
CROSS-LISTED: AFRICANA STUDIES, GIS
This course considers how acts of violence challenge and support modern ideas of humanity, raising questions about what it means to be human today. It reviews different forms of ­violence—e.g., ethnic and communal conflicts, torture, rituals of bodily pain—and examines violence as a means of producing and consolidating social and political power and exerting political control.
Race and Nature in Africa
Anthropology 265
CROSS-LISTED: AFRICANA STUDIES, EUS, GIS, HUMAN RIGHTS
Western fantasies have historically represented Africa as the embodiment of a mythical, primordial wilderness. Within this imagery, nature is racialized, and Africans are constructed as existing in a state closer to nature. This course investigates the racialization of nature under imperial regimes, and considers the continuing legacies in postcolonial situations. Texts include ethnographic accounts, historical analyses, and works of fiction based in Africa.

Youth and Youth Politics
Anthropology 266
CROSS-LISTED: AFRICANA STUDIES, AMERICAN STUDIES, HUMAN RIGHTS, MES
Since the 18th century, childhood and youth have often been understood as times of happiness, innocence, and closeness to nature distinct from adulthood. Yet many young people live in conditions of violence, toil, and poverty. How did ideas about a separate and happy childhood become so prevalent, and how do they compare with young people's actual experiences? This course examines young people in a variety of historical and geographic contexts. Students also conduct fieldwork on some aspect of youth cultural production on or near the Bard campus.
In the Garden of Empire: Nature and Power in the Modern Middle East
Anthropology 277
CROSS-LISTED: EUS, GIS, MES, STS
"Culture" has long been a key explanatory framework for scholars studying the modern Middle East. This course brings "nature" out of culture's shadows and examines how ideas about nature and the natural have shaped social, scientific, and historical scholarship on, and political and cultural formations within, the region. The class investigates the relationship between nature and power in contexts of empire, decolonization, and postcoloniality, and considers topics such as kinship, nationalism, violence, technology, war, race, gender, sexuality, environmentalism, fossil fuels, and genetics.
The Edge of Anthropology
Anthropology 280
Although "ethnography" and "fieldwork" are terms that have become widely used in other disciplines, anthropologists are still at the cutting edge of research-based factual writing, usually about small-scale societies, both those on the periphery of the world system and those at the heart of it. The course examines a range of genres and techniques used to convey the lived experience of other cultures. Texts by Bronislaw Malinowski, Claude Lévi-Strauss, Oscar Lewis, Ruth Landes, Carlos Castaneda, Michael Taussig, Leni Riefenstahl, Katherine Boo, and others.
World Anthropologies
Anthropology 304
Most American students are made aware of the histories and contemporary foci of anthropology in the United States as well as in Britain, France, and, to some degree, Germany. This course introduces a variety of national traditions in anthropology that developed in the rest of the world, including Japan, China, India, Eastern Europe, Scandinavia, Iberia, Africa, and Latin America. Current practices are also examined. Limited to Upper College students.
Science, Technology, and Democracy
Anthropology 313
CROSS-LISTED: STS
We tend to think of scientists and engineers as occupying relatively apolitical positions. While debates over government funding priorities or diversity in the laboratory occasionally pop up, we usually imagine scientists in the laboratory striving for the discovery of objective truths and engineers seeking new solutions to technical problems. By contradistinction, this course begins from the premise that science and technology are inherently political acts, and seeks to understand how the existence of these expert communities affect and are affected by democratic politics.

Toxicity and Contamination
Anthropology 319
CROSS-LISTED: EUS, HUMAN RIGHTS, STS
Footage shows mushrooms growing out of school walls after the 2014 discovery of disease-causing organisms in the drinking supply of Flint, Michigan. Photographs of two-headed Iraqi babies circulate with captions about their mothers' exposure to unidentified toxic chemicals following the U.S.-led invasion of Iraq. Widespread calls to close New York's Indian Point nuclear facility by 2021 remind us that we live exposed to nuclear leakage, usually without knowing it. This seminar investigates controversies around exposure to toxicity and contamination from Hiroshima to Flint.

The Voice in the Machine
Anthropology 320
CROSS-LISTED: EXPERIMENTAL HUMANITIES, STS
access to the self and a direct way of making one's desires and ideas known. But the immediacy of the voice often depends upon technologies that make specific voices audible. Students explore a range of conduits that re-present an original voice through technological (radio, telephone captioning, voice recorders) and human (translators, voice-over artists, spirit possession, stenographers) means.
The Politics of Infrastructure
Anthropology 323
CROSS-LISTED: EUS, STS
Infrastructure is said to be invisible until the point at which it breaks down. The course draws on ethnographic and historical readings from disparate geographical locales and is organized around different types of infrastructure present in modern, colonial, and postcolonial contexts: roads, water distribution networks, landfills, sewage pipelines, electricity, telecommunications, nuclear energy stations, and mass media. Students explore how infrastructures become central to popular claims to rights, and how they shape relationships between the body and the public (the "body politic").

Doing Ethnography: Fieldwork and Representation
Anthropology 324
CROSS-LISTED: EUS, HUMAN RIGHTS
What are the ethical stakes, practical questions, and methodological tools that we use when we practice ethnography? This course is a survey of, and practicum in, ethnographic field methods, including participant observation; interviewing; archival research; and visual, sonic, textual, and spatial analysis. Also addressed: the challenges of doing fieldwork in a variety of contexts; emergent ethnographic forms and methods, such as multi-sited ethnography, critical moral anthropology, and indigenous methodologies and critiques; and the ethical aspects of conducting fieldwork.
Local Realities and Global Ideologies in the Sudans
Anthropology 335
CROSS-LISTED: AFRICANA STUDIES, GIS, HUMAN RIGHTS, MES
This course examines indigenous societies in the lands comprising Sudan and South Sudan and their relation to world history. Political organization prior to conquest ranged from acephalous societies in southern Sudan to sultanates in the center and west and, in the 1890s, the Mahdist theocratic revolutionary state. A legacy of this history is a great diversity of cultures, languages, and modes of life. Case studies include the Darfur campaign, the recent independence of South Sudan, and female genital cutting.
Surveillance: From the Human to the Digital
Anthropology 346
CROSS-LISTED: EXPERIMENTAL HUMANITIES, HUMAN RIGHTS
What does it mean to say we live in a culture of surveillance? How do surveillance practices secure or undermine state sovereignty and citizen solidarity in a digital age? This course looks at a variety of surveillance techniques—ranging from low-tech forms of social surveillance to state and corporate surveillance in visual, audio, and digital forms—as well as surveillance practices in different parts of the globe and from both sides of the "digital divide."
Contemporary Cultural Theory
Anthropology 350
CROSS-LISTED: HUMAN RIGHTS
This introduction to advanced theories of culture in contemporary anthropology is required of all anthropology majors. In contrast to early anthropological focus on seemingly isolated, holistic cultures, more recent studies have turned their attention to conflicts within societies and the intersection of local ­systems of meaning with global processes of poli­tics, economics, and history. The class is designed around an influential social theorist and the application of his or her theories by anthropologists. Students develop theoretical tools and questions for a Senior Project that makes use of contemporary theories of culture.

The Interview: Reportage, Human Rights, Literature, Ethnography, Film
Anthropology 351
DESIGNATED: ELAS COURSE
The interview is central to the practice of a wide range of disciplines and genres, including ethnographic fieldwork, human rights research, investigative journalism, creative nonfiction, and documentary film. Interview-based research forms a basis for the understanding of culture, the construction of complex narratives, and specialist forms such as life histories, testimonies, and confessions. This course combines critical analysis of interview-based writing (and audio and video recording) with the development of technical interviewing skills.
Culture, Mediation, Media
Anthropology 356
CROSS-LISTED: EXPERIMENTAL HUMANITIES
Just as culture is being reshaped by everyday media practices, media itself has reshaped our idea of culture and humanity. Looking broadly at the concept of "mediation," this course addresses contemporary theories and ethnographies of media and technology through examples such as the use of cellphones to organize political protest, the use of photography to link national with personal identity, and social networking sites that produce new forms of public intimacy.