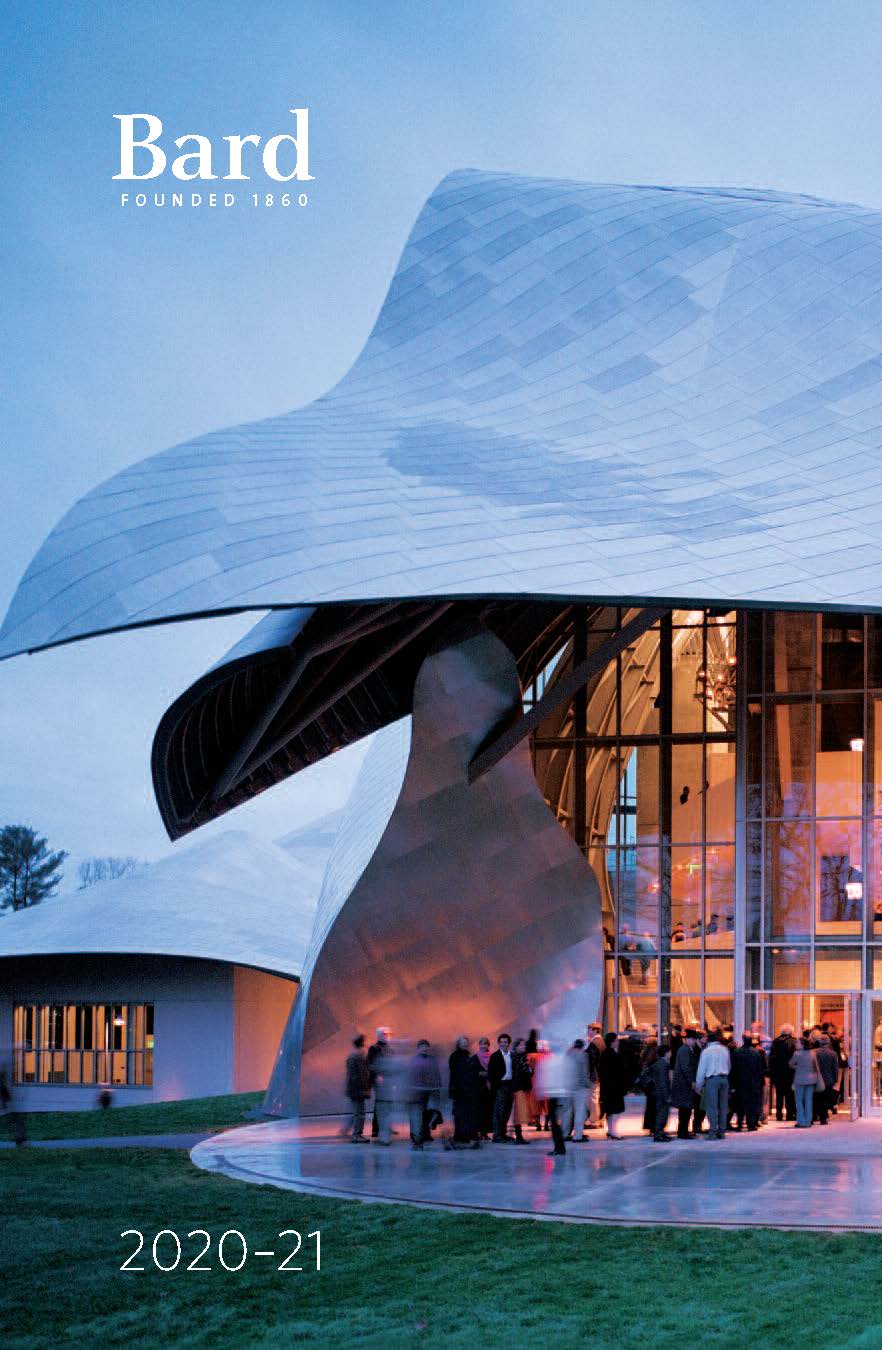 Bard College Catalogue 2020-21
Admission to Bard
bard.edu.admission
In selecting an incoming class of students for whom Bard is the right choice, the Admission Committee appraises the standards of the secondary school curriculum and considers achievement, motivation, and intellectual ambition. The committee reviews the time and effort a student has dedicated to classes and out-of-class activities and pays close attention to recommendations.
Bard expects applicants to have pursued an appropriately challenging program of study offered by their schools, including honors or advanced-level courses. In addition, a well-balanced program of study is considered the best preparation for a college of the liberal arts and sciences. The Admission Committee is interested in the entire high school record, with junior- and senior-year courses and results being especially important.
Using the Common Application, candidates may apply to Bard through the Regular Decision, Early Action, Early Decision, or Immediate Decision Plan application process. A complete application includes letters of recommendation from at least two of the student's junior- or senior-year academic teachers (one of whom should be a mathematics or science teacher), the guidance counselor recommendation and school report, and a complete transcript, including grades from the senior year, as soon as they become available.
Alternatively, candidates may choose to apply using the Bard Entrance Examination, an online essay platform created by Bard College faculty.
Candidates are encouraged to visit the Bard website and, if convenient, tour the campus with a student guide and learn about the College's curriculum, academic programs, and cocurricular activities. Appointments for campus visits may be made through the College's website (bard.edu/admission/tours) or the Admission Office (telephone: 845-758-7472; email: admission@bard.edu). Interviews are not required, but are available to applicants from early September until late November. Skype™ interviews are also an option.
Regular Action The application deadline is January 1 for notification in March. This is a nonbinding process..

Early Action (EA) Candidates for whom Bard is a top choice may apply using the nonbinding EA process by November 1 for notification in December..

Early Decision (ED) Candidates for whom Bard is the top choice may opt to use the binding ED process by November 1 for notification in December.
Immediate Decision Plan (IDP) Offered on select dates in November (see online calendar at bard.edu/admission/applying). candidates for whom Bard is the top choice may participate in this daylong, campus-based program. Participating applicants are notified of their admission decisions on the next business day. If a student submits their application as an IDP Early Decision candidate, the process is binding, and if a student submits their application as an IDP Early Action candidate, the process is nonbinding.

Bard Entrance Examination Candidates complete the online essay examination by November 1, with notification in December.
Commitment Dates A nonrefundable deposit of $515 is required to hold a place in the class. Students admitted through Early Decision are expected to submit their deposit within a month after receipt of an offer of admission and, when appropriate, an offer of financial aid. All other students must inform the Admission Office of enrollment plans by May 1. Admitted students may ask to defer matriculation for one year. Students intending to defer must make a deposit of $515 by May 1 of the year they applied and should use the appropriate "Reply to Offer of Admission" on the Bard Applicant Portal to indicate their intention to defer.
Early Admission Candidates seeking admission to Bard before completing secondary school may be admitted if they have an appropriate high school record and the recommendation of a guidance counselor or principal. An interview with a Bard admission counselor is required.
Transfer Students Transfer students are expected to be familiar with Bard's distinctive curricular components, particularly Moderation and the Senior Project, and should anticipate spending three years at the College. Students who wish to transfer apply by March 1 for the fall semester (notification in March) or November 1 for the spring semester (notification in December). A student transferring from an accredited institution usually receives full credit for work completed with a grade of C or higher in courses appropriate to the Bard academic program up to a maximum of 64 credits. Interviews are not required, but are available to spring transfer applicants from early September until late November and to fall transfer applicants during the month of February.
International Students The College encourages applications from students regardless of citizenship or national origin. Candidates whose first language is not English, and who have not spent at least three years of their secondary school education in an institution where the language of instruction is English, must submit the result of either the Test of English as a Foreign Language (TOEFL), International English Language Testing System (IELTS), or Duolingo test.

Based on need, international students may be eligible for Bard scholarships. Students seeking aid must also submit the International Student Financial Aid Application. This form is available at most secondary schools and through the College's website (bard.edu).

Enrolling students who are not U.S. citizens are required to complete a Certification of Finances, which is part of their I-20 Form and required for the visa application process.te.
Advanced Standing Advanced standing or college credit for College Board Advanced Placement courses may be given for the grade of 5. Students who wish to request credit or advanced standing must submit the appropriate record of their grade(s) to the Office of the Registrar.

The following international diplomas may be accepted for advanced standing: International Baccalaureate, A-Levels, French Baccalaureate, Swiss Maturity, and German Abitur. A student may be allowed to accelerate for up to 32 credits (a normal full year) at the time of Moderation if the Moderation board so recommends. Students who have earned A-level passes may enter with advanced standing. To be eligible for credit, International Baccalaureate students must score 5 or above in individual subjects; A-level students must have an A or A* to receive credit.

The Bard College Conservatory of Music
In addition to applying to the College, candidates for admission to the Bard College Conservatory of Music must complete the Conservatory's online supplemental application. As part of this online application, candidates must upload a prescreening recording (audio or video), a musical résumé, and a letter of recommendation from a music teacher. These prescreening recordings are reviewed by faculty, and selected candidates are then invited for a live audition at Bard College. If a candidate is unable to travel to Bard for a live audition, the candidate may be permitted to submit a video recording instead. The musical résumé should include the names of teachers, dates and places of study, public performances, honors and awards, and other information about musical influences and education. For more information on the Conservatory of Music, see bard.edu/conservatory.

Financial Aid and Scholarships Applicants applying for need-based financial aid must submit the Free Application for Federal Student Aid (FAFSA) and College Scholarship Service of the College Board (CSS) Profile to the Office of Financial Aid (for details, see page 324 or bard.edu/financialaid/applying. Applicants applying through the Early Decision, Early Action, Immediate Decision Plan, or Bard Entrance Exam process must submit these documents by December 1. Applicants applying through the Regular Decision process must submit these documents by February 1.

Applicants may also apply to their choice of the need-based scholarships listed on the financial aid page of the Bard College website (bard.edu/financialaid/programs).