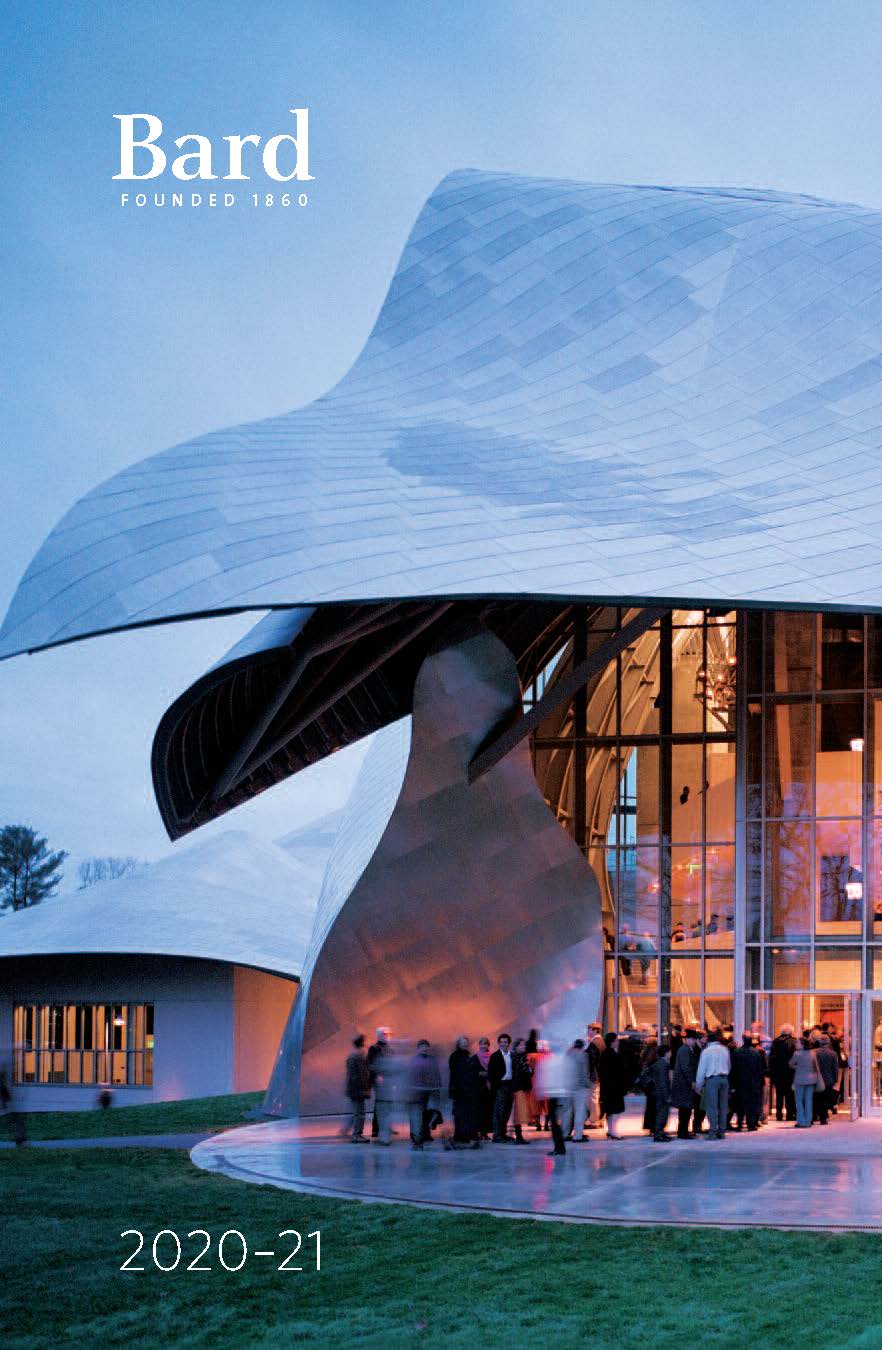 Bard College Catalogue 2020-21
Interdisciplinary Study of Religions

Faculty
Shai Secunda (director), Bruce Chilton, Richard H. Davis, Nora Jacobsen Ben Hammed, Hillary A. Langberg, David Nelson, Dominique Townsend
Overview
At Bard, the study of religion is under-taken as an interdisciplinary examination of various ways in which religion operates in and affects life. Courses in the program approach religion through multiple questions and perspectives, including the study of scripture, the performance of religion in everyday life, intersections of religion and politics, religion and material culture, and the evolution of concepts like tradition, modernity, and secularism. Moderation in religion equips students in the key methods and approaches in the humanities and social sciences while also familiarizing them with central doctrines, practices, and narratives of major religious traditions.
Requirements
Program majors are required to take three courses in religion prior to Moderation and three elective courses in religion thereafter. In total, courses must be taken in at least three of the religious traditions offered in the curriculum: Buddhism, Christianity, Hinduism, Islam, and Judaism. After Moderation, enrollment in Sacred Pursuits is required of juniors, while seniors must enroll in Religion Colloquium in addition to the Senior Project. The purpose of the 2-credit Colloquium is to foster a community of scholarship among students and faculty and to prepare public presentations of independent research.

Requirements for concentration in the program include any two courses in religion prior to Moderation, and two elective courses in religion thereafter. In total, courses must be taken in at least two different religious traditions. Juniors must enroll in Sacred Pursuits, while seniors are encouraged to enroll in Religion Colloquium.

Students are also expected to study a language relevant to the particular religion or area of study that provides the focus for their Senior Project. Relevant languages taught at Bard include Arabic, Chinese, Greek, Hebrew, Japanese, Latin, and Sanskrit.

The Senior Project in the Interdisciplinary Study of Religions Program will ideally be the culmination of the student's investigation of religion at Bard and should reflect a sustained analysis of a carefully defined topic in the critical study of religion.
Recent Senior Projects in Religion
"The Holy Ghoul and Lalla: Bhakti and Medieval Poetics"
"Image of Yoga: Instagram, Identity, and Western Imagination"
"Religious Rights of Parents and Children in the U.S. Foster Care System"
"Yes, No, or Maybe: A Look into the Denotations of Chinese Fu Talismans"
Courses
The following descriptions represent a sampling of courses from the past four years.
Buddhism
Religion 103
CROSS-LISTED: ASIAN STUDIES, THEOLOGY
For more than 2,500 years Buddhist thought and practice have revolved around the problem of suffering and the possibility of liberation. Across diverse cultural landscapes, Buddhism comprises a wide array of philosophical perspectives, ethical values, social hierarchies, and ritual technologies. This course offers an introduction to Buddhism's foundational themes, practices, and worldviews within the framework of religious studies.
Judaism
Religion 104
CROSS-LISTED: JEWISH STUDIES, MES
For millennia, Jewish communities have flourished around the globe and a dizzying variety of Jewish traditions have developed in these different places and during different times. This course introduces foundational practices, ideas, and expressions of Judaism while grappling both with its inner diversity and its sense of dissimilarity from surrounding non-Jewish communities. The course considers the history of rabbinic Judaism in ancient and medieval times, Hassidism, the Haskala (Jewish Enlightenment), modern European and American denominations, Zionism, and contemporary "cultural" Judaism.
Islam
Religion 106
CROSS-LISTED: GIS, MES
The course explores Islam as a religious, cultural, and social phenomenon that encompasses a wide variety of beliefs and practices. It begins with the origins of Islam in pre-Islamic Arabia and the historical formation of Islam with Muhammad, the Qur'an, and a community of believers. Also explored is the import of the revelatory text and sayings of the prophet (hadith) for subsequent theological, philosophical, legal, and mystical traditions within Islam; Islamic visual art and architecture, poetry, and music; and women in Islam.
Religions of the World
Religion 108
CROSS-LISTED: ASIAN STUDIES, THEOLOGY
This course looks at the major religions of the world as they developed over the course of history, utilizing comparative and historic approaches. The class considers the formative ideas and practices of Hinduism, Buddhism, Judaism, Christianity, and Islam; and explores some of the roles religious ideas and institutions have played in political power struggles from the time of Alexander the Great to the present.
The First Bible
Religion 111
CROSS-LISTED: JEWISH STUDIES, THEOLOGY
Students consider the text, meaning, historical background, and ancient Near Eastern literary and cultural context of the Hebrew Bible. The course examines the interplay between history and myth, various forms and purposes of biblical law, the phenomenon of biblical prophecy, and the diverse literary genres that are found within the Bible.
Hindu Religious Traditions
Religion 117
CROSS-LISTED: THEOLOGY
Students read from mythic and epic literature and become familiar with the gods, goddesses, and heroes that have been central to Hindu religious practice. A range of social and devotional paths taken by Hindus is explored, as are the paths of action, devotion, and wisdom (karma, bhakti, and jnana). The class also considers modern ethnographic accounts of how the tradition is lived, both in India and the United States, with a special eye to the construction of sacred space through temples and pilgrimage.
Introduction to Christianity
Religion 118
CROSS-LISTED: THEOLOGY
The purpose of this seminar is to enable us to understand how Christianity developed through systemic changes, and to read selected authors against the background of that evolution.
Jewish Thought and Practice
Religion 128
CROSS-LISTED: JEWISH STUDIES
This course uses the study of Jewish ritual practice as a lens through which to examine the diverse and complex system of belief and thought that is at the heart of Judaism. Through close reading of both biblical and rabbinic texts, the class pays special attention to how the rabbinic revolution following the destruction of the Second Temple in 70 CE altered the way of life that seems to be portrayed in the Hebrew Bible.
Jewish Magic
Religion 135
CROSS-LISTED: JEWISH STUDIES
Despite conceiving of itself as a monotheism deeply opposed to magic and witchcraft, Judaism boasts a robust tradition of incantations and magical practices. This course employs different tools drawn from the study of religion, anthropology, sociology, and gender to make sense of the widespread and diverse magical traditions of a supposedly antimagical religion.
Sanskrit
Religion 140 / Classics 140
CROSS-LISTED: ASIAN STUDIES, CLASSICAL STUDIES
Sanskrit is the language of ancient India, the language in which such works as the Bhagavad Gita, the great Hindu epics Mahabharata and Ramayana, and the Upanishads were written. In this course students learn the grammar and syntax of classical Sanskrit and acquire a working vocabulary.
Sanskrit II
Religion 141 / Classics 141
CROSS-LISTED: ASIAN STUDIES, CLASSICAL STUDIES
This course continues the study of Sanskrit foundations begun in Religion 140, and introduces readings of Sanskrit texts in the original. The readings include selections from the Indian epic Mahabharata. Students also continue their recitation practice, to gain an appreciation of the aural quality of the "perfected language."
Asian Humanities Seminar
Religion 209
CROSS-LISTED: ASIAN STUDIES
A survey of canonical philosophical, religious, and literary texts from China, India, Tibet, and Japan from the fourth century b.c.e. to the 18th century. Across this reach of time and space, the course explores how these works formulate conceptions of self, society, and the good life. By focusing on Asian traditions, students develop an understanding of the diversity of world thought and literature.

The New Testament in Context
Religion 154
CROSS-LISTED: JEWISH STUDIES, THEOLOGY
The New Testament emerged within the setting of Judaism during the first century. This course investigates the literary, social, religious, and theological contexts in which Jesus's movement arose and then produced an innovative literature all its own.
Digital Dharma: Buddhism and New Media
Religion 211
CROSS-LISTED: ASIAN STUDIES, EXPERIMENTAL HUMANITIES
Today, many Buddhist teachers and institutions use digital technologies to reach huge followings and disseminate Buddhist texts, practical and ethical instructions, and iconic imagery to students across the globe. Students analyze the history and use of Buddhist text and images, how Buddhist teachers are using new technologies to instruct students and attract new disciples, how social media platforms shape teachers' messages, and the social and political risks and benefits of digital expressions of Buddhism. Prerequisite: one previous course in Buddhist studies.
Jewish Mysticism
Religion 216
CROSS-LISTED: JEWISH STUDIES, THEOLOGY
Where is God? What is love? What is evil? These are questions that have preoccupied the Jewish mystical tradition, beginning with its late antique visionary origins and continuing with the poetic meditations of the Zohar, systematic speculations of Lurianic Kabbalah, and the heretical ecstasies of false messiahs, the Hassidic movement, and intersections with New Age. Readings from primary texts (in translation), secondary works of scholarship, especially by Gershom Scholem, and important tertiary texts, such as the correspon­dence between Scholem and Hannah Arendt.

Goddess Traditions in South Asia
Religion 220
CROSS-LISTED: ASIAN STUDIES, GSS
Goddesses have been a defining feature of South Asian religious traditions for more than two millennia. This writing-intensive course explores the role of female deities in shaping the religious beliefs and practices of Buddhism, Hinduism, and Jainism. The class investigates scriptures, scholarship, visual culture, and ethnographic evidence in order to better understand how and why devotees revere the divine feminine, in a variety of contexts, from before the Common Era to today. Prerequisite: one course incorporating religions of Asia or permission of the instructor.
Zoroastrianism
Religion 227
CROSS-LISTED: ASIAN STUDIES, MES, THEOLOGY
This multifaceted course examines the literature, history, ritual, myth, theology, and identity of the Iranian religion Zoroastrianism—a dynamic tradition that intersected with Judaism, Christianity, and Islam, as well as with political entities including the Sasanian, Roman, and Abbasid Empires, and British colonialism. The primary focus is on ancient Zoroastrianism and the classical textual tradition, especially the Avesta and Middle Persian literature. Zoroastrianism in colonial India, the Islamic Republic of Iran, and across the diaspora is also explored.
Devotion and Poetry in India
Religion 228
CROSS-LISTED: ASIAN STUDIES
Bhakti means "participation in" or "devotion to" God. From 700 CE to 1700 CE, bhakti poet-saints sang songs and lived lives of intense, emotional devotion to their chosen gods. The songs, legends, and theologies of these saints and the communities they established permeate the religious life of India. This course explores the world of bhakti through its poetry. Topics include bhakti and gender, the interactions of Hindu devotionalism and Islamic Sufism, and the problem of bhakti in 20th-century Indian literature.
Religion and Culture in Iran
Religion 230
CROSS-LISTED: MES
Students read primary and secondary materials as they examine the Persian tradition within literary, political, social, economic, and interrelated modes. Representations of Iran in film are also critiqued within a broader conversation about media representations of the Iranian people.
Great Jewish Books
Religion 231
CROSS-LISTED: JEWISH STUDIES, LITERATURE
Since the Middle Ages, Jews have been known as a people of the book—though what that means depends on period, place, and perspective. This course investigates some 20 "great" Jewish books, from antiquity to the postmodern; considers relevant theoretical issues of canon and intertextuality; and asks whether we can or should conceive of a Jewish textuality. Works/authors studied include biblical books, rabbinic texts, Iberian poetry, Hasidic homilies, Maimonides, Herzl, Levi, Ozick, and Ginsberg.
Introduction to Christianity in Revolutions
Religion 232
DESIGNATED: COURAGE TO BE SEMINAR
Christianity has both promoted and resisted revolutions during the course of its history. This course seeks to understand why and how that process has unfolded. The method of the seminar is to understand how Christianity developed through systemic changes and to read selected authors against the background of that evolution. Students are required to attend three lectures in the Arendt Center's Courage to Be Lecture Series.
Introduction to Sufism
Religion 236
CROSS-LISTED: LITERATURE, MES
A survey of the concepts, themes, and varieties of expression within the traditions of Sufism. The course explores the foundations of Sufism within Islamic and mystical forms of thought and practice, as well as the interplay between Sufi thought and literary forms, including narrative and lyric poetry, through the writings of Rumi, the Persian mystic poet and teacher.
Contemporary Islam
Religion 237
CROSS-LISTED: ASIAN STUDIES, HUMAN RIGHTS, MES
This course examines how Muslims have shaped and reacted to contemporary global experience. Various modalities of Muslim life are explored, including intellectual and political reactions to modernity, war, and empire; and aesthetic production in the fields of literature, film, and music. Students interrogate the ways that traditional practices of or related to Islam have confronted or accommodated contemporary trends around issues of justice, gender, freedom, and equality.
Midrashic Imagination
Religion 239
CROSS-LISTED: JEWISH STUDIES, LITERATURE
An introduction to Midrash, a classic type of Jewish literature produced in Palestine and Mesopotamia from around 200 CE to 800 CE. Despite its antiquity and position within a relatively unknown literary tradition, the form, content, and imaginative world of Midrash have proven strangely compelling to contemporary readers. In the 1980s and 1990s, scholars claimed to have found within Midrashic hermeneutics approaches that recall developments in comparative literature, such as deconstruction and intertextuality.

Myth and Image in the Religions of India
Religion 241
CROSS-LISTED: ASIAN STUDIES
Stories about legendary Buddhist and Hindu heroes and gods form the basis for much of the narrative literature, visual arts, and performing arts of southern Asia. Students read narrative works from the early Buddhist canon, Hindu epics, Puranas, and other literary sources from classical and medieval India; explore how narratives have been represented visually in images and temple sculpture; consider images and religious edifices as ritual objects and ceremonial settings; and look at the ways ancient Hindu deities appear in modern times.
Hinduism in the Epics
Religion 242
CROSS-LISTED: ASIAN STUDIES, CLASSICAL STUDIES
The Indian epics have long been one of the major ways that the teachings of the Hindu tradition are transmitted. Students read the Mahabharata (including the Bhagavad Gita) and the Ramayana, with a view to the role of the epics in Hindu ritual and devotional life. In addition, the course examines the various ways these texts have been retold and performed.
Yogis, Monks, and Dharma Kings: Religious Cultures of Early India
Religion 244
CROSS-LISTED: ASIAN STUDIES, CLASSICAL STUDIES
Mahatma Gandhi spoke of early India as the "nursery of religions." Certainly the millennium of classical India (500 bce to 500 ce) was a time of intense religious innovation during which Buddhism and Jainism were established and the older Vedic order was transformed into Hinduism. Religious seekers pioneered the spiritual techniques now practiced in the United States, after considerable alteration, such as yoga, meditation, and mindful­ness. Texts include Buddhist sutras, Vedic Upanishads, the edicts of Emperor Ashoka, and Hindu epic poetry; archaeological remains are also studied.
Women and Religion in Classical Judaism
Religion 256
CROSS-LISTED: GSS, JEWISH STUDIES, MES
An examination of the religious life of Jewish women in Palestine and Mesopotamia during late antiquity, Judaism's formative period. The class grapples with the methodological challenges involved in reconstructing female religious experience in a patriarchal society from which little material or literary culture produced by women has survived. Readings (in translation) from the Talmud, Hebrew liturgical poetry, synagogue inscriptions and art, Greek writers like Philo of Alexandria and Josephus, and more.
Gender and Sexuality in Judaism
Religion 257
CROSS-LISTED: GSS, JEWISH STUDIES
Traditional Judaism is often seen as a highly patriarchal system in which women have little access to ritual roles or community leadership. Men and women are strictly separated in many social situations, casual physical contact between husband and wife during the latter's menstrual period is prohibited, and homosexual acts are deemed an "abomination" for which capital punishment is prescribed. This course examines the origins of these practices, and the social, theological, and psychological attitudes that they reflect.
Jesus
Religion 274
CROSS-LISTED: THEOLOGY
Recent study of the material and cultural contexts of ancient Israel has advanced critical understanding of Jesus, but the religious context of Jesus and his movement has received less attention. This course investigates Jesus, not just as a product of first-century Galilee, but also as a committed Israelite, and analyzes the visionary disciplines that lie at the heart of his announcement of the divine kingdom, his therapeutic arts, and his parabolic actions and sayings, as well as his death and resurrection.

Philosophies of the Islamic World
Religion 278
CROSS-LISTED: MES, PHILOSOPHY
An overview of the classical philosophical movement (al-falsafa) born in the medieval Islamic world and engaged by Christians, Jews, and Muslims alike. The course also considers mystical elements of classical philosophical texts and their impact on the development of philosophical mysticism; cross-fertilizations between philosophy (falsafa) and theology (kalam) in the Islamic and Jewish traditions within the Islamic empire; and ways in which modern Muslim thinkers engaged the medieval philosophical traditions in their responses to imperialism and calls for reform.
Science and the Sacred
Religion 286
CROSS-LISTED: THEOLOGY
This course examines issues at the intersection of religion and science. Scientific thinking about god, religious responses to cosmology and evolution, and the writings of scientists on religion and religionists on science are considered. The class focuses on learning about religion from science, and about science from religion, as well as the different methodologies, assumptions, and entailments of the two disciplines.

Death and the Afterlife in Islam
Religion 289
CROSS-LISTED: MES
The course examines understandings of death and the afterlife in Islam through multiple lenses, including the popular, elite, and esoteric. Students read philosophical texts that describe a neoplatonic vision of the afterlife of the human soul; classical theological texts that theorize about the nature of the human person and of his/her resurrection; and Sufi portrayals of the ascent of the soul to God. Also discussed are eschatological visions as portrayed in art and literature, and beliefs in, and appeals to, spirits of the dead.
Visual Religion: Vision, Icon, Temple
Religion 316
In many religious traditions, gods and goddesses are visible beings who present themselves to their devotees in visions, icons, and grand image-filled temples. Other traditions consider the embodi­ment of God in material form as a sacrilege. This course examines the practices, issues, and debates surrounding divine icons and the religious arts in a comparative perspective, from the earliest recorded image practices of ancient Mesopotamia to contemporary icons, posters, and visual rituals in Hinduism and Catholicism.
Sacred Pursuits
Religion 317
This course, required for all religion majors, introduces theories and methods relevant to the academic study of religion. Course readings include both historical and contemporary studies that demonstrate a variety of approaches to interrogating religion as an object of study. Central themes include religious experience, ritual experience, modernity, ritual practice, gender, tradition, and secularism.
Meditations, Perceptions, Words: Poetry in Buddhist Literature
Religion 327
CROSS-LISTED: ASIAN STUDIES
This seminar explores poetry from Buddhist cultures, including Indian, Chinese, Japanese, and Tibetan literary traditions. The focus is on poems that are emblematic of Buddhist themes, such as impermanence, interdependence, perception of the present moment, renunciation, and empathy. Students also read poems from Christian, Hindu, Jewish, and Islamic traditions to situate Buddhist poetry within a wider context of religious literature.

At Home in the World: Buddhist Conceptions of History, Geography, and Collective Identity
Religion 330
CROSS-LISTED: ASIAN STUDIES
Since the death of the Buddha, all Buddhist communities have been separated from the historical Buddha by the passage of time. And except for those forms of Buddhism that continued in northern India before disappearing around the 13th century, all Buddhist communities have been separated from the geographical origin of Buddhism by space. This course looks at how Buddhist communities have attempted to bridge this gap by examining Buddhist conceptions of history and Buddhist visions of the geographical layout of the world.
Qur'an
Religion 334
CROSS-LISTED: MEDIEVAL STUDIES, MES
The class explores Qur'anic text and different translations, the history of the Qur'an's compilation and codification, and its major themes, structure, and literary aspects. Questions addressed include: How does the Qur'an operate within societies and what are its multiple functions? How do modern understandings of "scripture," "sacrality," "text," and "meaning" determine, dominate, and perhaps limit the way we engage with premodern sacred material?
How We Write about Death and Dying
Religion 335
DESIGNATED: JEWISH STUDIES, MES
Even more than the Bible, the Talmud has traditionally been the nerve center of the classical Jewish canon. While the Talmud was composed during a specific period (third to seventh century) and place (Sasanian Mesopotamia), it has been read in many contexts since, from Baghdad to Bard. Often classified as a work of law, it is perhaps best described based on what it does: unrelenting interpretive and intertextual weaving. This course tackles the Talmud and Talmudic process through close readings of sample passages (in translation).
Talmud
Religion 340
CROSS-LISTED: JEWISH STUDIES, MES
Even more than the Bible, the Talmud has traditionally been the nerve center of the classical Jewish canon. While the Talmud was composed during a specific period (third to seventh century) and place (Sasanian Mesopotamia), it has been read in many contexts since, from Baghdad to Bard. Often classified as a work of law, it is perhaps best described based on what it does: unrelenting interpretive and intertextual weaving. This course tackles the Talmud and Talmudic process through close readings of sample passages (in translation).
Yoga: From Ancient India to the Hudson Valley
Religion 355
CROSS-LISTED: ASIAN STUDIES, PHILOSOPHY
Yoga originated in ancient India as a loose set of ascetic practices for spiritual seekers who had renounced worldly life. Today, yoga has become a popular form of exercise, practiced by some 36 million Americans. This seminar tracks the early development and modern transformations of yoga, and addresses topics such as Hindu and Buddhist forms of meditation, the growth of new forms of tantric yoga in medieval India, early Western perceptions of exotic yogis, and the culture and economy of yoga in the contemporary United States.

The Multimedia Public Bible
Religion 357
CROSS-LISTED: THEOLOGY
DESIGNATED: CALDERWOOD SEMINAR
The Bible features in American society not only as a group of texts, but also as the focus for art and art history, literature, music, politics, and religion. This seminar considers how the texts are taken up into exchanges in these and other media. By the end of the course, each student should have the tools and contacts available to contribute productively to an issue of increasing concern: the place of the Bible in American aesthetic, intellectual, and social relations.
Sanctuary: Theology and Social Action
Religion 358
CROSS-LISTED: THEOLOGY
Sanctuary has played a pivotal role in recent discussions about immigration to the United States. But the application of the practice and concept of sanctuary applies to a much wider spectrum of activity within the history of many religions. The purpose of the course is to investigate the roots of sanctuary, and to engage with its practice within the local community in fields such as education, medicine, work, and environment, as well as immigration.

Subversive Rabbinic Stories
Religion 359
CROSS-LISTED: JEWISH STUDIES, LITERATURE, MES
Mercurial, creative, irreverent and romantic, the Talmudic tale never ceases to amaze, baffle, and inspire modern readers. This course explores some of the major anthems of Aggadah (Talmudic narrative) as well as a few lesser-known ones. The unique artistry of Talmudic narrative is used as a trigger to explore our own notions of narrative and as a source of inspiration for our own writing. No previous knowledge of Hebrew, Aramaic, or Jewish text is necessary.
Religion Colloquium
This colloquium, open to all students but required of religion moderands, fosters a community of scholarship among students and faculty interested in the study of religion and features public presentations of independent research. It is designed to encourage interdisciplinary and comparative perspectives on topics of interest.