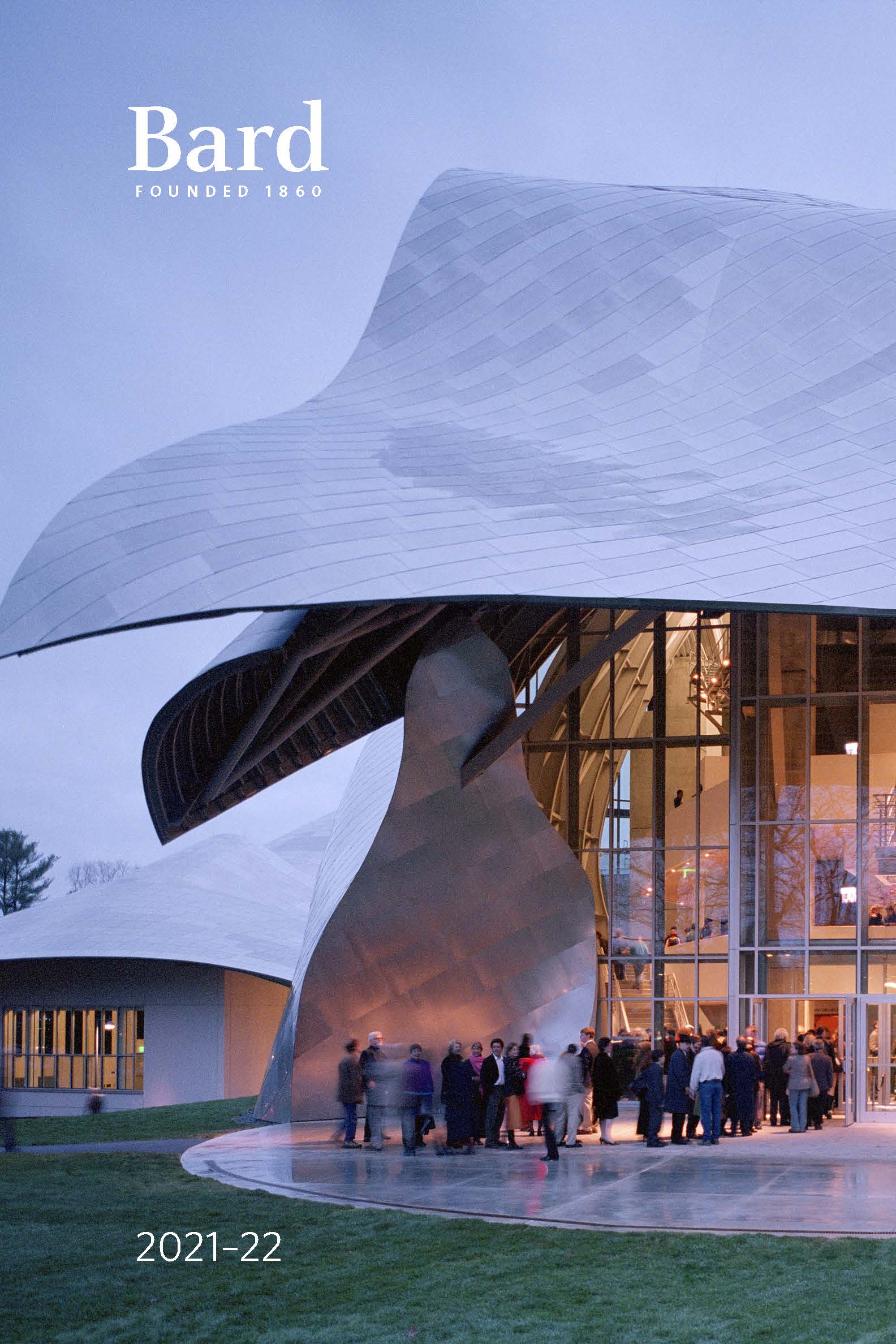 Bard College Catalogue 2021-22
Studio Arts
Faculty
Nayland Blake (director), Laura Battle, Ken Buhler, Adriane Colburn, Daniella Dooling, Ellen Driscoll, Kenji Fujita, Arthur Gibbons, Jeffrey Gibson, Beka Goedde, Maggie Hazen, Dave McKenzie, Lothar Osterburg, Judy Pfaff, Lisa Sanditz, Joseph Santore, Tschabalala Self, Julianne Swartz, Sam Vernon
Overview
The Studio Arts Program is available to the student who wishes to major in the program and the student who wishes to experience the visual arts and apply that experience to other disciplines.
Requirements
Students who wish to graduate with a degree in studio arts must complete the following: two art history and visual culture courses (one to be completed by the time of Moderation; it is also recommended that one be based in contemporary, post-1945 art, when offered); four studio courses from among
Drawing I
(required),
II, III
;
Painting I, II, III
;
Printmaking I, II, III
;
Sculpture I, II, III
;
Digital I, II
;
Extended Media I, II
; and Art 405-406,
Senior Seminar
.
At the end of their fourth semester, moderating students are asked to present a body of work to a group of three faculty members—determined by the program and including the student's adviser—to assess the student's work to date, clarify strengths and weaknesses, and discuss curricular and academic goals for the rest of the student's Bard career. Moderated studio arts majors are
eligible for the final curricular component of the Studio Arts Program, which consists of Level III studio classes in a variety of painting, drawing, sculpture, installation, extended media, digital, and printmaking options. The content of each studio class and the degree of structure are up to the individual instructor.
Recent Senior Projects in Studio Arts
"Dying in the Closet (part 22 of 29)"
"Freedom Within, Freedom Without"
"In the shadows and folds"
"I Think You Were in My Dream Last Night"
Facilities
The exhibition space in the Fisher Studio Arts Building permits an ambitious schedule of exhibitions, which are an integral component of the program. In addition to open student exhibitions, Senior Project shows, and Moderation exhibitions, student work on particular themes is presented at student-curated and faculty-curated shows. Bard's Center for Curatorial Studies is another on-campus site for exhibitions of contemporary art. The Bard College Exhibition Center in nearby Red Hook has approximately 16,000 square feet of gallery, studio, and class space. The Center gives seniors the opportunity to present their Senior Projects in a professional space dedicated solely to the exhibition of student work.
Courses
The descriptions below represent a sampling of courses from the past four years.
Digital I
Art 100
An introduction to digital image creation and manipulation for display in print and on screen. With Adobe Photoshop and Illustrator at the cen­ter, the class explores the possibilities of creating imagined and composite landscapes that are feasible only through digital fabrication. Course­work fosters a body of work consisting of online sketchbooks, site-specific installation, digital collage, gifs, large-scale printing, and laser cutting.
Painting I
Art 101-102
Instruction emphasizes the acquisition of a basic visual vocabulary of painting while recognizing a range of individual interests and strengths. Assignments focus on issues such as value contrast, warm and cool contrast, creating tonality, understanding the expressive and structural possibilities of the materiality of paint, as well as how all of these elements factor in the composition of form and space. While much of the work is done from observation—still life, landscape (weather permitting), and models—assignments also incorporate abstraction.
Sculpture I
Art 105-106
The definition of sculpture is always expanding to absorb new materials and strategies. It can include objects, actions, time-based media, sound, and light. This course introduces the language of contemporary sculpture through building objects and installations, looking at slides and videos, drawing, writing, verbal critique, and discussion. Students explore how meaning is communicated through sculpture, using materials including wood, fabric, clay, metal, and found objects.
Drawing I
Art 107-108
Josef Albers said that he wanted to "open eyes." This course approaches drawing as a way to explore different ways of seeing. Students work in a range of mediums, techniques, processes, and approaches. Assignments deal with form, space, gesture, mark, line, and image with the goal being the development of work that moves from observation to abstraction. Demonstrations in materials and techniques are given along with readings and presentations of artists whose work is related to the themes addressed.
Printmaking I
Art 109-110
The goal of the course is to give students a solid foundation in the methods and terminology of intaglio (etching), from drypoint, etching, and aquatint, to wiping and printing. Original prints, as well as reproductions, provide a historic background to printmaking and show how artists have used these techniques throughout the centuries.
Colorama
Art 112
Color influences all aspects of our experience—perceptual, emotional, psychological, physiological, even spiritual. The goal is to develop a working knowledge of color as it may be applied to any visual medium. Assignments range from vigorous color studies that train the eye to forms of expression more personal in nature.

Artistic No Self
Art 113
The Zen arts are also called the "artless arts." Whereas in the contemporary Western art world the cultivation of an individual, unique self seems to be crucial, in the traditional Asian arts one trains by copying the masters and following established means of depiction. The urge for expressing oneself is discouraged as it would hinder a liberated view on how things really are. This interdisciplinary course explores the question of the creative self through hands-on exercises, text study (Buddhist psychology, Western artists influenced by Zen), and individual art projects.
Of Paper
Art 125
From the use of papyrus in 2700 BC up to the present, paper has been an integral component in the creation and distribution of art and information. Yet it is often overlooked as an artistic medium. This course explores the vast technical and conceptual possibilities of this ephemeral material, pushing paper "craft" into a series of thoughtful and challenging artworks in two and three dimensions. Techniques include large-scale collage and assemblage, weaving, papermaking, hand and laser papercutting, embossing, and pulp drawing and casting.

Art and Climate Change
Art 132
DESIGNATED: ELAS COURSE
Does art have a role to play in altering the course of climate change? Through focused case studies, students learn basic sculptural techniques that use social and civic engagement as part of their structure, and digital tools in the Adobe Creative Suite for making books and graphic projects to increase visual understanding of climate change. They also take field trips with local nonprofits such as Riverkeeper to understand efforts to address the impacts of climate change on the Hudson Valley.
Extended Media I
Art 150
The ubiquity of readily available recording devices along with the proliferation of distribution platforms has had a powerful effect on an individual's ability to create, to be seen, and to be heard. With that proliferation in mind, this course introduces strategies of video- and time-based media, including installation for nontraditional spaces and performance on video. Student projects may integrate a variety of forms and approaches; in-class discussions, readings, and outside assignments help situate their art making within a broader art historical and contemporary context.
Digital II: Hyperbleed
Art 200
CROSS-LISTED: EXPERIMENTAL HUMANITIES
The hyperbleed is a metaphor or framework for describing the way images in the digital age have begun to "bleed" or slip off the screen into an embodied reality. This course addresses the subject through practice, discussion, and examination of still and moving images related to the shaping of our global identity over the past 60 years. Students learn the basic technical aspects of Adobe Premiere and Unity, and tackle project prompts related to the hyperbleed in popular media addressing identity, gender, violence, and entertainment, among other topics.
Painting II
Art 201-202
Designed for students who are serious about painting, especially from life. Issues discussed in Painting I serve as building blocks for complex figurative compositions. The focus is on the figure, color relations, and how the sensation of color interacting across the plane can create light and space. Recent 200-level courses have also addressed abstraction, materials, and transitions.
Sculpture II: Textiles
Art 205-206
The course introduces a range of textile techniques, from pattern making and sewing to weaving, knitting, nets, and knots, and uses these methodologies to explore sculptural installation and form making. The class also looks at textile traditions, including nomadic architecture, clothing, interior treatments such as blankets and rugs, and coded messaging found in Navaho blankets, West African strip weaving, and underground railroad quilts. Contemporary textile exploration—from carbon-fiber buildings to medical-implant textiles—are also considered. Other Sculpture II courses have addressed steel sculpture, casting, and interactive strategies
Drawing II: The Figure
Art 207-208
Students are asked to put aside all preconceived ideas about drawing and to discard any technical solutions that they've acquired in the past. They work from perception and looking hard to try to uncover the structural bones of the subject matter; explore ways to build spatial relationships, light and air, weight, gravity, speed and tensions while addressing problems of scale; and use
different materials (charcoal, pencils, cut paper, black and white acrylic paint) to create harmony that resonates throughout the composition.
Printmaking II: Silkscreen/Stencil
Art 209-210
DESIGNATED: ELAS COURSE
Students screen-print and stencil on paper and other material surfaces in order to compose 2-D works on paper and 3-D objects and forms. They work primarily in silkscreen and pochoir printing through stencils, as well as cyanotype, watercolor monotype, and printing on fabrics. Participants also learn gluing, cutting, sewing, folding, and assembling techniques for their printed material. The class works in series and on a large scale, at the same time designing ways to make works transportable and collapsible. Themes explored in other Printmaking II courses include mark making and printing multiples.

The Painterly Print
Art 219
A monotype (a.k.a. the painterly print) is essentially a printed painting. Although it is technically the simplest form of printmaking, it strives to honor the individuality of the hand's painterly impulse. For this reason, monotypes are a wonderful tool for a painter to quickly develop ideas of color, light, shape, and composition. This class explores the monotype process in relation to painting, using traditional techniques and experimental ones that evolve in response to the pursuit of the student's individual ideas.
Extended Media II: This Class Is a Podcast
Art 250
This advanced course encourages individual projects, questions, and approaches. To that end, it follows a workshop model, and uses the languages and attitudes of performance art as a general methodology. Students pursue self-generated assignments alongside the required class assignments. In class, they explore movement-based thinking alongside alternative strategies of object making in an effort to remain flexible and even uncomfortable. Special attention is paid to work that incorporates time-based media, installation, writing, and digital technology. Admission by permission of the instructor.

Digital III
Art 300
Graphic novels, large-scale sculpture, and urban painting are addressed as examples of artworks that exist as virtual presentations of potentially physical objects. Class assignments also explore projects that require no foundation in physical manifestation, such as game or social media manipulation, and concept-driven imagery based on data mining and mapping. Basic skills in video editing and website management are recommended; Photoshop skills are required.
Painting III
Art 301
Students focus on enhancing technical and critical skills through the development of individual themes and an independent studio practice. Studio work is complemented by discussion of pertinent topics in historical and contemporary painting.
Sculpture III: Installation
Art 305
The defining characteristic of this advanced course is the freedom and space that each student is given to explore their ideas and go beyond personal limits and preconceptions. All media and methods are welcome as long as they are accompanied by a consideration of the specific spaces of Bard's UBS Gallery. Students are treated as working artists and are expected to install three site-specific projects of their own inspiration.

Drawing III
Art 307-308
Students draw from life, focusing on the figure and working with different materials, including charcoal, pencil, acrylic, and mixed media. They work on different kinds and sizes of paper so that they experience the intimacy of making small pencil drawings on heavy watercolor paper and large-scale drawings on paper that they can erase often and beat up. The goal is to make drawings of the figure that are as alive and relevant today as they have been throughout the history of art.
Printmaking III: Photographic Printmaking Processes (Photogravure to Photopolymer)
Art 310
The first part of the semester focuses on a hands-on experience of the history of photography, with photogravure (the only continuous-tone photographic process) at its center. Students also explore halftone techniques such as photo etching, screen printing, and photopolymer, with excursions into nonsilver photo processes such as cyanotype, gum bichromate, and carbon printing. The second part is dedicated to the realization of student projects.

The Fold
Art 326
Designed to let studio artists indulge in research of the subjects that inform their artwork. The class reads Gilles Deleuze's seminal book The Fold and explores the practice of contemporary research to better understand how artists engage with subjects and concepts that are often outside of the recognized art world. Students research their own subjects and delve into what is deep beneath the surface of their materials and subjects, aesthetics, and referenced histories.
Senior Seminar
Art 405-406
All studio arts majors engaged in Senior Projects meet for a weekly seminar/critique/discussion. The aim is to create a forum where students can exchange views and ideas. The seminar's form and subject change from week to week but include writing assignments, group critiques, discussions of exhibitions on campus, and conversations with guest speakers.