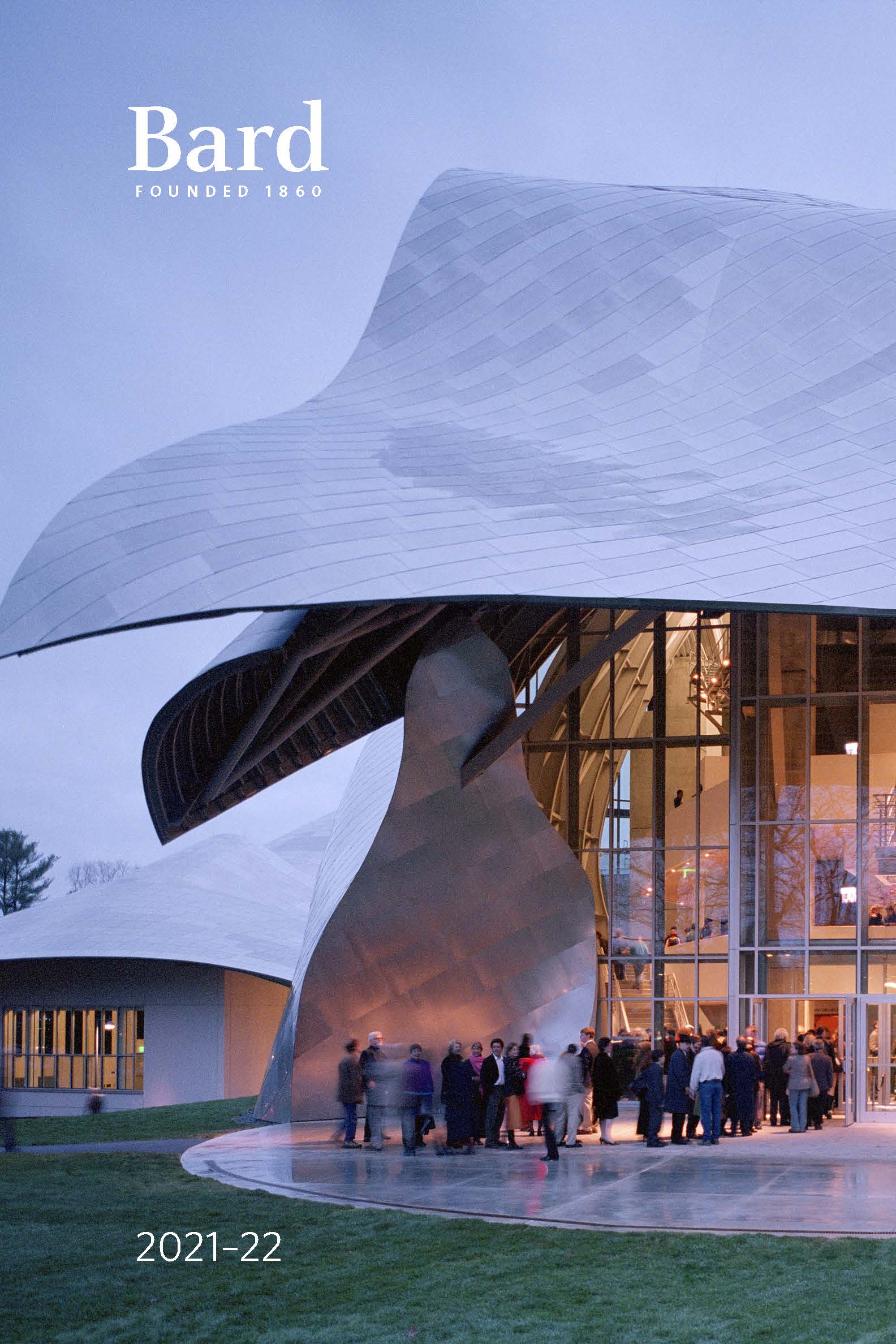 Bard College Catalogue 2021-22
Music

Faculty
James Bagwell (director), Thurman Barker, Leon Botstein, Teresa Buchholz, John Esposito, Kyle Gann, Christopher H. Gibbs, Marka Gustavsson, Sarah Hennies, Erica Kiesewetter, Peter Laki, Erica Lindsay, Ilka LoMonaco, Renée Anne Louprette, Blair McMillen, Rufus Müller, Franz Nicolay, Isabel O'Connell, Raman Ramakrishnan, Marcus Roberts, Matt Sargent, Whitney Slaten, Maria Sonevytsky, Patricia Spencer, I Ketut Suadin, Erika Switzer, David Sytkowski, Joan Tower, George Tsontakis
Overview
Performance, creativity, and historical study in the areas of classical music (including new music), jazz, world music, and electronic music, among others, are the primary focuses of the Bard Music Program. Students may take private lessons in voice, composition, and on many instruments, in a range of styles. Performance opportunities are frequent and include Moderation and Senior Recitals; chamber music and ensemble concerts; Indonesian gamelan and other world music ensembles; and, for composers, a concert of student works by a professional ensemble every semester. All senior musicians are eligible to perform with or have their work played by The Orchestra Now, the College's in-house graduate orchestra, at the annual Commencement Concert. Bard offers a state-of-the-art electronic music studio with a wide range of software and analogue instruments and a variety of performance spaces across campus, including installation rooms, a recital hall, a converted garage, and the acoustically magnificent Sosnoff Theater at the Fisher Center for the Performing Arts. Performances at other venues in the Hudson Valley are common. Some students pursue Senior Projects in music history, theory, or ethnomusicology, and in hybrid areas, combining performance with research or with other disciplines.

In addition to the BA program in music, the Bard College Conservatory of Music (see page 255) offers a five-year program in which students pursue a simultaneous double degree: a bachelor of music and a bachelor of arts in a field other than music. Music Program courses are open to Conservatory students, and the two programs share some courses, workshops, faculty, and performance facilities.
Areas of Study
Bard's Music Program is equipped for specialization in four major areas: jazz (and related African American traditions), European classical music (including its younger, American parallel), electronic music (starting with its early 20th-century experimental roots), and ethnomusicology. The music major explores the history and theory of one of these four areas through coursework and is free to take music courses in areas outside his or her specialization. The Music Program encourages diversity, provided the musician becomes sufficiently immersed in one tradition to experience the richness and complexity of a musical culture.
Requirements
By the time of graduation, all music majors are expected to have successfully completed between eight and ten specific requirements, depending on their area of study. The requirements include courses in both music theory and history; one class in composition or, with the approval of the adviser, 4 credits in an equivalent course involving personal musical creativity; and a performance class, accompanied by two semesters' worth of private lessons (performance class may be replaced by some other class involving public performance). Generally, half of these requirements should be completed by the time of Moderation. For their Moderation Project, most students give a 25- to 40-minute concert of their own music and/or music by other composers; a substantial music history or theory paper written for a class serves for students pursuing those fields. The Senior Project consists of two concerts of approximately 45 to 60 minutes each. Composers may replace one concert with an orchestral work written for performance during the Commencement Concert. In certain cases, involving expertise in music technology, a student may submit produced recordings of music rather than give a live performance. An advanced research project in music history or theory can also be considered as a Senior Project.
Recent Senior Projects in Music
"The Ethos of the Blues: An Ethnography of Blues Singers and Writers"
"Mixed Percussion in Minimalism"
"Rhythm Quest: Creating a Music Video Game"
"To Be Continuo: An Exploration of Harpsichord Music"
Courses
Music Program offerings are grouped under the headings of courses, workshops, and ensembles. Courses cover specific material and one-time-only registration is anticipated; workshops are project oriented, allowing a student to enroll repeatedly in the same one. Courses, workshops, and ensembles are open to music majors and nonmajors alike. Some courses are specifically aimed at stimulating the interest and listening involvement of the general student population.
Recent workshops include the following: American Tableaux, Art of Collaboration, Bach Arias, Baroque Ensemble, Classical Guitar, Composition, Contemporary Electronics, Early Music Vocal Performance, Electronic Music, English and American Art Song, French Art Song, German Diction, Hands-on Music History, Improvisation, Jazz Vocals, Music Software for Composition and Performance, Musical Structure for Performers, Opera, Orchestral and Festival Audition Preparation, Percussion Discussion, Production and Reproduction, Samba School, Sight Reading, Songwriting, Transcription Analysis, 20th-Century Compositions, and Voice and Vocal Repertoire for Singers and Pianists.
The descriptions below represent a sampling of courses from the past four years.

Bard College Community Orchestra
Music 104
Bard College Symphonic Chorus
Music 105
Bard College Community Chamber Music
Music 106
Ensemble
Music 107-108
Ensembles may be taken for 1 credit or no credit. If private lessons are taken in conjunction with an ensemble, one more credit may be added. Recent ensembles include Balinese Gamelan, Baroque, Big Band, Cello, Chamber Singers, Chinese Music, Eastern European Music, Electric Guitar, Electroacoustic, Georgian Choir, Jazz Orchestra, Jazz Vocal, Percussion, and Wind and Strings.
Introduction to Music
Music 112
The Western symphony orchestra can have as many as 100 members, with a well-defined hierarchy and well-established customs, conven­tions, rules, and regulations. The music written for orchestra—symphonies, concertos, tone poems, etc.—is diverse, colorful, and exciting, animating communities of music lovers around the world. This course explores the institution of the orchestra and the music written for it, through reading and, most importantly, listening.
Introduction to Music Theory
Music 122
An introduction to tonal music for nonmusic majors and potential majors who have had little or no exposure to reading music. It begins with the basics of musical notation and progresses to the identification of scales, ­triads, and seventh chords. An ear-training component allows for practical reinforcement of the aural concepts.

Introduction to Western Music
Music 142
An introduction to the history of Western music through an exploration of the keyboard instruments (organ, harpsichord, piano) and their evolution over the centuries. Students in the class also become acquainted with some of the great keyboard performers of the past and present.
Contemporary Electronics
Music 143
An introduction to electronic and experimental music, with a focus on hacking culture, musical sampling, and the history of recording technology. Students participate in hands-on demonstrations of electronic music tools (turntables, transducers, contact mics) and re-creations of classic experimental pieces, and are expected to make several compositions in the electronic music studio.
Jazz Histories of Sound and Communication
Music 146
CROSS-LISTED: AFRICANA STUDIES, AMERICAN STUDIES
Jazz history is plural, beginning with histories of African descendants in the New World. These histories foreground assertions of jazz as both an American sound and the sound of something broader. Through the framework of exploring the history of jazz, the course surveys the development of musical aesthetics set within specific social contexts that reveal how improvisation wields the production and reception of sounds and communi­cations within and beyond the bandstand.

Music Making in Times of Crisis
Music 147
The course explores how, in spite of difficulties imposed by extreme situations, music (and the other arts) have proven to be essential and irreplaceable survival tools. It spans several centuries, beginning with the work of Heinrich Schütz during the Thirty Years' War in Germany, then moving on to the music of WWII, including the performance of Shostakovich's Seventh Symphony during the siege of Leningrad, and the creative videos and artistic statements that have arisen during the current COVID-19 pandemic.

Sopranos in Wagner and Strauss
Music 148
CROSS-LISTED: GSS
The dramatic soprano roles in the operas of Richard Wagner (1813–83) and Richard Strauss (1864–1949) present some of the greatest vocal challenges in Western music. Taking Catherine Clément's classic feminist text Opera or the Undoing of Women as a starting point, the class investigates whether women are really "undone" in these operas, by analyzing their vocal portrayals and interactions with other characters. Roles studied include Isolde (Tristan und Isolde), Brünnhilde (Der Ring des Nibelungen), Salome (Salome), Elektra (Elektra), and the Marschallin (Der Rosenkavalier).

Against All Odds: Women Composers
Music 149
A survey of the preeminent women composers of Western music, including Hildegard of Bingen, Barbara Strozzi, Fanny Mendelssohn, Clara Schumann, Nadia and Lili Boulanger, Florence Price (who, as an African American artist, fought to defy entrenched segregation and racism in addition to sexism), and contemporary powerhouses such as Joan Tower, Kaija Saariaho, and Jennifer Higdon. The course also delves into the influence of jazz improvisers such as Ella Fitzgerald and contemporary songwriters including Lady Gaga and Beyoncé.
Listening to String Quartets
Music 169
Many composers of string quartets reserved that genre for their most profound and unusual utterances. The class listens to the expressive, conversational music in this form, from its roots in the classical First Viennese School through German Romanticism, European nationalism, the Second Viennese School, and American and European modernism. In addition to developing tools for listening to this complex polyphonic texture, students read composers' letters, such as Beethoven's "Heiligenstadt Testament," and articles from current publications.
Jazz Harmony I-II
Music 171-172
CROSS-LISTED: AFRICANA STUDIES
An introduction to the basic harmonic structures of the blues and the Tin Pan Alley songs that modern jazz musicians used as vehicles for improvisation. Basic keyboard skills are learned, including transposition. The course includes a short historical survey of blues and jazz, from ragtime to the swing era, to better understand the practice of the technical/aesthetic fundamentals specific to jazz as a 20th-century African American music.
Introduction to Ethnomusicology
Music 185 / Anthropology 185
CROSS-LISTED: ANTHROPOLOGY
Students explore sounds from around the globe, and consider ways to listen deeply and write critically about music. Topics discussed: how music has been represented in the past and how it is represented today; the utility and value of music as a commodity in our globalized world; the ethics of musical appropriations; questions about musical authenticity, musical origins, universals, comparative frameworks, and the preservationist ethos; and the relevance of music to contemporary Indigenous politics and human rights.
Music Theory / Ear Training I-II
Music 201-202
Basic musical notation is the starting point, after which the class moves to scales, recognition of triads and seventh chords, and rhythmic performance. By the end of the course, students should possess the ability to write a hymn, song, or brief movement of tonal music. At all times the course emphasizes analysis of real music, and an ear-training component reinforces the theoretical knowledge with practical experience.

Greek Mythological Themes in Music
Music 203
CROSS-LISTED: CLASSICAL STUDIES
This course focuses on select works (operas, oratorios, symphonic poems, art songs) based on ancient Greek topics, beginning with early opera and moving through the Classic and Romantic eras to the 20th and 21st centuries. The class considers how composers of different eras, nationalities, and stylistic orientations found inspiration in the same literary sources and how they reinterpreted those sources to give expression to their own artistic personalities.

Form and Structure in Movie Musicals
Music 204
CROSS-LISTED: FILM AND ELECTRONIC ARTS
The course explores the history and evolution of the movie musical from the early sound era to the present, focusing on how different musical structures and techniques contribute to these changes. In addition to studying and defining the "traditional" Hollywood music (Singin' in the Rain, The Band Wagon), the class examines how the musical was reimagined by such directors as Jean-Luc Godard (Une femme est une femme), Robert Altman (Nashville), and Lars von Trier (Dancer in the Dark).
Gender and Sexuality in Italian Opera
Music 209
CROSS-LISTED: AFRICANA STUDIES, AMERICAN STUDIES
From its earliest beginnings in Italy, opera has been a drama of identities in which characters, from lovers to mythological figures, declare their identities through song. Gender and sexuality played a crucial role in these identities and were often quite fluid: men playing women's parts, women dressed as men, women dressed as men dressed as women. And countless plots had homoerotic overtones. This course explores gender and sexuality in 17th- and 18th-century works such as Monteverdi's L'Orfeo, Handel's Giulio Cesare, and Mozart's Le nozze di Figaro.
The Roaring Twenties
Music 210
The class explores music of the 1920s in New York, Paris, Berlin, Vienna, and Petrograd/Leningrad, with an emphasis on the relationships among composers and other artists and musical institutions in their historical and social contexts. Topics include the meaning of the term "avant-garde" and interactions between Western and non-Western art forms. Composers studied: Gershwin, Copland, Stravinsky, Milhaud, Weill, Schoenberg, Berg, and Shostakovich.
Jazz in Literature I and II
Music 211-212
CROSS-LISTED: AFRICANA STUDIES, AMERICAN STUDIES
This course presents short stories and poems by Rudolph Fisher, Langston Hughes, Ann Petry, and Julio Cortázar. Texts used in this section include Hot and Cool, edited by Marcela Breton, and The Portable Harlem Renaissance Reader, edited by David Levering Lewis.
Sounds of a World in Uproar
Music 213
Nineteen-sixty-eight was a year of world-wide student protests, wars, and assassinations. It was also a banner year in music—in classical, jazz, and rock alike. By focusing on a single year (allowing for a few side glances a couple of years ahead and back), the course attempts to place the music in a broad historical, political, and artistic context. Seeking to transcend conventional boundaries of genre, the class considers artists ranging from Stockhausen and Ligeti to the Beatles and Rolling Stones (and beyond).

Topics in Sound Art
Music 214
Coined in the early 1980s, "sound art" describes sound-based art that does not follow the rules of traditional music (melody, harmony, gesture, etc.), focusing instead on the physical characteristics of sound, experimental methods, and human perception. Since the 1980s, artists working with sound have expanded the practice in limitless conceptual and technological directions and the field's growth continues in the present day. The course examines the disparate approaches to contemporary sound art, with a particular focus on composers who are active today.
Introduction to Conducting
Music 215
The development of the physical gesture and rehearsal techniques are the primary goals, but the course also addresses score reading, ear training, instrumental transposition, and historical performance practice. The repertoire includes both orchestral and choral works.
Socialist Musical Imaginaries
Music 224
CROSS-LISTED: ANTHROPOLOGY, GIS, RES
Taking examples from China, Cuba, Eastern Europe, and the former Soviet Union, this course surveys the cultural policies of socialist states and their effects on the lives, listening habits, and creative output of musicians and music consumers. From the politics of Azeri opera, to the subversive sounds of Siberian punk, to the performance of masculinity in Chinese and Cuban pop music, the class investigates how political ideologies generated state support for certain kinds of music while suppressing other forms of unofficial, underground, and protest music.
Renaissance Counterpoint
Music 228
This course follows classical species counterpoint as outlined by Knud Jeppesen, based on the style of Palestrina. The freer styles of earlier composers, such as Josquin and Ockeghem, are also examined, and the class generalizes from contrapuntal concepts to such derivatives as the dissonant counterpoint of Charles Seeger and others. Students must be able to read music and have a basic knowledge of musical terminology.
The History of Electronic Music
Music 238
The development of electronic music is traced from the invention of the theremin, ondes Martenot, and trautonium in the 1920s through the innovation of magnetic tape recording in the 1940s; experimental works by John Cage and David Tudor that reintroduced the live performer to the electronic medium; the advent of more personal synthesizers (invented by Moog, Buchla, and others) in the 1960s and '70s; and recent developments in computer music. In addition to readings, the course encourages live performances of classic pieces as well as new compositions and improvisations.

Introduction to Electronic Music
Music 240
Students are introduced to foundational practices in electroacoustic sound production and their contemporary/digital analogues, with particular emphasis on signal processing, studio and field recording, and modes of diffusion, including multichannel installation and live performance. They also receive instruction in Pro Tools for multitrack recording, editing, and mixing. In addition to the digital workstations, students can explore analogue synthesis techniques using a vintage Serge modular synthesizer.

Bartók and Stravinsky
Music 245
An investigation of the music of Béla Bartók and Igor Stravinsky, two of the greatest composers of the 20th century. Both were influenced, albeit in different ways, by folk music; both exhibited neoclassical tendencies, again in very different ways; and both ended up in the United States and died in New York City. The class explores their respective cultural milieux in Budapest, St. Petersburg, Paris, and New York, and analyzes their most important compositions, comparing and contrasting them at each stage of their careers.
Ethnography: Music and Sound
Music 247
How have recent ethnomusicologists and anthropologists written about traditional and popular musics around the world? Students discuss chapters from recent book-length examples of musical ethnography, continually assessing how writing represents and analyzes local and global practices of production, circulation, and consumption, as well as how such works participate in emergent scholarly traditions.

Improvisation as Social Science
Music 251
CROSS-LISTED: AFRICANA STUDIES, AMERICAN STUDIES, EXPERIMENTAL HUMANITIES
How does improvisation operate as social research? What does it mean to improvise? How do not only musicians but also people in everyday life improvise with one another? How can critical improvisation studies shift our recognition of the phrase "jazz studies" from a noun to a declarative statement? Students read, present, and discuss scholarship about improvisation while considering examples that reveal the collective choices of individuals and groups who pursue various opportunities over time.
Electronic Composition
Music 252
In this course, intended primarily for music majors, students are expected to bring in ongoing original work in the form of recordings, scores, and/or digital realizations. These are examined and discussed by the instructor and other class members. Installation and intermedia works are also welcome. Additionally, the course features analyses of classic works by such composers as Stockhausen, Cage, and Lucier.
Special Topics in Ethnomusicology: Loudspeakers as Culture
Music 253
CROSS-LISTED: EXPERIMENTAL HUMANITIES
How do loudspeakers construct musical culture? How does listening to a loudspeaker reorganize social behavior? The course looks at the importance of loudspeakers from the perspectives of ethnomusicology, sound studies, and audio science, and considers the relationship between music, technology, and culture. Themes include critical organology, intersections of local and global influences, manufacturing and nationalism, cultural imperialism, strategies of resistance, generational change, race and bass, gender and power, digital technology, fidelity and loss as technological and cultural ideas, and ethnographic inquiry.
Pronunciation and Diction for Singers
Music 254A, 254B
This two-semester course offers an introduction to the International Phonetic Alphabet (IPA) as well as the practical aspects of performing or preparing Italian, French, German, and English vocal literature. The fall semester is devoted to the Italian and French languages, the spring to German, English, and Latin.
Orchestration Workshop
Music 256
Students learn how to score for instrumental combinations, from small ensembles up to full orchestra. The course features live demonstrations of orchestral instruments, and covers score study of orchestral literature; chord voicing and notation of bowings, breathing, articulations, and special orchestral effects; and the practice of basic conducting patterns and skills.
Production/Reproduction
Music 257
This course focuses on the theory and practice of sound recording. Students learn the use of recording equipment, including digital tape recorders, mixing consoles, signal processing devices, and microphones. A/B listening tests are used to compare types of microphones, microphone placement, and recording techniques. Pro Tools software is available for digital editing and mastering to CD.
Topics in Music Software: Introduction to Max/MSP
Music 262
CROSS-LISTED: COMPUTER SCIENCE, EXPERIMENTAL HUMANITIES
An introduction to Max/MSP, an object-oriented programming environment for real-time audio processing, digital synthesis, algorithmic composition, data sonification, and more. Students learn the fundamentals of digital audio and computer programming while engaging in creative projects and in-class performances. The course includes examples of Max patches found in major works of 20th- and 21st-century electroacoustic music and sound art repertoire; and explores connectivity between Max and other software applications.
Literature and Language of Music I-II
Music 264-265
Primarily intended for music majors and Conservatory students, this survey of Western music from approximately 1600 to 1830 emphasizes stylistic evolution in general, as well as the unique contributions of Monteverdi, Purcell, J. S. Bach, Handel, Haydn, Mozart, Beethoven, and Schubert. Offering historical and analytical perspectives, the course requires students to get to know as much repertoire as possible and to articulate responses to that repertoire.

Jazz Repertory: American Popular Song
Music 266
This is a performance-based survey of the major American popular song composers of the Tin Pan Alley era, whose work forms the core of the jazz repertoire. Composers studied include Gershwin, Berlin, Porter, Ellington, Warren, and Rodgers. Students perform the music studied in a workshop setting. Prerequisite: Music 172 or permission of the instructor. Other repertory subjects have included John Coltrane, bebop masters, and Thelonious Monk
Literature and Language of Music: 20th and 21st Centuries
Music 268
A survey of Western art music of the last 100 years. Using the Oxford History of Western Music (College Edition), the class studies the major trends and composers of the era, with an emphasis on active, critical listening and discussion. Parallel phenomena in literature and the visual arts are explored as time permits.
Sound Studies / Critical Listening
Music 269
CROSS-LISTED: EXPERIMENTAL HUMANITIES
From the perspective of both ethnomusicology and the audio sciences of sound reproduction, this course provides an introduction to the interdisciplinary field of sound studies. Throughout, it engages how critical listening techniques and features of sound studies discourses can be mutually informative for musicians, sound artists, listeners, writers, and cultural theorists who are interested in identifying the significance of musical or extramusical sounds within specific social contexts. Students discuss articles and chapters that focus on prominent keywords within sound studies discourse.
John Cage and 1960s Avant-Garde
Music 270
John Cage (1912–1992) was a cheerful, gentle man who liked turning ideas on their heads—and the most controversial composer of the late 20th century. He influenced artists from Feldman and Stockhausen to Ono, Eno, Reich, Glass, Johns, and Rauschenberg. Students read Silence, Cage's 1961 collection of essays, explore his varied output, look at the explosive 1960s conceptual art scene he ignited, and trace his lineage to minimalism, ambient music, environmental soundscapes, and other trends.

Intermediate Conducting
Music 275
The development of the physical gesture and rehearsal techniques are the primary goals, but the course also focuses on score reading, ear training, instrumental transposition, and historical performance practice. Repertoire includes both orchestral and choral works. Prerequisites: Music Theory I and II or the equivalent. Open to both Conservatory and Music Program students.

Introduction to Opera
Music 276
A survey of select masterpieces from the birth of opera (around 1600) to the present, with a special focus on treatments of the Orpheus myth by Monteverdi and Gluck, Handel's Giulio Cesare, Purcell's Dido and Aeneas, Mozart's Don Giovanni, Beethoven's Fidelio, Wagner's Die Walküre, Verdi's La traviata, Strauss's Salome, and Berg's Wozzeck. As many of these works are based on literary or dramatic sources, students look at how works of the written and spoken word are transformed into compelling musical theater.

The Music of Debussy and Ravel
Music 279
This seminar explores the work of these two composers from historical and analytical points of view. The main goal is for students to get to know as much of their music as possible, and to articulate responses to it both orally and in writing. A secondary goal is to read some of the literature on Debussy and Ravel, in order to understand the objectives and methods of scholarship.
High/Low: Tensions and Agreements in 20th- and 21st-Century American Music
Music 283
Musicologist H. Wiley Hitchcock described American music as often being caught between vernacular traditions (folk and popular idioms) and cultivated traditions (European-based classical music). This seminar examines the tensions and agreements between these distinct traditions. Each class meeting focuses on works composed in a separate decade in the 20th and 21st centuries, including music by Igor Stravinsky, Charles Ives, Miles Davis, and Philip Glass, among others.

Musical Imaging of America
Music 291
CROSS-LISTED: AMERICAN STUDIES
From the beginning, American musicians had an identity crisis. Is our classical music merely an extension of Europe, or does it have its own roots in vernacular music, Yankee inventiveness, and metaphors for nature? This course traces ideas of Americanness in music from the hymns of William Billings and William Henry Fry's Niagara Symphony (1858), through the self-conscious Americanism of Charles Ives and Aaron Copland, to the Zen practices of John Cage and the West Coast birth of minimalism.

Topics in Sound Studies: Queer Sound
Music 292
CROSS-LISTED: GSS
In 2011, musician and scholar Drew Daniel argued that "all sound is queer" in his essay of the same name. Daniel draws a connection between queerness and sound as wholly personal and subjective, where personal and sonic identity is not fixed but instead exists on a limitless spectrum. In "queer sound," hearing is inextricable from sociopolitical context and personal experience. Using this as a conceptual framework, the course explores many possible realizations of "queer sound" through queer theory readings, experimental sound studies, and performance projects.
Advanced Analysis Seminar: Minimalism
Music 302
Minimalism reintroduced simplicity, drones, and repetition into music in the 1960s. Some of its formal structures have become important paradigms for postmodern music, particularly in expanding the listening frame beyond the scale of normal concert performance. Works analyzed include Young's The Well-Tuned Piano; Reich's Music for 18 Musicians; Glass's Einstein on the Beach; Adams's Phrygian Gates; and postminimalist works by Duckworth, Vierk, Epstein, Garland, and others. Prerequisite: any 200-level theory course or permission of the instructor.
The American Symphony: An Analytical Survey
Music 305
The symphony has long served as an outlet through which emerging nations defined and asserted their national character. The early 20th-century search for "the great American symphony" was hampered by American classical music's dependence on Europe and the difficulty of working vernacular elements into so formidable a genre. The class explores pieces by Aaron Copland, Roy Harris, Leonard Bernstein, and Charles Ives, as well as James P. Johnson's Harlem Symphony, post-Americana works by George Rochberg and Philip Glass, and neglected works by Florence Price and Gloria Coates.
Vocal Pedagogy
Music 309
Designed for students who wish to work in vocal teaching or coaching as well as advanced vocal students. While the emphasis is on practical application, the course covers basic anatomy and physiology. Students listen differently to the voice, learn how to identify physiological influences while producing sound and how to remedy imbalances through posture and positions of the head and tongue. The main physiological aspects covered are breathing, vocal registers, Valsalva maneuver, and vocal approximation.
Interaction between Music and Film: A Historic Overview
Music 315
CROSS-LISTED: FILM AND ELECTRONIC ARTS
A look at the use of music in film from the silent era through the present. The class examines how music was incorporated into such films as Citizen Kane (Welles), Rapsodia Satanica (Oxilia), King Kong (Cooper), Black Orpheus (Camus), Singin' in the Rain (Donen), On the Waterfront (Kazan), Forbidden Planet (Wilcox), A Woman is a Woman (Godard), 2001: A Space Odyssey (Kubrick), Easy Rider (Hopper), and Pulp Fiction (Tarantino). While the main focus is historical, specific techniques used to heighten storytelling are also addressed.
Monsters! Madness! Mayhem! The Wild Side of Baroque Music
Music 329
CROSS-LISTED: EXPERIMENTAL HUMANITIES
Music from the Baroque era is full of wild things—furious gods, enraged lovers, clashing armies, hideous villains, and chaotic storms, to name just a few. This course explores a variety of French, German, and Italian compositions that embrace these more volatile and violent aspects of Baroque culture. Particular emphasis is placed on the mythological origins and literary inspirations for these musical works. Each week, students synthesize diverse materials and contribute to class discussions by offering analyses and opinions on reading and listening assignments.
Jazz: The Freedom Principle I, II, III
Music 331, 332, 335
CROSS-LISTED: AFRICANA STUDIES, AMERICAN STUDIES
Segments of this survey of jazz history include the big band or swing era (1927–1942), with emphasis on bandleaders such as Jimmie Lunceford, Benny Goodman, Tommy Dorsey, Teddy Wilson, Count Basie, and Duke Ellington; modern jazz from 1937 to 1950, with a focus on Charlie Parker, Dizzy Gillispie, and Max Roach; the cross-pollination of postbop with free jazz in the period from 1958 to the mid-1960s (Cecil Taylor, Ornette Coleman, Art Blakey, Thelonious Monk, John Coltrane, Miles Davis, Eric Dolphy, Charles Mingus, and Horace Silver); and jazz from 1952 to the early '70s, with a look at the extreme shifts in jazz styles from cool to hard bop to the avant-garde (Stan Getz, Lee Konitz, Hank Mobley, Anthony Braxton, and Muhal Richard Abrams).

Field Methods in Ethnomusicology
Music 334
CROSS-LISTED: ANTHROPOLOGY, SOCIOLOGY
Students in this advanced seminar examine the craft, pertinent intellectual frameworks, practical concerns, audio and video recording techniques, and significant ethical considerations associated with contemporary ethnographic field methods. The course focuses on how to collect qualitative data using observation, participation, and interviewing practices. Preference is given to students who plan to pursue ethnographic Senior Projects.
Introduction to Experimental Music
Music 340
An overview of the experimental tradition, from Henry Cowell's radical innovations in the early 20th century through those of his students, particularly John Cage. The primary focus, however, is on the development of new forms, media, and social organizations in the 1960s and '70s, such as the Fluxus movement's text-based "event" pieces; minimalist works by La Monte Young, Terry Riley, Steve Reich, and Philip Glass; and the influence of "open form" and "free jazz" in the work of Anthony Braxton and others.
"Viva La Libertà!" Mozart's Opera and the Enlightenment
Music 342
Mozart is often viewed as embodying central ideals of the Enlightenment, and nowhere is this more apparent than in his mature operas. This seminar focuses on six of them, beginning with Idomeneo and The Abduction from the Seraglio, continuing with his trilogy from the mid-1780s (The Marriage of Figaro, Don Giovanni, and Così fan Tutte), and concluding with The Magic Flute. These works take us from a teenage Mozart breaking with conventions to his dying months, at age 35.
Advanced Score Study
Music 353
A workshop for composers, conductors, and instrumentalists wherein a myriad of musical scores from all periods of "classical music" are examined. Discussions emphasize what makes the particular piece "work," whether it be its dramatic power, balanced form, figuration design, orchestral flair, or melodic and harmonic uniqueness. In short, trying to get to the essence of "just what's so great about this piece?"

Opposites Attract? Beethoven and Schubert
Music 354
This seminar compares the lives and careers of Ludwig van Beethoven (1770–1827) and Franz Schubert (1797–1828), with an emphasis on the genres for which they are best known (e.g., symphony versus song) and how their compositions established musical values that impacted 19th-century musical Romanticism. The class examines the social, musical, and political culture in which they lived and worked in Vienna, and considers the question of what personal and professional interaction they may have had.
Jazz Arranging Techniques
Music 356
This accelerated seminar focuses on the various techniques used in writing for jazz ensembles, from trios to large ensembles. Classic "drop-two" voicings and tertiary approaches are covered, as are more contemporary cluster, quartal, and line part writings. Myriad approaches to textural issues that arise in each particular instrumentation are examined, along with various approaches to section writing.

Electroacoustic Composition
Music 358
Intended primarily for music majors, the course is focused on the individual creative work of the students enrolled. Participants are expected to regularly present and discuss their ongoing compositional projects. These are examined by the instructor and other class members. Students may also take on collaborative works, installations, and intermedia projects.
Analysis of 20th-Century Modernist Music
Music 359
Unlike that of earlier eras, 20th-century music is highly contextual, and no particular method of analysis applies to every example. Techniques helpful for earlier music, particularly Roman numeral analysis, are rarely of use here. Instead, students learn to deduce what kind of analysis is appropriate by looking for both small- and large-scale patterns. Works considered: Bartók's Music for Strings, Percussion and Celesta; Stockhausen's Gruppen; Babbitt's All Set; Crawford's String Quartet; Stravinsky's Le Sacre du Printemps; Satie's Socrate; Ives's Concord Sonata; and Feldman's Rothko Chapel.
Electronic Music in Live Performance
Music 361
Students learn techniques essential for live electronic performance through hands-on tutorials with common mixing consoles, speaker arrays, microphones, and audio interfaces. Using these techniques, they develop new live electronic compositions and improvisations; through peer response, they then refine their compositional ideas, while evaluating the technical strategies of their performance.
Advanced Contemporary Jazz Techniques
Music 366
An introduction to methods used by the jazz improviser to deconstruct and reorganize the basic harmonic and rhythmic elements for a ­composition. Issues addressed include reharmonization, remetering, metric modulation, and variations in phrasing, tempo, and dynamics; that is, the arrangement and reorganization of compositional elements. This is a performance-oriented class, with a repertoire including jazz standards and compositions of the instructor. Open to moderated students who have successfully completed Music 171-172.
Jazz Composition I-II
Music 367A-367B
This course covers the practical aspects of ­notation, instrumentation, Sibelius/Finale, and score/parts preparation that are necessary for the remainder of the two-year sequence. The first semester's focus is on the less-structured realm of modal harmony. Students compose and have their pieces performed in class on a weekly basis, allowing them to find their voice and master the techniques necessary for a successful performance of their work. The second semester covers diatonic jazz harmony, starting with traditional forms of functional harmony and the interplay between the major and minor systems, followed by the progression of its breakdown into a more fluid, chromatic, and open-form system.
Chamber Jazz Composition Workshop
Music 370
The workshop combines genres and instrumentations found in both jazz and classical orchestration, and explores the possibilities for melding traditional chamber instrumentation with that of the jazz ensemble. For students who have completed Jazz Composition I and II, as well as Jazz Arranging Techniques, or with the permission of the instructor.

Topics in Music History: Choral Literature
Music 372
An examination of the history of choral music, from chant and early motets through large-scale contemporary pieces. Works by composers such as Guillaume de Machaut, Josquin des Pres, Johann Sebastian Bach, Ludwig van Beethoven, Johannes Brahms, and Igor Stravinsky are studied along with works by Hildegard of Bingen, Clara Schumann, Florence Price, and Caroline Shaw.

Pentatonicism and Culture
Music 373
CROSS-LISTED: AMERICAN STUDIES, ANTHROPOLOGY
Five-pitch scales are pervasive throughout folk, popular, and art musical cultures around the world. The fraught discourse about the origins of pentatonic scales highlights core questions of ethnomusicological engagements with the concept of culture. This course investigates the shifts in cultural associations made between the musical sounds that the pentatonic scale constructs and the societies they often represent. Readings from the fields of ethnomusicology and musicology, in conjunction with in-class listening, help students identify key histories and geographies associated with the pentatonic scales that have influenced Western musical life.

Topics in Music Software
Music 375
CROSS-LISTED: COMPUTER SCIENCE, EXPERIMENTAL HUMANITIES
In this seminar, students learn advanced concepts of digital audio and computer programming, while engaging in creative projects and in-class performances. The course includes study of the Fourier theorem, physical modeling, granular synthesis, multichannel audio dispersion, binaural and ambisonic panning, and digital reverb design, as well as critical discussion of electroacoustic and sound art repertoire of the 20th and 21st centuries.

Algorithmic Composition and Improvisation
Music 380
CROSS-LISTED: COMPUTER SCIENCE
In this seminar, computers act as composers, improvisers, orchestrators, and accompanists. Students explore conceptual strategies for the real-time computer generation of musical events, while learning fundamentals of object-oriented programming. Topics discussed include artificial intelligence and musical creativity; and pioneering algorithmic works from, among others, Lejaren Hiller, Iannis Xenakis, George Lewis, Tristan Perich, and Holly Herndon. Prerequisite: Music 139, a 200-level computer science course, or permission of the instructor.

Musicology among Enslaved Americans
Music 381
CROSS-LISTED: COMPUTER SCIENCE
African American music is foundational to musical culture within the United States. Negotiating a gruesome exploitation that would fund the wealth of the nation, enslaved Americans of African descent expressed features of what this music would become. Scholars frequently categorize the musicality of the enslaved into sacred and secular forms, mainly the blues and spirituals. This course also asks: What was the musical discourse among enslaved African Americans? Readings include slave narratives, autobiographies, and accounts of abolitionists and Union officers