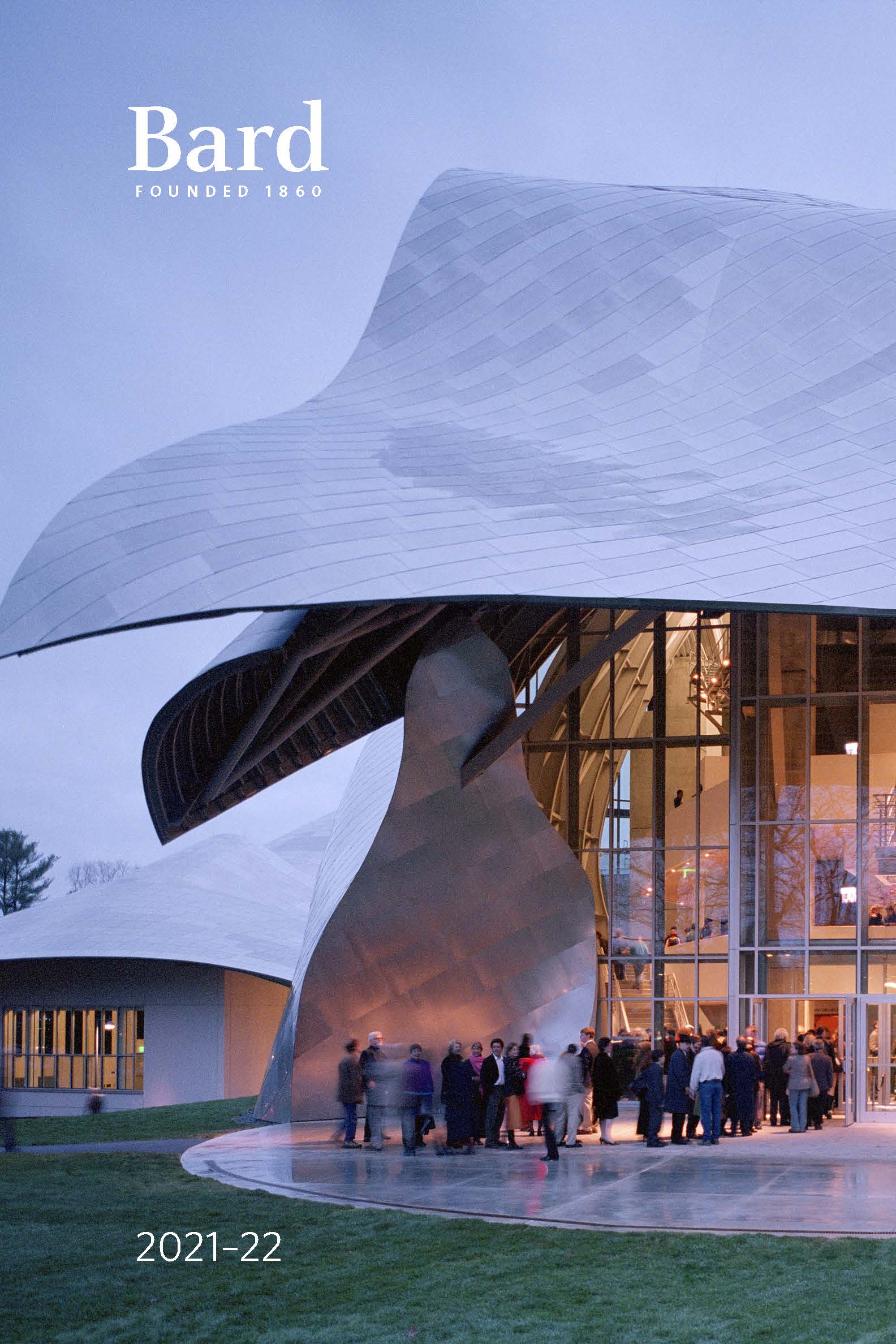 Bard College Catalogue 2021-22
Bard Abroad
bard.edu/bardabroad

Bard offers its students a wide range of opportunities to engage in international dialogue, both on campus and abroad. The College believes that such engagement is critical to a liberal arts education, and is committed to supporting and expanding its network of programs and partnerships that allow students to work with and learn from—not just about—people throughout the world.

A significant percentage of Bard students participate in at least one international program during their time at the College. Some spend a year, a term, or a summer studying abroad. Others work with leading international organizations or on community projects outside the United States. Additionally, some academic programs use videoconferencing to hold joint courses with partner institutions overseas, while others offer the opportunity for off-site study and research.

Bard students who wish to study abroad are encouraged to seek out programs that allow them to attend classes within foreign universities, as opposed to those offering courses attended solely by Americans. Bard offers such integrated programs at universities in Berlin, Germany; Budapest, Hungary; and Bishkek, Kyrgyzstan. The College also participates in several exchanges, consortiums, and other special programs that can facilitate study abroad: Bard undergraduates study in nearly 50 countries each year. Many of these programs are administered by the Institute for International Liberal Education, whose mission is to advance the theory and practice of the liberal arts education internationally. Bard sponsors faculty-led intensive language trips to China, France, Germany, Italy, Japan, Mexico, and Russia. The College also sponsors a "study away" option closer to home: the Bard Globalization and International Affairs Program in New York City (see "Additional Study Opportunities and Affiliated Programs" chapter in this catalogue).

In addition to Bard-sponsored programs, students can receive credit for participating in study abroad programs offered by other American colleges and universities, and they can also matriculate directly at foreign institutions, provided that their participation in these programs is approved by Bard. All Bard students who want to study abroad for a semester must have the approval of their academic adviser. Students participating in programs not sponsored by Bard are subject to a fee for each semester of study away.
Bard Study Abroad Programs
Bard offers a variety of international study programs through the following partner institutions.
Al-Quds Bard (AQB) College for Arts and Sciences:
AQB's undergraduate program is​ a four-year, dual-degree program with a curriculum that is similar to Bard's: it includes the Language and Thinking Program, First-Year Seminar, Moderation, and a Senior Project for all students. Majors include biology and premedicine, computer science, economics and finance, environmental studies, human rights, literature, media studies, political science, and urban studies. The language of instruction is English. Due to visa restrictions, semester study away at Al-Quds Bard is not possible at this time. For additional information and current program status, visit
bard.edu/bardabroad/aqb
.
American University of Central Asia (AUCA):
Bard students may study for a semester​ or year abroad at the American University of Central Asia. The university is located in Kyrgyzstan's capital, Bishkek, in the heart of Central Asia. Majors include anthropology, economics, European studies, international and comparative politics, journalism and mass communication, psychology, sociology, and software engineering. Most classes are taught in English; some are taught in Russian. The student body is international; ​languages offered include Chinese, French, German, Japanese, Kyrgyz, Russian, and Spanish. Bard students pay a program fee plus housing and other expenses; financial aid applies. Bard also offers a summer practicum in Bishkek, in partnership with AUCA's​​ Tian Shan Policy Center. Learn more at
bard.edu/bardabroad/auca.
Bard College Berlin: A Liberal Arts University:
IIn 2011, Bard assumed leadership of BCB, one of Europe's ​earliest liberal arts education programs. At BCB, students of more than 60 nationalities and a select international faculty work together in small classes and tutorials that encourage thoughtful dialogue. The language of instruction is English. Under Bard, the curriculum has expanded to include the Arts and Society Program, Liberal Arts Berlin, Migration Perspectives Semester, and Begin in Berlin study abroad programs, as well as summer intensives in theater and studio arts. A German language intensive is held during January intersession. Courses in economics, art, and history take advantage of BCB's location in one of the world's most artistically vibrant and historically layered cities. BCB is an active participant in local and international initiatives to provide access to higher education for displaced students, including Syrian and other refugees in Berlin. Flexible programs allow for visiting students to study at BCB for a semester, a year, or more. Students may participate in internships in a variety of fields. For additional information, visit
bard.edu/bardabroad/berlin
.
Central European University (CEU):
Central European University, with campuses in​ Budapest and Vienna, is an internationally recognized institution of postgraduate education in the social sciences and humanities. CEU is a new model for international education, a center for the study of contemporary economic, social, and political challenges, and a source of support for building open and democratic societies that respect human rights and human dignity. Faculty members from 45 countries teach courses in English at CEU, which attracts approximately 1,300 students each year from 105 nations. Administered through the College, Bard's program allows students from Bard and other undergraduate schools to take courses for credit at the CEU campus in Vienna; Bard financial aid applies. Upon completion of their undergraduate studies, students who qualify may apply up to 8 credits of semester abroad coursework toward one of CEU's master's degree programs in the social sciences​​ or humanities. For more information, go to
bard.edu/bardabroad/ceu
.
Student Exchange Programs
Students participating in a Bard exchange program apply through Bard to enroll directly as a student in the partner university. Students pay their regular Bard tuition but are responsible for paying room, board, and fees to the partner university. Participation in exchange programs may be based upon availability, language proficiency, and desired field of study.
American University in Cairo (AUC):
The American University in Cairo, Egypt, was​ founded in 1919 by Americans devoted to education and community service in the Middle East. Today, fully accredited in Egypt and the United States, AUC is the region's premier English-language university. Its 5,500 undergraduates, who come from Egypt and more than 100 other countries, follow an academic program rooted in liberal education. The language of instruction is English. Bard students take courses throughout the curriculum and normally also study Arabic.
Center for University Programs Abroad (CUPA) Paris:
Students in the CUPA​ program enroll directly in the University of Paris system, allowing them to pursue studies at a number of different universities, grandes écoles​, and specialized institutes. Courses are taught in French.
HFBK (Hochschule für bildende Künste) University of Fine Arts Hamburg:
Bard​ College and HFBK have a department-specific agreement, allowing one Bard student in the Studio Arts or Photography Program to be nominated each year to spend the spring term at HFBK. Each fall, an HFBK student attends Bard.
Humboldt University in Berlin:
Humboldt has an active international program.​ The ​​ university's enrollment of 36,000 includes more than 4,000 foreign students, many from Eastern Europe. To be eligible, Bard students must have completed at least two years of German and successfully moderated. The vast majority of courses at Humboldt are taught in German, and Bard students are free to study a wide variety of subjects there. Humboldt also offers a small number of courses in English, which students are free to take with the permission of their German adviser at Bard. Intensive German classes are available prior to the beginning of the Humboldt semester.
Kyoto Seika University in Kyoto, Japan:
Kyoto Seika is a small, innovative university​ with faculties in the arts and humanities. Courses are offered mostly in Japanese. It is an ideal exchange opportunity for Bard students who are majoring in the studio arts or film and electronic arts, and who have taken the equivalent of one year (or more) of college-level Japanese. They may spend a semester studying painting, ceramics, printmaking, textile design, papermaking, video and media arts, sound design, illustration, and other disciplines with distinctive Japanese traditions.
Kyung Hee University in Seoul, South Korea:
A comprehensive private​ institution, Kyung Hee is one of South Korea's top universities. It has a mission of democratization and strong ties to the United Nations. Semester exchange students from across the globe choose from a variety of courses, all taught in English, and may study the Korean language as well.
Pitzer College International Programs in Botswana, Costa Rica, Ecuador, Nepal:
A​ number of Pitzer College's semester-long study abroad programs are open to Bard College students via tuition exchange. The programs feature homestays and study of the local language. Pitzer in Tanzania includes extended study trips in South Africa and Zimbabwe. The program in Costa Rica includes in-depth research opportunities at Pitzer's Firestone Center for Restoration Ecology. The program in Quito, Ecuador, includes a study trip to the Galápagos Islands. The Nepal program has an integrated curriculum enabling students to interact closely with the people and cultures of this Himalayan country in a time of great transition.
University College Roosevelt (UCR) in Middelburg, Netherlands:
UCR is a liberal​ arts honors college associated with Utrecht University. Students at UCR tailor their own academic programs to fit their individual interests. This approach reflects the belief that today's most complex problems can no longer be solved with a monodisciplinary approach. All classes are taught in English in a wide variety of subjects.
University of Trento (UniTrento) in Trento, Italy:
The University of Trento is a​ top​​ public teaching and research university in the heart of the Dolomites in northern Italy, with roughly 17,000 students, 600 professors, and a wide variety of disciplinary fields from the sciences to the humanities. The majority of courses are taught in Italian. Students live in dormitories on campus or in local apartments. At least one year of Italian language study is recommended for students wishing to study at UniTrento.
Waseda University in Tokyo, Japan:
Among the most well-regarded universities in all​ of Asia, Waseda consists of 13 undergraduate schools and 23 graduate schools. At least one year of Japanese language study at Bard is recommended for students wishing to study at Waseda. Semester exchange students can choose from a variety of English-language courses and they may also study Japanese.
Bard-Approved Programs
Bard students may petition to attend any credit-bearing study abroad program. Programs that have received prior approval and meet the academic and geographic interests of Bard students include institutions in Argentina, Australia, Chile, China, Costa Rica, Czech Republic, France, Ghana, Greece, India, Ireland, Israel, Italy, Jordan, Lebanon, Mexico, Morocco, New Zealand, South Africa, Spain, Sri Lanka, Tanzania, and the United Kingdom.
Language Intensives
Most foreign languages taught at Bard can be studied in an intensive format that offers ​both an accelerated pace of learning and a one- or two-month summer or winter program in the country of the language under study. Current sites for these programs are China, France, Germany, Italy, Japan, and Mexico. The intensive format allows students to complete the equivalent of two years of language study in a few months. The immersion format, currently offered in German, is even more accelerated than the intensive format. For a more detailed description of intensive and immersion foreign language courses, see the Foreign Languages, Cultures, and Literatures Program description elsewhere in this catalogue or visit
flcl.bard.edu.