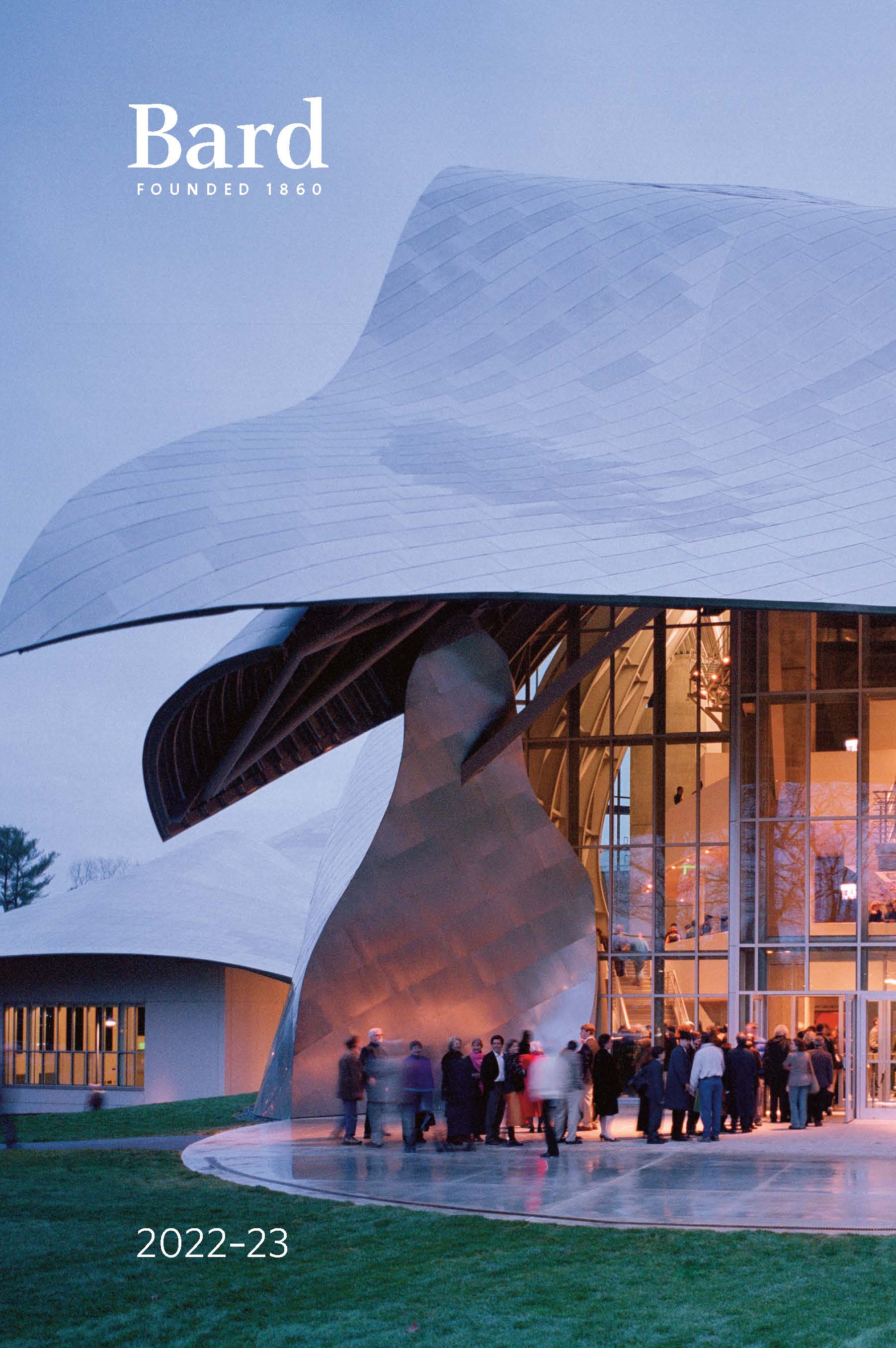 Bard College Catalogue 2022-23
American and Indigenous Studies
Faculty
Peter L'Official (director), Myra Young Armstead, Alex Benson, Luis Chávez, Christian Ayne Crouch, Yuval Elmelech, Jeanette Estruth, Elizabeth Frank, Simon Gilhooley, Donna Ford Grover, Hua Hsu, Mie Inouye, Margaux Kristjansson, Christopher R. Lindner, Joshua Livingston, Allison McKim, Matthew Mutter, Joel Perlmann, Susan Fox Rogers, Julia B. Rosenbaum, Whitney Slaten, Tom Wolf
Overview
The American and Indigenous Studies Program offers a multidisciplinary approach to the study of culture and society in the United States. Students take courses in a wide range of fields with the aim of learning how to study this complex subject in a sensitive and responsible way. In the introductory courses, students develop the ability to analyze a broad spectrum of materials, including novels, autobiographies, newspapers, photographs, films, songs, and websites. In junior seminars and the Senior Project, students identify and integrate relevant methodologies from at least two disciplines, creating modes of analysis appropriate to their topics. By graduation, students should have developed a base of knowledge about the past and present conditions of the American experience both at home and abroad.
Requirements
Before Moderation, students must take American Studies 101, Introduction to American and Indigenous Studies, or American Studies 102, Introduction to American Culture and Values, and at least two other courses focusing on the United States. After Moderation, they must take at least two more courses on the United States and at least two courses on non-U.S. national cultures. One post-Moderation course on the United States must be a junior seminar; a second junior seminar in a different division is strongly encouraged. Every junior seminar culminates in a 20- to 25-page paper in which students bring multiple analytical frameworks to bear on a subject of their choice. At least two of the students' total U.S.-focused courses must emphasize the period before 1900. In order to ensure a variety of perspectives on students' work, both the Moderation and Senior Project boards must consist of faculty members drawn from more than one division.
Recent Senior Projects in American Studies
"Black Oiler," a narrative of a Black male told through music and the lenses of different African diasporic authors
"Towards a Celebration of Native Resilience: Interrupting National Myth-Making in the American Classroom"
"'A Visit to the Coffee Houses': How Local News Wrote about the Humoresque Coffeeshop Raids"
Courses
Introduction to American Studies
American Studies 101
CROSS-LISTED: AFRICANA STUDIES, EXPERIMENTAL HUMANITIES, HISTORICAL STUDIES
Scholars in American and Indigenous studies read and interpret a broad range of artifacts (essays, literary texts, photographs, film, music, architecture, visual art, historical documents, and legal texts) in order to think critically about "America." In this course, "The Discovery of What It Means to Be an American" describes both a piercing 1961 James Baldwin essay and the process of tracing lines of connection across historical moments and media to better understand the aftereffects of enslavement, genocide, colonization, war, and migration on U.S. history and culture.
Introduction to American Culture and Values
American Studies 102
This course develops the assumption that Americans define their differences more through their culture than their politics or else they politicize their cultural differences. Examples studied include the Scopes trial and battles over drugs, abortion rights, and environmental justice.

Origins of the Black Cookout
American Studies 221
CROSS-LISTED: AFRICANA STUDIES, ENVIRONMENTAL STUDIES, EXPERIMENTAL HUMANITIES
The cookout has always been an event that allows "folx" to celebrate culture, fellowship with new and old faces, and generally preserve the legacy of ancestors. The practice also has had lasting economic impact for Black entrepreneurs. Interestingly, the root of the cookout—barbecuing—largely came from the Native American practice of pit cooking. This class centers around Adrian Miller's book Black Smoke: African Americans and the United States of Barbecue as it explores the main elements that have shaped this pivotal form of placemaking among Black people.

Environmental Justice Practicum: Art, Science, and Radical Cartography
American Studies 309 / Environmental Studies 309
See Environmental Studies 309 for a full course description.
Art, Animals, Anthropocene
American Studies 310
CROSS-LISTED: EXPERIMENTAL HUMANITIES
DESIGNATED: THINKING ANIMALS INITIATIVE
From species extinction to radioactive soil and climate change, we are now in the age of the Anthropocene. This recently proposed geologic period refers to the ways in which human activities have dramatically impacted every ecosystem on Earth. What does it mean to visually interpret our more-than-human world and explore the complicated encounters between human and nonhuman animals? Students experiment with interdisciplinary practices of art making in order to grapple with ways in which our understanding of other species relates to human self-understanding.