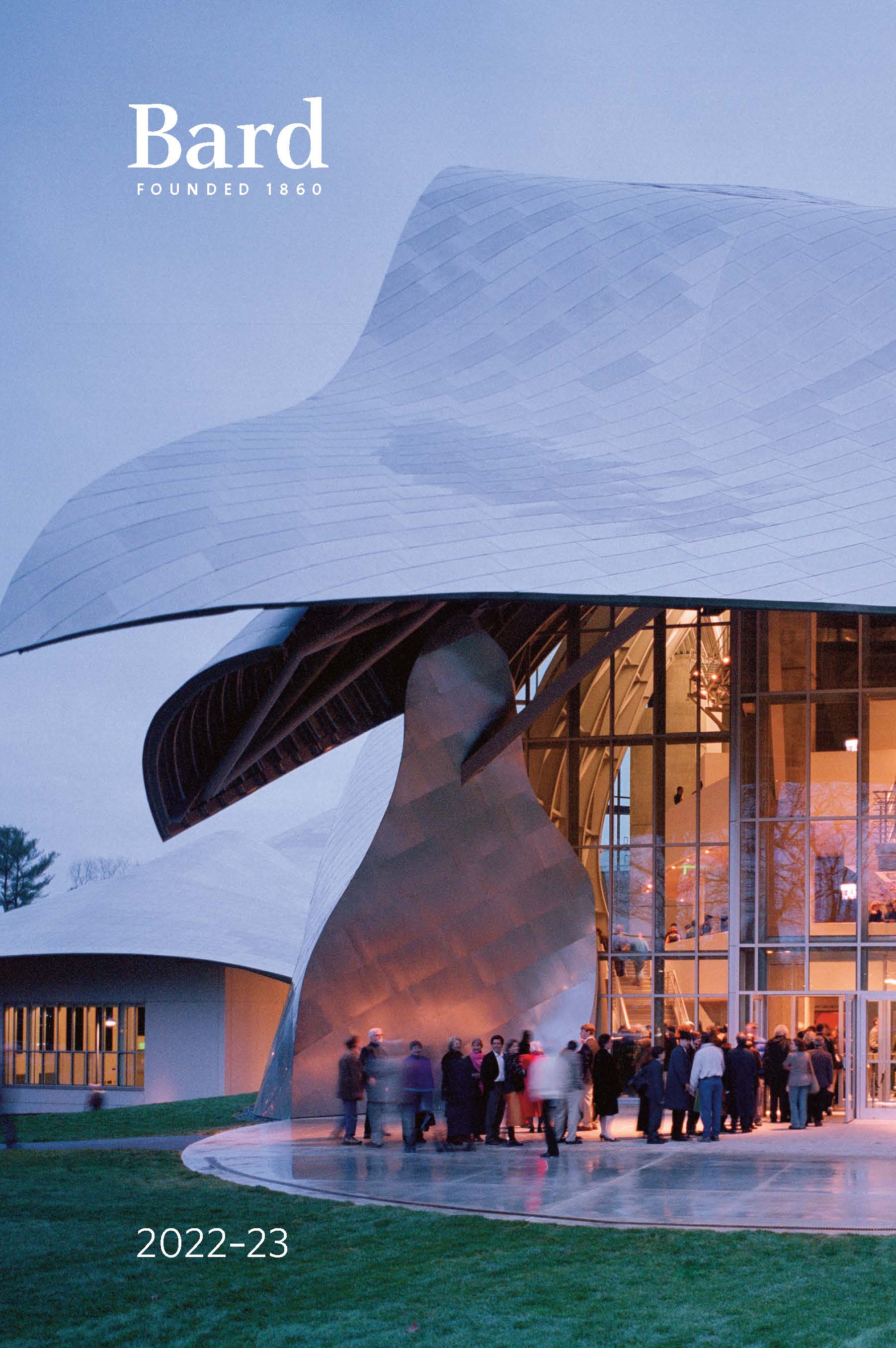 Bard College Catalogue 2022-23
Interdisciplinary Curricular Initiatives
Calderwood Seminars
Calderwood Seminars are designed to help students translate their discipline (e.g., art history, biology, literature) to nonspecialists through different forms of public writing. Depending on the major, public writing might include policy papers, book reviews, blog posts, exhibition catalogue entries, grant reports, or editorials. Look for "Designated: Calderwood Seminar" throughout program course descriptions.

Common Courses
This suite of team-taught multidisciplinary courses was created in response to the existential challenges of the COVID-19 crisis. Designed primarily for Lower College students, the courses engage with themes and questions of the contemporary moment. The courses give students the opportunity to fulfill two distribution requirements with one 4-credit class. Common Course clusters include the following.
Alternate Worlds
CC 101 A-F
In his essay "On Fairy-Stories," J. R. R. Tolkien responds to accusations that fantasy constitutes an irresponsible "escapist" flight from reality. Comparing the dreary bridge at Bletchley Railway Station in England to the rainbow bridge Bifröst in Old Norse myth, he asks "whether railway engineers, if they had been brought up on more fantasy, might not have done better with all their abundant means than they commonly do." This course explores the relation between imagination and reality by considering counterfactual histories, fantastical literary works, and utopias or dystopias. To what extent is our experience of the "real world" (including real crises, like the current coronavirus epidemic) mediated by imagined ones? How do alternate worlds help us to reimagine ourselves as we are? Sections of the course include: H. G. Wells and the Discovery of the Future, The Disaster Has Already Happened, Utopia and Dystopia in Modern Russia, The Language of Alternate Worlds, Visitors from the Otherworld, and What If?
The Making of Citizens: Local, National, Global
CC 102 A-F
approaches to interrogate and analyze the concept of citizenship. Students are encouraged to think about how citizenship emerges, exists, and differs at the local, national, and global levels, and what forms of participation are necessary to sustain meaningful citizenship for themselves and others. Course sections include Citizenship as Exclusion; Citizenship in the Contemporary United States; Political Animals: Citizenship in Greece, Rome, and the Ancient Mediterranean; and Citizen Poet/Poet Citizen.
Designing for Immediate Futures
CC 103 A-D
This course invites students to approach design as a tool for reflecting on the existing worlds in which we find ourselves and as a means to rethink them and invent new ones. How might we live together in the future and why? In the spirit of critique and experimentation, students engage in visual projects and design practices, and study the history of the ways the spaces around us have been constructed and understood.
Future Commons: Homes, Borders, Climate
CC 103
The COVID-19 pandemic and the movement for racial justice brought to the fore a tremendous sense of uncertainty in the structures that govern our lives: how states value and order life; how we produce, distribute, and consume resources; the networks and structures that organize how we care for one another. The course calls on students to question these inherited economic and political structures and then reimagine ways in which we live together. Through each module— homes, borders, climate—they also explore the notion of "commons" both as a historically contested category and a venue through which we consider what we share and how we share in space.
Epidemics and Society
CC 104
What do epidemics tell us about microbes, markets, and ourselves? This course covers the science and art of protecting the health of populations and the social, political, philosophical, and cultural implications of public health catastrophes. Discussion and lab sections include The Politics and Human Rights Aspects of Epidemics; Philosophy, Literature, and Art Concerning Epidemics; The Economic Aspects of Epidemics; Art and Epidemics; and The Biology of Epidemics.
Resilience, Survival, and Extinction
CC 105
How do individuals, species, languages, and cultures survive, show resilience, and become extinct? The course introduces methods of biological analysis and cultural interpretation that explore the many ways we understand resilience, survival, and extinction. It focuses on the practical, creative forms of resilience developed by humans and animals. Also addressed is the idea of evolution and the nature of change in human and natural history, including widespread biodiversity loss, from the perspective of the sciences and humanities. Discussion and lab sections include Literary Analysis Discussion, Practicing Art Studio, Laboratory Science, and Social Analysis Discussion.
Real and Imaginary Spaces: Multi-Arts Lab
CC 106
The houses we live in and the cities we inhabit are both ordinary, tangible spaces and richly poetic sources for our imaginations and artistic creation. "We live in houses and houses live in us," noted the philosopher Gaston Bachelard, and his words carry new meaning after a year spent confined in our homes, apartments, and dorms. In this multidisciplinary course, students explore works by artists who have been inspired by the interplay of the real and the imaginary, and then create their own artistic responses to their dwelling places and daydreams of home.
Disability and Difference
CC 107
This course utilizes close readings of canonical and contemporary texts, movement explorations, film viewings, guest lectures, critical and creative writing assignments, and community involvement to deepen students' understanding of disability and difference. Through literature and popular media, students examine how the concept of "the human" is shaped by cultural assumptions about ability and normalcy. They explore "neutral" through body/mind-centered physical practices and consider work in the philosophy of medicine to ground contemporary disputes over the difference between the normal and the pathological.
The Courage to Be
CC 108A–DA: Achilles, Socrates, Antigone, Mother Courage, Barbara Lee
Should courage be understood in the same way in all contexts? Is a warrior's courage the same as that of a philosopher or a legislator (such as Barbara Lee, the sole member of Congress to vote against the Afghanistan war resolution in 2001)? Who is truly courageous, the one who defends the regime, the one who critiques it, or both? The course considers courage through close readings of philosophical texts, both ancient and modern, fiction, and film.
B: The Face of the Other
The French Jewish philosopher Emmanuel Levinas described ethics as the encounter with the face of the other. But what does it actually mean to encounter the face of another, especially in situations where we see that particular other as a threat? What is at stake in our learning to endure this encounter without either fleeing from the other or attempting to dominate them? Readings from Levinas, whose philosophy developed in response to the Holocaust; William James; Hannah Arendt; C. D. Wright; Ilya Kaminsky; and Chris Abani.
C: Liberator or Leviathan: The Law in the Liberal Arts
What does law have to do with justice? Do our laws regulating property and contract impact the work of artists and scientists? How does the ideal of legal justice inspire or impede activism in the name of social justice? The course considers these and related questions, and offers an introduction to sources of law and methods of legal research. But it also attempts to understand law as a "liberal art" and a vital locus for engaged citizenship.
D: Courage, Cowardice, and the Colonial Encounter
How does the individual situate themselves ethically if they perceive themselves or others as complicit in systemic injustice? How are individual friendships and political alliances formed under pervasive conditions of exploitation and oppression? What pressure is placed on notions of courage and its opposite—cowardice—under late Empire? The course explores these questions through several texts that stage encounters between the colonizer and the colonized, the oppressor and the oppressed, with a focus on fiction of the late British Empire.
Disability and Accessibility Studies Initiative (DASI)
This initiative supports coursework that examines disability and accessibility from a variety of practical, theoretical, and interdisciplinary perspectives. Look for "Designated: DASI Course" throughout program course description.

Engaged Liberal Arts and Sciences
Engaged Liberal Arts and Sciences (ELAS) courses are designed to link academic work and critical thinking skills from the classroom with civic and other forms of engagement activities. ELAS+ courses can include community-based research, fieldwork, internships, and other types of hands-on learning. Look for "Designated: ELAS Course" or "Designated: ELAS+ Course" throughout program course descriptions.
Hate Studies Initiative
Hate Studies Initiative (HSI) courses examine the human capacity to define, and then dehumanize or demonize, an 'other,' and the processes which inform and give expression to, or can curtail, control, or combat, that capacity. Look for "Designated: HSI Course" throughout program course descriptions.
Migration Initiative
Migration Initiative courses provide a conceptual framework for thinking about migration not as an isolated (or recent) phenomenon, but one that is deeply connected to historical, political, economic, legal, and environmental contexts and conditions that are best approached through interdisciplinary study. Equally important is the exploration of tensions and possibilities in scholarly, literary, artistic, and documentary representations of experiences of migration. Look for "Designated: Migration Initiative" throughout all program course descriptions.
Open Society University Network (OSUN) Courses
OSUN courses are available to Bard students on campus and virtually from partner universities throughout the world. Courses taught at Bard are open to students from multiple partner schools and include titles such as Why Music Matters, Social Entrepreneurship, and American Foreign Policy Traditions. Students, in consultation with their advisers, may also register for a course offered at a partner campus. Fall offerings include Colonialism and Human Rights from Al-Quds Bard in East Jerusalem; Challenges of the 21st Century from American University of Central Asia; Nuclear Energy and Public Policy from American University Bulgaria; and Cyber Law from Brac University in Bangladesh. Network courses are designed by OSUN faculty and offered simultaneously on multiple campuses. These courses include Human Rights Advocacy: Scholars at Risk, Visual Storytelling for Civic Engagement, and Global Citizenship.
Racial Justice Initiative
Racial Justice Initiative (RJI) courses represent an interdisciplinary collaboration between students and faculty aimed at further understanding racial inequality and injustice in the United States and beyond.
Thinking Animals Initiative
Participating faculty periodically offer a set of linked courses that introduce students to ways of thinking about animals that are both grounded in particular disciplines and encourage interdisciplinary connections. Look for "Designated: TAI Course" throughout program course descriptions.
What Is Religion?
These 1-credit courses meet once a week for five weeks.
What Is the Bible?
Humanities 135A
The Bible is still the best-selling book in the world and its influence on cultures throughout the world is unprecedented. Why is this collection of ancient sacred texts so important even in this growing secular environment? Why and when was it written and by whom? How do the stories and narratives of the Bible continue to resonate with every generation?

What Is Freemasonry?
Humanities 135B
Perhaps the most well-known "secret society" in the world, Freemasonry is a fraternal organization that stresses moral development and public service (among other things) utilizing architectural symbolism and theatrical rituals. Although membership is confined to those who believe in a supreme Deity, many of its rites involve occult ideas. This course provides a general history of the organization, examines the architecture and décor of Masonic Lodges, and explores its symbolism via its visual artifacts.
What Is Fundamentalism?
Humanities 135C
Fundamentalism is frequently confused with literalism in general, or with traditional or militant forms of faith. Those intellectual mistakes frequently lead to bad social policy. Fundamentals came to be asserted in the United States during the 19th century as part of a philosophical response to two basic religious challenges: a historical reading of the New Testament, which was felt to undermine dogma; and a scientific reading of the universe, which was felt to undermine faith. Seeing how American intellectuals responded to those challenges opens fundamentalism up to our understanding.
What Is the Apocalypse?
Humanities 135D
Human history will close with a thousand years (a millennium) of utopia. That promise, voiced in the last book of the New Testament (Apocalypse 20:3-4), has been incorporated within modern forms of Christianity, Judaism, and Islam. In all three, however, millennialism today is more threat than promise, and has emerged with programs of violent action that the class seeks to understand.
Who Are the Women of the Bible?
Humanities 135E
Women played significant roles in the biblical narratives and stories of Israel and Jesus, yet not much attention has been paid to them. Who are they and what contributions did they make to these ancient texts? Why have their stories often been ignored, suppressed, or misinterpreted? How are they relevant to today's culture and what can we learn from them in this age of feminism? This course addresses these and other questions.

What Is Mantra?
Humanities 135f
The recitation of mantras, or strings of sacred syllables, is a practice integral to all major Indigenous religions of South Asia. For practitioners of Hinduism and Buddhism, the power and potency of mantras are believed to invoke deities and achieve myriad desired results, from healing to protection from evil. This course considers the contextualized meanings and usages of mantra, and examines how mantras came to prominence in ancient India and continue to form the basis of ritual practices around the world today.

What Is Hell?
Humanities 135G
Hell as a construct varies across cultures. Sometimes it represents the general conception of survival after death; yet it also—and more famously—stands for the fear of eternal punishment. How this sort of variation emerges is traced in the sessions of this seminar.

What Is Satori? An Introduction to Zen through the Lens of Enlightenment
Humanities 135H
Enlightenment might be one of the most longed for mysterious mental states. This introductory Zen course looks at the various facets of enlightenment while studying the basic principles that constitute or lead up to satori. From Buddha's own enlightenment to classic accounts and descriptions by contemporary practitioners, each session looks at texts that describe this transformation. The goal is to gain a better understanding of enlightenment, and acquire fundamental knowledge of the Zen Buddhist tradition.