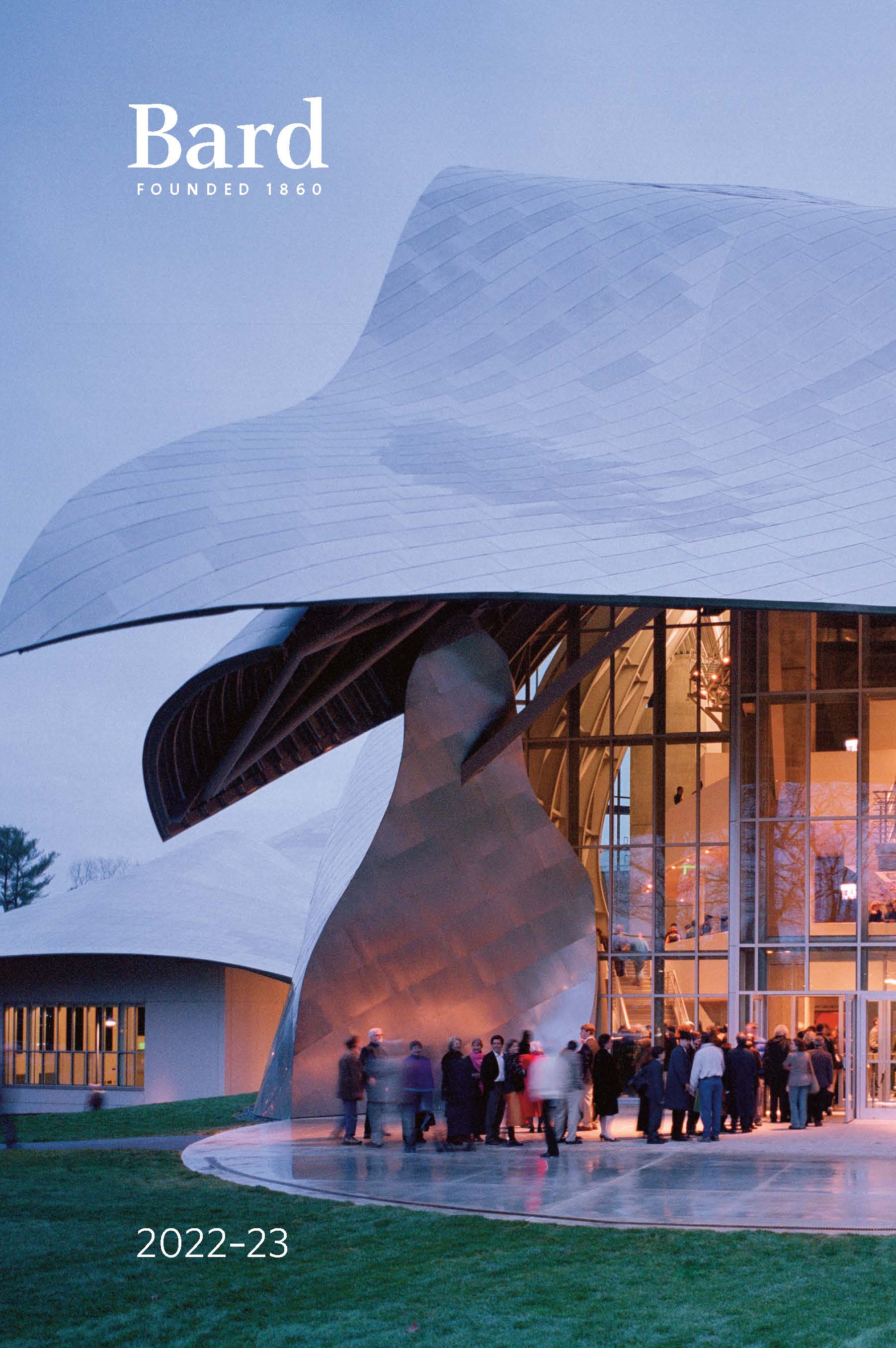 Bard College Catalogue 2022-23
Affiliated Programs and Institutes
Campus-Based Programs, Centers, and Initiatives
The following programs offer opportunities for undergraduate students to attend talks, conferences, and other events, and to participate in noncredit-bearing programs, workshops, and internships to supplement their studies
.
Bard Center for Environmental Studies and Humanities:
The mission of the Center is to develop accessible and community-based solutions to local and regional environmental problems. Projects of the Center are created and run by Bard College faculty, students, and staff, alongside community members from throughout the Hudson Valley. The Center conducts quantitative research in the natural and social sciences with community members; responds to local residents' questions about land, air, and water; and participates in policy making. Some of the issues raised by the community are tackled in courses across multiple academic disciplines, demonstrating the power of interdisciplinary thinking and collaboration in addressing environmental issues. This interdisciplinary approach also acknowledges the barriers that race, class, and gender inequities present to the cultural shifts required to make real environmental change.
Built on the success of the Bard Water Lab and its partnership with the Saw Kill Watershed Community, the Community Science Lab (CSL) allows the Center to focus on projects that address the interconnectedness of land, air, water, and communities. Key Center projects also include the Roe Jan Monitoring Program; Kingston Air Quality Initiative, which works to monitor PM2.5 (fine particulate matter) in the City of Kingston; and the Saw Kill Watershed Community, which advocates for the equitable management of local water resources.
In addition to supporting the Center for Environmental Studies and Humanities, CSL supports the OSUN Community Science Coalition, an international network working to bridge the gaps between climate change, academic institutions, and the equitable management of shared natural resources. The Community Science Lab serves as the coalition's core lab facility, conducting environmental testing in response to community concerns. The data generated is used to evaluate local climate impacts and help inform decision makers. For more information, visit
cesh.bard.edu
.
Bard Center for the Study of Hate (BCSH):
The Center for the Study of Hate, an initiative of the Human Rights Project (see page 280), works to increase the serious study of human hatred and ways to combat it. The Center supports faculty and students throughout the Bard network who want to study and/or combat hatred and its various manifestations. BCSH brings scholars from diverse disciplines to Bard College to speak about the human capacity to hate and demonize and/or dehumanize others. BCSH webinars on hate feature leading scholars, experts, activists, and others from around the globe, and have also been viewed more than 100,000 times on YouTube. The Center publishes original cutting-edge material on hate—most recently a "State of Hate" index that looks at hate across the United States. It also maintains a database of syllabi about hate from around the globe. BCSH places, mentors, and supports students working at internships with nongovernmental organizations that combat hate. The Center also funds students at Bard whose Senior Projects relate to the study of hate and who need additional resources for their research. To learn more, visit
bcsh.bard.edu
.
Bard Summer Research Institute: Students in the Bard Summer Research Institute spend eight weeks in residence over the summer working on individual research projects in the empirical or quantitative sciences. Each student has a faculty mentor for the duration of the program and receives a stipend.
Center for Civic Engagement:
The Center supports a wide array of initiatives that engage Bard students, faculty, and administrators with the most important issues facing society. CCE sponsors lectures, conferences, and workshops; facilitates internship, volunteer, and service-learning opportunities; and awards fellowships that are designed to reinforce the links between education, democracy, and citizenship. For additional information, see "Civic Engagement" in this catalogue or visit
cce.bard.edu
.
Center for Moving Image Arts (CMIA):
The mission of the Center is twofold: to facilitate the study of cinema's history and future in an interdisciplinary environment focused primarily on undergraduate education and to bring various aspects of film culture—public screenings, publications, educational initiatives, and archival development—under the same umbrella. The "moving image arts" rubric extends broadly from the 19th century to the contemporary moment, and CMIA's primary goal is to secure, exhibit, and contextualize major works of cinematic art from all periods and regions. CMIA's first major international retrospective project—focused on Taiwanese director Hou Hsiao-hsien—traveled to prominent venues around the world from 2014 to 2016. Past CMIA programs have included "International Film Noir," "Cinematic Romanticisms," and "Remembering the Great War." All programs are open to the entire Bard community, and the Center coordinates a number of educational workshops and internship programs for students. Richard Suchenski, associate professor of film and electronic arts, is the Center's founder and director. To learn more, visit
bard.edu/cmia
.
Fisher Center:
The Fisher Center at Bard demonstrates the College's commitment to the performing arts as a cultural and educational necessity. As a premier professional performing arts center and hub for research and education, the Fisher Center supports artists, students, and audiences in the development and examination of artistic ideas, offering perspectives from the past and present, as well as visions of the future. Its mission includes bringing leading artists to the Hudson Valley to engage with the public and College; producing and presenting adventurous and in-depth programs; supporting the development of new work by artists at all stages of their careers; and providing a space for Bard student and faculty work in the performing arts. Home is the Richard B. Fisher Center for the Performing Arts, designed by renowned architect Frank Gehry (see page 308 for facility details), which is the primary venue for the annual Bard Music Festival, SummerScape, and Fisher Center LAB (the Fisher Center's residency and commissioning program).
Bard Music Festival:
Since 1990 the Bard Music Festival (BMF) has been presented on the Bard campus each summer over two consecutive weekends in August. The festival offers an array of concerts and programs whose themes are taken from the life, work, and world of a single composer. Through a series of preconcert talks and panel discussions by eminent music scholars, composers are examined within the cultural and political contexts of their careers. The summer season also includes related opera, film, and dance programs.
In 2022, the festival's 32nd season explored the life and work of Sergei Rachmaninoff (1873–1943), perhaps the last great exponent of Russian Romanticism. The programming addressed such themes as composition during the Cold War, virtuoso pianists and their public, and America's ongoing love affair with Rachmaninoff's music. In recent years, BMF has celebrated the composers Nadia Boulanger, Erich Wolfgang Korngold, Nikolai Rimsky-Korsakov, Fryderyk Chopin, Giacomo Puccini, Carlos Chávez, Franz Schubert, Igor Stravinsky, Camille Saint-Saëns, Jean Sibelius, Alban Berg, Richard Wagner, Sergey Prokofiev, Edward Elgar, Franz Liszt, Dmitrii Shostakovich, and Aaron Copland. Related articles and essays are published in a companion book edited by a major music scholar. To learn more, visit
fishercenter.bard.edu/bmf
.
Fisher Center LAB:
The Fisher Center LAB is an artist residency and commissioning program that provides custom-made and long-term support to artists. Since its launch (as Live Arts Bard) in 2012, LAB has supported residencies, workshops, and performances for hundreds of artists, incubating new projects and engaging audiences, students, faculty, and staff in the process of creating contemporary performance. Productions developed by Fisher Center LAB often premiere in the annual Bard SummerScape festival and frequently tour nationally and internationally. Daniel Fish's stripped-down reimagining of Oklahoma!, first performed at the Fisher Center, went on to win the 2019 Tony Award for Best Revival of a Musical. Four Quartets, a dance performance that premiered at SummerScape 2018, traveled to London and Los Angeles and made its New York debut in 2022 at the Brooklyn Academy of Music. Pam Tanowitz, choreographer in residence, created the piece with Kaija Saariaho and Brice Marden. Song of Songs, a new work by Tanowitz and Pulitzer Prize–winning composer David Lang, debuted in July as part of SummerScape 2022.
Upstreaming:
Launched in 2020, Upstreaming broadens the Fisher Center's commitment to reaching audiences far beyond its physical walls and offers new ways of engaging with artists. The virtual stage offers both new content—including digital commissions—as well as beloved performances from the Fisher Center's theaters and archives.
Hannah Arendt Center for Politics and Humanities:
The Hannah Arendt Center provides an intellectual space for passionate, uncensored, nonpartisan thinking that reframes and deepens the fundamental questions facing our nation and our world. Through a wide range of event programming, workshops, conferences, and lectures, the Center fosters bold and provocative thinking about ethics and politics that brings Hannah Arendt's fearless style of thinking to a broad audience. The 14th Annual Fall Conference (October 13–14, 2022), "Rage and Reason: Democracy under the Tyranny of Social Media," asks how can we uphold our liberal institutions and our common world in the midst of the polarization and fracturing of that world.
The Center cares for and makes available the Hannah Arendt Archive Collection, housed in Bard's Stevenson Library. The archive consists of nearly 5,000 books from Arendt's personal library, many with marginalia and notes. The Arendt Center also produces an annual journal, podcasts, and a weekly newsletter, Amor Mundi. The Center's student fellowship program offers a variety of student-led programs, such as Race and Revolution, Courage to Be, Plurality Project, Tough Talk Lecture Series, and Dorm Room Conversations. Students are invited to join the Virtual Reading Group, held regularly and led by the Center's founder and academic director, Professor Roger Berkowitz. Affiliated programs include the American Jewish Peace Archive, Meanings of Oct. 27th, and the Institute for Democracy through Sortition.
In 2020 the Center partnered with the Open Society University Network and launched the Hannah Arendt Humanities Network (HAHN). HAHN supports the integration and accessibility of humanities study across OSUN institutions, and since its inception two years ago, has hosted more than 10 programs, seminars, and conferences in five different countries, through partnerships with 20-plus institutions all around the globe. HAHN initiatives include the Yehuda Elkana Fellowship, an annual text seminar, an AI working group, Network faculty seminars, a democratic dialogue, a plurality forum with the Mercatus Center at George Mason University, a sortition working group, and a partnership with HAC's annual conference. The Arendt Center hopes to continue these programs in the coming years and plans to launch several more.
The Center also hosts visiting scholars, postdoctoral fellows, and senior fellows who together form a vibrant and engaged intellectual community at Bard College. Above all, the Hannah Arendt Center provides an intellectual space for passionate, uncensored, nonpartisan thinking that reframes and deepens the fundamental questions facing our nation and our world. To learn more about the Center and its activities, visit
hac.bard.edu
.
Hudsonia, Ltd.:
Founded in 1981 and based at the Bard College Field Station, Hudsonia is an independent, not-for-profit institute for environmental science research and education. Funding for Hudsonia projects comes from government agencies, foundations, conservation and citizens' groups, businesses, and individuals. Hudsonia focuses on biodiversity mapping and assessment, conservation science of rare species and their habitats, wetland and aquatic ecology, the Hudson River, urban biodiversity, and ecology and management of non-native species. Student interns and employees participate in project work, collections management, and research collaborations. Some current subjects are assessment of the biological impacts of solar photovoltaic facilities, studies of rare plants and animals in wetlands and other habitats, documentation of the interactions of weeds with other biota and people, management of a regional herbarium, and the education of professionals in land use and conservation. To learn more, visit
hudsonia.org
.
Human Rights Project (HRP):
The Human Rights Project enables students to learn about, and engage in, the human rights movement. The Project links theoretical inquiry and critical explorations of human rights practice with active research and involvement in contemporary issues. Ongoing collaborations include projects on human rights forensics (with the Forensic Architecture agency at Goldsmiths, University of London); the intersections between the arts and human rights (with the Center for Curatorial Studies and the OSUN Center for Human Rights and the Arts); economic, housing, and racial justice in the Hudson Valley (with community-based organizations in Kingston, New York); and forced displacement and migration (through a consortium with Bard College Berlin, Vassar College, Sarah Lawrence College, and Bennington College).
Within the framework of the Open Society University Network, HRP has helped develop a graduate program in human rights and the arts (see page 320) as well as a range of research collaborations globally. HRP supports Human Rights Radio, a broadcast and podcast series on contemporary rights issues, and The Draft, a student-led discussion forum and journal. The Project, together with the Center for Curatorial Studies, hosts the annual Keith Haring Fellow in Art and Activism. HRP also sponsors a regular lecture and film series on campus. Since 2001, HRP has supported extensive research travel by students as well as student internships at human rights and humanitarian organizations, governmental and international agencies, media outlets, community groups, hospitals and clinics, and research centers from Montgomery, Alabama, to Cairo, Egypt. To learn more about HRP activities, visit
hrp.bard.edu
.
Institute of Advanced Theology (IAT):
The Institute began its program of local discussion among professional theologians in 1988, and on that basis developed research projects, interdisciplinary conferences, and focused sequences of lectures. The great majority of events are open to the public, and membership is offered for those who wish to take advantage of the full range of activities. By special arrangement, members of the Institute may pursue higher degrees with the Graduate Theological Foundation. To learn more, visit
bard.edu/iat
.
John Cage Trust:
The John Cage Trust was created in 1993 to maintain and nurture the artistic legacy of John Cage, the late American composer, philosopher, poet, and visual artist. Since 2007, the Trust has been in residence at Bard College, and in 2013 that residency became permanent. The Trust provides access to its diverse holdings through on-site research, courses, workshops, concerts, and other educational activities and programs. For more information, see
johncage.org
.
The Khanga Project, Textiles That Talk:
Textiles That Talk
(
Methali Za Khanga
) is a digital archive of East African textile designs located on the ArtStor platform (also available on JStor) and sponsored by Bard College. An accompanying blog provides news, analysis, background, and links to textiles in the ArtStor collection. Textiles That Talk has so far published records of more than 100 examples of khangas, the rectangular printed cotton fabrics that have been worn by women in East Africa from the 19th century to the present day. Khangas are distinguished by a combination of spectacular polychrome designs with inscriptions that range from Swahili proverbs, song lyrics, and riddles to political slogans and public announcements. The archive forms an expanding virtual catalogue of this important aspect of the cultural history of East Africa. Each record in the khanga archive consists of high-resolution images accompanied by searchable metadata recording inscriptions, visual motifs, manufacturers' marks, and technical details. The project director is John Ryle, Legrand Ramsey Professor of Anthropology; the student administrator is Sabayo Matiku '23. Other Bard faculty and staff serve as advisers, and students have the opportunity to participate as researchers and photographers. The Khanga Project is supported by the J. M. Kaplan Fund and Bard's Center for Experimental Humanities. To learn more, visit
library.artstor.org/#/collection/87731955
.
Landscape and Arboretum Program at Bard College:
The Landscape and Arboretum Program is charged with promoting tree conservation and preservation on the Bard campus. As a long-standing Tree Campus USA college in conjunction with the Arbor Day Foundation and a Level II accredited arboretum with ArbNet, an international community of arboreta and tree-focused professionals, the Bard Arboretum offers an annual Arbor Day tree celebration, campus garden tours, and lectures. Additionally, the Arboretum offers a summer internship and work-study positions to several undergraduate students each year.
With the recent acquisition of Montgomery Place, the Bard campus is home to several of New York's biggest tree species, as listed on the New York Big Tree Registry. In 2017, the Arboretum established the Friends of Blithewood Garden in partnership with the Garden Conservancy to rehabilitate the architectural elements of the historic Beaux Arts garden. For up-to-date information on events and courses, visit
bard.edu/arboretum
.
Open Society University Network (OSUN) Center for Human Rights and the Arts:
The OSUN Center for Human Rights and the Arts at Bard College (CHRA) researches and supports art and activist practices globally. CHRA is committed to creating networks of collaboration and solidarity and to enriching the conversation on the political potential of art within human rights discourse. Through its MA program, the Center opens a space for activists, artists, and scholars from around the world to colearn and cocreate. CHRA supports research and civic action with annual grants to OSUN faculty and students, hosts two resident research and teaching fellows each year, and actively collaborates with groups engaged in frontline struggles for rights. Through its public program—operating locally in New York's Hudson Valley (occupied homelands of the Munsee and Muhheaconneok people) and internationally—the Center engages with innovative art practices that investigate human rights and with grassroots activism that uses creative tools of resistance. Learn more at
chra.bard.edu
.
Rift Valley Institute (RVI):
The Rift Valley Institute is an independent, nonprofit organization, founded in Sudan in 2001 and currently working in seven countries in Eastern and Central Africa. The aim of the Institute is to advance knowledge of the region and its diverse communities, bringing understanding of local realities to bear on social and political action. In those countries where government structures are intact and educational institutions remain functional, RVI offers specialist services to development agencies, universities, and research organizations. Where war has disrupted government and eroded civic life, the Institute aligns itself with researchers and community activists—from the region and its diasporas—in an effort to sustain local institutions and restore standards of research and public information. In 2014 RVI was ranked in the top 10 in the University of Pennsylvania's list of leading think tanks in Eastern Africa.
RVI programs are designed for long-term impact: shaping aid interventions, expanding space for public participation in policy, supporting local research capacity, preserving communal histories, and promoting social justice. Current programs include the Nairobi Forum, which sponsors a continuing series of seminars and public meetings designed to facilitate discussion between policy makers, researchers, and community leaders in the region; and the Customary Authorities Project, which works with young South Sudanese researchers to document the changing role of traditional leadership in South Sudan, using field-based oral history and community meetings. The Institute is implementing justice and security projects in Somalia and Somaliland, and a program for the conservation and digitization of the National Archive of South Sudan. RVI is a signatory of the Budapest Open Access Initiative (2001); all Institute publications are free for download from
riftvalley.net
.
The Institute's U.S. office is located at Bard College. John Ryle, Legrand Ramsey Professor of Anthropology at Bard, is cofounder of RVI and was executive director until 2017. He is currently lead researcher on the South Sudan Customary Authorities Project. The U.S. board of the Institute consists of Ryle, Kwame Anthony Appiah (New York University), and Kenneth Anderson (American University). Bard students have various opportunities to assist with RVI activities, including editing video material, remote collaboration on the Customary Authorities Project, and working on a project involving visual documentation of East African textiles. The Institute sponsors talks, films, and other events on campus.