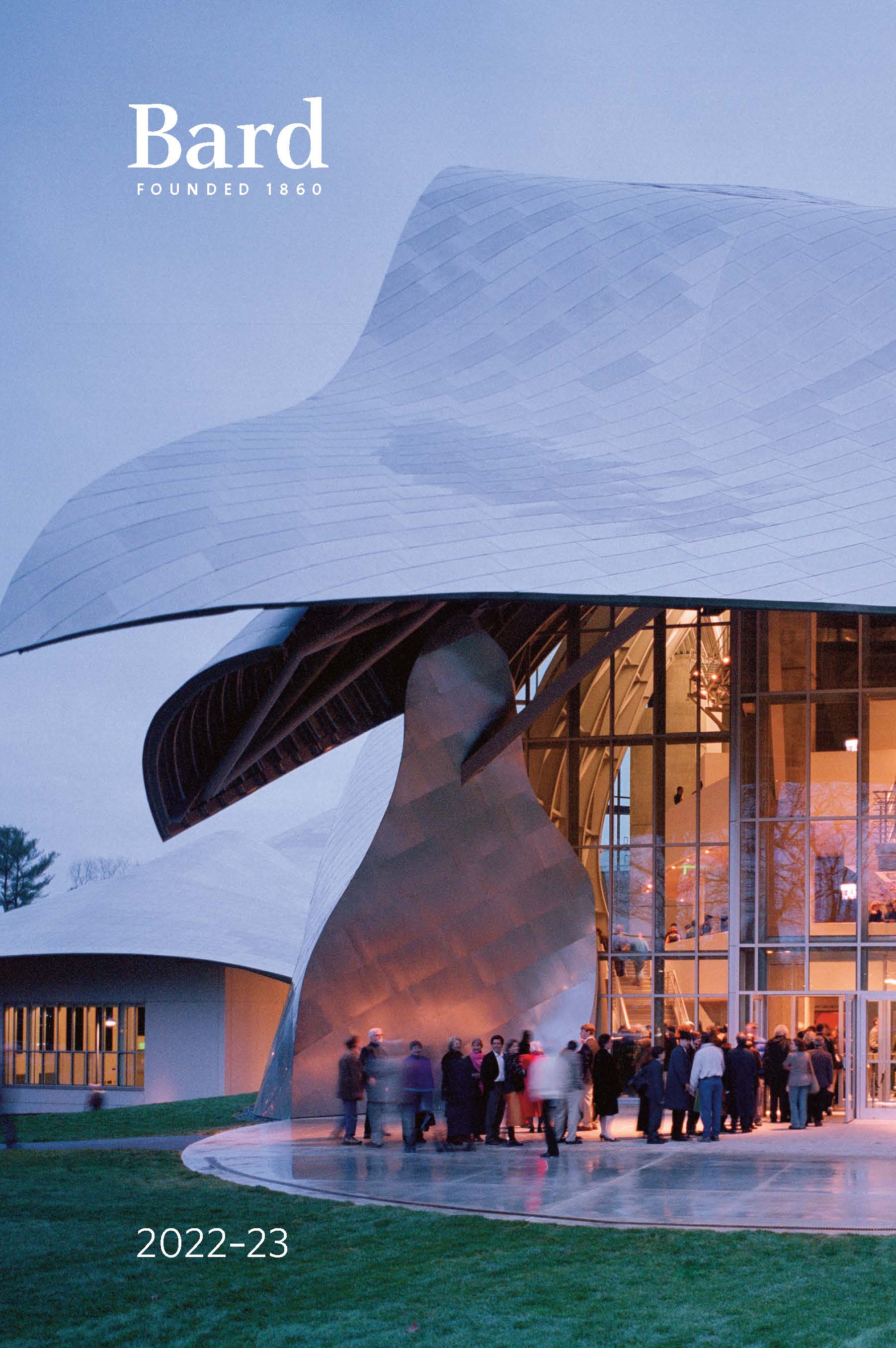 Bard College Catalogue 2022-23
Additional Study Opportunities
The following programs offer opportunities for Bard students to earn credits and/or transcript recognition outside of the regular curriculum.
Independent Work
Independent Study Projects:
Bard academic credit may be awarded for successful completion of an independent study project outside the College's regular course structure, provided that the project has demonstrated academic value. After a proposed project has been approved by a faculty sponsor, the student submits it to the dean of studies, who presents it for final approval to the Faculty Executive Committee.
An independent study project may be undertaken in the fall or spring semester (for up to 4 credits) as part of the normal course load, or during January intersession or the summer (for up to 2 credits). Students may earn up to 12 independent study credits in total.
January Intersession:
Intersession begins at the end of the winter holiday vacation and extends through the month of January. Students can gain academic or work experience or earn academic credits during this period in the following ways:
•
Independent study:
A reading, research, or creative project for academic credit. The project must be planned with a faculty member, submitted to the dean of studies, and approved by the Faculty Executive Committee by the end of the fall semester.
•
Work project or internship:
Paid or volunteer employment or an internship at a news organization, hospital, law firm, theater, museum, or other institution. Although work, on or off campus, does not usually carry academic credit, students who think a particular work experience or internship is worthy may apply for academic credit or transcript recognition.
•
Enrollment in a midyear course at another college or university:
Many colleges and universities with a one-month January intersession offer courses for credit that are open to students from other institutions.
Internships:
Students may request 0.5 credits or formal, noncredit-bearing transcript recognition for internships that are supervised, unpaid, and require at least 40 hours of work. Transcript recognition is not available for work performed through Bard College or for work conducted on any of Bard's campuses. After a proposed internship has been approved by a faculty sponsor, the student submits it to the dean of studies for approval.
Study Away
Study Away: Academic credit may be awarded to a student who successfully completes courses at another comparable college or university in the United States. Students who wish to obtain full credit must submit an application to the dean of studies. For courses taken during the summer or the January intersession, the application must be signed by the student's adviser and divisional chair. For courses taken during the fall or spring semesters, the student must also obtain approval from the dean of studies for an academic leave of absence.
Study Abroad:
Bard offers many opportunities for students to study internationally, at partner institutions, language immersion programs, direct exchange programs, and a variety of Bard-sponsored or approved credit-bearing programs. For additional information, see "Bard Abroad" in this catalogue or visit
bard.edu/bardabroad.
Specialized Programs
Archaeology Field School:
For a month in the summer, students in the Bard Archaeology Field School (BAFS) earn 4 credits in anthropology (cross-listed, Historical Studies, Environmental Studies). BAFS emphasizes basic excavating techniques (digging with a trowel, recording field notes, drawing layers, and photography) and laboratory analysis. The course can be repeated twice at advanced levels for additional training and experience. Current excavations focus on sites in nearby Germantown, nine miles north of Bard, related to descendants of the rural Rhenish settlers of 1710, Indigenous Mohican people in the 1740s, and African Americans in the area during the 18th and 19th centuries. An alternative site for the 2022 season is the Conservatory of Montgomery Place, where Alexander Gilson (1824–89), the African American head gardener, lived and developed innovative ornamental plant varieties. For more information, visit
bard.edu/archaeologyfieldschool.
Bard Globalization and International Affairs Program (BGIA):
Climate change. Extremism. Pandemics. Inequality. Authoritarianism. Bard's Globalization and International Affairs Program provides a forum for undergraduates and recent graduates, worldwide, to work on and engage in solutions for today's global challenges. The program combines rigorous academics and an internship with organizations in New York City. BGIA students study topics such as cybersecurity, global public health, political economy, international reporting, combating extremism, and international law. In the BGIA internship program, students are matched with private, public, and nonprofit organizations for hands-on experience that enables them to put classroom learning into real-world practice. BGIA offers fall and spring semesters and an eight-week summer program. Participants study and engage in foreign policy, civil society development, and human rights debates in the classroom, while gaining real-world experience in these fields. Housing is available. BGIA is open to students from all academic majors who have a demonstrated interest in international affairs. For details, visit the BGIA website at
bgia.bard.edu
.
Bard Graduate Center Undergraduate Summer Program:
Bard students have the opportunity to attend the Bard Graduate Center (BGC) Undergraduate Summer School in Decorative Arts, Design History, and Material Culture. Open to current undergraduates and recent graduates, the program draws on resources at BGC and around New York City to provide an intensive, two-week program on material culture studies. Annual topics draw on areas of faculty research and study at BGC. The summer 2022 course, "Re-Dress and Re-Form: Innovations in the History of Fashion and Design, 1850 to Today," introduced students to the history of design and fashion in the United States and Europe from the mid-19th century to the present, with a focus on how conceptions of race, gender, and class have shaped the world of goods as we know it. The summer school combines small seminars and behind-the-scenes access to collections.
Bard International BA:
The international bachelor's degree allows students to pursue a course of study that takes advantage of Bard's innovative global network of liberal arts colleges and universities. International BA students participate in Bard's signature academic programs (Language and Thinking, Citizen Science, First-Year Seminar, Moderation, Senior Project) while spending substantive periods of time on multiple Bard campuses, including American University of Central Asia (Bishkek, Kyrgyzstan); Bard College (Annandale, New York); Bard Globalization and International Affairs Program (New York City); Bard College Berlin (Berlin, Germany); and Central European University (Vienna, Austria). By providing a set of deliberate curricular connections across this integrated global network, the International BA offers students the opportunity to go beyond the traditional study abroad experience and immerse themselves in multiple cultures and environments while pursuing a coherent liberal arts curriculum with expert faculty at multiple institutions and studying with students from all over the world. In this way, the International BA provides students a firm grounding in the liberal arts and sciences while giving them a genuinely multinational perspective on their studies and preparing them to be leaders in an increasingly globalized world.
Bard-Rockefeller Program (BRSS):
BRSS is a one-semester program designed for advanced science students, particularly in the fields of neuroscience, biochemistry, molecular biology, developmental biology, biophysics, and genetics. Students spend a semester in New York City working in the laboratory with faculty from Rockefeller University (RU) and taking specially designed classes at RU and with Bard's Globalization and International Affairs Program. BRSS takes place in the spring semester; students apply in early fall, and decisions are made by late fall. Learn more at
bard.edu/brss
.
CEU–Bard Advanced Certificate in Inequality Analysis:
Bard College and Central European University (CEU) are offering an Advanced Certificate in Inequality Analysis. Master-level courses are held at CEU's Vienna campus. To learn more, see
courses.ceu.edu/programs/non-degree-certificate/advanced-certificate-inequality-analysis
.
Field Ecology Research Opportunities:
The Bard College Field Station, located on the main campus, affords research and teaching access to freshwater tidal marshes and the Hudson River National Estuarine Research Reserve of the Tivoli Bays. Also based at the Field Station is Hudsonia Ltd., a nonprofit environmental research and education organization. Campus employment and internships are available through these organizations. The Cary Institute of Ecosystem Studies in Millbrook, New York, offers additional opportunities for students to pursue ecological research through laboratory and field work.
YIVO-Bard Institute for East European Jewish History and Culture:
The Institute for East European Jewish History and Culture, an initiative of Bard and the YIVO Institute for Jewish Research, was founded in 2012. The Institute sponsors summer and winter programs of study in the culture, history, language, and literature of East European Jews. The Uriel Weinreich Program in Yiddish Language, Literature, and Culture, held each summer, offers instruction in the Yiddish language and an in-depth exploration of the literature and culture of East European /American Jewry. The core of the six-week program is an intensive, 4-credit language course (at one of six levels, from beginner to advanced) designed to develop proficiency in speaking, reading, and writing, and to enhance cultural literacy. Instruction is based at the YIVO Institute on West 16th Street in Manhattan. The Institute also hosts the YIVO-Bard Winter Program on Ashkenazi Civilization during the January intersession, in which leading academics teach minicourses designed to attract undergraduates, graduate students, faculty, and members of the general public. Students may enroll in as many as three courses and have the option of receiving credit from Bard. For details, see
yivo.org/learn
.