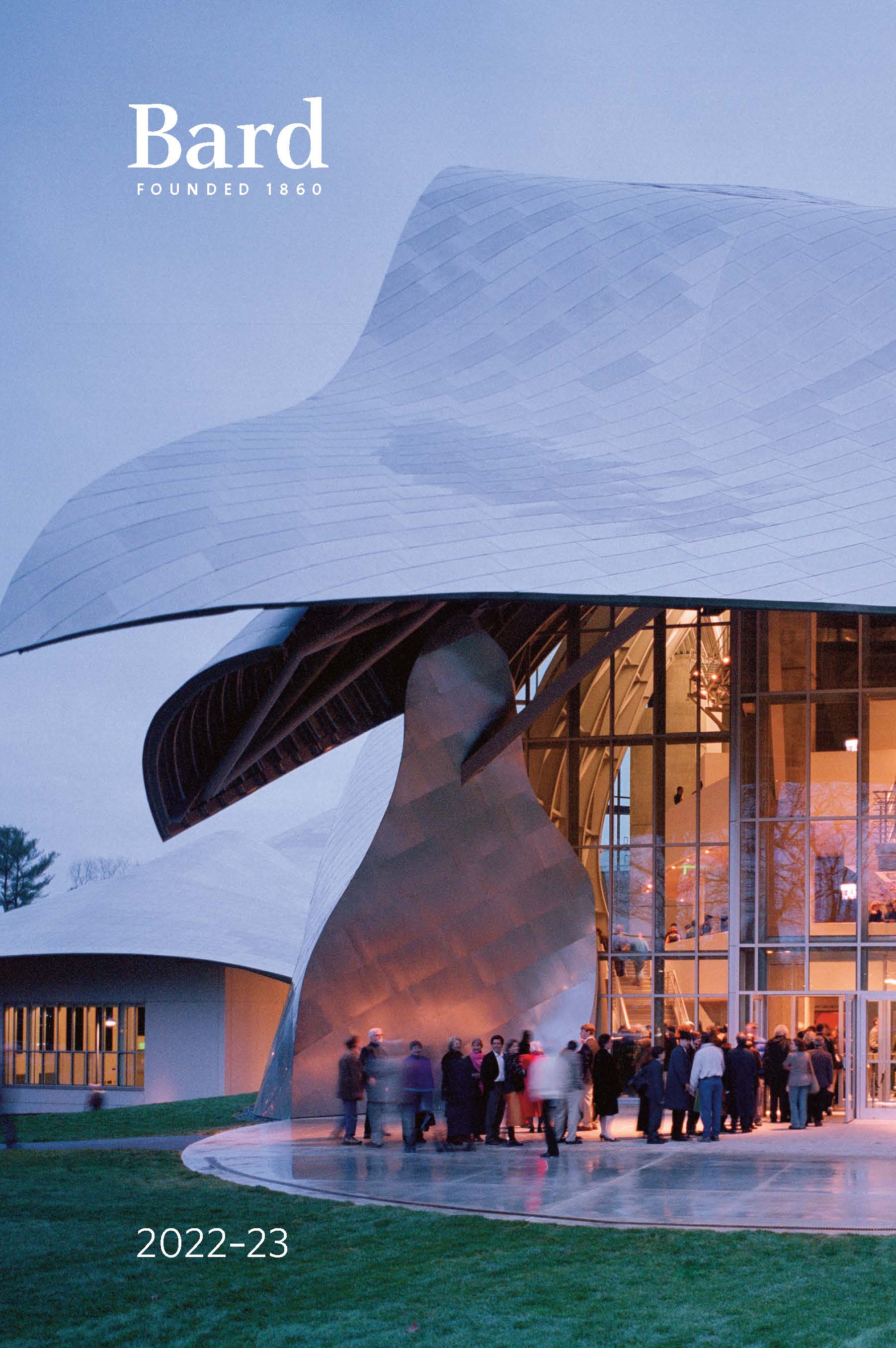 Bard College Catalogue 2022-23
Written Arts

Faculty
Dinaw Mengestu (director), Mary Caponegro, Masha Gessen, Benjamin Hale, Hua Hsu, Michael Ives, Erica Kaufman, Robert Kelly, Ann Lauterbach, Valeria Luiselli, Dawn Lundy Martin, Wyatt Mason, Daniel Mendelsohn, Bradford Morrow, Jenny Offill , Joseph O'Neill, Philip Pardi, Francine Prose, Lucy Sante, Mona Simpson, Jenny Xie
Overview
Bard's Written Arts Program encourages students to experiment with their own writing in a context sensitive to intellectual, historical, and social realities, and the past and current literary landscapes. Students are encouraged to consider how their writing is and can be an act of critical and creative engagement, a way of interrogating and translating the world around us. It is expected that Written Arts students are also passionate readers. The program is staffed by distinguished writers of poetry, fiction, and nonfiction who emphasize both innovative, experimental work and work that foregrounds the conventions of writing. Intellectual stress is placed on literary theory and history, making students aware of conscious and unconscious influences on their writing. Writing seminars in genres such as fiction, poetry, nonfiction, and translation are offered every semester at several levels.
Requirements
Students hoping to moderate into Written Arts are required to take five courses in the Division of Languages and Literature prior to Moderation. A portfolio of original writing in the genre in which the student anticipates composing the Senior Project must be submitted, along with a revised version of an analytical paper composed in a past or present literature course. Students must have excelled in their Written Arts courses in order to successfully moderate into the program. All students moderating into Written Arts are strongly encouraged to study a foreign language.

Fiction/Nonfiction: Students hoping to moderate into fiction or nonfiction must take the following courses:
• Literature 201, Narrative/Poetics/Representation
• One course in the English, American, or comparative literature sequence
• A Written Arts course in fiction or nonfiction at the 100–200 level
• A Written Arts course in any discipline at the 200–300 level
• Another course in the Division of Languages and Literature

Poetry: Students hoping to moderate into poetry must take the following classes:
• Literature 201, Narrative/Poetics/Representation
• One course in the English, American, or comparative literature sequence
• A Written Arts poetry course at the 100–200 level
• A course in the analysis of poetry at the 200–300 level
• Another course in the Division of Languages and Literature

Students who have moderated into fiction and nonfiction are strongly encouraged to take an upper-level writing seminar prior to the start of their Senior Project. Students who have successfully moderated into poetry are encouraged to take an upper-level course in the writing or analysis of poetry.
Recent Senior Projects in Written Arts
"Child Ballads: Folk Songs and Stories from the New World"
"The Four-Chambered Heart: A Bird-Watching Journal in the Hudson Valley"
"Lady Disdain"
"The Monsters among Us—Part One of a Novel"
Courses
In addition to the courses listed below, students may find that other programs offer writing courses and workshops specific to their subjects (e.g., Film 256, Writing the Film; Theater 107, Introduction to Playwriting).

The descriptions below are a sampling of courses from the past four years.

Thinglish: When Language Meets Object
Written Arts 111
An exploration of how words not only name things, but also capture the "thingness" of a thing, be it a plant, garment, objet d'art, or twist of leaves in wind. Students strive to write what renowned Bard poet Robert Kelly calls "Thinglish" by examining many species of writing—from the lyric to the scientific to reviews of paintings and perfumes—and cultivating concrete immediacy in their work and an attentiveness to the things we hold dear.

Something Old, Something New
Written Arts 112
The course pairs poetry of the past with contemporary work to examine how poets respond to each other and their social contexts. The scope is global, with emphasis on the ways that language, form, genre, and convention transform as poets seek alternatives to their own traditions by reaching back to others, often across international borders. Poets read include Ama Ata Aidoo, Zeyar Lynn, Etel Adnan, and Najwan Darwish, with texts from the Tang dynasty, medieval Japan, Renaissance and Romantic Europe, and the Latin American 20th century also considered.

Fiction Workshop I
Written Arts 121
Over the course of the semester, students read works that reflect a range of aesthetic approaches to fiction and participate in exercises designed to isolate particular aspects of story-making. Emphasis is on the evolution of narrative from causal elements as well as the development of technique. Student fiction is critiqued in a workshop format. For first-year students.
Principles of Prose
Written Arts 122
This course presents the breadth of formal possibilities available to writers of short nonfiction. Students read and comment on pieces by Montaigne, De Quincey, Hazlitt, Baudelaire, Poe, Dreiser, Twain, Woolf, Lawrence, Wilson, Orwell, Didion, McPhee, Ozick, and others. Workshopping these established writers allows the class to learn what a piece of nonfiction writing is as well as how to workshop something. Students also complete short writing exercises throughout the semester. For first-year students..
Poetry Workshop I
Written Arts 123
This course, for first-year students, approaches poems as crafted experiences that arise out of enmeshed acts of collecting, assembling, shaping, and dramatizing. Considerable attention is given to language and silence as modes of transport into myriad states of feeling, attending, thinking, and being. In addition to sampling a spectrum of poetic forms, voices, structures, and encounters, participants are encouraged to extend their range and sharpen their creative and critical gifts through developing their ear, and inviting new lexicons, syntactical structures, and tonal variations to seep into their work.

Hybrid Forms
Literature 124
The class reads from classical and contemporary writers whose work is a deliberate hybrid of form, style, and genre. Readings include essays that have the texture and imagination of a short story, stories that are closer to poems, journalists who use tools common to fiction, and novelists whose work straddles the line between autobiography and fiction. Discussions focus on the relationship between form and content, the ethics of narration, and how to apply the tools and techniques studied to the students' own writing.

Contemporary Asian American and Asian Diasporic Poetics
Written Arts 216
CROSS-LISTED: AMERICAN AND INDIGENOUS STUDIES, ASIAN STUDIES, LITERATURE
DESIGNATED: ASIAN DIASPORIC INITIATIVE
When Aiiieeeee! An Anthology of Asian American Writers arrived on the U.S. literary scene in 1974, it was both manifesto and provocation, inflaming still-ongoing debates over the borders, sensibilities, obligations, and political allegiances of the "Asian American writer." The course examines this slippery category through the lens of contemporary poets who write in invigoratingly diverse modes, forms, styles, and visions. In tandem with these texts, students write their own poetry and engage in interdisciplinary modes of response.

The Here and Now: Inquiries into the Everyday
Written Arts 217
A look at literature, film, and art that concerns itself with the clarification and magnification of particular moments of being. Students use these texts and artworks as a springboard for writing original texts. An emphasis is placed on how such works highlight everyday things that often pass beneath our notice, how we as writers might transform these seemingly modest things with the force of our attention. Texts/viewings include work by Ginzburg, Rilke, Woolf, Lefebvre, Cole, Rankine, Cage, Bachelard, and Hsieh.

The Unhinged Narrator
Written Arts 218
This course focuses on literature narrated by characters who have become unhinged from the norms of society due to eccentricity, madness, prejudice, or social disgrace. What might authors gain by narrating their works from an "outsider" viewpoint? How do the form and structure of these works reflect the social and political forces of their times? Over the course of the semester, students use texts by Dostoevsky, Rhys, Bechdel, Walser, and Butler, among others, as a jumping off point for creating their own fiction.

On Revision
Written Arts 219
Kiese Laymon writes: "After school I kept rereading and rearranging the words I'd written, trying to understand what the words meant for my understanding of violence. For the first time in my life, I realized that telling the truth was way different from finding the truth, and finding the truth had everything to do with revisiting and rearranging words. . . . Revised word patterns were revised thought patterns." The course examines how single words can influence and inform our understanding and how rhythms of syntax affect our responses.

Fiction Workshop II
Written Arts 221
This workshop is open to any thoughtful mode of making fiction, whether traditional or experimental or somewhere in between. Students are expected to produce and revise three or four carefully developed stories, provide written critiques of their peers' work, and read and respond to published fiction.
Materials and Techniques of Poetry
Written Arts 230
It is the unique capacity of poetry to capture the movement of mind and body in a resonant verbal architecture. Students examine the elements of that architecture by asking what, in the most concrete terms, makes a poem a dynamic, saturated language event. The workshop introduces them to such aspects of poetic form as patterns of repetition; the infinite varieties of syntax, punctuation, meter, and typography; the "color" of vowels; and the rhythmic implications of word choice and sentence structure.
Reading and Writing the Birds
Written Arts 231
Students become familiar with approximately one hundred local birds by ear and by sight, then write about the birds using both experience and research. To guide their writing, they read narratives of bird discovery and adventure from Alexander Wilson, John James Audubon, Olive Thorne Miller, Florence Merriam Bailey, Roger Tory Peterson, and Kenn Kaufman. A good pair of binoculars is suggested.

Reading and Writing Nature
Written Arts 236
CROSS-LISTED: EUS
Students in the course read and write narratives that use the natural world as both subject and source of inspiration. The goal is to identify what makes nature writing compelling (or not) and understand the challenges of the genre. Texts by Emerson, Thoreau, Muir, Dillard, Ehrlich, and Abbey. Students keep a nature journal and thus must be willing to venture into the outdoors—woods, river, or mountains.
For Love and Money: How and Why to Write Literary Criticism
Written Arts 239
How does one, when given 5,000 words of real estate in, say, the New Yorker or Harper's, write an essay—on deadline—that engages a new work and offers an opinion of the work's merits that is as fair to the ambitions of the author as it is to the larger endeavor of literary enterprise? Students read examples of literary criticism from, among others, Johnson, Hazlitt, Wolff, Wilson, McCarthy, Sontag, Updike, and Gay, and complete a long-form literary criticism of their own.

Literary Journalism
Written Arts 240 / Literature 240
See Literature 240 for a full course description.

Rhythms and Words
Written Arts 241
Robert Creeley wrote: it is all a rhythm, / from the shutting/door, to the window / opening, / the seasons, the sun's / light, the moon, / the oceans, the/growing of things . . . . This course considers how poetry captures and reflects this profound principle of Being. Students explore the rhythmic phenomena that surround us, from nature's cycles to our internal cardiac, pulmonary, and motor rhythms, and listen to the rhythms of chants, prayers, and spells to discover how they arouse emotional and physical responses.

Death Is Not the End
Written Arts 242
Literature is death-haunted. What it looks like, what it costs, what it means: death has been considered, evoked, and defined variously in the verbal arts of different cultures since the beginning of the human record. This course seek death in artistic life. Among the writing considered: excerpts from classical epics (Iliad, Aeneid) and religious texts (Quran, Bardo Thodal, Bhagavad Gita, Bible); essays by Montaigne and Sir Thomas Browne; and modern fiction, poetry, and nonfiction by Tolstoy, Eliot, Spark, White, Didion, and Wallace-Wells.

Writing the Senses, Sensing the World
Written Arts 247
The novelist Richard Powers asks: "How did we lose our sense of living here on Earth? . . . How did we get convinced that we're the only interesting game in town, and the only species worthy of extending a sense of the sacred to?" This course asks: how can writing revitalize our sense of the world and challenge our relation to it? Students practice translating the sensed world into language and read from a variety of sources, including poems, prose fiction, neuroscience, botany, art, music, and the culinary arts.

Music in Fiction
Written Arts 248
Writing about music presents an expansive arena, an irresistible challenge, and a protean device for fiction writers. Using close readings, exercises, and longer student work, the class investigates how fiction writers use music as a subject, signifier, social positioning, object of contemplation, formal model, scene-setting tool, and more. Readings may include selections and/or works from Donald Barthelme, Paul Beatty, Thomas Bernhard, Willa Cather, Rachel Cusk, Ralph Ellison, E. M. Forster, Hari Kunzru, Thomas Mann, Carson McCullers, and others.

Le Mot Juste
Written Arts 301
Students consider what constitutes style in literary fiction and gain greater understanding of why one author might be deemed a stylist and another not. If "reading for the plot" is the default paradigm, what happens when we train our minds to look behind the scenes of plot, to observe how cumulative linguistic, imagistic, and syntactic patterns coalesce, generating story from the engine of the sentence? The course includes analysis, emulation exercises, and creation of original narratives. Texts by James, Austen, Faulkner, Spark, Beckett, Morrison, Yourcenar, Wideman, Strout.
Poetry III: The Long View
Written Arts 312
For advanced students with an interest in developing an extended project involving original research, retrieval of materials, and the examination of works in the tradition of investigative poetics. Students are expected to complete a fully realized sequence of poems by the end of the semester and provide ancillary documents related to its composition.

Imagination under Siege
Written Arts 313
CROSS-LISTED: EXPERIMENTAL HUMANITIES, HUMAN RIGHTS
DESIGNATED: HSI AND MIGRATION INITIATIVE COURSE
This course focuses on reimagining processes of documenting violence and writing about it: political, environmental, racial, and gender-based violence, among others. Readings from Ursula K. Le Guin, Anne Carson, Dolores Dorantes, Ernesto Cardenal, María Zambrano, and Aimé Césaire. Soundscapes, architecture, land art, alternative mappings, and forms of protest and collective organizing are also considered. Students work on fragmentary and hybrid forms of prose in their search for new ways of exploring imagination as a tool for political resistance and as an end in itself.

Studio in Contemporary African and African Diasporic Poetics
Written Arts 314
CROSS-LISTED: AFRICANA STUDIES
Students investigate the evolving fields of poetry and poetics with a focus on writers and artists of the African diaspora. The class works across genres (poetry, prose), mediums (page, canvas, digital, film, theatrical space), and disciplines (writing, criticism, visual arts, drama, choreography, history), and toward new modes of making/creating. The course grapples with issues of race and ethnicity, gender, sexual orientation, language, identity, and citizenship status. Writers and artists studied include Dionne Brand, Simone White, Douglas Kearney, Duriel E. Harris, Ellen Gallagher, and Adrienne Kennedy.
The Adventure
Written Arts 315
Is the adventure an archaic form of writing, and of seeing? What space—psychological, political, cultural, geographic—remains for the adventure in hypermodern times? Readings embrace or refuse the idea of the thrilling yarn, and students write fiction that investigates this territory. Authors may include Borges, Portis, Cusk, Melville, Stevenson, Sarrazin, Wright, and Bunyan.

Fact, Fiction, and the Truth
Written Arts 319
CROSS-LISTED: HUMAN RIGHTS, RES
It is a commonplace that fiction can be truer than nonfiction, which raises the question of what we consider to be truth. Nobel Prize winner Svetlana Alexievich has talked about the "emotional truth" of her books. Readings include Alexievich's work as well as fiction and nonfiction about the great tragedies of 20th-century Russia, including the Gulag, siege of Leningrad, and Chechen War. Students consider how the narratives and characters shape our understanding of "what really happened." Writing assignments include at least one piece of fiction and nonfiction.

American Revolutionary Poetics: Poetries and Movements that Changed the World
Written Arts 321
CROSS-LISTED: AFRICANA STUDIES
A studio course in which the craft of writing poems is at the center of students' creative practice. Moving from the late 18th-century Black poetry that claimed Negro subjectivity to the Harlem Renaissance, Beat poets, and beyond, the class considers how poetry, in its different way of knowing, can change belief systems and the world. Authors include Wheatley, Douglass, McKay, Hughes, Brooks, Clifton, Ginsberg, Waldman, Rankine, Myung Mi Kim, and others.

Writing Workshop for Nonmajors
Written Arts 323
The course is designed to give non–Written Arts majors the opportunity to explore the medium of creative writing in a rigorous fashion, through a combination of prompts and student-generated topics. Some prior experience of independent writing is required, but no formal training. Students are encouraged to allow knowledge of their particular field, as well as extracurricular interests, to enrich their creative endeavors.
Fiction Workshop III
Written Arts 324
A workshop in prose fiction for advanced students, who are expected to submit at least two works of fiction and critique their peers' writings. This course is restricted to students who have taken at least one previous Written Arts workshop (in fiction, poetry, or nonfiction).
Great Political Essays
Written Arts 327
A great political essay can alter the way we see the world, transform language, spur a movement, change the world. What makes a great political essay? Students read one or two of as many as a dozen essays suggested each week (they can also add their own selections) and write a one-page reaction to it (or them). Selected essays by Douglas Crimp, Ta-Nehisi Coates, James Baldwin, Gail Rubin, Václav Havel, others. Students must also write an ambitious essay of their own.
The Poetic Sequence
Written Arts 328
From T. S. Eliot's canonical The Waste Land (1922) to Layli Long Soldier's 2017 debut collection Whereas, modern and contemporary poets have found in the sequence or serial poem formal ways to shift tone and focus while maintaining common thematic elements. Students read some of these works—by Stein, H.D., Stevens, Rich, Ashbery, Scalapino, Waldrop, others—and discuss their narrative coherence and sonic impact, and how the use of fragment, repetition, and variation opens the possibilities of meaning.
Race in a Foreign Language
Written Arts 329
CROSS-LISTED: HUMAN RIGHTS
Recent discourse about race has made a valuable—and globally influential—contribution to our political understanding of, and feelings about, race. How should American writers respond? And how could "foreign" writing and thinking defamiliarize, enrich, or challenge the stories we imagine and tell? This course looks at American-made narratives and outlooks, and implicates them in the stories told, and realities conjured, by writers from overseas. Texts by Scholastique Mukasonga, V. S. Naipaul, Malcolm X, Paul Beatty, Adaobi Tricia Nwaubani, Machado de Assis, Hiroko Oyamada, and others.

Landscapes: Literature and Cartography
Written Arts 331
CROSS-LISTED: ARCHITECTURE
The focus of the course is on space in literature and literature's relationship to space. The class first reads stories that take place in enclosed spaces, like Kafka's "Metamorphosis" and Sartre's Huis Clos (No Exit); then moves outdoors to cities, towns, and rural areas (Thoreau's Walden Pond, Joyce's Dublin, Chandler's semifantastical Los Angeles); experiments in psychogeography (Debord, Defoe, De Quincy, Self); and writers who imagined entire countries and worlds (Tolkien, Le Guin, Hoban).
Prose Studio
Written Arts 336
Just as the visual arts employ studios to stretch muscles, refine technique, and launch ideas, so this class functions for writers of fiction and nonfiction. Weekly paired reading and writing exercises concerning, among other things, voice, stance, texture, rhythm, recall, palette, focus, compression, word choice, rhetoric, and timing.
Language as Poetry
Written Arts 337
Ordinary speech is the well-spring of poetry in English, from Chaucer to our day. With a focus on the poetics of listening—to speech, text, silence—the course emphasizes writing as a way of knowing and writing as a daily practice.
Stealing Stories
Written Arts 344
The homage, the text that's "in dialogue" with another text, the "reimagining" of another's work—all such terms acknowledge that a writer's creations are the happy offspring of older creations. This course examines a variety of short stories (by James Joyce, Anne Carson, Langston Hughes, John Cheever, Isaac Babel, and Mavis Gallant) with a view to identifying and appropriating their moves, solutions, and ideas. Students then use the loot to write new stories.
Imagining Nonhuman Consciousness
Written Arts 345
Philosopher Thomas Nagel asked, "What is it like to be a bat?" Ultimately, he determined that a bat's experience of the world is so alien to our own that it remains inaccessible to human cognitive empathy. But a bat's experience is not inaccessible to human imagination. This course considers texts that approach nonhuman consciousness through literature, philosophy, and science, from authors such as Descartes, Kafka, Rilke, Gardner, Collodi, Grandin, Asimov, Agamben, Sims, and Wallace. Students also incorporate these ideas into their own writing.

The Politics of Space
Written Arts 346
CROSS-LISTED: HUMAN RIGHTS
In this upper-level writing seminar, students investigate the politics and poetics of space and their manifold intersections. Topics discussed include the ways that we move around space as bodies, inhabit spaces as members of a community, create space, and interpret private space. Texts include Roland Barthes's Camera Lucida; James Baldwin's Notes of a Native Son; Aristotle's Politics; selected audio recordings from the World Soundscape Project; and excerpts from Anne Carson, Emily Dickinson, and Sharifa Rhodes-Pitts.

Poetry and Pressure
Written Arts 349
The course probes some of the ways that pressure—political, social, economic, ethical—impresses upon poetry as a constraint, engine, or mode of attention. Students analyze a range of gestures, movements, and forms that emerge in the work of poets who composed under, or in response to, crisis. Readings from Celan, Rich, Kaminsky, Carson, Chinese migrant poets, Rankine, Sharif, and Teare, among others. Students write critical responses to course readings and generate poems that respond to and arise out of felt pressures.

The Long Story: Reading, Writing, Revising
Written Arts 350
Students read, reread, discuss, and respond in writing to a number of short stories, analyzing how the story functions and how they can adapt the writers' forms, styles, and approaches in their own work. The class starts with works in translation by Chekhov, Tolstoy, and Flaubert; then moves to Hawthorne, Munro, Trevor, and Yiyun Li. Weekly essays are expected, as are long-term writing projects (short stories, personal or critical essays, etc.).

David Copperfield for Fiction
Written Arts 352
A close, writer's reading of David Copperfield focuses on character construction, the use of autobiographical detail, and the various ways Dickens conveys a sense of time passing. Attention is paid to structure, how serialization determined the novel's plot and shape, and how the narrative has been adapted for film. Students make presentations on different literary techniques, biographical material, and historical context. They also complete a short fictional piece, in response to a prompt, every other week.

Writing the Roots
Written Arts 353
By playing with the root meanings of words, students in the course try to free themselves from indifference to the splendor of ordinary language. Weekly writing required.

Plundering the Americas
Written Arts 354
CROSS-LISTED: ENVIRONMENTAL STUDIES, EXPERIMENTAL HUMANITIES, HUMAN RIGHTS
This course focuses on the histories of extractivism and violence against the land and against the female body in the Americas, centering on ways in which writing, art, and activism have responded to systemic violence. Thinkers, authors, and artists studied include Aimé Césaire, Natalie Diaz, Dolores Dorantes, Layli Long Soldier, Fred Moten, and Vivir Quintana. Students work on prompt-based exercises and complete a final project, which can range from traditional nonfiction to a sound piece, combination of textual and visual explorations, or short-form interconnected pieces.

Life Writing
Written Arts 356
Students in the course read, re-read, take apart, and put back together one beautiful short story every two weeks, mining techniques and strategies for their own fiction. Weekly responses are required. In addition to remote class time, students also need to be available for three intensive weekend classes over the course of the semester. These weekend retreats provide an unplugged experience of reading, writing, walking, and conversation.

Problems of Perspective
Written Arts 357
CROSS-LISTED: HUMAN RIGHTS
DESIGNATED: HSI COURSE
The course interrogates the function of perspective in establishing how a narrative, and the characters who inhabit it, not only see but also interpret the world, and how that perspective has been used to create distance, both real and imaginary, between an "us" and a foreign other. Students develop a critical and creative framework for understanding the role language plays in shaping public discourse and what roles they can play in creating narratives that offer a more complex and dynamic representation of our environment. Texts by Sontag, Bellow, Whitehead, Boo, Rankine, others.

41 False Starts: The Profile as a Literary Form
Written Arts 359
The mainstream magazine or newspaper profile in English dates back to Daniel Defoe's pioneering efforts, efforts that—significantly—ran in parallel to the emergence of the novel. The course hopscotches through the history of the profile and attempts to come to an understanding of how a portrait of a real person differs in nature and form from a portrait of an invented person. Texts by Defoe, De Quincey, Orwell, Didion, Talese, Malcolm, Gates, Egan, Foster Wallace, others.

Beyond Dread: Writing about Climate
Written Arts 360
A look at the role of literature and art in communicating climate impacts and imagining strategies for living in and remaking our damaged world. Readings/viewings may include work by Amitav Ghosh, CAConrad, Donna Haraway, Joy Williams, Jon Raymond, Eduardo Kohn, Maya Lin, Lydia Millet, Olalekan Jeyifous, Timothy Morton, Albert Camus, and Natalie Diaz. Students use these narrative and visual works as springboards for creating their own original texts.

Poetic Style and Signature
Written Arts 361
What makes a writer's style recognizable? Relatedly, what marks the contours of our own authorial imprint? The class probes some of the categories that can constitute a poet's style, and thinks through what style carries and implies, through acts of analysis and imitation. Over the semester, the class studies and emulates the work of Emily Dickinson, John Ashbery, Ikkyū, Carl Phillips, Monica Youn, Gwendolyn Brooks, Richard Siken, Frank Bidart, Jean Valentine, Frank O'Hara, and Ross Gay, among others.

Reading and Writing the Love Story
Written Arts 362
Every week students read (for pleasure, first) and study (in a second rereading) a story that uses the tropes and mythologies of romantic love as its source of suspense, drama, movement, and resolution. They also write a weekly response to the reading and keep a daily writing journal, recording impressions, notes from the news, bits of conversation, and imaged scenes. From these notebooks, they mine the elements for two short love stories (broadly defined).
Senior Colloquium: Written Arts
Written Arts 405
The Senior Colloquium is an important supplement to the Senior Project. The primary purpose is to guide seniors, both practically and philosophically, in the daunting task of creating a coherent and inspired creative work of high quality within a single academic year. Emphasis is on demystifying the project process, including its bureaucratic hurdles; exploring the role of research in the creative realm; and helping students use each other as a critical and inspirational resource during this protracted, solitary endeavor.