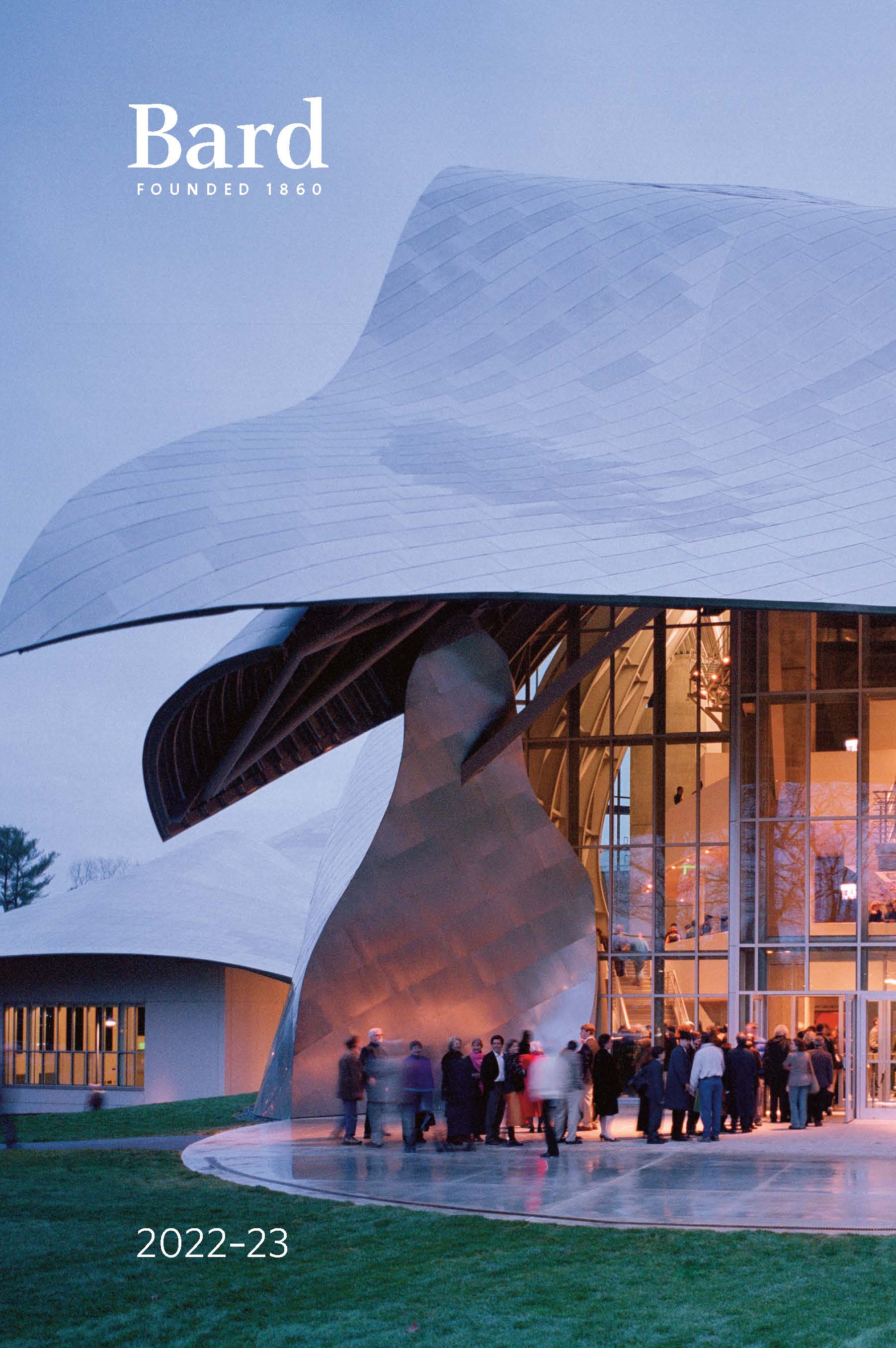 Bard College Catalogue 2022-23
Economics
Faculty
Michael Martell (director), Sanjaya DeSilva, Kris Feder, Liudmila Malyshava, Aniruddha Mitra, Gautam Sethi (CEP), Pavlina R. Tcherneva
Overview
The basic methodological approach of economics is to analyze the ubiquitous problem of human choice among alternative uses of limited resources. Economics examines how decisions are influenced by incentives, opportunities, and resource constraints, and explores the interacting consequences of those choices in our private and public lives. The Economics Program at Bard trains students to think critically about the economy and its social, political, and historical context. The curriculum spans different paradigms, from ecological economics to post-Keynesian economics to feminist economics; and different methodologies, from econometrics to economic history to game theory.
Requirements
Three economics courses are required for Moderation, including Economics 100 and two 200-level courses. At Moderation students identify an area of focus and discuss their preliminary ideas for the Senior Project. Graduation requirements include: (1) the theory sequence (Principles of Economics, Intermediate Microeconomics, and Intermediate Macroeconomics); (2) Introduction to Econometrics; (3) a course in economic history; (4) a course in economic thought; (5) at least four electives at the 200 level or above in economics, two of which must be at the 300 level (students with joint majors or interdisciplinary concentrations may replace one 300-level elective with two 300-level courses in a related discipline); (6) Calculus I (Mathematics 141) or the equivalent is a prerequisite for Economics 201 (Calculus II, Mathematics 142, is recommended); and (7) the Senior Project.
Recent Senior Projects in Economics
"Capital Accumulation through Private Finance"
"The Effect of Remittances on Ethnic Tension"
"Local Currencies: Harnessing the Power of Complementary Currencies"
"Road to a Resilient Financial Sector: Impacts of the Dodd-Frank Act on System Risk"
Faculty/Student Publications
Undergraduates have the opportunity to work with faculty on research and publications. A recent Senior Project, "A Theoretical and Empirical Analysis of the Wage Effects of Marriage in Same-Sex Households," was expanded, refined, and published in the J
ournal of Labor Research
, coauthored by Peyton Nash '19 and Michael Martell. It was subsequently written up by the Cato Institute.
Courses
Students usually begin their study of economics by taking Principles of Economics (Economics 100). The 200-level courses typically assume knowledge of introductory theory and are of special interest to students in politics, historical studies, sociology, philosophy, human rights, global and international studies, social policy, and environmental studies. Students who have completed introductory theory are encouraged to take at least one 200-level applied course before proceeding to more advanced coursework.

The 300-level Upper College courses and seminars provide advanced treatment of theory, research methodology, and applications for moderated economics majors. Students are encouraged to construct their academic program in a sequence of cognate courses that culminates in a Senior Project.

Students contemplating graduate school in economics are encouraged to take advanced theory courses and to develop their quantitative skills with additional courses such as Mathematical Economics (Economics 205), Advanced Econometrics (Economics 329), and related courses in mathematics (Linear Algebra, Proofs and Fundamentals, Probability, and Mathematical Statistics).
Sample curricula for all areas of study are available on the Economics Program website.

The following descriptions represent a sampling of courses from the past four years.
Principles of Economics
Economics 100
CROSS-LISTED: ECONOMICS AND FINANCE, ENVIRONMENTAL STUDIES, GIS
An introduction to the essential ideas of economic analysis. The microeconomics component of the course develops the basic model of consumer and firm behavior, including demand and supply, in the context of an idealized competitive market and examines several ways in which the real world deviates from this model, including monopoly, minimum wages and other price controls, taxes, and government regulation. The macroeconomics component studies the aggregate behavior of modern economies and the government's ability (or inability) to use monetary and fiscal policies to achieve economic goals such as full employment and price stability.

Economics for Planet Earth
Economics 114
CROSS-LISTED: AMERICAN AND INDIGENOUS STUDIES, ENVIRONMENTAL STUDIES
Congress's 2019 Green New Deal observes that current U.S. crises include climate change, pollution, and environmental destruction; a four-decade trend of economic stagnation, deindustrialization, and antilabor policies; great income inequality; national security threats; and declining life expectancy, health, education, and quality of life. It calls for a massive mobilization of resources, with participation by the federal government, state and local governments, community organizations, labor unions, businesses, and families. This course explores feedback loops among these several crises and policies that address them.
Money and Banking
Economics 200
CROSS-LISTED: ECONOMICS AND FINANCE, GIS
This course examines the role of money and financial intermediaries in determining aggregate economic activity. Interactions of savers, investors, and regulatory authorities in domestic and international capital markets are analyzed, and the linkage between the financial system and the real economy is traced. The functions of central banks, commercial banks, securities dealers, and other intermediaries are covered in detail. The debate over the goals, tools, indicators, and effectiveness of monetary policy is ­considered in light of current economic problems. Prerequisite: Economics 100.
Intermediate Microeconomics
Economics 201
CROSS-LISTED: ECONOMICS AND FINANCE
Microeconomics is the study of how individual economic units (households and firms) interact to determine outcomes (allocation of goods and services) in a market setting. The objectives of the course include understanding the concepts covered in Economics 100 in terms of mathematics; studying advanced topics, such as choice under uncertainty and information asymmetry, which have traditionally relied on mathematics for illustration of ideas; and learning how to use mathematics to conduct in-depth economic analysis. Prerequisites: Economics 100 and Mathematics 141.
Intermediate Macroeconomics
Economics 202
An introduction to the main models used by macroeconomists to analyze the way economies behave. Students examine models that explain long-run economic growth, economic theories concerning recessions and booms, and the role of governments in affecting the long- and short-run economic prospects of their countries. Theoretical knowledge is applied to a range of current economic issues.
Game Theory
Economics 203
CROSS-LISTED: ECONOMICS AND FINANCE, ENVIRONMENTAL STUDIES, GIS, POLITICS
Game theory is the study of how rational actors behave when they know that their actions hold consequences, not just for themselves but for others—and how they, in turn, are affected by the actions taken by others. As the applicability of the discipline extends far beyond the analysis of economic behavior, the course introduces the basics of game theory and then examines a wide variety of applications from economics, political science, and environmental studies. Prerequisite: Economics 100.

National Economic Policy
Economics 204
The course investigates selected macroeconomic policies employed around the world to address issues of unemployment, poverty, inflation, and economic instability. Policy decisions are often guided by more than pure economic theory; political considerations, national interests, social concerns, and global trends also drive policy. The class examines the confluence of these forces along with the institutions and structures that enable them. The objective is to investigate the macroeconomic impact of these policies and identify the ones that are viable and sustainable.
Mathematical Economics
Economics 205
An introduction to the use of elementary calculus and linear algebra in economic theory. This course provides the basic mathematical skills necessary to approach the professional econom­ics literature. Emphasis is on formulating economic problems and building economic models in mathematical language. Applications are based upon simple micro- and macroeconomic models. Prerequisites: Economics 100 and calculus.

Local Community Currencies
Economics 209
DESIGNATED: ELAS COURSE
Hyman Minsky famously said "Anyone can create money; the problem is to get it accepted." This course examines the rise in alternative currencies by grassroots organizations to confront the ills of market-based capitalism. Classes cover monetary theory, game theory, economics of the commons, and token economics. While learning the design principles of making a new currency "accepted," students analyze data from local currency networks by programming in Mathematica. Prerequisite: Economics 100 or 114, or permission of the instructor.
Early History of Economic Thought
Economics 210
CROSS-LISTED: GIS, STS
This course follows the development of Western economic thought through the early 20th century, asking: What problems did economic philosophers seek to resolve? How did economics emerge as a distinct discipline? How did theory respond to changing economic and political environments? Have the ideas of economists influenced the course of history? Readings from the Physiocrats, Hume, Mill, and Adam Smith. Prerequisite: Economics 100
History of Economic Thought: 20th Century
Economics 211
Students explore the ideas of the greatest economic thinkers of the 20th century, including Marshall, Keynes, Hayek, Sraffa, Veblen, Schumpeter, Galbraith, and Nobel Prize recipients Samuelson, Friedman, Sen, Stiglitz, and Krugman. Also considered: schools of thought such as the New Keynesians, Post Keynesians, and New Classicals; and issues like the business cycle, unemployment, free markets, and the role of governments.

Health Economics
Economics 212
The course covers theories of the production, supply, and demand for health and health care services, with a special emphasis on the theoretical implications for U.S. policy. The determinants and implications of health care services are approached through neoclassical as well as heterodox schools of economic thought. The course endeavors not to provide a set of "facts" regarding health provisioning in different contexts, but to equip students with the analytical tools necessary for intellectual engagement in research and debates surrounding the economics of health.

Economic Transition from Socialism to a Market-Based Economy
Economics 213
CROSS-LISTED: GIS, RES
The course investigates the causes of the collapse of the socialist system in the countries of the former Soviet Union and Central and Eastern Europe, and then identifies similarities and differences in the economic environments of these seemingly homogeneous countries. Students analyze the economic challenges associated with the transition process as well as policy tools that the countries have used to address these challenges. The impact of the economic transformation on social indicators, such as income distribution, poverty, education, and health, is also addressed.
Labor Economics
Economics 214
CROSS-LISTED: AMERICAN AND INDIGENOUS STUDIES, GSS
The course focuses on the economic forces and public policies that affect employment and wages. Theoretical models of labor markets and how well they hold up to real-world empirical data are examined, as are topics such as labor demand and supply, minimum wage laws, theories of unemployment, family and life cycle decision making, efficiency wage theory, compensating wage differentials, worker mobility and migration, unions, and discrimination. Prerequisite: Economics 100; Economics 201 and a statistics course are also recommended.
Asian Economic History
Economics 218
CROSS-LISTED: ASIAN STUDIES, GIS
A survey of the events and circumstances that shaped the economic landscape of modern Asia. The course begins in the 19th century, when European contact initiated a process of dramatic change, Japan began a process of modernization, China confronted a series of internal conflicts and external threats, and much of the rest of the continent was absorbed into the colonial economy. Attention is also paid to the trajectories of economic change during the 20th century and various economic models pursued in the region.
Economic Development
Economics 221
CROSS-LISTED: AFRICANA STUDIES, ASIAN STUDIES, ENVIRONMENTAL STUDIES, GIS, HUMAN RIGHTS, LAIS, STS
After introducing various definitions of economic development, the course is divided into three parts: the first explores key manifestations of development, such as economic growth, industrialization, urbanization, globalization, inequality, and poverty; the second looks at institutional determinants of development, including markets, political systems, and culture; and the third part deals with policies designed to address specific development goals, such as providing education, promoting gender equity, or expanding access to financial markets. Prerequisite: Economics 100.
International Trade
Economics 223
CROSS-LISTED: ECONOMICS AND FINANCE, GIS
An introduction to economic theories and concepts that help us understand why nations trade, who benefits and who loses from trade, and why trade is regulated. Each week, a question is posed, based on class interests—e.g., Does free trade contribute to the widening gap between rich and poor? Should the United States ban clothing imports from sweatshops in Bangladesh?—and theoretical tools are used to help answer it.
Economic Perspectives
Economics 225
Why do economists disagree? As economic systems have evolved, so have the theories used to explain them. Since Adam Smith, economists have used different assumptions, models, and methodologies to study the role of markets, states, and institutions in the process of social provisioning. This course surveys diverse traditions in economics, competing paradigms, and several distinct approaches, including classical, institutionalist, post-Keynesian, Marxist, feminist, and green. Prerequisite: Economics 100.

Survival of the City
Economics 226
CROSS-LISTED: AMERICAN AND INDIGENOUS STUDIES, ENVIRONMENTAL STUDIES
According to urban economist Edward Glaeser, the city "makes us richer, smarter, greener, healthier, and happier." Yet America's cities are plagued by segregation, pollution, disease, congestion, homelessness, and wealth inequality. The class applies spatial economics to trace how public policies create incentives and constraints that shape urban real estate markets and land use choices, with a focus on the history of segregationist housing policies and their consequences; patterns of gentrification and urban renewal; and urban sprawl, which destroys habitat and further separates people from their food supply.

The Right to Employment
Economics 227
CROSS-LISTED: AFRICANA STUDIES, AMERICAN AND INDIGENOUS STUDIES, ENVIRONMENTAL STUDIES, HUMAN RIGHTS, SOCIOLOGY
DESIGNATED: RJI AND HSI COURSE
In 1944, President Roosevelt warned, "People who are hungry and out of a job are the stuff of which dictatorships are made." Today, the COVID-19 crisis and mass unemployment have once again exposed pervasive pathologies in the economy, such as inequality, poverty, and discrimination that reproduce systemic racial, gender, and environmental injustice. This course traces the history of the struggle to secure the right to employment for all. Students read legislative documents, economic analyses, policy proposals, and program reviews.

Introduction to Econometrics
Economics 229
CROSS-LISTED: ECONOMICS AND FINANCE, ENVIRONMENTAL STUDIES, GIS
The course explores the tools economists use to summarize and interpret data. The first half intro­duces the concepts of random variables, probabil­ity distributions, sampling, descriptive statistics, and statistical inference. The second half focuses on simple and multiple regression analysis. Students learn how to organize and analyze data using Excel and Stata, how to interpret published research, and how to carry out an empirical research project. Prerequisites: Economics 100 and precalculus.

Controversies in Monetary Economics
Economics 233
CROSS-LISTED: ENVIRONMENTAL STUDIES
A look at current controversies in monetary theory and policy. Students examine both the mainstream and heterodox approaches to each. Mainstream approaches include monetarism, New Classical, New Keynesian, and the New Monetary Consensus. Heterodox approaches include Post Keynesian (endogenous money and circuit approaches), Marxist, and institutionalist. The class concludes with a detailed examination of Modern Money Theory, which combines various strands of heterodoxy while also including contributions from historical, legal, and anthropological research.

Fintech Revolution
Economics 234
Innovations in financial technology have exploded in the past two decades. The emergence of distributed ledger technology, blockchains, cryptocurrencies, crowdsourcing, and smart contracts have the potential to transform our financial and monetary system. Fintech start-ups promise to democratize financial services by banking the unbanked, reducing costs for micropayments, cutting out the middle man, reducing corruption, and unbundling core financial services. The class disentangles the hype over the fintech revolution while pointing out how these new decentralized technologies can be applied more broadly to a variety of social systems.
Ecological Economics
Economics 242
CROSS-LISTED: ENVIRONMENTAL STUDIES
The field of ecological economics (ECE) draws upon physics, ecology, and other natural and social sciences as well as economics. It views the economy as "an open subsystem of a larger ecosystem that is finite, nongrowing, and materially closed (though open with respect to solar energy)." The positive analyses of ECE are motivated by three normative social goals: (1) efficient allocation of scarce resources, including those that do not pass through markets; (2) justice in distribution; and (3) an ecologically sustainable scale of economic activity.
Behavioral Economics
Economics 243
CROSS-LISTED: PSYCHOLOGY
An introduction to behavioral economics, which combines the use of economic tools with insights from psychology to better understand human behavior. The two primary findings of behavioral economics, that people are not always fully rational and that people are usually nice, is applied to understand phenomena such as cooperation, behavior in the context of risk, determinants of happiness, savings and planning behavior and more, with the primary goal being to better understand and design public policy. Prerequisite: Economics 100 or permission of the instructor.

Global Imbalances
Economics 246
CROSS-LISTED: GIS
This policy-oriented course explores the evolution of a set of neoliberal globalization strategies known as the Washington Consensus. Originating at the end of the 20th century, the Washington Consensus has remained the dominant policy prescription offered to the majority of developing nations. The course focuses on two main aspects of international economic relations—physical flows of commodities and capital (or financial) flows—utilizing an analytical framework that integrates economics and politics with social and ideological contexts to assess the impact of the consensus and explore alternative policy approaches.
Foundations of Finance and Investments
Economics 291 / Economics and Finance 291
See Economics and Finance 291 for a full course description.
Macroeconomic Stability
Economics 304
This seminar examines the nature of economic instability and financial crises in modern history and the Keynesian contributions to macroeconomic stabilization policy. The class explores John Maynard Keynes's investment theory of the business cycle and Hyman P. Minsky's financial theory of investment, as well as the controversial question of government intervention. Topics of discussion also include economic policies that deal with problems such as inflation, unemployment, poverty, and financial crises; and the relative effectiveness of monetary and fiscal policies. Prerequisite: Economics 202.
Industrial Organization
Economics 317
Industrial organization is the study of how industries function and firms interact within an industry. While this is part of the general agenda of microeconomics, industrial organization distinguishes itself by its emphasis on the study of firm behavior in imperfectly competitive markets. This course investigates how firms acquire market power or the ability to influence the price of their product; the strategic behavior of firms that possess market power; and the effect of policy intervention in such industries.

Developing Cities
Economics 319
CROSS-LISTED: ENVIRONMENTAL STUDIES, GIS
Economic theorists and policy makers have long worked under the assumption that developed economies are urban and industrial while developing economies are rural and agricultural. This historical dichotomy is no longer meaningful. Today, a majority of the world's people live in urban areas; already, 22 of the 27 urban areas that have more than 10 million people are in developing economies. The seminar is organized around student-led research on themes such as spatial patterns of growth; urban inequality; infrastructure and urban renewal; and congestion and other environmental problems.
Seminar in Economic Development
Economics 321
CROSS-LISTED: ENVIRONMENTAL STUDIES, GIS, HUMAN RIGHTS
The seminar focuses on two broad research questions: Why have so many developing countries (e.g., Mexico, Turkey, China, South Africa, Malaysia) found it difficult to transition from middle-income to high-income economies, a phenomenon known as the "Middle Income Trap"? Why have many developing countries struggled to deliver basic public services (e.g., education of girls, clean water, malaria vaccines) to a large portion of their populations? The class examines these questions from historical, institutional, microeconomic, and macroeconomic perspectives.
Seminar in International Economics
Economics 324
CROSS-LISTED: GIS
This seminar covers international trade (real or "physical" flows) and international finance (monetary or financial flows). Questions addressed include: Why do countries engage (increasingly) in trade? Does trade benefit everybody? Equally? Should we manage trade flows and if so, do quotas, subsidies, and tariffs make sense? What are the roles and effects of institutions such as the Federal Reserve and International Monetary Fund? Students apply the tools and models of international economics to think analytically and critically about real-world situations. Prerequisite: Economics 202.

Economics of Conflict
Economics 326
A look at the economic literature on conflict, starting with the question: if conflict takes such a toll on society, why does it occur? In other words, is the decision to go to war a rational choice? This leads to an investigation of the causes of internal conflict; the entwined role of economic inequality, ethnic fragmentation, and natural resource endowments on the occurrence of conflict; and policies that help in the postwar reconstruction of societies and to prevent the recurrence of conflict.
Advanced Econometrics
Economics 329
Econometrics is the artful blending of economic theory with statistics. Economic theory helps us develop behavioral hypotheses, while statistics help test these hypotheses. This course provides a rigorous treatment of regression analysis. Topics include models and tests that deal with violations of classical assumptions, time series, panel data, structural models, and limited dependent variables. In research projects and assignments, students use STATA to analyze real-world data. Prerequisite: Mathematics 141 and Economics 229, or permission of instructor.
International Migration
Economics 331
CROSS-LISTED: ENVIRONMENTAL STUDIES, GIS, HUMAN RIGHTS
A look at transglobal migration as an economic phenomenon, with a primary focus on human movements in the era of globalization. Questions considered: Who migrates, and why? What are the consequences for the societies they leave behind and those they go to? To what extent does the actual economic impact of immigration determine native perception of immigrants, and what role do these perceptions play in the framing of policy? Prerequisites: Economics 100 and 229.

International Macroeconomics
Economics 337
CROSS-LISTED: ECONOMICS AND FINANCE, GIS
The course combines international macroeconomics and international finance (financial flows, markets, and institutions), presenting important definitions and theories and stressing real-world examples and policy options. Questions addressed include: What's special about the case of an open economy? What's an exchange rate, and does it affect our economies and policies? What are the pros and cons of a flexible/fixed exchange rate system? Why do countries default or go bankrupt? What are the roles and actions of institutions such as the Central Bank and International Monetary Fund? Prerequisite: Economics 202.
Seminar in the Economics of Discrimination
Economics 338
This course explores the process through which differences in earnings manifest, as well as the impact of these differences on wealth and well-being. Particular attention is paid to the role of discrimination in generating unequal outcomes in labor markets.

Financing Government: Money and the Public Interest
Economics 341
Presidents Trump and Biden have spent trillions of dollars fighting the economic effects of the pandemic. When will Uncle Sam run out of money? Won't these debts have to be repaid? How will we ever afford more trillions to fight climate catastrophe? This course examines the theory and practice of financing sovereign government spending, looking at the role played by government in furthering the public interest and, above all, the "deficit myth" and its ramifications, including stagnant wages, rising inequality, substandard growth, crumbling infrastructure, and paralysis in the face of unprecedented challenges.

Economic Growth and Income Distribution
Economics 350
Since the 1980s, income inequality has increased dramatically and is now the highest on record. More and more income goes to capital and profits, not workers. Since 2000, 95 percent of income gains have gone to the top 1 percent. What explains this shift in the distribution of income? What are the roles of technology, international trade, finance, institutions, and governance? Is there a trade-off between growth and equity? This seminar surveys landmark theories of economic growth and income distribution as they pertain to these questions.
Women and the Economy
Economics 354
CROSS-LISTED: GSS
The first objective is to introduce different theoretical approaches and methodologies for analyzing labor markets, household production, pay practices, and other economic outcomes that specifically affect women. The second is to use the different theoretical lenses for analyzing key policy questions, such as pay differentials, discrimination, unpaid care burden and labor force participation, comparable worth policies, and globalization's impact on women.
Contemporary Developments in Finance
Economics 390
This seminar contrasts the academic analysis of financial economics with the coverage it receives in the news media. The news stories are almost always connected with people, yet traditional finance theories concentrate on efficient markets and predictable prices that are determined by the concept of present value, rates of return, and analysis and pricing of computable risks. Human behavior has no place in these ­theories. This course challenges that view, examining the influence of economic psychology in the decision-making process of various agents and in market dynamics.
Corporate Finance
Economics 391 / Economics and Finance 391
Capital is a scarce resource. Access to capital and its efficient use are critical to business success. This course discusses how capital can be raised and allocated within corporations to the advantage of corporate shareholders. Topics include the allocation of capital for investments, measurement of the opportunity cost of capital, capital structure, cash-distribution policy, corporate restructuring, and long-term financing. At the end of the course, students know how to value a company.