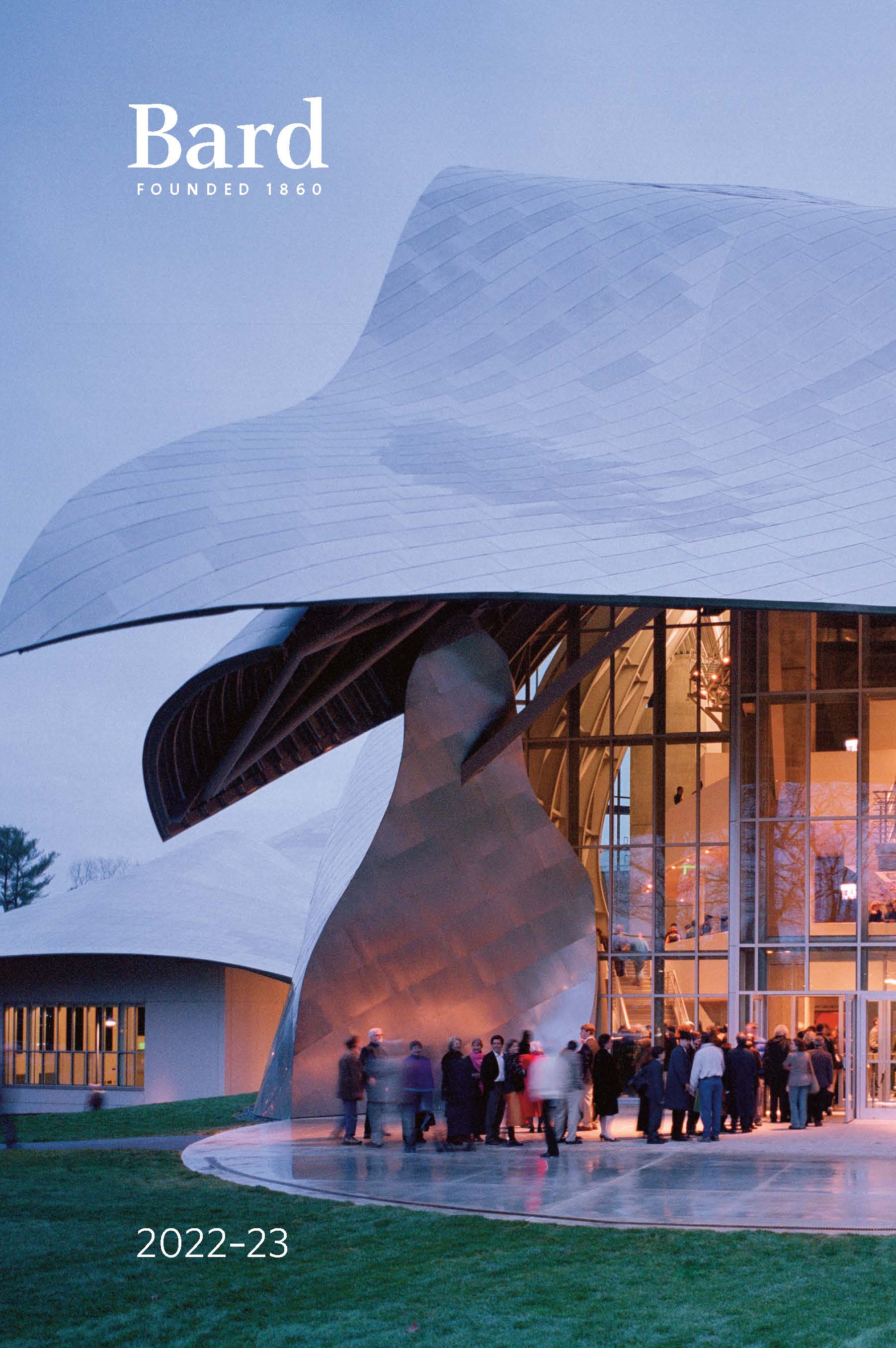 Bard College Catalogue 2022-23
Anthropology

Faculty
Yuka Suzuki (director), Andrew Bush, Michèle D. Dominy, Jeffrey Jurgens, Naoko Kumada, Laura Kunreuther, John Ryle, Maria Sonevytsky, Sophia Stamatopoulou-Robbins
Archaeologist in Residence: Christopher R. Lindner
Overview
The Anthropology Program encompasses the subfields of sociocultural, linguistic, historical, archaeological, and applied anthropology. It seeks to understand the cultural dynamics in the formation of the nation-state; the precolonial, colonial, and postcolonial; and the politics of identity, difference, and inequality in the contemporary world. The core of the program consists of courses that examine everyday experiences in relation to a range of societal issues, such as development and the environment, medicine and health, religion, language, kinship and reproductivity, sports, mass media, visual culture, and aesthetics. Anthropology offers a way to understand patterns and contradictions of cultural meaning within a transnational and transcultural world. Area strengths include sub-Saharan Africa, Latin America, South Asia, the Middle East, and the United States.
Requirements
Anthropology majors can design a course of study in various topical, area, and theoretical orientations. Prior to Moderation, students must complete an introductory course and at least two 200-level courses in anthropology. For courses cross-listed in anthropology, and primarily listed in another program, a maximum of one course may count toward Moderation requirements. All students moderating into the Anthropology Program must have a 3.0 or above average in their anthropology courses. In consultation with their Moderation board, students shape their plan of study in the Upper College. In addition to the moderation requirements, students must take at least four additional courses in anthropology plus the Senior Project:

1. The methodology course Doing Ethnography or an archaeological methods course (if doing a Senior Project in archaeology). In rare cases, students may end up taking a methods course before moderating, in which case they do not need to take another methods course after moderation.
2. The 300-level seminar, Contemporary Cultural Theory
3. An additional 200-level or 300-level course
4. An elective 300-level course
5. Two semesters of the Senior Project, together equaling one 8-credit course

All moderated anthropology students submit a proposal for the Senior Project at the end of their junior year. A Senior Project may be ethnographic (based on fieldwork), historical (using archival or secondary sources), comparative/theoretical (exploring a theory or phenomenon across two or more contexts), or archaeological (involving excavations). Students intending to pursue postgraduate study or ethnographic research in a non-English-speaking area are encouraged to study a foreign language to at least the 200 level.

Recent Senior Projects in Anthropology
"Archaeology of the Floorboards: An Analysis of the Condition of the Captive Black Woman at Livingston Manor, Clermont, Montgomery Place, and Germantown Parsonage"
"Building and Dreaming Diaspora: Zionist Negotiations, Collective Life, and Jewish Summer Camp"
"Everybody Eats: Mutual Aid and Community Care in Queens, New York"
"Mountains to Main Streets: Negotiating Authenticity in Appalachia's 21st-Century Moonshine Distilleries"
Courses
Anthropology courses approach seemingly "natural" ideas such as indigeneity, race, gender, sexuality, and class as cultural constructions that change over time. They critically examine, for instance, the international division of labor, growth of the media, and global commodification of culture. Many classes apply this anthropological perspective to a variety of sources, ranging from traditional ethnographies to novels, travel literature, music, films, and new forms of electronic media. The program has a film library, which includes ethnographic and experimental films, and some recording equipment for the purpose of student research. The program also administers a student research and travel fund, the Harry Turney–High Fund, to support work on Senior Projects.
The following descriptions represent a sampling of courses from the past four years.
Introduction to Cultural Anthropology
Anthropology 101
CROSS-LISTED: GIS, GSS, HUMAN RIGHTS
Anthropology is the study of "culture," and this course traces the history of the culture concept from the 19th century to the present, exploring anthropological approaches to "primitive" societies, group and personal symbols, and systems of exchange. Also considered: anthropology's self-reflexive turn in the 1980s, when the discipline's authority to represent other societies was questioned; anthropologists' engagement in activism; and the field's more recent fascination with the nonhuman (animals, technology, the built environment, nature.
Introduction to Ethnomusicology
Anthropology 185 / Music 185
See Music 185 for a full course description.
Cultural Politics of Empire: From the Raj to Humanitarian Aid
Anthropology 207
No other colony was more prized or the object of more fantasy than India, the "Jewel in the Crown." While the course focuses on British rule in India, it frames the discussion within broader perspec­tives of colonialism and empire, including Edward Said's analysis of Orientalism, critical responses to it, and the ideology of liberalism that underwrote the colonial project. Also examined are new forms of rule that followed in the postcolonial period, namely the rise of development and humanitarian aid.

Ancient Peoples on the Bard Lands: Archaeological Methods and Theory
Anthropology 211
CROSS-LISTED: AMERICAN AND INDIGENOUS STUDIES, ENVIRONMENTAL STUDIES
At the 2,300-year-old Forest site, along an old carriage path behind the Admission building, chipped stone objects afford the most conspicuous evidence of activity 5,000 years ago. The focus of the course, however, is on the distribution of fragmentary ceramic vessels and whether they were made from clay found beneath a nearby waterfall. Students learn basic excavation techniques and gain experience with cartographic analysis and microscopy.
Historical Archaeology
Anthropology 212
CROSS-LISTED: AFRICANA STUDIES, AMERICAN AND INDIGENOUS STUDIES, ENVIRONMENTAL STUDIES, HISTORICAL STUDIES
DESIGNATED: ELAS COURSE
Excavation centers on a social and religious site nine miles north of Bard. This settlement began in 1710 as the first substantial German-speaking community in the New World. Recent evidence indicates that Native Americans visited the site before 1750, and that African Americans lived at the site by the early 1800s, if not a century earlier. Students read case studies in addition to working at the site.
The Modern Dinosaur
Anthropology 216
CROSS-LISTED: ENVIRONMENTAL STUDIES, STS
Since their ascendancy in global popular culture, dinosaurs have come to constitute a category of charismatic animals unmatched by contemporary living species. This course explores the dinosaur as object of scientific inquiry and as popular culture icon, with a focus on competitive exploration for fossils at the turn of the 20th century, rivalries between paleontologists, the rise of dinosaur philanthropy in natural history museums, and how new discoveries provoked parallel shifts in meaning and representation.
The Rift and the Nile
Anthropology 218
CROSS-LISTED: AFRICANA STUDIES, ENVIRONMENTAL STUDIES, HUMAN RIGHTS
Africa's Great Rift Valley is the heart of a region of spectacular ecological diversity and a wide range of human cultures and modes of existence, from pastoral nomadism to urban life. The eastern branch of the Rift Valley was the site of the emergence of the human species. Today the lands that border the Rift exemplify the divisions and difficulties that confront Africa as a whole. This course examines the ways of being that endure, as well as versions of modernity emerging from war and demographic transformation.
Divided Cities
Anthropology 219
CROSS-LISTED: ENVIRONMENTAL STUDIES
This course examines modern cities and everyday urban life, particularly in cities that are spatially and socially divided. The class investigates how cultural differences and political economic inequalities are reflected in geographic boundaries and other aspects of the built environment as well as how state agencies, real estate developers, activists, and residents make and remake city spaces in ways that create, reinforce, and challenge existing forms of difference and inequality. Case studies include Berlin, Rio de Janeiro, Shanghai, and Johannesburg.
State Phobia: Theories and Ethnographies of Statehood Today
Anthropology 221
CROSS-LISTED: GIS, HUMAN RIGHTS, MES
How does the state as a modern political form shape culture, and vice versa? Why do groups (e.g., queer, Indigenous) seek recognition from the state while simultaneously mocking or being suspicious of it? The course explores how scholars define the modern state and critique its effects on contemporary societies and culture. Students then read various ethnographies, investigating the unlikely relationships between corruption, borders, railroads, time, insanity, sexuality, and science, on the one hand, and the effects of statehood and state-making, on the other.
Conservation Anthropology
Anthropology 223
CROSS-LISTED: ENVIRONMENTAL STUDIES, GIS, HUMAN RIGHTS, STS
Conservation anthropology focuses on the cultural, politico-economic, and legal aspects of human transformation of the natural world and its biological resources and organisms. By drawing on environmental anthropology, cultural ecology, and multispecies ethnography, it examines the interplay of nature and culture and investigates global threats to sustainability and biodiversity. The class considers case studies that analyze the complex movement of flora, fauna, fungi, and microbes, as well as present practices for habitat preservation and ecological restoration.
A Lexicon of Migration
Anthropology 224
CROSS-LISTED: AMERICAN AND INDIGENOUS STUDIES, GIS, HUMAN RIGHTS
DESIGNATED: MIGRATION INITIATIVE COURSE
Migration is one of the most important and contested features of today's interconnected world. It has transformed most, if not all, contem­porary nation-states into pluralist, postmigrant, and/or super diverse polities. And it affects everyone, regardless of migratory status. This course examines the history of migration from local, national, and global perspectives, with an emphasis on the uneven economic and geopolitical developments that have produced specific forms of mobility into and through the United States.
Economic Anthropology
Anthropology 228
By considering economic questions across the full sweep of human experience, economic anthropology provides fresh insight into basic concepts. This course considers exchange theory, money and markets, the debate between the substantivists and formalists, analysis of inequality in production, and the new "generating capitalisms" approach, as well as anarchists, South Pacific canoe trading, British shoppers, and the anxieties of entrepreneurialism. As it makes the familiar seem strange, the class opens up new possibilities for understanding the circulations that we set into motion every day.
Confronting "Crisis": Refugees, The Pandemic, and Populism in Europe
Anthropology 237
CROSS-LISTED: HUMAN RIGHTS
DESIGNATED: HSI AND ELAS COURSE
Since 2015, more than three million people from Syria and other countries have traveled to Europe, seeking refuge. This course examines the varied ways their presence has come to be viewed as a "crisis." Topics include the surveillance, security, and bureaucratic management employed by members of the European Union to prevent and regulate refugees' entry; techniques with which state agencies have sought to both govern and care for refugees; and populist rhetoric that has targeted them as threats to national and European integrity.

Anthropology of Religion
Anthropology 238
CROSS-LISTED: INTERDISCIPLINARY STUDY OF RELIGIONS
Anthropologists have been provoked by the phenomenon of religion from the very beginnings of the discipline. This introductory survey looks at how successive generations of anthropologists have studied and theorized practices such as ritual and sacrifice, magic and witchcraft, gift and exchange as observed in social formations from hunter-gatherer societies to the modern state. The class also thinks anew about such questions as the relationship between the religious and the secular, and the enduring power of practices and concepts birthed in "religion."

Social Class: Global Politics, Global History
Anthropology 241
This course aims to reveal anthropology's roots, as a field, in the general project to account for modern inequalities in wealth. Is there such a thing as social class? If so, what makes it different from caste, estate, gender, and race? How do people come to accept classed inequality, and under what conditions do they rise against it? The class seeks answers by using anthropological tools, including archaeology, ethnography, and linguistic analysis. Readings range from Marxists on African lineage systems to Labov on speech in New York department stores.

Global Culture Brokers
Anthropology 248
CROSS-LISTED: GIS
Culture brokers are crucial, yet often overlooked, actors who enable the making of international information, news, and knowledge. In contexts of war or conflict, culture brokers become agents whose local knowledge enables them to save lives while also putting their own life at risk. Focusing on the labor of such culture brokers—tour guides, international journalist's "fixers," interpreters, translators, photojournalists' image brokers, anthropologists' informants—forces us to ask questions about the constitutive role they play in general understandings and knowledge about "the global world."

Travel, Tourism, and Anthropology
Anthropology 249
CROSS-LISTED: ASIAN STUDIES
The course considers how travel writing (postcards, letters, journals, guidebooks, ethnography) reflects, as well as shapes, the experience of travel; how personal, group, and national identities have been constructed through the practice of travel; and how "home" is configured in relation to foreign places in these texts. Topics also include travel as a rite of passage, the impact of the traveler on the communities visited, and writings from exile or diaspora communities.
The Stranger in Latin America
Anthropology 254
CROSS-LISTED: LAIS
What happens to classic accounts of Latin America if we read them by tracking the figure of the stranger? This course aims to provide an alternative view of two tropes that have structured much recent scholarship about Latin America: the encounter and the other. Students assess the stranger at the moment of conquest and as a problem in newly colonized societies, strangers as rulers, otherworldly strangers, strangers and enslavement, strangers in the city, migratory strangers, violence and the stranger, and the welcome given to strangers.

Anthropology of the Institution: Making Change through Social Service and Community Organizing
Anthropology 255
CROSS-LISTED: HUMAN RIGHTS
DESIGNATED: ELAS COURSE
Can a small group of people change the society in which they live? The course uses the tools of anthropology to consider organizations that wrestle with the human condition—nursing homes, crisis hotlines, labor unions, and migrant coalitions—and asks what can be learned by considering these groups as institutions. Students commit to a semester-long internship with a group that carries out community organizing or social service. Readings from Weber, Durkheim, Tocqueville, Gandhi, Hamer, Goffman, and Foucault, as well as contemporary ethnographies of institutions.

Gender and Sexuality in the Middle East
Anthropology 257
CROSS-LISTED: GSS, HUMAN RIGHTS, MES
The course investigates how gender and sexuality are experienced in the Middle East, and how these categories/experiences relate to authoritarianism and capitalism, and to materialities like infrastructures and war. Readings from anthropologists, queer theorists, and historians help students understand what dynamics of space, queerness, gender performance, revolution, garments, bodies, and the law can tell us about colonial, anticolonial, and postcolonial life in Iran, Turkey, Algeria, Egypt, Lebanon, Palestine/Israel, and Iraq.
Anthropology of Violence and Suffering
Anthropology 261
CROSS-LISTED: AFRICANA STUDIES, GIS
The course looks at how acts of violence challenge and support modern ideas of humanity, raising questions about what it means to be human today. It reviews different forms of ­violence—e.g., ethnic and communal conflicts, torture, rituals of bodily pain—and examines violence as a means of producing and consolidating social and political power.
Race and Nature in Africa
Anthropology 265
CROSS-LISTED: AFRICANA STUDIES, ENVIRONMENTAL STUDIES, GIS, HUMAN RIGHTS
Western fantasies have historically represented Africa as the embodiment of a mythical, primordial wilderness. Within this imagery, nature is racialized, and Africans are constructed as existing in a state closer to nature. This course investigates the racialization of nature under imperial regimes, and considers the continuing legacies in postcolonial situations. Texts include ethnographic accounts, historical analyses, and works of fiction based in Africa.

Postapartheid Imaginaries
Anthropology 275
CROSS-LISTED: AFRICANA STUDIES, GIS, HUMAN RIGHTS
As one of the few regions on the continent charted for permanent European settlement, southern Africa has been marked by a history of violence that far surpassed normative applications of colonialism. In the wake of such turmoil, nations struggled to reinvent themselves at the moment of independence, scripting new national mythologies and appeals for unity. This course explores these contests over nationhood in the postapartheid era, focusing primarily on the experiences of Zimbabwe and South Africa.
In the Garden of Empire:
Nature and Power in the Modern Middle East
Anthropology 277
CROSS-LISTED: ENVIRONMENTAL STUDIES, GIS, MES, STS
"Culture" has long been a key explanatory framework for scholars studying the modern Middle East. This course brings "nature" out of culture's shadows and examines how ideas about nature and the natural have shaped social, scientific, and historical scholarship on, and political and cultural formations within, the region. The class investigates the relationship between nature and power in contexts of empire, decolonization, and postcoloniality, and considers topics such as kinship, nationalism, violence, technology, war, race, gender, sexuality, environmentalism, fossil fuels, and genetics.
The Edge of Anthropology
Anthropology 280
Although "ethnography" and "fieldwork" are terms that have become widely used in other disciplines, anthropologists are still at the cutting edge of research-based factual writing, usually about small-scale societies, both those on the periphery of the world system and those at the heart of it. The course examines a range of genres and techniques used to convey the lived experience of other cultures. Texts by Bronislaw Malinowski, Claude Lévi-Strauss, Oscar Lewis, Ruth Landes, Carlos Castaneda, Michael Taussig, Leni Riefenstahl, Katherine Boo, and others.

Gig Life: Anthropology of the "Sharing Economy"
Anthropology 289
CROSS-LISTED: HUMAN RIGHTS, STS
DESIGNATED: ELAS+ COURSE
Platform-based exchanges of goods (through Airbnb, Lyft, Uber, TaskRabbit, etc.) have arguably changed the cultural, infrastructural, and environmental conditions in which many people live and work. Some even argue that they are calling into being new forms of subjecthood. This course investigates whether, how, and to what extent this is true. It draws on case studies from the United States, China, Greece, and Israel/Palestine, as well as on precursors of the so-called sharing economies (e.g., gift exchange).

Archaeology of African American Farms, Yards, and Gardens
Anthropology 290
CROSS-LISTED: AFRICANA STUDIES, AMERICAN AND INDIGENOUS STUDIES, ENVIRONMENTAL STUDIES, HISTORICAL STUDIES
DESIGNATED: ELAS COURSE
Using archaeological methods, students learn to identify, analyze, and interpret places where African American plant growing flourished, and contextualize them against racism in societies of the past and present. In addition to fieldwork, done in person or virtually, laboratory protocols and strategies of sampling are used to identify soil deposits with informative chemistry and microscopic remains that provide clues to plants that grew on site. Readings include literature on Jefferson's Monticello (phosphate analysis) and Poplar Forest (phytolith analysis), and other sites.

Race and the Animal
Anthropology 291
CROSS-LISTED: AFRICANA STUDIES, AMERICAN AND INDIGENOUS STUDIES, ENVIRONMENTAL STUDIES, HUMAN RIGHTS
DESIGNATED: RJI COURSE
Racialization is a process grounded in dehumanization and animalization; shifting the human-animal boundary acts as a powerful tool in subjugation. At the same time, animal bodies are routinely used as vehicles for consolidating authority and reproducing racialized hierarchies. The course examines these connections between race and the animal across a broad range of historical and contemporary contexts.

Anthropology for Decolonization
Anthropology 292
CROSS-LISTED: AFRICANA STUDIES, ASIAN STUDIES, GIS
DESIGNATED: HSI COURSE
The pandemic and protests against racism and police brutality have brought the systemic sources of these issues into sharp relief. This course addresses racial injustice by locating it within the historical and global processes of colonialism. Black liberationist leaders from W. E. B. Dubois to Angela Davis have articulated the demand for racial justice against a global canvas, in ways that underlined its continuity with the anticolonial movements of their day. Taking an anthropological approach, the class examines the effects of racialized practices of warfare, colonial administration, and exploitation.

Japan as Empire
Anthropology 293
CROSS-LISTED: ASIAN STUDIES, HISTORICAL STUDIES
DESIGNATED: HSI AND ASIAN DIASPORIC INITIATIVE COURSE
At its height, the Japanese Empire was one of the largest in history. Its legacy shaped and continues to trouble Japan and former colonial territories politically and culturally. This course explores how an Asian state subjugated other Asian peoples, as it resisted and imitated the Great Powers, and proffered liberation from white colonial rule while imposing its own. It also examines what empire did to Japanese society and culture as Japan became "Western" in different ways before and after the Pacific War.

The Anthropology of Law
Anthropology 295
CROSS-LISTED: ASIAN STUDIES, HUMAN RIGHTS
Ideals of the "rule of law" and the rights enshrined in the Constitution are something one commonly hears in everyday U.S. society. Do other societies around the world have the same ideas of law? Is it possible to offer a universal definition of law? How do stateless societies maintain social order and resolve conflict? The course considers these questions through an anthropological approach to law from "primitive" societies to the contemporary globalized world.

The Anthropology of Home
Anthropology 296
CROSS-LISTED: ARCHITECTURE
What makes a home? Are homes political? This course examines the meanings, materialities, and effects of homes across cultural contexts and through time. It seeks to understand how homes are unmade and remade, and what the effects of those processes are on human relationships and on relations between humans and the nonhuman world. Readings from earlier anthropologists and theorists (Bourdieu, Hurston, Arendt, Lévi-Strauss, Foucault) and contemporary ethnographies of places such as Greece, Argentina, Vietnam, and the United States.

Ethnic Politics in Southeast Asia
Anthropology 312
CROSS-LISTED: ASIAN STUDIES
Myanmar consists of an extremely diverse population, with 135 officially recognized ethnic groups, which is why it has been embroiled in the world's longest running civil war since becoming independent of British rule in 1948. The Rohingya crisis has emerged against this background of postcolonial ethnic conflict, becoming the predominant issue drawing international attention to Myanmar. This course helps students develop the skills and perspective needed for analyzing difficult cases of ethnic conflict as well as cultivating knowledge of Myanmar and other Southeast Asian societies.
The Voice in the Machine
Anthropology 320
CROSS-LISTED: EXPERIMENTAL HUMANITIES, STS
The voice, it is assumed, provides unmediated access to the self and a direct way of making one's desires and ideas known. But the immediacy of the voice often depends upon technologies that make specific voices audible. Students explore a range of conduits that re-present an original voice through technological (radio, telephone captioning, voice recorders) and human (translators, voice-over artists, spirit possession, stenographers) means.

The Politics of Infrastructure
Anthropology 323
CROSS-LISTED: ENVIRONMENTAL STUDIES, HUMAN RIGHTS, STS
DESIGNATED: ELAS COURSE
Infrastructure is said to be invisible until the point at which it breaks down. Drawing on ethnographic and historical readings from disparate geographical locales, the course asks when, and with what consequences, infrastructures become visible or invisible. Organized around different types of infrastructure present in colonial and postcolonial contexts, including roads, water distribution networks, sewage pipelines, telecommunications, nuclear energy stations, and electrification.
Doing Ethnography
Anthropology 324
CROSS-LISTED: ENVIRONMENTAL STUDIES, HUMAN RIGHTS
DESIGNATED: ELAS COURSE
What are the ethical stakes, practical questions, and methodological tools that we use when we practice ethnography? This course is a survey of, and practicum in, ethnographic field methods, including participant observation; interviewing; archival research; and visual, sonic, textual, and spatial analysis. Also addressed: the challenges of doing fieldwork in a variety of contexts; emergent ethnographic forms and methods, such as multi-sited ethnography, critical moral anthropology, and Indigenous methodologies and critiques; and the ethical aspects of conducting fieldwork.

Science, Empire, and Ecology
Anthropology 326
CROSS-LISTED: ENVIRONMENTAL STUDIES, STS
This seminar examines indigenous, colonial, and postcolonial ecologies in the Pacific from the 18th to the 21st century as it traces the transformation of projects of empire to contemporary projects of species and biodiversity preservation and restoration. Students examine naval logs, field notes, and correspondence of naturalists Joseph Banks, Charles Darwin, and Joseph Hooker; and consider Australia and New Zealand as productive sites for exploring ecological colonization and decolonization, and evolving state strategies for resource management and ecological restoration.
Political Ecology
Anthropology 349
CROSS-LISTED: AFRICANA STUDIES, ENVIRONMENTAL STUDIES, GIS, HUMAN RIGHTS
Political ecology emerged in the early 1990s as a bridge between cultural ecology and political economy. Based on the principle that environ­mental conditions are the product of political pro­cesses, the field integrates the work of anthropol­ogists, geographers, historians, political scientists, and sociologists. Topics include the politics of knowledge, state power, sustainable development, mapping, corporations and conservation, and multilateral environmental governance. Readings drawn primarily from case studies in sub-Saharan Africa, Asia, and Latin America.
Contemporary Cultural Theory
Anthropology 350
CROSS-LISTED: HUMAN RIGHTS
This introduction to advanced theories of culture in contemporary anthropology is required of all anthropology majors. In contrast to early anthropological focus on seemingly isolated, holistic cultures, more recent studies have turned their attention to conflicts within societies and the intersection of local ­systems of meaning with global processes of poli­tics, economics, and history. The class is designed around an influential social theorist and the application of his or her theories by anthropologists. Students develop theoretical tools and questions for a Senior Project that makes use of contemporary theories of culture.

The Interview: Reportage, Human Rights, Literature, Ethnography, Film
Anthropology 351
DESIGNATED: ELAS COURSE
The interview is central to the practice of a wide range of disciplines and genres, including ethnographic fieldwork, human rights research, investigative journalism, creative nonfiction, and documentary film. Interview-based research forms a basis for the understanding of culture, the construction of complex narratives, and specialist forms such as life histories, testimonies, and confessions. This course combines critical analysis of interview-based writing (and audio and video recording) with the development of technical interviewing skills.
Anthropology of Brazil: Utopia, Not Paradise
Anthropology 354
CROSS-LISTED: GIS, LAIS
A gigantic economy that leads the globe in citrus, poultry, and passenger jets. A society stricken with one of the world's worst rates of income inequality. Land half-covered in forest. Home of the largest city in the Southern Hemisphere. The source of an epic literature that is hung on strings in markets and sold for pennies. Brazil, as an idea, inspires contradictory visions. This course explores the notion of Brazilian civilization, tracing the ­travails of emperors, socialists, plunderers, and castaways through anthropological texts, history, poetry, and primary sources.
Climate Change, Culture Change
Anthropology 362
CROSS-LISTED: ENVIRONMENTAL STUDIES, HUMAN RIGHTS
What does the temperature outside have to do with politics, rights, and duties? How does climate change intersect with colonialism, capitalism, and other systems that foster inequality? How is it shaping people's senses of time, risk, and the good life? This course draws on anthropological concepts and methods to consider how climatic changes (e.g., floods, desertification, extreme weather events) are impacting cultural production and meaning making in different geographical contexts.

Asia and America: Imperial Formations
Anthropology 363
CROSS-LISTED: AMERICAN AND INDIGENOUS STUDIES, ASIAN STUDIES, GIS
DESIGNATED: HSI AND RJI COURSE
The recent sharp increase in anti-Asian violence echo the anti-China rhetoric spread by mainstream and social media, corporations, and policymakers. Taking an anthropological approach, this course attempts to offer historical, cultural, and geopolitical contexts for understanding the racial tension surrounding Asian communities in the United States and abroad today. Topics include racial and gendered forms of Asian labor and migration ("coolies" and "prostitutes"), the practices of building and maintaining U.S. military bases, America's wars on Asia (the Philippines, Vietnam), and local responses.

Middle Eastern Diasporas
Anthropology 369
CROSS-LISTED: GIS, HUMAN RIGHTS, MES
This course examines the past and present experiences of people of Arab, Afghan, Iranian, Kurdish, and Turkish backgrounds who reside in Europe and North America, as well as those of Jews of diverse backgrounds who live in Israel and abroad. It also addresses questions such as: How do contemporary diasporas differ from past ones, especially those that emerged before the advent of the nation-state? How are recent diasporic experiences shaped not only by gendered, sexual, class, and religious differences but also by ongoing imperial projects and practices of racialization?