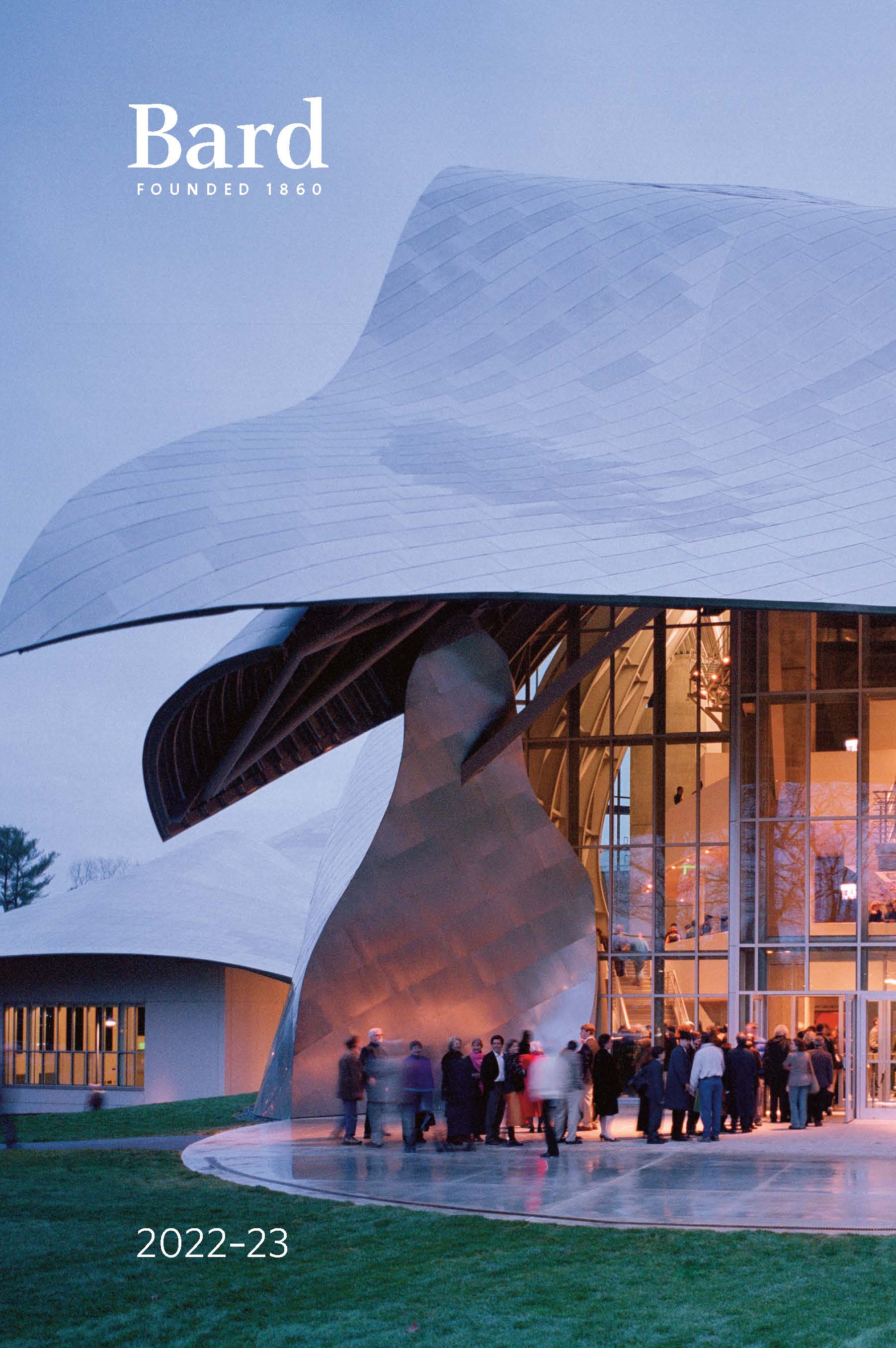 Bard College Catalogue 2022-23
Art History and Visual Culture

Faculty
Katherine M. Boivin (director), Susan Aberth, Anne Hunnell Chen, Laurie Dahlberg, Patricia Karetzky, Alex Kitnick, Kobena Mercer, Susan Merriam, Julia Rosenbaum, Heeryoon Shin, Olga Touloumi, Tom Wolf
Overview
The Art History and Visual Culture Program offers a broad range of courses that explore art and visual culture through a critical lens. Faculty work closely with students both in and outside of the classroom to hone their skills in looking at and writing about visual material. Introductory courses (100-level) generally offer a broad survey of the visual production of a period, culture, or region, while thematic (200-level) courses center particular questions, themes, or issues. Advanced (300-level) seminars offer focused, in-depth study of a specific subject matter. The program runs a trip to the Metropolitan Museum of Art in New York City every semester; specific courses may visit other museums and galleries or be designed in conjunction with current exhibitions. In addition, the art and architecture of the Hudson Valley provide a fruitful resource for study and original research. The program maintains close contact with local institutions so that students have access to original documents and work as volunteer interns during the summer or January intersession. Advanced students may also work with faculty at the Center for Curatorial Studies on campus and at the Bard Graduate Center in New York City.
Requirements
Students intending to major in Art History and Visual Culture should work with their adviser to develop individual study plans that reflect their interests and meet the program's distribution requirements. These requirements are designed to introduce students to a wide range of artistic practices across cultures and time. Students need a total of four AHVC courses to moderate, including either Perspectives in World Art I or II (Art History 101, 102).

Moderated students generally take at least one program course per semester thereafter. Course requirements for graduation include (in addition to Art History 101 or 102): one course in studio arts, film, or photography; Theories and Methods of Art History (Art History 385), typically taken in the junior year; a set of period and geographic requirements; and at least two 300-level art history and visual culture seminars (in addition to Art History 385). Before undertaking the Senior Project—a longer written project that examines an original art historical issue—the student is encouraged to demonstrate reading knowledge of a language other than English. Each senior presents their project in a poster session (in December) and in a colloquium (in May).
Recent Senior Projects in Art History
"(Altar)making a Sacred Latinx Space"
"Architecture Obscura: The Metaphysical World of Remedios Varo "The Photogram Now and Then: An Investigation of Contemporary Photogram Practice"
"Constructivism in Early Soviet Russia: Textiles, Graphic Design, and Photomontage"
"Historical and Contemporary Tibetan Artists, a Study on the Diasporic State"
Courses
The descriptions below represent a sampling of courses from the past four years.
Perspectives in World Art I, II
Art History 101, 102
CROSS-LISTED: AFRICANA STUDIES
This two-semester course examines painting, sculpture, architecture, and other cultural artifacts from the Paleolithic period through the present. Works from Europe, Asia, Africa, and the Americas are studied chronologically.

Arts of Korea
Art History 107
CROSS-LISTED: ASIAN STUDIES
The course explores the history of Korea from ancient times to the present through the lens of art and culture. The first half considers canonical artworks from premodern Korea; the second half shifts to the modern and contemporary periods and critically examines how the "canon" was formulated. Topics include Buddhist art and ritual; material culture and collecting; female artists and representations of women; visual culture and politics under Japanese colonial rule; monuments and anti-monuments; and contemporary Korean art.

Ancient Arts of China
Art History 109
CROSS-LISTED: ASIAN STUDIES
Late in the 20th century, massive building projects throughout China uncovered thousands of ancient tombs. Studying their contents has reshaped our picture of its ancient world. This course surveys the development of Chinese culture from the earliest material record to the 13th century. The visual material, largely tomb art, includes ritual jades and bronzes, ceramics, decorative art, murals, and Daoist and Buddhist art of the medieval period.
History of Photography
Art History 113 / Photography 113
The discovery of photography was announced in 1839, almost simultaneously by several inventors. Born of experiments in art and science, the medium combines vision and technology. With its uniquely intimate relation to the real, photography has many applications outside the realm of fine art; nevertheless, from its inception it has been a vehicle for artistic aspirations. This survey of photography from its earliest manifestations to the 2000s considers the medium's applications—as art, science, historical record, and document.
History of the Decorative Arts
Art History 114
A survey of the decorative arts from the rococco period to postmodernism. Students explore the evolution of historical styles as they appear in furniture, interiors, fashion, ceramics, metalwork, and graphic and industrial design. Objects are evaluated in their historical contexts, and formal, technical, and aesthetic questions are considered.
Romanesque and Gothic Art and Architecture
Art History 120
CROSS-LISTED: ARCHITECTURE, FRENCH STUDIES, MEDIEVAL STUDIES
This course covers the art and architecture created in Western Europe from around 1000 CE to 1500 CE. Emphasis is placed on an analysis of architecture (religious and secular), sculpture, painting, stained glass, tapestry, and metalwork within a wider cultural context. Topics addressed include the aftermath of the millennium, the medieval monastery, pilgrimage and the cult of relics, the age of the great cathedrals (Chartres, Amiens, Reims, etc.), and late medieval visual culture up to the Reformation.
Survey of African Art
Art History 122
CROSS-LISTED: AFRICANA STUDIES, LAIS
This introductory course surveys the vast array of art forms created on the African continent from the prehistoric era to the present, as well as arts of the diaspora in Brazil, the Americas, Haiti, and elsewhere. In addition to sculpture, masks, architecture, and metalwork, students examine beadwork, textiles, jewelry, house painting, pottery, and other decorative arts.
20th-Century Art: What It Means to Be Avant-Garde
Art History 123
An overview of the major movements of modern art, beginning with postimpressionism in the late 19th century and moving through fauvism, expressionism, cubism, futurism, constructivism, Dadaism, surrealism, abstract expressionism, pop art, and minimalism.
Modern Architecture in the Age of Colonialism
Art History 125
CROSS-LISTED: ARCHITECTURE
This course approaches the history of modern architecture within the context of colonialism, examining the debates, theories, and practices that informed its many facets from the late 18th century to the early 20th. The industrialization of production, new technologies, materials, and institutions, as well as growing urban cultures and changing social structures, called for architects and designers to partake in the process of modernization. From buildings, drawings, exhibitions, and schools to historical and theoretical writings and manifestos, the class investigates the range of modernist practices, polemics, and institutions.
Situating Architecture
Art History 126
CROSS-LISTED: ARCHITECTURE, ENVIRONMENTAL STUDIES
A survey of modern architecture through architectural and urban design practices and theories. The course covers major 20th-century architectural movements, such as brutalism, functionalism, megastructures, corporate architecture, phenomenology, postmodernism, and deconstruction. At the same time, it interrogates the social and political function of the built environment, addressing social housing, third-world development, and urbanism. Figures discussed include Henry Van de Velde, Le Corbusier, Eileen Gray, Louis Kahn, Alison and Peter Smithson, Eero Saarinen, Yona Friedman, Robert Venturi and Denise Scott Brown, Aldo Rossi, Zaha Hadid, and Peter Eisenman.
Art of the Ancient Near East
Art History 128
CROSS-LISTED: CLASSICAL STUDIES
This course examines the art and culture of Mesopotamia, a region corresponding to present-day Iraq, Syria, and Iran. From roughly 3500 BCE to 330 BCE, the first urban societies arose, writing was invented, empires were born, and great power and wealth were amassed. The successive peoples of the region—Sumerians, Babylonians, Assyrians, and Persians—produced a rich visual culture, from carved palace reliefs to ivory, gold, and bronze luxury goods. These works are considered within their social, political, and cultural contexts.
Introduction to Visual Culture
Art History 130
This introduction to the discipline of art history and to visual artifacts more broadly defined is designed for anyone with an interest, but no formal coursework, in art history. Participants learn ways to look at, think about, and describe art through writing assignments based on observation of works at museums and galleries.

Survey of Islamic Art
Art History 140
CROSS-LISTED: AFRICANA STUDIES, MEDIEVAL STUDIES, MES
An introduction to the visual production defined as "Islamic art." In addition to architecture and architectural ornamentation, the course looks at pottery, metalwork, textile and carpet weaving, glass, jewelry, calligraphy, book illumination, and painting. Beginning with the death of Muhammad in 632 ce and continuing through the present, the course covers works from Iran, Syria, Egypt, North Africa, Turkey, Spain, India, and other areas; and explores how cultural identity can be articulated through visual means.
Byzantine Art and Architecture
Art History 145
CROSS-LISTED: MEDIEVAL STUDIES
An introduction to the art and architecture of the Byzantine Empire, beginning with the reign of Constantine the Great in 324 and ending with the fall of Constantinople to the Ottomans in 1453. The class considers architecture, mosaics, textiles, painting, city planning, manuscripts, and a range of other media.
Survey of Latin American Art
Art History 160
CROSS-LISTED: LAIS
DESIGNATED: HSI COURSE
A survey of pre-Columbian monuments is followed by an examination of the contact between Europe and the Americas during the colonial period, 19th-century Euro­centrism, and the reaffirmation of national identity in the modern era.
Arts of Japan
Art History 193
CROSS-LISTED: ASIAN STUDIES
The class first studies the Neolithic period and its cord-impressed pottery (Jomon) circa 2000 BCE, when Japanese cultural and ­aesthetic characteristics are already observable. The great wave of Chinese influence is viewed, including its impact on government, religion (Buddhism), architecture, and art. Subsequent periods of Indigenous art in esoteric Buddhism, popular Buddhism, Shinto, narrative scroll painting, medieval screen painting, Zen art, and ukiyo-e prints are presented in a broad view of the social, artistic, and historical development of Japan.

Blackness and Abstraction
Art History 202
CROSS-LISTED: AFRICANA STUDIES
This course investigates abstract artists in African American, Caribbean, Black British, and African contexts in the post-1945 period, including Norman Lewis, Roy DeCarava, Howardena Pindell, Mel Edwards, Senga Nengudi, and El Anatsui. Also addressed are the contested meanings attributed to black color in Western modernism, from Kazimir Malevich to Ad Reinhardt. Texts by scholars, curators, and the artists themselves.

Art and Experiment in Early Modern Europe
Art History 204
CROSS-LISTED: EXPERIMENTAL HUMANITIES
A meditation on the meaning of artistic experimentation in early modern Europe (1500–1800), a time when art and science were often intricately connected, and artists took for granted the notion that they could manipulate and experiment with materials, techniques, and conceptual approaches to art making. Questions pursued: What is meant by "visual experiment"? How might we compare artistic experiments in the early modern period to those undertaken today? The class also creates visual experiments using both old and new technologies, including a life-sized camera obscura.

Power, Piety, and Pleasure: The Art of the Mughal Empire
Art History 213
CROSS-LISTED: ASIAN STUDIES, MES
An exploration of the art and architecture of the Mughal Empire (1526–1858), one of the most powerful and opulent empires in the early modern world. As prolific patrons and collectors of art, the Mughals drew upon Persian, Indian, and European sources to create new and distinctive forms of art and architecture, including imperial palaces and tombs (Taj Mahal), illuminated manuscripts, textiles, and lavish albums of painting and calligraphy. The course considers the political, social, and cultural contexts of this artistic production.
Wild Visions: Picturing Nature
Art History 223
CROSS-LISTED: ENVIRONMENTAL STUDIES, STS
The class examines the extraordinary body of visual material representing the natural world created in Europe from 1500 to 1800, with a focus on still life paintings, study drawings, scientific illustrations, maps, and prints. Questions addressed: How did this body of visual material both reflect and produce beliefs about the natural world? How did colonial practices and discourses shape the visual record of nature in colonized landscapes? Does this visual record still resonate with contemporary views of nature?
Art and Environment: Perspectives on Land, Landscape, and Ecology
Art History 225
CROSS-LISTED: AMERICAN AND INDIGENOUS STUDIES, ENVIRONMENTAL STUDIES, EXPERIMENTAL HUMANITIES
How did 19th- and 20th-century Americans understand nature and imagine its role? How have visions of landscape shaped perceptions about social order, health, identity, and sustainability? The course is structured around historical case studies and focuses on three conceptions of the land: visual representations in the form of landscape painting; physical shaping through landscape design; and preservation in terms of the development of cultural heritage sites. Visits to local sites and New York City.

Visualizing Freedom: Revolution, Emancipation, Rights
Art History 227
CROSS-LISTED: AMERICAN AND INDIGENOUS STUDIES, HUMAN RIGHTS
Political and cultural revolutions from the 18th century through the early 1900s ignited debates about basic human rights and equality. How were these rights defined, promoted, and resisted? This course explores the role of visual material in developing discourses of freedom in the Atlantic World of this period. The class addresses a range of media, including popular prints and cartoons, paintings, photography, and sculpture, and reflects critically on connections between historical and present-day struggles for political, gender, and racial equality.
Of Utopias
Art History 234
CROSS-LISTED: ARCHITECTURE, ENVIRONMENTAL STUDIES
Students use the concept of utopia to map out the ways men and women have sought to transform the spatial, psychic, and social landscapes they inhabited. Projects studied range from early industrial colonies, socialist utopias, Christian communities, and anarchist utopias to settlement housing, shopping malls, and factories. In addition to reading and writing assignments, students engage with creative designs, building toward a final exhibition of design projects for future utopias.

Photography and Empire in the 19th Century
Art History 237
CROSS-LISTED: AMERICAN AND INDIGENOUS STUDIES, PHOTOGRAPHY, VICTORIAN STUDIES
DESIGNATED: HSI COURSE
A survey of the work of the peripatetic photographers of the 19th century. Travel and exploratory photographs of landscapes, people, and architecture were made by European and American photographers throughout the world, produced as government surveys, historical records, souvenirs for travelers, scientific documents, and picturesque views. Imperialist expansion of European powers, the romantic poets' reverence for nature, and the projection of the photographers' (and their audiences') fantasies upon alien realms and peoples are among the forces that helped shape the travel photography of this period.
Art since 1989
Art History 242
An examination of art produced since 1989, primarily in Europe and the United States. The year 1989 saw the fall of the Berlin Wall and the beginning of a major shift in the geopolitical landscape. This course charts a variety of artistic practices, including identity politics, institutional critique, and relational aesthetics, which engaged this new terrain by asking questions about history, temporality, and community. Students look at examples of painting, sculpture, installation, performance, and video art.
The Altarpiece
Art History 249
CROSS-LISTED: MEDIEVAL STUDIES, THEOLOGY
Developed in the 14th century as a painted or carved image program placed on an altar table, the altarpiece became a site for artistic innovation and has been central to the narrative of Western art history. Focusing on medieval and Renaissance examples from across Western Europe, the class explores the development, function, iconography, and art historical and liturgical significance of important altarpieces.

Women of the Surrealist Movement
Art History 2491
CROSS-LISTED: AMERICAN AND INDIGENOUS STUDIES, GSS, LAIS
This course examines the use of female sexuality in surrealist imagery and considers the writing and work of Claude Cahun, Leonora Carrington, Leonor Fini, Dora Maar, Lee Miller, Meret Oppenheim, Dorothea Tanning, Toyen, Remedios Varo, and others. Issues explored include female subjectivity, cultural identity, occultism, mythology, dream imagery, artistic collaboration, and the methodologies employed to interpret surrealism.
Outsider Art
Art History 255
"Outsider art" is a problematic umbrella under which are grouped a variety of difficult-to-categorize artistic practices. The course examines the use of terminology such as outsider, naïve, and visionary, as well as groupings such as art brut, folk art, art of the insane, and popular culture.
European Art in the Age of Revolution
Art History 257
CROSS-LISTED: VICTORIAN STUDIES
A survey of European painting from the pre-revolutionary period (c. 1770) to realism (c. 1850). Topics include changing definitions of neoclassicism and romanticism; the impact of the French revolutions of 1789, 1830, and 1848; the Napoleonic presence abroad; the shift from history painting to scenes of everyday life; landscape painting as an autonomous art form; and attitudes toward race and sexuality. While the emphasis is on French art, time is also devoted to artists in Spain, Great Britain, and Germany.

European Painting, 1850–1900
Art History 258
CROSS-LISTED: FRENCH STUDIES, GSS
This course considers art of the latter half of the 19th century, a period often described as the incubator of the avant-garde. Students look at the economic, biographical, historical, psychological, and gender-related conditions that surround the art and its makers. Topics addressed: Why have some works been enshrined into the canon, and others left out in the cold? Can viewers today hope to understand these works as they were understood by their original audiences? How do the conditions of our contemporary lives color our reading of these artworks?
20th-Century German Art
Art History 262
CROSS-LISTED: GERMAN STUDIES
The emphasis is on German art from Jugendstil through expressionism, Dadaism, Neue Sachlichkeit, Nazi and concentration camp art, and post–World War II developments. Artists studied include Ernst Ludwig Kirchner, Wassily Kandinsky, Paul Klee, and Egon Schiele. The course concludes with a look at how more recent artists, such as Joseph Beuys, Bernd and Hilla Becher, Sigmar Polke, and Gerhard Richter, connect to previous German artistic tendencies.

Photography of the 1960s
Art History 263
The course pays particular attention to the '60s as the first markedly heterogeneous period of American art photography. On the East Coast, MoMA curator John Szarkowski promoted a new aesthetic that located the photography of Diane Arbus, Garry Winogrand, and Lee Friedlander at the intersection of formal complexity, wit, and edgy irony. His exhibitions and publications made art photography suddenly seem viable. On the other hand, many photographers invented their own creative platforms, such as Ed Ruscha's self-published books, African American photographers in Harlem's Kamoinge Workshop, and Robert Heinecken's guerrilla art interventions.

To Exhibit, To Present
Art History 270
An introduction to key ideas and theories informing the field of curatorial studies, and to the history of exhibitions since the 1960s. The course considers the different components of exhibitions, from design to didactics to artworks themselves, as well as the audiences exhibitions address; the differences between curatorial work, academic work, and criticism; and the role of the curator today. Students collectively research and curate an exhibition at the Center for Curatorial Studies, where classes are held.
European and American Orientalism in Architecture and the Visual Arts, 1830s to 1930s
Art History 272
CROSS-LISTED: MES
From European royal palaces, spas, and street carnivals to American movie theaters, banks, and smoking rooms, the "Orient" has been represented, produced, and consumed in competing and complicated ways. The course examines Western representations of the Orient, analyzing the work of writers, artists, architects, and scholars in the context of encounters between the West and the East, and of the politics and ideology of European exploration, colonization, and imperialism that shaped them at particular historical junctures.
Religious Art of Latin America
Art History 273
CROSS-LISTED: AFRICANA STUDIES, LAIS
This course explores the varied visual manifestations of religious expression in Latin America after the Spanish conquest. In addition to churches, statuary, and paintings, the class examines folk art traditions, African diasporic religions, and contemporary art practices.

The Global Baroque
Art History 275
CROSS-LISTED: ARCHITECTURE
European art of the 17th and 18th centuries, often referred to as "the Baroque," is usually studied in isolation from the imperial enterprises undertaken by Spain, the Netherlands, and England during this period. In contrast, this course examines how the Baroque came to be considered a global style, ultimately spreading throughout Europe and then to Africa, Asia, and the Americas. Also considered, the role played by exploration, missionary work, colonization, and the slave trade in transmitting art and artistic ideas.
Chinese Religious Art
Art History 276
CROSS-LISTED: ASIAN STUDIES
A study of religious art and architecture in China through its various dynasties. Topics include the mystical arts of ancient Sichuan, the cosmological symbolism of the Ming Tang (Hall of Enlightenment), ancient Buddhist cave temples, the evolution of Confucianism into an institutional religion, the evolution of Daoist practice, and contemporary popular religion.
Race and the Museum
Art History 279
CROSS-LISTED: AFRICANA STUDIES, HUMAN RIGHTS
In a recent public letter, Brooklyn Museum Director Anne Pasternak argued that art museums, although "founded on the fundamental belief that the sharing of world cultures would lead to greater understanding and empathy," have also "privileged Western white narratives while often diminishing the histories of others. For better or worse, museums contribute to narratives that shape our society, and our society is in great need of more empathy and respect." This eight-week colloquium considers how museums might develop new narratives, particularly about race.

Animals and Animality in the Visual Culture of Early Modern Europe
Art History 282
CROSS-LISTED: HUMAN RIGHTS, STS
A look at how animals and their representations shaped ideas about what it meant to be human in early modern Europe. While some philosophers and theologians postulated the superiority of humans to animals, others expressed uncertainty about the status of humans. The class focuses on the ways in which the human-animal boundary is tested, explored, or delimited in zoos and menageries, scientific illustration, taxidermy, hunting and hunting scenes, still life paintings, and depictions of animals in fables and myths.

East Meets West
Art History 283
CROSS-LISTED: ASIAN STUDIES
A consideration, through art, of the impacts Eastern and Western cultures have had on one another. Topics include the art of Buddhism and the Silk Road; medieval European borrowings from the East; travelers East and West; Arabs as transmitters of Asian technologies; concepts of heaven and hell; Western missionaries and the introduction of Western culture in India, China, and Japan; chinoiserie in European architecture, gardening and decor; and Japanisme, the influence of the Asian aesthetic on modern art movements.
Spanish Visual Culture, 1550–1850
Art History 286
CROSS-LISTED: LAIS
A survey of the visual culture of early modern Spain, with particular attention given to El Greco, Goya, Murillo, Velázquez, and Zurbarán. The class examines the formation of a distinct Spanish style within the context of European art and considers how Spanish artistic identity was a kind of hybrid, complicated both by Spain's importation of foreign artists (Rubens, Titian) and by its relationship to the art and architecture of the colonies.

Rights and the Image
Art History 289
CROSS-LISTED: HUMAN RIGHTS
An examination of the relationship between visual culture and human rights, using case studies that range in time from the early modern period (marking the body to register criminality, for example) to the present day (images from Abu Ghraib). Subjects addressed include evidence, disaster photography, advocacy images, censorship, and visibility and invisibility.
The Arts of India
Art History 295
CROSS-LISTED: ASIAN STUDIES
Beginning with the most ancient urban civilization, dating to the prehistoric period, the flowering and development of Indian philosophical and religious thought is traced through its expression in the arts, including the culture's unique exploitation of the sensuous as a metaphor for divinity. Other topics studied are the evolution of an iconic tradition and the development of religious architectural forms, narrative painting, and sculpture.

19th-Century British Art
Art History 299
The course begins with a brief survey of 17th- and 18th-century art in England, including the satires of William Hogarth, and then focuses on major figures such as visionary poet and artist William Blake, the great landscape painters John Constable and William Turner, the radical Pre-Raphaelites, and the decadent Aubrey Beardsley. Victorian genre painting, 19th-century British sculpture, and the decorative arts are also considered.
The Portrait and Its Guises
Art History 314 / Photography 314
What is the object of a portrait? What constitutes the nature of "likeness" or resemblance? Is it a matter of recording the physical characteristics of a person, or rendering the "inner person" in pictorial form? In addition to considering the ontology of the portrait, this course traces developments in portraiture in the 19th and 20th centuries, a critical period that encompasses the advent of photography, which ultimately challenged (and changed) the terms of the genre.
Material Worlds and Social Identities
Art History 315
CROSS-LISTED: AMERICAN AND INDIGENOUS STUDIES, EXPERIMENTAL HUMANITIES
How does the world of interior spaces, their furnishings and decorative objects, tell us stories, assert values, and project identities? With visits to three National Park sites—the Vanderbilt mansion, the home of Franklin D. Roosevelt, and Eleanor Roosevelt's home at Val-Kill—this seminar explores both the relationship between objects and identities and issues of consumption and appearance. The course combines the scholarly study of aesthetic ideals and social practices with hands-on examination of specific objects in the Vanderbilt and Roosevelt collections.

Multimedia Gothic
Art History 316
CROSS-LISTED: ENVIRONMENTL STUDIES, EXPERIMENTAL HUMANITIES, MEDIEVAL STUDIES
Although scholarship on medieval art has often been separated by medium, Gothic church programs were actually multimedia spaces with meaning transcending the individual work of art. The class explores various forms of media, such as stained glass, painting, sculpture, textiles, and metalwork, as they contributed to the dynamic space of the Gothic church. Also addressed: parallels between the explosion of images in the Gothic era and the role of media today.
Visual Culture of Medieval Death
Art History 328
CROSS-LISTED: MEDIEVAL STUDIES
In many ways, commemoration of the dead was central to medieval culture. Cemeteries were situated in the centers of towns, tomb effigies and plaques filled churches, and the bodies of saints provided a link between the earthy and heavenly realms. This seminar looks at visual materials related to the theme of death, including architecture, tomb sculpture, manuscript illumination, and reliquaries. It concentrates on works produced in Western Europe between 1100 and 1500.

The Awful Beauty
Art History 335
Romanticism was both a manifestation of Enlightenment philosophy and a Counter-Enlightenment response to the ascendant values of reason and empirical thought. Like their literary counterparts, British painters in the 1790s were pioneering new subjects and techniques that offered doubt, mystery, and high emotion as alternatives to the certainties of empiricism. French painters, however, were in the grip of an intellectual allegiance to neoclassicism. Topics include Burke's theory of the sublime, the cult of Ossian, medievalism, the self in nature, themes of horror and fantasy, and the rise of "originality."
Pop Art
Art History 337
This course considers pop art as a series of exchanges between fine arts and mass culture—and as a way of responding to the increasing dominance of global capital in the postwar period. The course progresses through a number of case studies, from the emergence of pop art in England in the late 1950s to pop movements in the United States, Germany, and South America in the 1960s. Artists covered include Evelyne Axell, Richard Hamilton, Cildo Meireles, Gerhard Richter, and Andy Warhol.

Seminar in Contemporary Art
Art History 340
After a survey of the minimalism of the 1960s, the course focuses on artistic developments in the 1970s, 1980s, and 1990s. The class meets in New York City every fourth week to view current exhibitions.
Asian American Artists Seminar
Art History 348
CROSS-LISTED: AMERICAN AND INDIGENOUS STUDIES, ASIAN STUDIES
In recent years there has been increasing interest in artists of Asian ancestry who have worked in the United States. The relationship between the artistic traditions of their native lands and their subsequent immersion in American culture provides material for fascinating inquiries concerning biography, style, subject matter, and politics. Artists studied include Isamu Noguchi, Yun Gee, Yayoi Kusama, Yoko Ono, Nam June Paik, Ai Weiwei, Patty Chang, Nikki Lee, and Mariko Mori.
American Women Artists
Art History 367
This seminar looks at the relationship between women's liberation and art produced in the United States during the 20th century. Topics include the role of women in the Arts and Crafts movement; the art and artists associated with the suffragist movement; and "Second Wave" feminism of the 1970s as manifested in the art world. Texts by Charlotte Perkins Gilman and Linda Nochlin. Open to Upper College students and others with permission of the instructor.
Theories and Methods of Art History
Art History 385
Designed primarily for art history majors, this seminar helps students develop the ability to think critically about a range of different approaches to the field of art history. Students read and discuss a variety of texts in order to become familiar with the discipline's development. Methodologies such as connoisseurship, cultural history, Marxism, feminism, and postmodernism are analyzed.

Deconstructing the Museum
Art History 389
The class considers the museum both historically and conceptually in order to contextualize contemporary debates about its role in Western culture. Topics discussed include the origins of museums, how colonial practices informed the acquisition of objects, how early forms of collecting were connected to ideas about dominance and otherness, how archaeology shaped early modern ideas about history and objects, how the preservation of objects came to have such significance in the West, the types of narratives museums construct, and the ethics of collecting and displaying artifacts from other cultures.

The "Abominable Woman" in 19th-Century Art
Art History 392
CROSS-LISTED: FRENCH STUDIES, GSS, VICTORIAN STUDIES
A woman is natural: that is to say, abominable." This is Baudelaire writing in 1864, reflecting the fact that "woman" had achieved a dubious status as a "special problem" to a host of 19th-century thinkers, doctors, politicians, and writers. France and Great Britain both experienced an explosion of cultural producers attempting to define her, diagnose her, liberate her, control her, correct her, celebrate her, and solve her. Visual artists followed suit. The course examines this sudden attention—negative, positive, and everything in between.

Medieval Modern Art
Art History 393
CROSS-LISTED: ARCHITECTURE, MEDIEVAL STUDIES
DESIGNATED: CALDERWOOD SEMINAR
Castles, pointed arches, and images of a white European Jesus all belong to our inheritance from the period known as the Middle Ages. Ideas of the "medieval" permeate our modern culture, be it in fantasy novels, adventure films, church architecture, honor codes, nursery rhymes, or the emblems adopted by white supremacists. This course explores modern notions and uses of medieval material culture through forms of public writing, including travel blog, film review, site analysis, and museum wall label.

Art School
Art History 397
CROSS-LISTED: STUDIO ARTS
Can art be taught? If so, what exactly does one teach? This course examines some of the most important centers for art education across the 20th and 21st centuries, including the Bauhaus and Black Mountain College, as well as lesser- known institutions such as the Mountain School and Dark Study. Topics discussed include the changing nature of artistic skills and the kinds of art education students would like to see in the future. These ideas are tested by establishing a temporary art school in the class.

The Politics of Modern Craft
Art History 399
CROSS-LISTED: ASIAN STUDIES
Beginning with the rise of the Arts and Crafts movement in late 19th-century Britain in response to the growth of industrial production and consumer culture, the course traces the spread of craft ideology and practice across the British Empire and beyond. It examines the ways in which craft practices and objects became intertwined with issues of national identity, class, gender, and political resistance. The focus is on the history of craft in South Asia, with case studies from the Japanese Empire and its colonies in East Asia providing a comparative perspective.