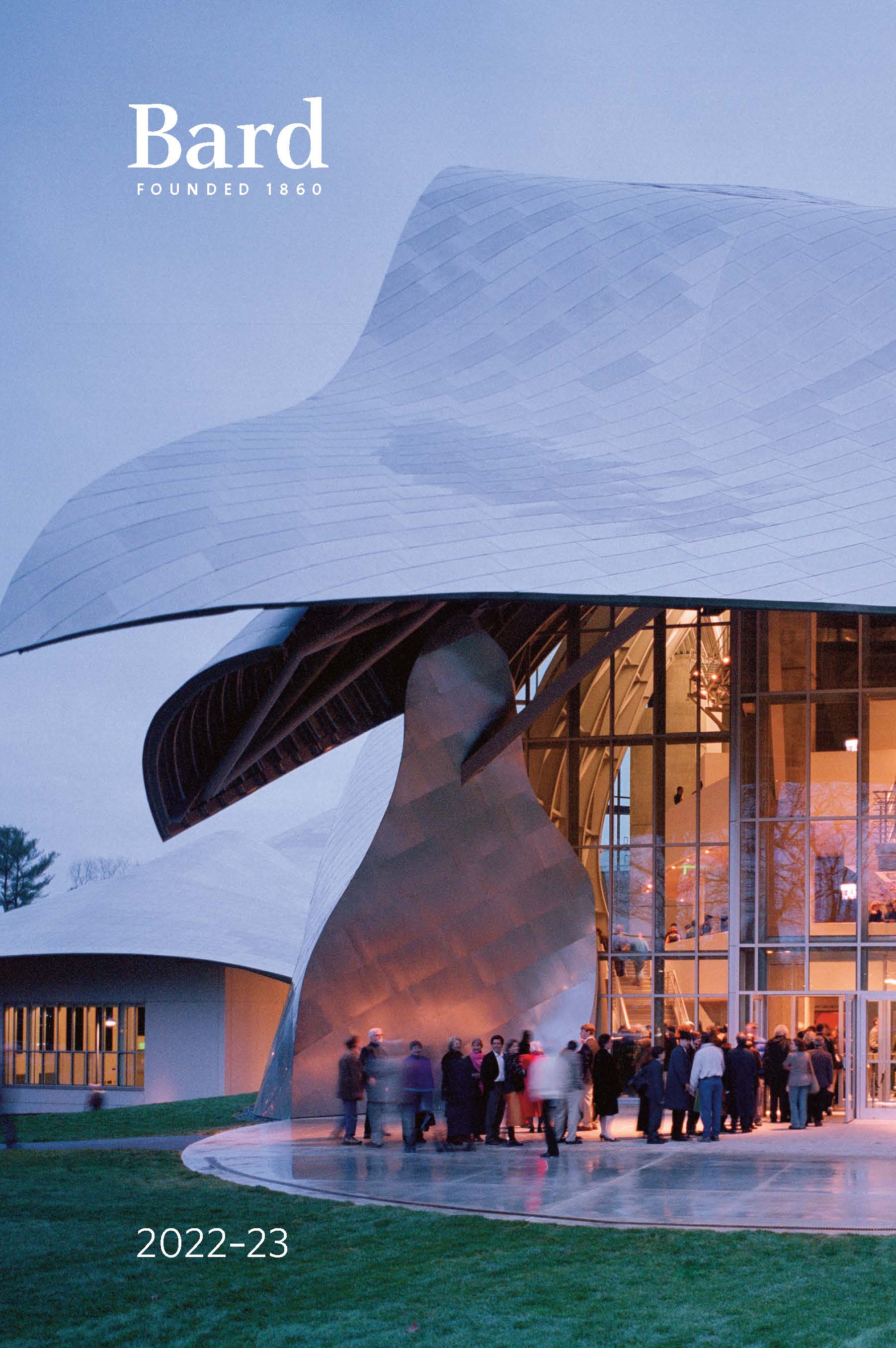 Bard College Catalogue 2022-23
Architecture
Faculty: Ross Exo Adams and Ivonne Santoyo-Orozco (codirectors), Betsy Clifton, Michael Robinson Cohen, Carlos Bedoya Ikeda, Stephanie Kyuyoung Lee, Thena Jean-hee Tak, Olga Touloumi

Overview: Architecture at Bard builds its pedagogy around a concern for the present, an acute attention to structural inequalities, and a longing for other futures. The curriculum frames architecture as an art form and an argument—a situated aesthetic spatial practice whose propositions aim to reconfigure our collective present toward more just futures. The program builds across architectural cultures, design techniques, histories, and propositions to equip students with an expansive and experimental approach toward the field that simultaneously opens paths for engaging other disciplines spatially. The program teaches students that architecture is a site for transformative, insurgent spatial and material possibilities with which to imagine worlds otherwise.

Requirements: To moderate in Architecture, students must complete two Critical Cultures of Architecture courses (Architecture 111, Art History and Visual Culture 126); one Elective Course on Space (various); and one Open Practices Workshop (Architecture 130). Additionally, they must present a portfolio of work to date that features one independently developed project. Graduation requirements include a choice of either three Critical Cultures of Architecture courses and two Design Studio-Seminars, or two Critical Cultures of Architecture courses and three Design Studio-Seminars; two Elective Courses on Space; two Open Practices Workshops; and the Senior Project.

Course Clusters: Structurally, the curriculum is composed of four families of courses that build upon this concept.
• Critical Cultures of Architecture (CCA) courses introduce architectural practice and techniques within a sociopolitical field, and address spatial histories, theories, research methods, and representation techniques.
• Design Studio-Seminars (DSS) pair design interventions and technique acquisition with a series of lectures, readings, and discussions around a given question.
• Elective Courses and Seminars on Space (ES) draw from courses across the College that offer ways to interrogate architecture and the production of space from the vantage point of nonarchitectural disciplines, works, and modes of inquiry.
• Open Practices Workshops (OPW) are month-long, 2-credit studio courses that, through guest practitioners and thinkers, expose students to a variety of contemporary practices and modes of architectural design.

Program Sequence: The curriculum builds a pedagogical sequence that cuts across the four course clusters to encourage common points of inquiry and give disciplinary and methodological progression over the duration of the program.
• Planetary: Recognizing issues like climate change brings to the fore the trans-scalar relations that directly tie buildings, bodies, cities, and ecosystems together. In this context, the planetary lens shifts our view of architecture from the isolated object to the structurally situated and historically entangled design practice—an art form that necessarily cuts across and interrelates multiple scales, disciplines, bodies, and actors.
• Constituencies: Building on an interscalar understanding of architecture, the second phase in the sequence grounds architectural design and discourse in the spatial concerns of specific social groups, movements, and struggles. It opens a critical framework by which to develop projects alongside various groups, organizations, or actors that directly address issues such as spatial justice, housing rights, gentrification, and spatial inequalities of gender and race.
• Futures: The final phase of the sequence mobilizes the intellectual maturity, design skills, and technical agility of the students to approach architecture as a site of open experimentation in building collective futures. This phase is the most methodologically open and intellectually challenging of the three. It aims to empower students to explore the capacity of design as a means to imagine realities of collective spatial life otherwise.

In addition to the courses listed below, recent offerings include Perspectival Speculations: Open Practices Workshop; Architecture of an Urbanized Planet: Designing Body and World; The Politics of Infrastructure; Romanesque and Gothic Art and Architecture; Governing the World: An Architectural History; Urban American History; Film Animation; and Domesticity and Power.

Note: The Architecture Program does not offer an accredited professional degree. Students who wish to proceed to a professional degree program are encouraged to take one course in elementary calculus and one in classical physics, which allows them to apply with advanced standing to most architecture graduate programs in the United States. They are also encouraged to discuss entry requirements for graduate programs with their advisers.

Architecture as Media
Architecture 111
CROSS-LISTED: EXPERIMENTAL HUMANITIES
This studio-based course introduces architectural tools of communication and techniques of contemporary digital drafting, diagramming, mapping, and image making, all positioned against a survey of paradigmatic moments in the history of architecturally related visual cultures. Topics addressed range from the emergence of the floor plan to contextualizing the collages of El Lissitzky, the sci-fi animations of Archigram, the films of Ray and Charles Eames, the CGI-rendered culture of late capitalist architecture, the activism of Architecture Lobby, and forensic architecture, among others.

Design Studio-Seminar I: Planetary
Architecture 121
CROSS-LISTED: EUS
An introduction to architecture as a transscalar practice that directly ties buildings, bodies, and ecosystems together. Architecture's scope of practice has widened to include landscapes, cities, regions, territories—even the entire planet itself—while also narrowing its focus to include the design of microenvironments for and modulations of the human body. Working transversally across conceptual scales from the body to the planet, the course develops critical approaches to design aimed at intervening in the spaces and processes of planetary urbanization. Each 'scale' investigated is accompanied by a corresponding design project.

Open Practices Workshop: Landscape Devices for a Changing Climate
Architecture 130
CROSS-LISTED: ENVIRONMENTAL STUDIES, EXPERIMENTAL HUMANITIES
Being together in physical proximity—not only in the classroom but in a range of formal and informal settings—is deemed an essential part of a liberal arts education. Yet the COVID-19 pandemic has put this into question. Students in this intensive, one-month workshop reflect on the campus as a living/working/learning space, consider how being pulled out of familiar spatial habits might help us better understand these habits and envision radically different ways of thinking about the campus space. No prior experience with architecture or drawing required.

Institutions for Planetary Fictions
Architecture 221
CROSS-LISTED: ENVIRONMENTAL STUDIES
Aside from opening up new scales of design and/or shifting focus to ecological concerns, how does a "planetary" approach alter what it means to practice architecture? This course introduces architecture as a world-making practice by acknowledging its inherently fictional capacity to imagine ways of being. The class considers notions that have underpinned architectural thought for centuries—private property, territory, racial capitalism, terra nullius—as well as architectural interventions around sites of common existence such as air, water, soil, forest, clouds. Prerequisite: Architecture 111 or permission of the instructor.

Architectural Entanglements with Labor
Architecture 240
CROSS-LISTED: HUMAN RIGHTS
DESIGNATED: OSUN COURSE
Architecture is both the product of labor and the organizer of its relations, yet often these issues are overshadowed by the broader discourse of design. In shifting labor to the foreground, the course considers the spatio-political role architecture has played in mediating bodies, work, and capital. Students analyze transformations to sites of work (offices, factories, tech campuses) as well as spaces that have been produced to feed architectural production and its cycles of extraction (camps, slums, mines) or that reproduce forms of maintenance (houses, squares, resorts).

Contagiousness, Vulnerable Environments: Architecture as Research
Architecture 311
CROSS-LISTED: HUMAN RIGHTS
Readings and discussions survey the history of pandemics and the ways architecture is shaped by them—and how architecture shapes pandemics in return. The course is also a platform for developing a curatorial project, as students work on selected case studies through elements such as maps, interviews, films, drawings, historic documents, and recreations. They learn how to make research archives, situating debates, compiling information, conceptualizing materials, and considering the potential and limitations of diverse methodologies.

Housing and Collective Care: Design Studio-Seminar Constituencies
Architecture 321
This one-month studio grounds the practice of architecture in the design of innovative collective housing typologies for atypical occupants. It considers architecture as both a creative practice and as a realist, insurgent practice in in the struggles for social justice. Students gain a critical, hands-on knowledge of housing typologies, and explore practical, imaginative ways in which to transform an existing context. Prerequisite: Architecture 121 or Art 135, or permission of the instructor.

Lexicon of Everyday Futures
Architecture 322
Where is the line between a presentation of proposed use (built space) and a presentation of potential use (exhibited space)? This design studio collapses the distinction between curating and creating by designing an exhibition as well as the objects to be exhibited. A series of experimental workshops focus on ubiquitous elements of space that inhabit most projects but whose agency is usually anonymous (e.g., fire codes, mechanical systems, utilities). Prerequisite: Architecture 111 or permission of the program.

Urban Creatures: Open Practices Workshop II
Architecture 330
In this one-month intensive studio, students design "urban creatures"— architectural artifacts that interact with relevant urban conditions through their symbolism, location, and monumentality. As opposed to an architecture that predetermines its uses, proposals are meant to take on a life of their own in their context. Designing urban creatures pushes the class to operate beyond habit and work outside of preconceived architectural responses, experimenting instead with an architecture in dialogue with contemporary urban conditions. Prerequisites: Architecture 111 and Architecture 130, or permission of the program.

Senior Project Colloquium
Architecture 405
The colloquium, required for architecture majors, provides a collective space for seniors to discuss work in progress. Sessions may include student presentations and critiques of works in progress, screenings, and discussions of architectural precedents and contemporary discourse.