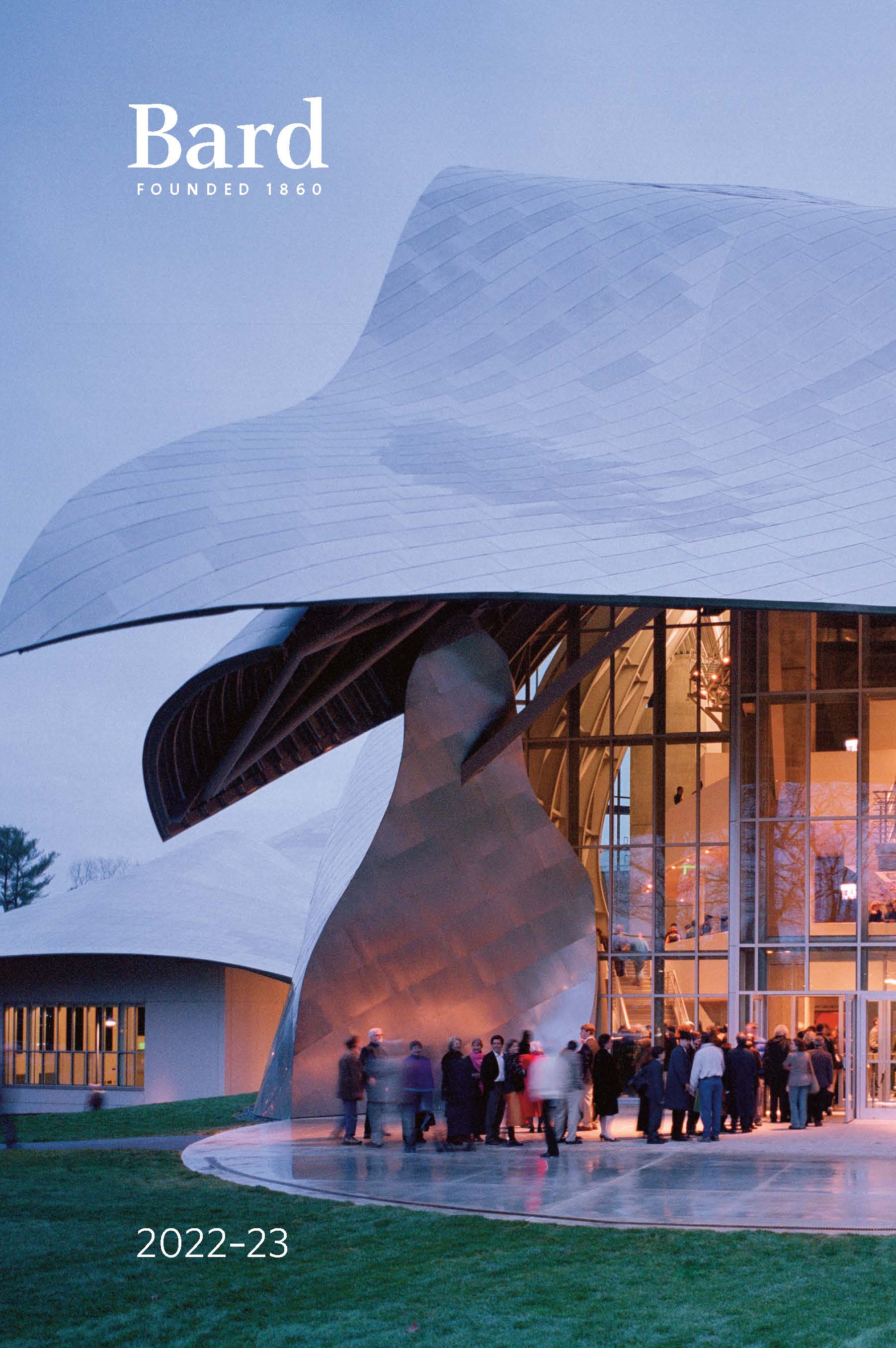 Bard College Catalogue 2022-23
Cultural Programs
Concert and Lecture Series
Bard Music Festival: Since 1990 the Bard Music Festival (BMF) has been presented on the Bard campus each summer over two consecutive weekends in August. The festival offers an array of concerts and programs whose themes are taken from the life, work, and world of a single composer. To learn more about BMF, see Additional Study Opportunities and Affiliated Programs in this catalogue or visit fishercenter.bard.edu/bmf.

Hudson Valley Chamber Music Circle: Founded in 1950, the Hudson Valley Chamber Music Circle (HVCMC) has attracted a loyal regional following that has enjoyed annual June performances by some of the finest classical ensembles and soloists in the world. The 2022 June concerts included The Emerson String Quartet performing works by Bach, Borodin, and Bartok; Sō Percussion in "The Keyboard Reimagined"; and Beloved Piano Quartets, featuring works by Mozart, Nokuthula Ngwenyama, and Brahms. For more information, visit hvcmc.org.

John Ashbery Poetry Series: The John Ashbery Poetry Series, named for the late Charles P. Stevenson Jr. Professor Emeritus of Languages and Literature, brings leading poets to campus for readings and discussion in an intimate setting.
Conjunctions
Bard's influential literary journal Conjunctions publishes innovative fiction, poetry, translations, essays, and interviews by contemporary masters and exciting new voices from the United States and around the world. As its slogan, "Read Dangerously," suggests, the journal brings fearless writing to risk-taking readers. Founded and edited by Bard professor and novelist Bradford Morrow, winner of PEN America's prestigious Nora Magid Award for excellence in editing a literary journal, Conjunctions appears in print biannually. The spring 2022 issue, Conjunctions:78, Fear Itself, addresses fear in its many guises: fear of violence and injury, betrayal and abandonment, the unknown and known, and failure and success. The issue includes works by, among others, Bronka Nowicka, Coral Bracho, Ann Lauterbach, Julia Elliott, Brandon Hobson, Akil Kumarasamy, Quintan Ana Wikswo, Bennett Sims, Elizabeth Robinson, and Joyce Carol Oates. The fall 2022 issue, Conjunctions: 79, Onword, features fiction, poetry, essays, and all manner of hybrid ingenuities that celebrate moving forward with our words and visions, imagining paths ahead where there seem to be nothing but obstacles. The issue's contributors include Can Xue, Bonnie Nadzam, Fred Moten, Carmen Maria Machado, Peter Gizzi, Elizabeth Hand, Rae Armantrout, Peter Orner, and many others, along with a selection of previously unpublished poems by the late C. D. Wright, selected by Forrest Gander.

Conjunctions publishes an award-winning weekly online magazine of new writing at conjunctions.com. Recent featured authors include Shane McCrae, Joanna Scott, and Jenny Xie. The website also houses an online multimedia vault of exclusive recordings of readings. The journal has a robust online following, with social communities at Twitter and Facebook. E-books of selected past issues are available from online retailers.