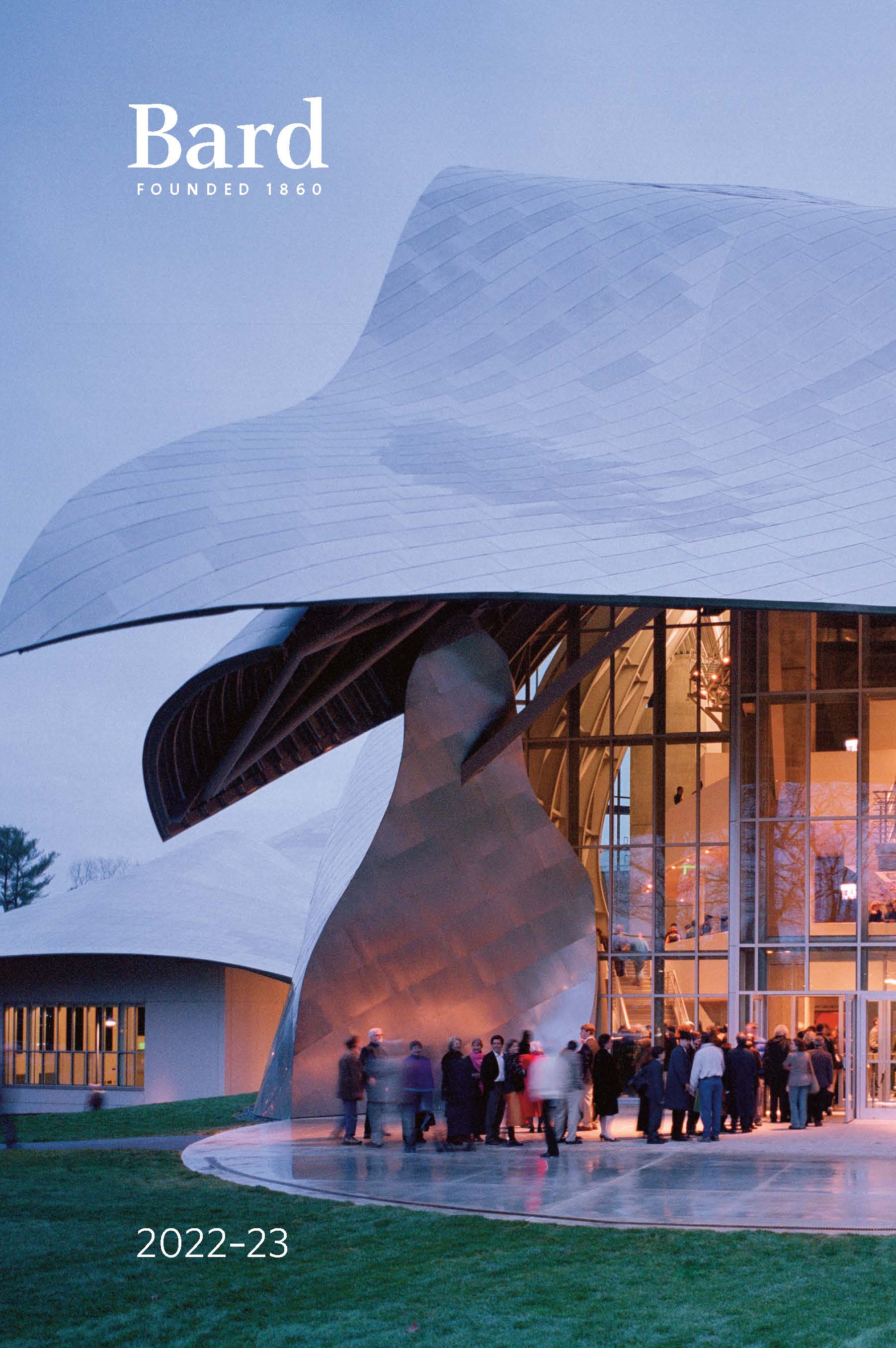 Bard College Catalogue 2022-23
Bard-Based Initiatives
The following initiatives may be of interest to Bard students:
OSUN Online Courses:
OSUN online courses are offered by a single institution to students across the network, including the host institution. Students register through a centralized application portal, are then enrolled at the institution that offers the course, and receive course credit transferred from that institution.
Network Collaborative Courses:
Network collaborative courses are designed by faculty from multiple OSUN institutions and offered simultaneously on several campuses. Students enroll in and receive credit for these courses at their own institution. The courses may differ by institution but they share key assignments and bring students at different campuses together online for class discussions and collaborations.
Center for Human Rights and the Arts:
CHRA researches, inspires, and extends the intersection of art and human rights, including an integrated curriculum at both the graduate and undergraduate levels. It includes network-wide teaching, research, fellowships, and public engagement. The program aims to stimulate new ways of thinking; develop new strategies of activism and engagement; and incubate new relationships between activists, scholars, and artists on a global scale. The program includes the first MA in Human Rights and the Arts.
Transnational Politics Program:
The Transnational Politics Program builds on the innovative Bard Globalization and International Affairs (BGIA) program in New York City and draws on the strengths of Central European University's International Relations Program in Vienna. Transnational Politics offers a multicampus MA in Global Studies; students spend one semester in Vienna studying the form and function of the global political order and one semester at BGIA, combining substantive coursework with an internship experience that provides an on-the-ground perspective on how nonstate and civil society actors address transnational problems.
Civic Engagement:
With a belief in the public purpose of higher education, civic engagement across OSUN promotes best practices and bold new initiatives to help students, faculty, and institutions realize their full potential as community actors and educators. Opportunities for students include a Certificate in Civic Engagement program, the Get Engaged leadership conference, Global Student Fellows Program, Engaged Senior Project grants, community action awards, and engaged research grants. These initiatives provide pathways for students to deepen connections with local and global communities to address shared concerns. Grants to support student initiatives range from $200 to $9,000. See "Civic Engagement" in this catalogue to learn more about the College's initiatives and partnerships.
Global Debate Network:
The global debate network brings together students, faculty, and staff to support the development and growth of successful multilevel debate programs at OSUN institutions, creating meaningful pathways of exchange and collaboration between and among them. With a focus on public debates and curricular integration, the OSUN Global Debate Network is reconceptualizing the role of the university debate program as a centerpiece of higher education and critical to the preservation of open societies.
Global Engagement Fellows:
Fellows promote and coordinate thematic civic engagement projects with peers across the Open Society University Network. Selected fellows are undergraduate students who have developed and sustained a civic engagement project and demonstrated leadership skills and a desire and aptitude for working with others.
Economic Democracy Institute:
OSUN's Economic Democracy Initiative (EDI) is a collaborative program focusing on economic democracy and basic economic rights as preconditions for economic stability, security, and opportunity in a global economy that works for all. EDI supports and develops student and faculty programs in three core areas: research, curricular innovation, and engagement. Projects focus on labor markets and the connections between unemployment, precarious employment, and broader socioeconomic deprivations.
Experimental Humanities Collaborative Network:
This initiative is rethinking how we engage with the humanities and redefining what they are in the light of changing technologies, an increasingly connected global landscape, the ongoing ecological crisis, and calls to create more inclusive universities.
Interruptrr:
Housed at the Bard Globalization and International Affairs offices in New York City, this OSUN program is an offshoot of the
Interruptrr
newsletter, which showcases writings by women on global topics. Students produce a monthly newsletter in four regions—the Middle East and North Africa (MENA), Central Asia, Latin America, and Africa—aggregating links to articles, research, and analysis by women on current events and other issues. The goal of the project is to provide editorial training and mentorship for students as they curate articles in English, Arabic, and Spanish for the four distinct regional newsletters
Hannah Arendt Humanities Network:
The Arendt network nurtures a culture that values and strengthens the humanities as the foundation of an open society. The network supports the integration and accessibility of humanities studies across OSUN institutions.
Public Health and Human Rights:
This OSUN collaboration offers courses at the intersection of global justice, global health, human rights, and inequalities. Public Health and Human Rights also provides research activities and civic engagement initiatives for students and faculty. The project seeks to create a community of practice to explore ideas around human rights and global public health undergraduate teaching, research, and activism, with the goal of establishing a pathway to careers in public health, medicine, law, or social work.
Solve Climate by 2030:
A coordinated climate education initiative across OSUN and beyond, Solve Climate by 2030 organizes educators to dedicate the first Wednesday of April each year during the 2020s as a Solve Climate by 2030 day for global, coordinated education on climate solutions. The project creates and promotes templates for educational initiatives, highlighting ambitious local and regional climate solutions, and ways in which students and other citizens can engage with communities to support these solutions.
Student Life Initiatives Project (SLIP):
SLIP provides a suite of co- and extracurricular programs for students to connect outside of the classroom. With representatives from more than a dozen colleges and universities, SLIP offers students a chance to meet like-minded colleagues from around the globe and to work with them on a range of projects including Global Commons, a student-edited online publication; the OSUN Tutor Network; and a student government retreat.
For a full list of OSUN initiatives, and to learn more about the Open Society University Network, visit
opensocietyuniversitynetwork.org
.