Libraries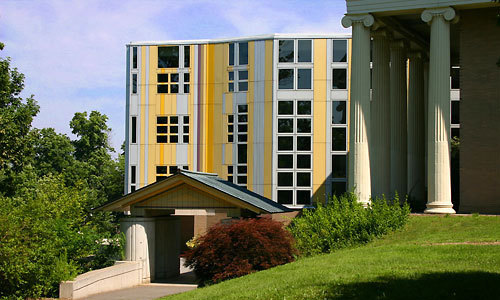 Bard has a network of six libraries located in Annandale; Great Barrington, Massachusetts; New York City; and St. Petersburg, Russia. The library's mission is to support the goals of the College and to improve the quality of learning and teaching by providing information services and collections in a variety of formats that serve the needs of its users. In support of this mission the library seeks to (1) sustain and improve its collections and the services and pathways that give access to them; (2) clarify needs and develop programs to help students become more independent, more confident, and more resourceful; (3) create an information gateway through the thoughtful use of technology; (4) promote staff learning through collaborative planning, teamwork, and continuing education; and (5) ensure that library facilities are safe, inviting, and well maintained.
As a result of a generous gift from College Board of Trustees Chair Charles P. Stevenson Jr., Bard's library complex consists of the Charles P. Stevenson Jr. Library, designed by the award-winning architectural firm of Robert Venturi, and the Hoffman and Kellogg Libraries. The resources of the Stevenson Library and satellite libraries in the Levy Economics Institute, Center for Curatorial Studies, and Bard Graduate Center: Decorative Arts, Design History, Material Culture include 400,000 volumes and more than 14,000 journals available in print or online.
Click here for more information
Campus Location: Main
Facility Type: Academic,Community
Tour this Facility
* Tour videos require the free Quicktime plugin for viewing.