Milton and Sally Avery Arts Center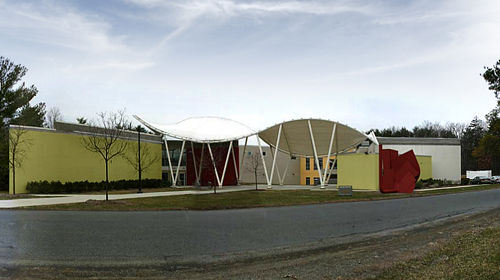 The Avery Arts complex houses the Jim Ottaway Jr. Film Center, home to the Film and Electronic Arts Program; and the Edith C. Blum Institute, home to the Music Program and, with the adjacent László Z. Bitó '60 Conservatory Building, The Bard College Conservatory of Music. Blum Institute facilities include a practice space for students and staff, faculty offices, classrooms, a listening library, a fully equipped soundproof recording studio, an editing studio, a computer music studio, a composition studio, a jazz band room, and a jazz percussion studio. Students have access to grand and upright Steinway and Yamaha pianos, donated to the College by the manufacturers. The Ottaway Film Center houses a 110-seat theater equipped with 16mm and 35mm film and video projection, performance space, a shooting studio with control room, an analogue editing suite and computer lab, two screening/seminar rooms, a darkroom, editing suites for sound and video, faculty offices, and a film archive and media library. Students in production classes may borrow supplies and equipment housed in the inventory office. Visiting artist talks, screenings, symposia, and cosponsored events are regularly scheduled in the theater.
Click here for more information
Campus Location: South
Facility Type: Academic,Community
Tour this Facility
* Tour videos require the free Quicktime plugin for viewing.