Bertelsmann Campus Center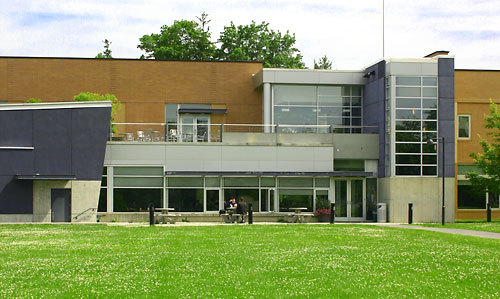 The Heinz O. and Elizabeth C. Bertelsmann Campus Center, a 30,000-square-foot facility that opened in 1999, is a central meeting place on campus. It contains the college bookstore and post office; the Career Development, Trustee Leader Scholar Program, and Student Activities Offices; Down the Road Café; the 100-seat Weis Cinema; lounge areas; public e-mail terminals; multipurpose and conference rooms; a student computer lab; meeting rooms for student clubs and organizations; and art gallery space. The signature exterior feature is a spacious second-floor deck on the building's south side. The Campus Center is named for Heinz Bertelsmann, professor of international relations at Bard from 1947 to 1977, and Elizabeth "Lilo" Bertelsmann, a teacher of German and noted photographer, whose generous gift funded its construction.
Click here for more information
Campus Location: Main
Facility Type: Community
Tour this Facility
* Tour videos require the free Quicktime plugin for viewing.